Purple has some of the most popular mattress advertisements on the internet. Have you seen the one where Goldilocks drops the sheet of glass with eggs glued to it? That's Purple.
Developed by rocket scientists, this brand revolves around a unique polymer grid system designed for spine alignment, but they've recently diversified in their product line. Our in-depth Purple plush pillow review looks at their offering to the more traditional space.
Of course, it wouldn't be Purple without a twist, and here's the deal. This product is adjustable using only a zipper. We'll talk about how that works and how the product sleeps for different positions.
Of course, if you're just ready to skip to the good stuff, you can skip to our conclusion for highlights and scores.
You will love Purple Plush if you:
Need an adjustable choice – If you like variety, this may be a great choice for you because the loft is easily changeable by unzipping the pillow or zipping it back up to achieve subtle differences in height and feel.
Are into plushness – Unzipped, this is 7.5 inches tall and provides a lot of softness without sacrificing support required to keep your neck straight and spine even.
Sleep hot – No one likes waking up on a hot pillow, and with the brand's proprietary "smart fluff" that is designed to be breathable and the soft cover that lets air flow, you shouldn't have a problem.
You might not like Purple Plush if you:
Prefer low loft – Folks who prefer a thinner choice, often stomach sleepers, may be overwhelmed by the amount of fluff here, even when the product is zipped up. These folks may want to opt for Purple's original.
Or if you want, you can take a look at our top pillow picks for this year.
Video Review
Construction (Materials & Quality)
This product ships for free to your house in a box, but don't let the size of the box fool you. Straight away, this model is 7.5 inches tall. After you utilize the zipper, it loses a couple of inches in height and becomes firmer.
The material of the cover is made from a Lyocell blend, which is actually a type of rayon made from processed wood pulp. This fabric is highly breathable and resistant to moisture, which can often build next to your face. The stitching is durable, and there is a zipper on the side.
Looking at the inside, the guts are made from a fluffy material called "interlocking poly fiber puff balls." This design was meant to give it a "squishy feel" that firms up under pressure so that you don't lose support.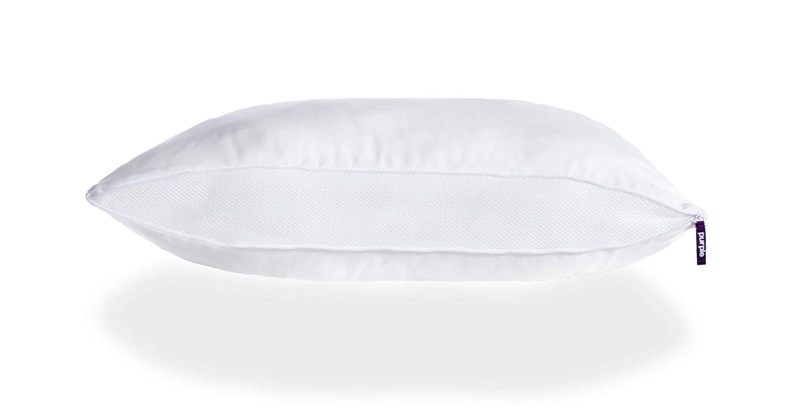 Firmness (Support & Feel)
This model has an overall squishy feel that feels soft in the unzipped configuration but firmer when zipped up. It's easy to manipulate the materials inside to increase the loft or even it out if that's your preference.
If you push into it, either with your hands or the weight of your head, it rebounds quickly and easily keeps its shape. This is good news for those concerned about support from their soft pillows. Overall, you're looking for a product that keeps the vertebrae in your neck fairly level with the rest of your spine and doesn't uncomfortably tilt your head up or let it fall back.
Remember, before we explain tendancies and likelihoods, a lot of how a pillow is experienced depends on the size of your head, the width of your shoulders, and the cushioning depth of your mattress.
Back sleepers may find that spine alignment is best achieved with this pillow when zipped as it should fill the space between your neck and the mattress and cradle your head comfortably in this position.
For side sleepers, a lot will depend on your shoulders and how deeply they are cradled by your mattress. If there is more space between your head and the mattress, you may need the higher loft. Most people will still prefer the lower loft in this position.
Stomach sleepers will most likely prefer the lowest loft, as there is a lot of material, which can be overwhelming when sleeping this way. Exclusive stomach sleepers who like a thinner option may want to look at Purple's other choices.
All in all, this is a great adjustable product because it's so easy to adjust on the fly. There's no need to open it up or remove layers or materials. You can change it up in the middle of the night in the dark. It should work great for back and side sleepers, but stomach sleepers should beware of how tall it is.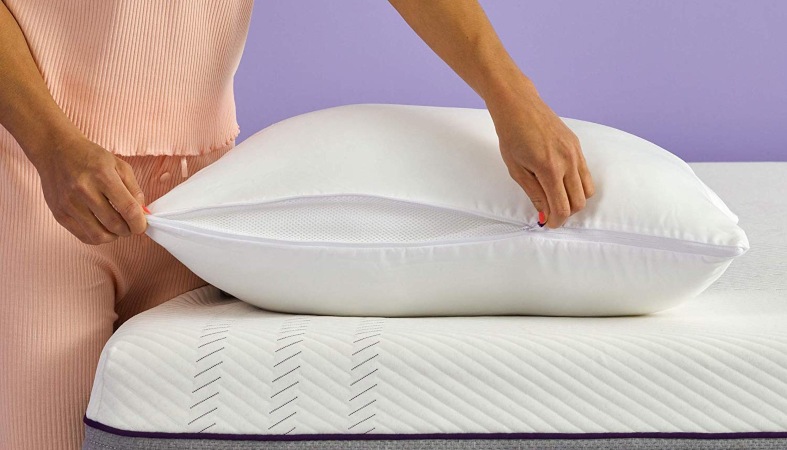 Temperature Regulation
Because the materials inside are loose and the cover is really breathable, air can flow through this pillow as you move around at night. There might be some heat build up if you stay in one position all night, but otherwise, this product really shouldn't retain excess heat or need to be constantly flipped.
Noise & Smell
Because the materials are loose, they might make a small rustling sound when you manipulate the pillow or move the insides around, but it's not overwhelming or burdonsome to sleepers. There is a slight new foam smell when the product comes out of the box, but this should dissipate within a few hours.
Other Considerations
Adjustable – A zipper changes this product from lower to higher loft.
Sleep Trial – You can try this pillow out for 100 nights to make sure you like it, a rare feature on the market. If you decide it's not right for you, send it back and get a refund of your money.
Warranty – This product is covered by a 1-year warranty.
Shipping – This product ships for free within the US, and returns are free as well.
Machine washable
Final Thoughts
---
Purple's newest pillow has a zipper along the side so that picky sleepers in need of quick adjustment can do so without even flipping on the nightlight. Make no mistake, this is a lot of pillow to love, and the super responsive "smart fluff" responds quickly to pressure so your face won't feel like it's stuck.
By incorporating loose materials and breathable fabric, this brand also help to ensure that their pillow remains cool all night. The extra plushness is a nice alternative to the company's original polymer grid pillow which is flatter and heavier.[/vc_column_text][vc_column_text]
Related Articles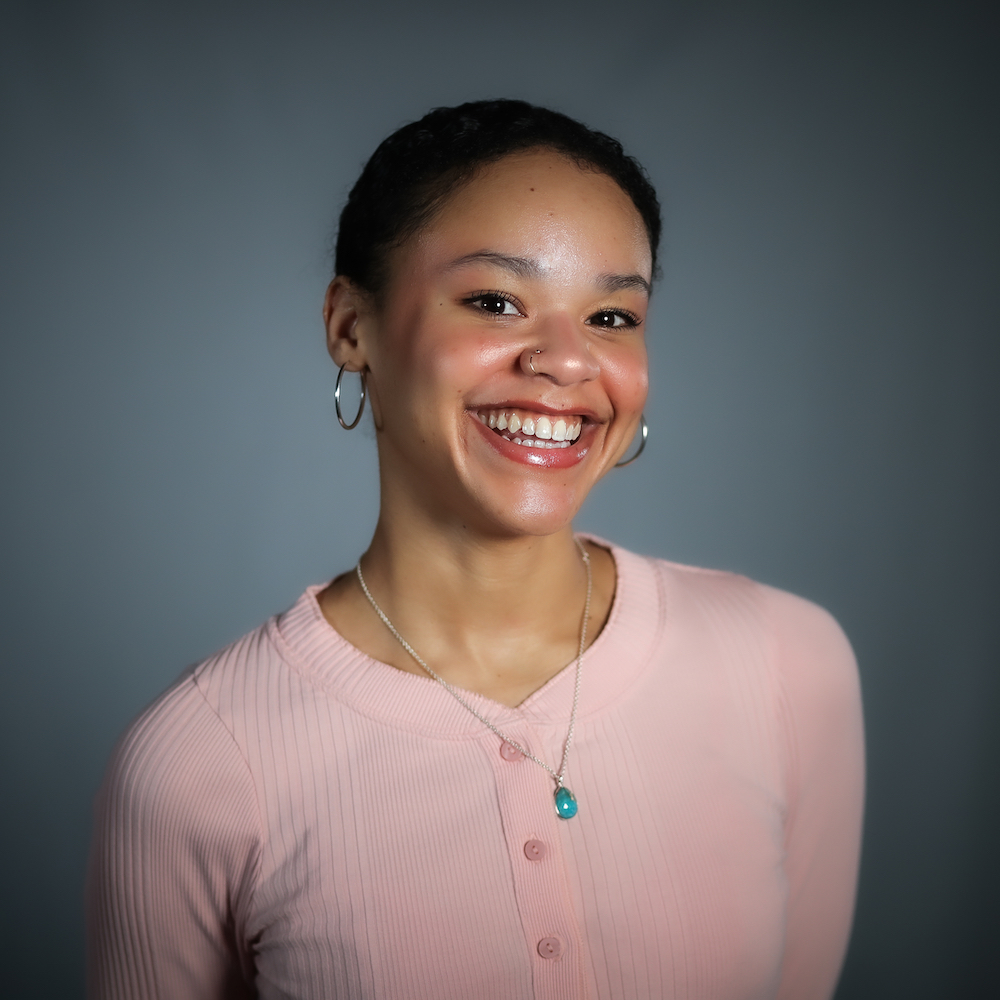 Loren Bullock
Lead Product Tester
About Author
Loren is the Lead Reviewer at Sleep Advisor. She has prioritized sleeping for as long as she can remember, rarely deviating from seven to nine hours each night.
Education & Credentials

Certified Sleep Science Coach