Transparency Disclosure – We may receive a referral fee for products purchased through the links on our site...

Read More

.
Are you looking for a high-quality alternative to cotton bedding? Are you tired of buying bed linen that is sub-par at best? When buying linen online, you often have to hope that the company is being honest about their product. You hope that it won't pill quickly and that it will wash and wear well.
Unfortunately, some companies out there are just hoping to make a quick buck, and the client is the one that ends up paying the price. That's one of the reasons that eLuxury Supply was started in the first place. Their aim was to offer the best product at competitive prices and to offer a product that you could rely on.
Their success is evident from the awards that they have won – being voted the fourth fastest growing company for 2016 was just the first of many awards they have earned. Why has their business skyrocketed?
It's simple – they do exactly what they say they will. They offer excellent bedding and brilliant service to match, and today we're testing the eLuxury Supply Bamboo Sheets to see how good they actually are. Let's dive in.
eLuxury Supply Bamboo Sheets – Key Features
High thread-count of 300.
Made from bamboo fibers.
The fabric is absorbent and will draw sweat away from the skin.
Extremely soft feel.
Will fit a mattress (find great options) of up to 18 inches.
Resistant to static cling.
You can buy an additional pillowcase if you like.
Available in a wide range of sizes, starting at Twin.
You can choose from any one of eight different colors.
Pros and Cons
Pros:
Lot's of colors to choose from.
100% natural fiber.
Bamboo is a sustainable fiber that is highly absorbent.
Feels soft and luxurious.
High thread count and quality construction.
The company is owned and operated by veterans.
Cons:
Is more expensive than many of its competitors.
The sheets will look wrinkly if not ironed.
Material/Style
These sheets are made out of rayon that has been sourced from bamboo. This fabric is responsive to temperature changes and will help to keep you cooler in summer and warmer in winter. The fibers are rounded to ensure that the fabric feels smooth and soft to the touch. This will help you should you have sensitive skin.
The fibers are durable and easy to care for – you can wash and dry as you would any of your other laundry. The result is fabric that washes and wears well.
Ironing is not strictly necessary, but the sheets do look wrinkled when they come out of the wash, so you need to keep that in mind.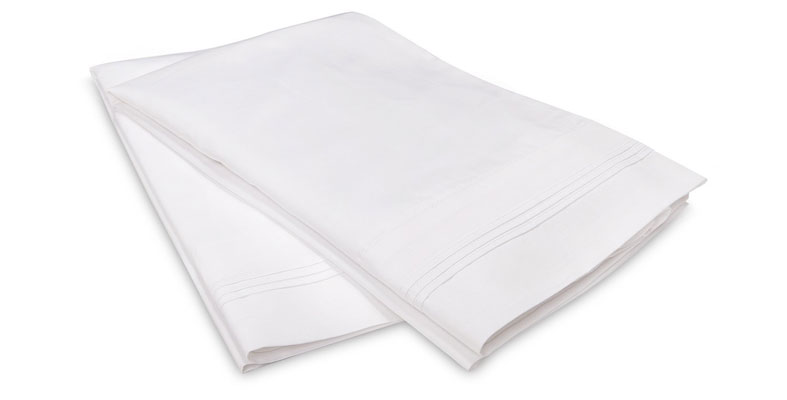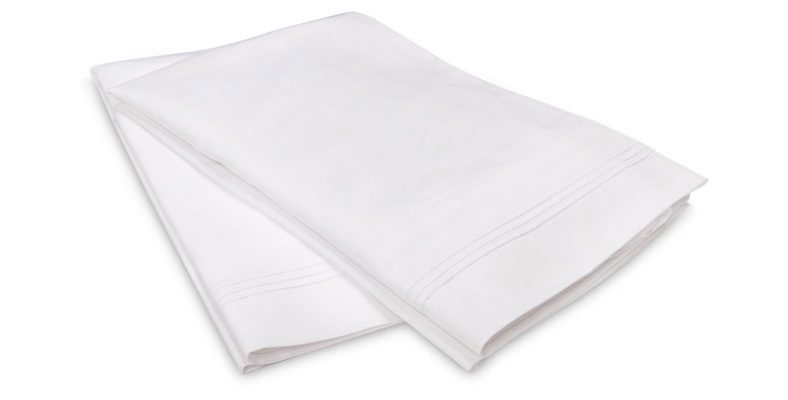 Build Quality
eLuxury Supply Bamboo sheets have been constructed using quality fabric and high-quality construction. The company stands behind its product and has a money-back guarantee in place in case you are not happy with the goods for any reason. All you need to do is to contact the and send the goods back in for a full refund.
The sheets have deeper pockets so that more types and styles of mattresses can be accommodated. The stitching is strong, and the elastic on the corners holds up well, keeping the sheets in place all night.
They hold up well in the wash and will not lose their shape.
Durability
The thread-count is on the higher side, at 300. What this means is that the sheet is tightly woven and will be more durable. The fibers that it is constructed out of will also contribute to the durability of this product. When it comes to natural fibers, bamboo is one of the most durable (bamboo vs. cotton) – matching good quality cotton bedding.
The sheets can be washed as usual and do not shrink during the wash. They could last several years if properly cared for. You can run them through the laundry as usual on a cold cycle but do need to be careful not to use harsh cleaners or bleach on them. Dry on a low setting as well. If you do this, they will last a very long time.
Weight
The sheets feel very light on you, which is surprising since the thread count is high. The material is thick enough to feel luxurious but not so thick that it feels heavy – you will barely feel as though you have anything over you at all. The sheets slide in under the mattress without creating a lot of bulk at all and drape very easily.
The wrinkling can be a little bit of a problem, especially if you like the look of freshly ironed sheets, but this can be solved quickly enough by ironing the bits that will stick out of the covers.
Feel & Comfort
One thing that those using these sheets all comment on is how soft they are. The company's website makes the claim that they are softer than cotton, cashmere, and silk and this is borne out by all of the reviewers. The lightweight texture of the sheet makes it pleasant to use even during the warmer summer months.
Generally speaking, a looser weave or lower thread-count would be a better idea if you want to sleep cooler. However, because these sheets are made of bamboo fibers, it does still allow good air circulation and will help you to sleep more comfortably both in winter and summer.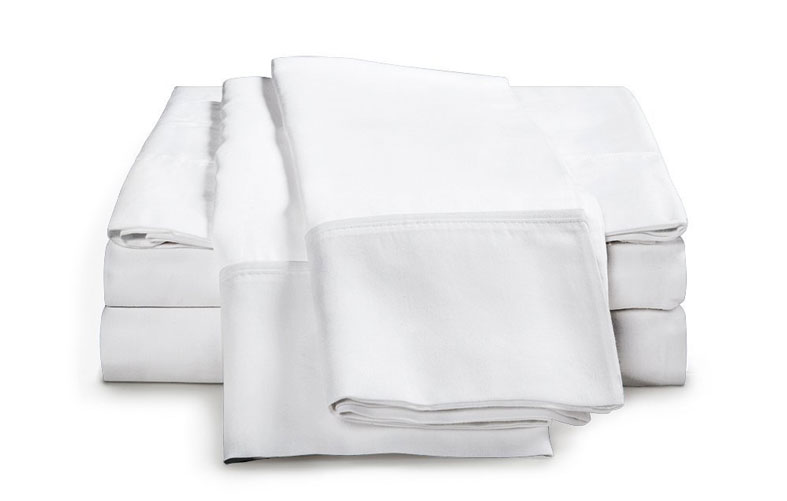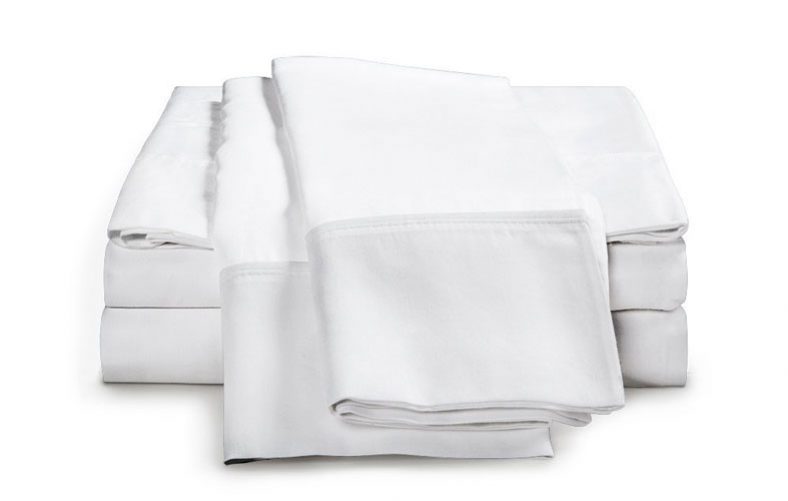 Price/Value
Truth be told, these sheets to come in on the higher end of the price scale. If you are looking for the cheapest option, this is not going to work well for you. That said, if you like your sheets to feel cool and soft, and are willing to pay a bit more for them, then this product offers you good value for money.
As long as you take care of them properly, these sheets will last you several years and continue to look and feel as good as you did when you first got them. For that reason, the higher price pays off in the long term.
Who Should Buy eLuxury Supply Bamboo Sheets?
People who like having high-quality bedlinen and who are willing to pay a bit extra to get it. The price point here is one of the highest for this type of sheet, but the payoff is a much softer and more comfortable finish.
Those who need hypoallergenic bedding – the rayon is naturally hypoallergenic.
People who like having a wider range of colors when it comes to the sheets that they use.
Someone who has a problem with static cling – if you battle with sheets clinging to your body, this is a good alternative for you.
You want something that has excellent moisture-wicking properties.
You want linen that is relatively easy to care for, and that can go through the washer and dryer.
Someone who will be using them for many years to come.
Someone who sleeps hot – the cooling properties of the fiber will help you to sleep more comfortably at night. If you sleep hot then be sure to read our guide to cooling mattresses!
Who Shouldn't Buy eLuxury Supply Bamboo Sheets
Those on a tighter budget – these are not the cheapest option.
Those that do not like their sheets to look wrinkled. Like cotton sheets, these will wrinkle after being washed or after being slept in. If you cannot handle that, you need to look for another option altogether.
Someone who is looking for a temporary solution. So, perhaps you have rented out a place for the holidays and just want some new bedding to use. These are not the best option unless you are going to take them back home when you leave.
Someone who does not like to follow care instructions. Washing and drying these sheets is easy, but you can't just toss them in with the rest of the wash and hope for the best. You need to wash them in a cool wash and also dry them on a cool setting. If you don't want to take the extra time, you shouldn't buy these.
Conclusion
---
These are the high-quality alternative that will look and feel good for a long time to come. They are ideal for hot sleepers who need something lightweight and cool to sleep under. The downside with this option is that the price point is higher than most similar products.
The upside is that the sheets are undeniably softer and more luxuriant than the alternatives.
It is best to look at this as more of an investment – you will pay more up front, but you end up with a quality product. And, since the company is owned and operated by veterans, you get to support the troops as well.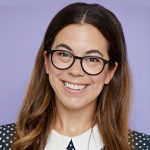 Jill Zwarensteyn is the editor for Sleep Advisor and a certified sleep science coach. She is enthusiastic about providing helpful and engaging information on all things sleep and wellness.
Based in Los Angeles, she is an experienced writer and journalist who enjoys spending her free time at the beach, hiking, reading, or exploring new places around town.
She's also an avid traveler who has a personal goal of being able to successfully sleep on an airplane someday.