Transparency Disclosure – We may receive a referral fee for products purchased through the links on our site...

Read More

.
Bluetooth alarm clocks can be a fantastic alternative to smart devices like the Echo, or Google Home.
Bluetooth alarm clocks boast many handy functions to make life easier; however, sometimes alarms make mornings a bit jarring, leaving you off to a bumpy start.
In this article, we'll detail our favorite products to help your mornings run smoothly, and break down the pluses and minuses of some of the best-rated bluetooth alarm clocks around.
With a wide variety to choose from, we'll make sure you leave knowing which products could improve your quality of life, and where you can find these intelligent devices.
7 Top Rated Bluetooth Alarm Clock Reviews
Alarm: Bluetooth Audio, FM Radio Or Built-in Tone

Speakerphone enables cellular phone functions
Color-changing Led Cabinet
The iHome is an extremely versatile product that lets you upgrade your morning routine with smart audio features. This device also boasts a colorful display, which makes for a variety of delightful effects as well.
More than a morning buzzer, you can speak to the iHome as it has a built-in microphone allowing for hands-free mobile conversations. Reason8 speaker chambers will cancel out background noise, allowing both parties to hear one another without straining.
With Bluetooth technology, you can play music wirelessly or via a plug-in with its built-in aux connection. Additionally, if you're tired of having to choose between charging your phone or playing music, the iHome allows you to do both simultaneously.
You can set your alarm to stream audio from any source on your phone, including radio, podcasts, or music, and you can switch using onboard controls so you don't have to search for your phone when you're ready to hit "next."
Emerson Radio –
Best LED Display
Digital Tuning FM radio
20 station memories
The alarm can be programmed
Soft blue night light
The Emerson Radio has a stunningly sharp display making for a smart addition to any home or bedroom. This digital device automatically sets the time, month, date, and year all on its own, making fiddling with your clock a thing of the past. It self-adjusts for leap year and daylight savings, and will even adjust itself properly once powered back on after a power outage.
This clock's alert can be set to function on certain preset days so you don't have to worry about it jolting you awake early on a Saturday morning. You can also program this device to lull you to sleep with a sleep-to music setting and wake you gently to the radio in the morning. It includes 20 radio presets and can charge your phone during the night and let you catch up on emails, news apps, or text messages without leaving your bed.
Multi-sensory alarm clock
LED ambient light

Room-filling JBL stereo sound

Bluetooth streaming
This device features a beautiful, soothing ambient light, making it a bit less bright than the others and could even calm you after a long workday. It's got dual super-charged USB ports allowing you to power up your phone (or two!) in a fraction of the time.
It's also got a multi-sensory alarm, JBL stereo sound, and Bluetooth capabilities, allowing you to infuse high-quality sound into your home at your convenience. You can also have two preset buzzers, letting you have one designated for weekdays, and another allowing you to sleep in on the weekends. Additionally, it'll make certain you wake up on time with a battery backup in case of a power outage.
Its attractive, compact design, sleek aesthetic, and calming ambient lighting is an excellent pick for any working professional or student.
Alarm clock
Bluetooth speaker
Hands free call option available
48 colorful night lights
This colorful party animal clock comes in 48 colors to keep your mornings bright-eyed and bushy-tailed even in the darkest of dawns. You can leave the 48 colors on rotation or select one to light up your bedroom or dim it to your liking. This beautifully colored device is excellent for the younger set providing a fun burst of energy into any bedroom.
What's nice about this clock is that the time display isn't always on, it only turns on when you press the power button on top, making it so it's only displaying the time when you need it. You can play a variety of music via Bluetooth, USB, aux, and even micro card. It has a touch sensor for light up in the middle of the night making it handy for kids waking up in the dark.
Dual alarm option
Snooze & sleep timer
FM Radio, Bluetooth speaker
Multi-color night light
Fitfirst clocks offer dual alerts, making it perfect for couples needing to wake at different times of the morning. The clock can be paired with Bluetooth up to 33 feet away, and lets you hit the snooze button for an extra six minutes to wake up gently, when the FM radio lets you know it's time to start your day.
This festive device displays multiple colors and can even flash to a musical rhythm, providing a soothing environment to lull a child to sleep. The brightness can be adjusted to create a warm and cozy atmosphere conducive to sleep and relaxation, making for a perfect addition to a baby or adult bedroom.
A handy feature about this clock is that it features double USB charging points, allowing you to quickly charge your mobile device in a fraction of the time it might normally power-up, and without the hassle of charging it far away from your bed.
Uplayteck –
Best for Kids
Kids alarm clock
Bluetooth speaker
5 night light color options
Natural sound settings
This is the ultimate kid's clock with a fun colorful display that any child can get excited about, making morning time with a munchkin feel a bit calmer. There are natural sound settings like waterfalls and birds, helping your kiddo wake up gently and in a good mood.
During night mode all the beeps on the clock are muted, but the buzzer function. With the smart illusion lights, your child can fall asleep easily and wake up easily with soft lighting, just as if you were camping in the great outdoors with mother nature.
If you're nursing or going into your child's room often, the knock feature lets you light up your clock quickly and easily by a simple pat or knock on the clock and your room will illuminate with a soft glow. This fantastic device not only is excellent for time purposes but also adds a decorative flair to any kid's room.
InstaBox –
Wireless Charging
Dual alarm and snooze option
Sleep timer
FM radio
Bluetooth speaker
Wireless charging dock for devices
This beautifully designed digital alarm clock offers the utmost convenience for something we use, all the time—our phones. On the top is a wireless charging port, allowing you to simply set your phone on top of the clock and it'll quickly charge your mobile device free of cables. It also has another charging port with a cable, so you can charge two phones at once.
It has Bluetooth capability to play your favorite music through its full-bodied stereo and enhanced bass. Additionally, it has 20 presets for radio stations allowing you to fall asleep and wake up to personalized jams, helping you feel refreshed and ready to go in the morning.
If you sleep next to your partner and need different wake-up calls, you can set two separate buzzers. If one of you needs to get up in the middle of the night, you can use the dimmer to light your room gently.
Bluetooth Alarm Clock Buyer's Guide
When choosing the right alarm clock for your lifestyle, there are an overwhelming amount of choices; we'll help you sift through your options.
Benefits of a Bluetooth Alarm Clock with Good Speakers
Waking up to a standard phone alert is all good and well until you sleep through it and miss your morning meeting or are late to work. What's great about having good speakers or a clock with Bluetooth technology is that they tend to be louder than phone alarms and have brighter displays, shrinking your sleeping chances.
While your phone can be handy to keep at your bed's side, it's also not the healthiest habit to get into either. Waking up to a clock, sans your mobile device, allows you to get out of bed free from the distraction of your phone, and start your day off unattached.
Additionally, with quality Bluetooth speakers, the product can double as a stereo, amplifying your music to create your choice of atmosphere, without spending unnecessary cash on a sound system.
Bluetooth Clock Radio vs Bluetooth Speaker Alarm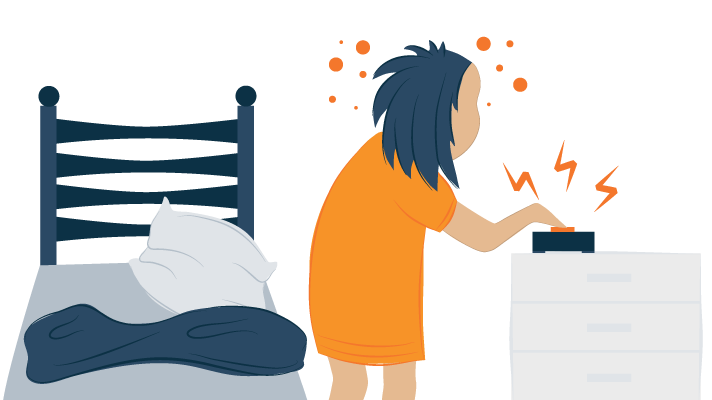 This can be a tricky choice and it will merely depend on preference. Some people have a strong preference for the radio, in that they enjoy listening to a live radio broadcast, having music chosen for them whether to tune into their favorite stations or keep up with what's current.
However, having control over your songs and having the ability to play specific playlists and podcasts is something many individuals enjoy, which makes having a Bluetooth speaker built into your alarm an excellent alternative. Not only this but having a Bluetooth speaker often will provide a higher quality of sound as well, letting your alarm double as a stereo.
Audio Quality of the Speaker
Deciding on which type of audio speaker you prefer will depend on how you'll use your clock and speaker. Some individuals enjoy using their clock as a stereo as well as an alarm. This saves money and can be better for saving space. If your alarm clock has quality speakers with little distortion at high volumes, it can make for a great alternative to an expensive stereo.
If you prefer only to use your clock as a morning buzzer to wake you up in the morning, you may not care much about the quality, or you may not be particular about the sound either. Listening to the radio might be a nice way for you to wake up in the morning, and then it might not be something you listen to the rest of the day, negating the need for higher quality sound.
Input Port (USB) and Charging Capabilities
Some smart clocks have convenient wireless charging docks, making for an easy mobile device power-up at the end of a long day. However, these might come at a more expensive cost; it will depend on your preference.
Alarm Settings and Sounds
Before buying a clock it's a good idea to check how the alarm system works and the sounds that it features. No one likes to wake up startled to annoying beeping noises in the morning, so having a device that can function as a radio or music streaming device can make a world of difference. Of course, it's all personal preference in the end, but important to consider.
Additionally, some buzzers have dual settings, allowing couples to have their own alarm in the morning and offering a bit more personalization. If your device doesn't have Bluetooth or radio capability and features preset alarm modes instead, it's wise to make sure it's a sound you don't mind and will enjoy waking to. Investing in a clock that only irritates your eardrums first thing in the morning won't be a pleasant way to wake up!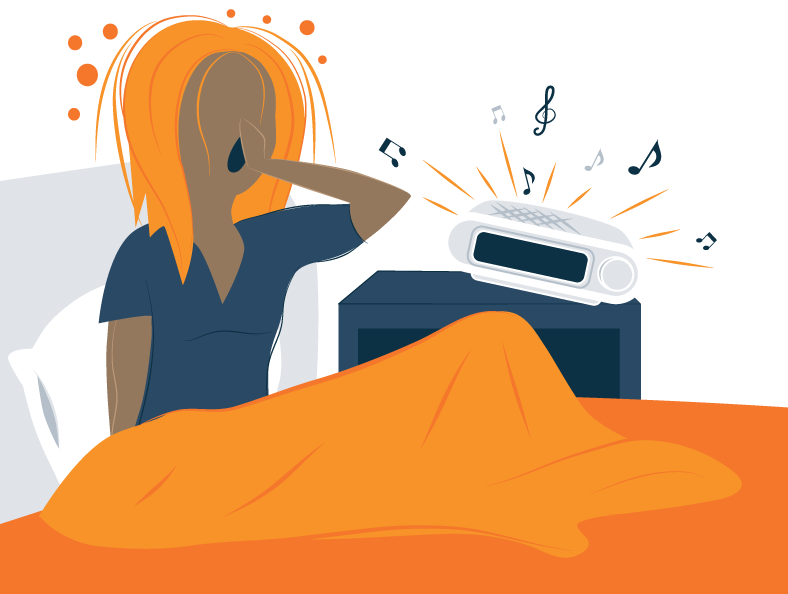 Functionality
Naturally, what is essential to you might not be as vital to someone else. However, when investing in a device that you care enough to research, it's good to make sure it's got all the bells and whistles you deem necessary.
If you're looking for Bluetooth, you'll want something with a solid connection; so check for something that offers seamless connectivity. Additionally, you might want to charge your phone from your device, so looking for charging ports is crucial.
Power Source
Some clocks will be connected by a cord, and some will be powered by a battery. It's up to you to decide whether or not a wireless device matters to you. You may prefer to have a cordless product to minimize unnecessary wires hanging around.
If a battery powers a device, it's critical to ensure you know how long it lasts and when to replace it. Waking up in the morning, realizing your clock has died, your alarm never went off, you've missed your dentist appointment, and your morning meeting is not an enjoyable experience.
Size and Appearance
If you've got a small space that your alarm needs to fit into, finding one to suit your space will be an essential factor. It may be tempting to get a big fancy model that looks impressive, but plenty of compact designs can offer similar functionality in a smaller package.
Additionally, keep in mind the appearance of the light it gives off; it can be bothersome if it's too bright without a dimmer.
Cost
Naturally, the price tag on a device will usually pay a critical factor, especially if you're on a budget. Luckily there is a wide variety of designs and price points and many excellent clocks with plenty of handy functions without breaking the bank.
FAQ about Bluetooth Alarm Clocks
How is a Bluetooth alarm clock different from my phone?
Have you ever listened to music on your phone? It doesn't sound quite like a proper stereo. Having a device that is meant to play music in your house can make for a beautiful environment allowing you to happily cook and clean while vibing to your favorite jams, infusing your home with a fresh atmosphere.
Waking up to a quality sound and having the ability to use your clock as a streaming device can mean saving you money in the long run and space from not buying a larger device. Additionally, it could save you screen time playing music on your phone and protect your eyes from strain.
If you want to find more alternatives here's our list of top-rated sunrise alarm clocks.
Conclusion
From the iHome to the Emerson to the JBL, we've researched several quality alarm clocks the current market has to offer, and we think these are the best out there. While they all differ in a variety of ways, they can cater to an array of needs as well, allowing you to make a purchase that feels customized to your needs.
Researching electronic devices can be overwhelming as the choices are abundant these days. Many options will be great but deciding which is best for you and your personal preferences can be stressful, but following our guide can help this job go smoothly and quickly.