Transparency Disclosure – We may receive a referral fee for products purchased through the links on our site...

Read More

.
Camping quilts are the latest trend when it comes to lightweight backpacking gear, but how do they compare to the trusty sleeping bag?
For avid campers, few things are more satisfying than a good night's rest after a busy day of backpacking, so having the right sleep kit is essential to help make the most of your trip.
Experienced backpackers are making the switch from sleeping bags to quilts due to their versatility, lighter weight, and compactness, as well as their ability to offer better freedom of movement—perfect if you tend to change positions a lot in your sleep.
But with so many to choose from, how do you decide which is best for you?
Don't panic! We've done the hard work of researching hundreds of reviews to help make sure you're well informed on the best-rated backpacking quilts available for your needs and your budget.
9 Top-Rated Backpacking Quilt Reviews
Paria Outdoor Products –
Editor's Choice
22 oz. of high loft 700-fill power down
Weighs only 2 lb. 3 oz.
Made with 20D ripstop nylon fabrics
The Thermodown 15 Degree Down Quilt is a great piece to consider if you are looking for a multi-functional blanket for 3-season backcountry camping.
Available in sizes 78 inches x 56 inches and 84 inches x 57 inches, each one is filled with up to 24 ounces of top-quality 700 fill power down, offering comfort in sub-zero temperatures to 15 degrees Fahrenheit. It can be left completely open or closed up to transform into a standard mummy sleeping bag, with the single strap providing extra stability and draft prevention when secured to a pad.
Weighing in at only two pounds six ounces, once packed in the included compression sack, it shouldn't be a problem to lug around on long hikes.
Reviewers are quick to praise the construction and quality of the tight-weave 20D ripstop nylon fabric, noting how big it lofts up, with many stating that although other quilts on the market may have some better specs, not much compares to this product at the same price point.
Made from the softest nylon taffeta lining
Finished with DWR (durable water repellent)
Weighs 27 ounces
The Spark TopQuilt is the counterpart to the Ember 2 UnderQuilt, created with cold weather in mind for the perfect hammocking sleep solution.
This ultralight top quilt, weighing just one pound six ounces, features a convertible footbox that makes for a quick entry and exit. Made with soft nylon taffeta lining, it comes with a temperature rating of 40 to 50 degrees Fahrenheit and is finished with durable water repellent, meaning you will stay toasty and dry in some of the more extreme weather conditions.
Ideal for compact camping, the Spark unfolds to a size of 6 feet 8 inches x 4 feet 2 inches and is confirmed to be a good purchase among hammock sleepers.
Paria Outdoor Products –
Down to 30°F
16 oz. of high loft 700-fill power down
Weighs only 2 lb. 1 oz.
Made with 20D ripstop nylon fabrics
If you are looking for ultralight backpacking gear for those warmer weather trips, then this is it.
The Thermodown 30 has 16 to 17 ounces of 700 fill power with near enough the same specifications as the 15°F, the main differences being that it is a lighter alternative, weighing just 2 pounds 3 ounces and can be cinched down to 9 inches x 6.5 inches when packed in the compression sack. This is ideal for the minimalist campers out there.
Again, customers are happy with the price in comparison to similar products, and the side sleepers out there find it roomy enough to comfortably move around, even when closed.
Made with 20D ripstop nylon
DWR (durable water repellent) finish
atomicLoft insulation
Lightweight
Sorison's down alternative synthetic backpacking blanket is made up of ultra-warm atomicLoft insulation with microfibre to achieve maximum comfort, warmth, and high loft, claiming to have three to five times more fill power when compared to other brands. At two pounds eight ounces, it is still a reasonably light blanket and comes in colors grey and blue with a nine-by-nine inch secret zip pocket inside.
Created with convenience in mind, the 20D ripstop nylon material is machine washable, making it super easy to care for. It can also be worn as a backpack, thanks to the fitted shoulder straps on the stuff sack. A great overall piece of kit.
Rated highly for being easy to clean and water-resistant, it appears to be more popular among individuals who want to keep warm around the campfire or at their kid's soccer match rather than a sleeping quilt for seasoned trekkers.
Outdoor Vitals –
Best Versatility
Made with weight fabric (10D)
Certified 800+ fill power down – responsibly sourced
DWR treated
Lightweight
For the perfect blend of lightweight, packability, and performance, the Live Ultralight places focus on materials and price. Made with premium treated StormLoft duck down, it boasts 800+ fill power that compresses down to 12 inches x 7 inches. Additionally, it has 10D ripstop fabric that is coated in hydrophobic VitalDry DWR, making it not only tough but water-resistant too.
The hybrid baffle design optimizes stability and warmth. It comes in both regular and long dimensions with three different options of temperature rating, 0, 15, and 30 degrees Fahrenheit, weighing from 1 pound 2 ounces up to 1 pound 15 ounces. There's a pad strap included for ground or hammock camping which makes this a solid, versatile blanket.
The majority of buyers found it to be exactly what they hoped for at a great price.
Go Outfitters –
Down to 20°F
Insulation: Max Loft 100% Polyester

Shell: 210T Ripstop Polyester

Liner Fabric: 210 Polyester, Breathable

Weighs 2lb. 15 oz.
Calendered, Water and Wind Resistant
With a built-in foot box and hood feature providing coverage from head to toe, you are technically getting the best of both worlds with this Adventure Top Quilt because it performs as a sleeping bag as well as a blanket, protecting you down to a temperature of 20 degrees.
At a huge 7 foot long, the synthetic max loft is made with 100% polyester with a 210T Ripstop Polyester shell, making it water and wind resistant. It also features a shock cord drawstring and locks to cinch up for a tight seal, preserving retention of body heat in the lower climates.
Again, it doesn't restrict movement. Reviewers couldn't praise this quilt enough, saying they love the feel of the fabric; it is lofty, soft, and scored top marks for comfort. Lastly, it compresses down to an eight- by nine-inch cylinder, which can be easily transported around.
OneTigris –
Best Synthetic
20D Ripstop Nylon (Outer)

380T Polyester Pongee Lining (Inner)

Weighs only 35oz
For anyone interested in synthetic camping quilts, this comes highly recommended.
A 3-season quilt that is safe for temperatures down to 40 degrees Fahrenheit, this is another example of a blanket that can transform into a bag. Spreading out to six feet five inches from two feet eight inches, it manages to live up to its Featherlite name weighing only two pounds one ounce.
Made from 20D Ripstop Nylon, lined with 380T Polyester and filled with SEE@ Polyester, it features an open back design with a hook and loop sealed footbox.
Although it is a versatile quilt, it seems to be better suited for use in hammocks. Reviewers are most pleased about the quality and comfort, with many mentioning how reasonable the price is.
Sea to Summit –
Best Fill Power
850+ fill Ultra-Dry down insulation
10D nylon shell fabric
7D nylon liner fabric
Lightweight
The Ember EbI 40°F is a simplistic yet feature-rich quilt with synthetic Ultra-Dry Down™ 850+ Loft. Created with a tapered shape and sewn-through construction, it allows for maximum warmth with minimal down movement.
Available in sizes regular and long, it has a drawcord that can be cinched for a foot pocket, and four adjustable snap-on straps for extra secure placement on a sleeping mat. The 10D nylon shell and 7D nylon liner make this a very lightweight and breathable piece for warm weather conditions.
Although it is a little on the pricey side, customers like it and believe it is well worth the money spent for the quality of the product.
Outdoor Vitals –
Innovative Design
650+ fill power LoftTek Hybrid insulation
Baffled lightweight ripstop shell
Water resistant
Lightweight
This LoftTek hybrid top quilt blends 80% 650+ fill power synthetic insulation with 20% 800+ fill power down to give it an edge over pure down blankets. It has the highest weight to warmth ratio in its class, not to mention it's highly compressible to fit in a 12-inch x 7-inch stuff sack.
The combination of the siliconized coating with hydrophobic coated down doesn't just mean it will withstand some dampness—it means that even if the blanket gets completely soaked, the water will simply drain out, making this perfect for any trips where the forecast is wet.
Additionally, it has a sewn footbox, wide design for versatility, clips, pad strap, and a top cinch cord to really seal the heat in. It also comes in 6 variations of temperature rating and dimensions, with weights ranging from 1 pound 12 ounces to 2 pounds 13 ounces, so there is something suitable for everyone and every trip.
Although there are some mixed reviews on the placement of the centered drawstring, overall, people that own the product are very impressed with the hybrid for warmth, comfort, and loft. The quality of the product is well worth the cost.
Ultralight Backpacking Quilt Buying Guide
Lightweight Quilt: What Is it?
For backpackers who trek for prolonged periods in different terrains and temperatures, a lot of consideration needs to be placed on how much weight they will carry on their backs to maintain comfort and energy.
The lightweight quilt is the alternative to a sleeping bag, with the main benefits being that it weighs 20 to 30% less than a fully enclosed mummy bag, is way more versatile, and comes at a fraction of the price.
Down vs Synthetic
Down is made from the fluffy undercoating from ducks or geese and has long been the preferred choice for insulation due to the fact it has a higher warmth to weight ratio, better compressibility, and longevity than what man-made fibers can match. Then what is the downside? Down does not come cheap.
Synthetic materials are definitely the better price option, which makes them a great choice for budget traveling and quick trips. Additionally, they are usually hydrophobic, meaning they should dry out quicker than down, so they are preferable for use in humid climates or for extended cold weather journeys where it's difficult to dry your gear. However, with many brands now coating their down with durable water repellent (DWR), it's not the most compelling argument for synthetic.
Fill power, or FP, refers to how much space one ounce of the down fills and basically how fluffy or lofty the insulation is. It can range from 300 to 950+, and a higher fill power represents a higher quality and also how well it can insulate for its weight.
Rather than just layering up with extra clothes and blankets, fill power is the key factor in finding gear that will not only keep you warm in cold weather but will also be light and take up little room in a backpack.
For down sleeping quilts, an FP of 600 to 650 is considered good quality, 700 to 750 is very good, and 800 to 950+ is some of the best you can get.
Sleeping Quilt Temperature Ratings
To find equipment that is suitable and safe for your camping trip, it's important to know how well it can perform in a variety of weather conditions, such as humidity, rain, wind, and altitude, as each can impact how warm you will be.
Unfortunately, no such standardized test system is available yet for backpacking quilts like there is for sleeping bags, so you're forced to rely on how manufacturers test and self-rate their products as well as their overall reputation and customer reviews. Manufacturers that already produce sleeping bags are likely to use the same method of testing, but it is well known that they make assumptions about other items you may be wearing, such as an insulated hat that can raise a quilt's temperature rating by up to four degrees. Additionally, temperatures are based on body size rather than gender, which needs to be addressed, as women sleep colder than men. Therefore, women may want to add 15 to 20 degrees of insulation.
Temperature ratings are by no means a guarantee, so if you are unsure what you need, it is worth contacting the company and asking these questions before you buy.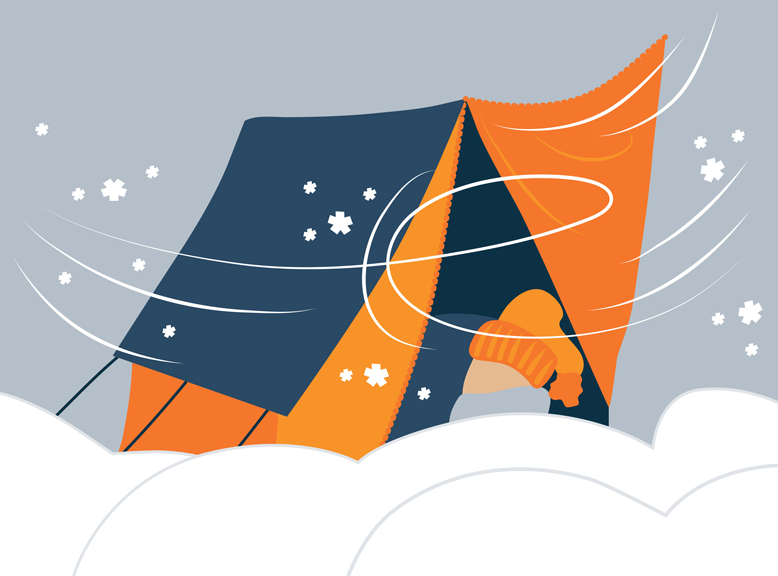 The comfort level is the temperature that the sleeping quilt should feel comfortable and you are able to sleep through the night without any additional layers or blankets. When the quilt is used in temperatures below the comfort zone, the user is likely to feel the cold.
To find the comfort zone temperature of your quilt, it is recommended to add 20 degrees to the manufacturer's stated temperature rating.
So, for example, if you have a quilt that is rated 30 degrees Fahrenheit, you would probably sleep comfortably in just base layers down to 50 degrees Fahrenheit. Below that, you would likely want to wear some additional layers to remain warm.
Ultralite Hiking Quilt Shell Fabrics
The best camping quilts are made with ultralight fabrics on both the outer shell and inner lining. You will see a lot of quilts are made with a Ripstop Nylon material, which comes in a range of denier fiber thicknesses (10D, 20D, and so on).
If you are keen to camp lightweight in fair weather conditions, a 7D or 10D outer shell material would work fine; however, as that is very thin, it might not be as durable for the longer term, and down can sometimes be lost through the fabric. If longevity and water resistance is of more importance, a thicker denier, such as 20D, would be suitable.
It's worthwhile looking for quilts where the outer fabric has been treated with a down water resistance (DWR) coating, which helps to stop water penetrating the fill.
Trekking Quilt Sizing
Manufacturers usually provide details of the user maximum height within the product description as well as the actual quilt dimensions, so keep an eye out for those.
Customer reviews can also give further insight as to whether they found the sizing accurate and comfortable for their own height.
Width is generally more important for ground sleepers because they will need extra fabric to wrap underneath, whereas hammock users would tend to use it as a top quilt with a separate under quilt for added protection.
You will often find that top of the range quilts offer options for either a zippered footbox or one that is sewn-in.
With a zippered footbox, it can be zipped up, and then usually a drawstring feature would be cinched in to stop any drafts from entering. When the footbox is unzipped, the entire quilt opens up and can be laid out flat just like a blanket, making it more versatile.
A sewn-in footbox is just how you would imagine it—sewn in. This creates its own challenge, as it is permanently closed and therefore not as multi-purpose as the zippered version. Although this means the quilt can never be fully laid flat, it does help to maximize warmth, and without the addition of a zip, it is slightly lighter.
Neither is better than the other. Which one is better truly comes down to personal preference and what kind of trips the user needs it for.
Collar
Unlike sleeping bags, backpacking quilts do not tend to have a hood, so one way to retain warmth is to secure the collar of the quilt around your neck.
Most blankets include a flat clip or snap button alongside a drawstring which cinches the collar in tight for those extra cold nights.
Some quilts have the addition of a draft collar which is down-filled baffle along the collar of the bag created to further stop heat escaping and provide some extra comfort.
Ultralight quilts may not include it as a means to keep the carry weight down. While it isn't a huge deal, people tend to prefer to have it rather than not.
Camping Quilt Extra Considerations
Weight of the Gear
Clearly weight is an important factor when picking your camp gear, but it's imperative that you don't sacrifice your comfort (or in extreme circumstances, risk your life) by selecting a quilt that is not up to the challenge of keeping you warm enough all night.
Insulation is the lightest component of a quilt, so pay attention to fill-power for loftiness and warmth-to-weight ratio.
When choosing outer shell fabric, refer back to denier thicknesses preferably with a DWR coating, and if anything should be weighing a little extra, consider making it the inner lining fabric for durability.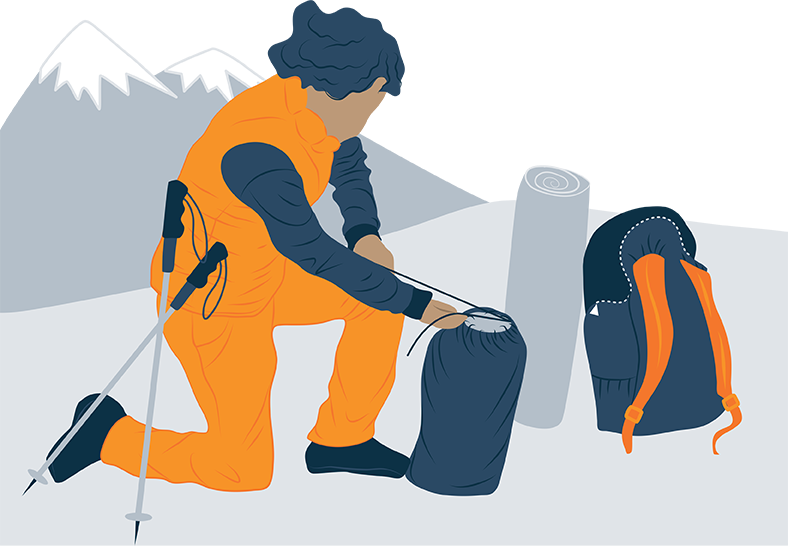 Down Fill Weight
Not to be confused with fill power, the fill weight determines the quantity, which means if a quilt has a down weight of 15 ounces, then 15 ounces of filling was used to insulate the blanket.
The weight must be viewed relative to the power, as fewer ounces of high fill power down can offer the same level of warmth as more ounces of a lower fill power down.
Another thing to note is that the fill weight is not the sole indicator of how warm your quilt will be. Everything from the shape, lining, and shell to footbox and zips can contribute to that.
Bottom Opening vs Full-Length Zip
The bottom opening on a backpacking quilt is normally secured using elastic straps or shock cords which bring the edges together around the body and is a standard feature of a camping quilt. The pros are that you have more freedom of movement due to not being completely attached to a sleeping pad, but the cons are that you're not always protected from drafts, hence why most people opt to use a pad alongside it as part of their sleep solution.
The full-length zip is slightly controversial, as having a zip across the bottom opening technically makes the quilt a hoodless sleeping bag, and the true quilt enthusiasts out there don't believe they should be in the same category.
At the end of the day, it's all down to personal preference!
Multiple Uses
Something we have touched upon already, some backpacking quilts are more versatile than others. For example, quilts that open up like a blanket can be used to sit on, to wrap around you when watching outdoor sports or sitting at the campfire, and for hammock and ground sleeping use. They can also be used in a range of different temperatures, whereas quilts with sewn in foot boxes are more suitable for colder weather sleeping.
For hammock camping, top quilts are the most popular and can be used on their own or alongside an under quilt for added warmth and protection from the elements.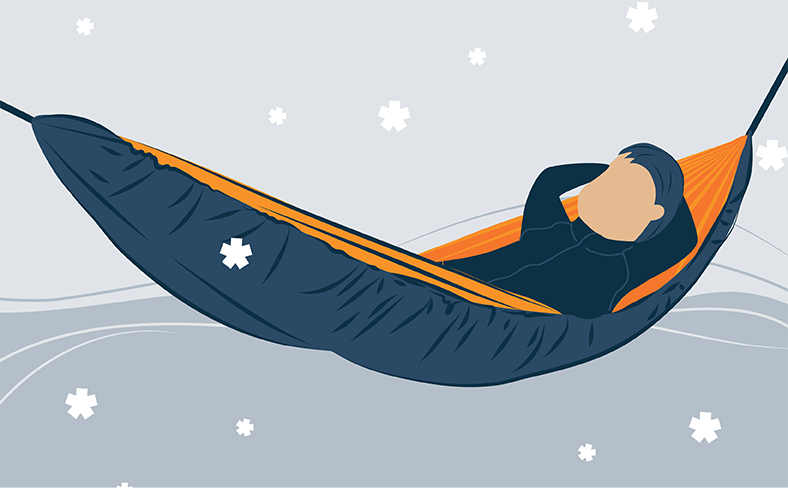 For use in conjunction with a sleeping pad, the quilt can simply be used just like your duvet at home and draped over you—weather permitting of course.
Sizing up
For some quilts, the length and width measurements listed in the product description may be taken from when the quilt is laid out flat, and therefore you may need to size up a few more inches to take into consideration when the blanket is cinched up. Also, if your height is in between the available sizes, you would probably want to take the next size up for comfort.
Pad Attachment
For when temperatures get very low, having just a quilt wrapped around you is not going to cut it, which is why most of the quilts you will see have some form of pad strap attached to it. It can either be a single or double strap which then secures around a sleeping pad. Further clips or fastenings can be used to properly set it down in place if need be.
Including a hammock sleeping pad as part of your sleep system can make a huge difference to the quality of your sleep when camping. Combining these products helps to keep drafts out and keep your quilt firmly in place without restricting movement, so if you are a side sleeper or toss and turn during the night, your warmth and comfort are not compromised.
Bringing a Hat
Normally, quilts don't have a built-in hood, but there are some exceptions, like the Go Outfitters Adventure Top Quilt that we have listed above.
Although it is usually the main concern for people transitioning from a bag to a quilt, this is actually considered a positive aspect of a quilt, as wearing a hat means your head will keep warm no matter which way you sleep.
You can also control the warmth better depending on which hat you use, from fleece to down or even a jacket with a hood. The choice is up to you!
Delivery Time
For highly customized quilts there can be long waiting times, sometimes up to two months during peak camping season, especially if your order requires some specific finishings.
It's worth contacting the manufacturer to double-check you will receive your order before your trip, otherwise, it might be easier to buy an off-the-shelf model that's readily available on demand.
Bonus Features
Although most backing quilts are fairly similar when it comes to specifications, some extra features can improve performance and help you get the most out of your backpacking trip. These features include but are not limited to:
For quilts temperature rated under 20 degrees Fahrenheit, it is handy to have one with a 3/4 or full-length zipper. When zippered closed, it eliminates any potential for cold drafts but is still able to be opened up as a blanket when temperatures rise.
Some quilt manufacturers provide a down-filled piece of material shaped like a dog bone that can be placed into the small center hole when the footbox is cinched in to further eliminate cold drafts creeping in.
If you know you are not planning to attach your quilt to a sleeping pad, being able to detach the straps just eliminates any extra weight or fuss, even if it is minimal.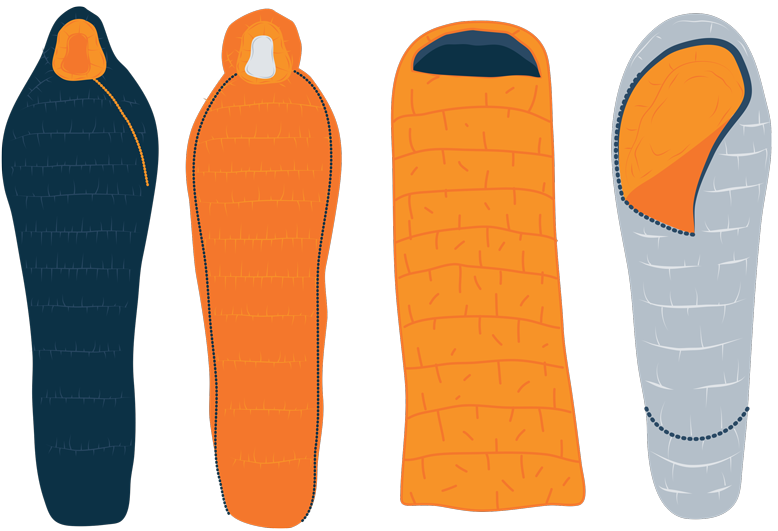 Backpacking Quilts vs Sleeping Bags
Weight
Camping quilts are remarkably lighter than sleeping bags with no need to compromise on warmth, so for trips where you need to carry your gear on your back or are simply looking for a light option, it's a no brainer to choose a quilt.
Cost
Given the fact that quilts are made with less material, insulation, hoods, and zippers, you would expect them to be less expensive than a sleeping bag, and they are. Although you can get some reasonably priced sleeping bags, if you try to compare them like-for-like in performance, there can be a significant difference in the price making quilts ideal for the budget traveler.
Comfort Level
Because quilts are non-restrictive, they are great for people who don't enjoy the tight fit of a mummy bag and are a renowned favorite among side sleepers. Quilts are easily adaptable to a broad range of temperatures with a wide range of fabrics and fill-types, so there is not much difference when it comes to the comfort level of warmth retention and the like.
However, some people do prefer sleeping cocooned in a sleeping bag with a hood. Sleeping bags have been around for years, and for extremely low temperatures, some backpacking quilts can't quite keep up.
Conclusion
Hopefully this guide serves as a good starting point for anyone considering a change from their usual sleeping bag to a backpacking quilt. There are many benefits to making the switch, but it still comes down to personal sleeping preference and what works best for you.
In essence, the quilt has been designed to cut out what isn't truly necessary for a good night's sleep when camping, making it a compact, versatile piece of gear.