Transparency Disclosure – We may receive a referral fee for products purchased through the links on our site...

Read More

.
If you're struggling to sleep from aches and pain, you're not alone, and heating pads can help. They're great for both relieving body pain, getting sleep, and often affordable. If sleep is a challenge, they could give you a better, calmer night's rest.
With all the many features that modern ones come with, it can be quite daunting to figure out which is the highest-rated heating pad.
We've created a list of the best ones most worth your money, as well as some tips on what to look for when buying.
Top 8 Heating Pads Reviewed
Chattanooga –
Flannel Cover
Delivers intense, moist heat therapy
Intended for use on the back, shoulder, wrist, stomach, knee or foot
Includes a flannel covering
Easy-to-use digital hand control
The Chattanooga heating pad is excellent for its ease of access. It comes with tools like a digital hand control for easy temperature and time regulation and can be set up effortlessly.
It weighs around 2.2 pounds and is 27x14x1 inches large, meaning it's quite big enough to cover wide areas of your body, such as your entire spine. It has a flannel covering that's designed to gather moisture as it gets hotter, releasing more heat onto your skin for better relief. This is fantastic for medical conditions like arthritis, inflammation, and muscle spasms.
The digital controller keeps temperatures between a steady 88 and 166 degrees Fahrenheit. It also lets you set the duration of your treatment between 1 and 60 minutes, giving you long-lasting pain relief. Built into it is a lockout mode, keeping settings from changing inconsistently, making daily use that much easier.
ETL certified
The temperature can reach up to 155 degrees Fahrenheit
6 different heat settings
Auto-shutoff feature
Size matters. Too small and you'll have issues with covering your entire body, so it helps to get a pad that's big enough to accommodate those troubling areas. The Anbber heating pad accomplishes this by being more than large enough to suit your needs, as well as having unique technology to accomplish deep relief.
The digital LED controller has 6 heat settings with a temperature range of 110 to 160 Fahrenheit. There's a 9-foot electric cord included for convenience, along with elastic rubber bands for easy body attachment. Not only can the two hours auto shut-off provide peace of mind but it also aids in conserving energy.
It utilizes special Anbber warming wire technology, which differs from normal warming wires by having better heat dissipation and performance through a more uniform layout. The micro-plush fabric is breathable, machine washable, durable, and quite big, measuring at 34 x 17 inches, making this perfect for anyone who desires size above all else.
Pure Enrichment –
Fast-Heating
6 Temperature Settings
Safely use for dry or moist heat therapy
Auto Shut-Off: 120 minutes
Microplush and Polyester cover material
The Pure enrichment PureRelief heating pad is one of the best-selling warming pads on the market today. Part of what makes it so popular is that it comes with a multitude of features designed to give you quality and customized pain relief.
The material is made from soft, thick micro-plush fibers, giving you ultimate comfort and durability. And because it measures 12 x 24 inches, it should be more than enough to cover any area you need relief in.
It's specifically designed to be fast, taking only seconds to get warm and easy to apply for quick relief. It comes with a digital LCD controller that has up to 6 therapeutic heat settings, ranging from 105 to 140 Fahrenheit, meaning there's a setting for just about every need.
The Pure Enrichment PureRelief heating pad is machine washable, too, and comes with a storage bag for easy packing. The 120 minutes auto shut-off means you should not have to worry about forgetting to turn it off.
Mighty Bliss –
Auto Shut Off
Auto shut off option
3 temperature heat settings
Can be used dry or moist
Made with soft microplush fibers
The Mighty Bliss Large Electric Heating Pad is great for pain relief, as it comes equipped with a ton of quality features fit for this type of product. Made from micro plush fibers, it should give you a pretty soft experience and stay durable for a long time.
This product is sizeable, measuring 12 x 24 inches, meaning you can fit it on any area of your body that needs relief. Being just 1.3 pounds also means it's quite portable and can be unrolled in seconds.
Its controller comes with low, medium, and high settings, as well as a built-in 2-hour auto shut off. It's easily cleaned in most washing machines and has both moist and dry heat options that users can take advantage of. If you need fast heat, look no further, as this one could be right for you.
Heats in 30 seconds
6 personalized heat settings
Can be used moist or dry
Auto shut off option
Microplush fiber is a very common type of material used in manufacturing these types of products. As many other brands use this fiber, it can be hard to distinguish between which ones have the best micro plush for maximum comfort. The Sunbeam Heating Pad is best in class for micro plush, along with being an all-around solid choice.
It measures at 12 x 15 inches, meaning it's good for covering most areas on your body. The digital LED controller included comes with 6 different heat settings, allowing you to tailor your own heat relief experience to better satisfy your needs. And like other ones, it has auto shutoff feature for safety.
At 1.3 pounds, it is light and portable, as well as machine-washable (the manufacturer says that you cannot dry clean or bleach this). Also included is XpressHeat technology, which means it only takes around 30 seconds to warm up.
Geniani –
Soft Microplush Fiber
Auto shut off feature
3 heat levels
Heats up in seconds
Can be used dry or moist
Ultra-soft microplush material
Intertek Certified
Chronic pain and sore joints is something many people suffer through. It may seem difficult finding relief to your pain, but there are ways to help. The Geniani Heating Pad is a very effective product that could be the solution to your muscle pain problems.
This excels at relieving muscle and joint pain, thanks to its comfortable and efficient design. It's made from micro plush fibers that are gentle and flexible to the touch, made to cradle your body and sooth deep aches. The special knit fabric gives fast relief for both dry or moist heat therapy.
The included controller has 3 levels, giving you choice in temperature and alleviation. It measures extra large at 12 x 24 inches, which means there's lots of space to cover crucial pain areas. This model is safe to use in a washing machine and is great for folks looking for fast pain mitigation.
Figerm –
Machine Washable
Auto shut off feature
Heats in 4 seconds
3 different heat settings
Ultra-soft microplush material
Can be used dry or moist
Knowing how many features are included with a product is an important detail to consider when purchasing. Some are more multifunctional than others, which may foster overall better pain relief. The Figerm heating pad contains enough multifunctionality to perform admirably as a top of the line product
It is made from microfiber fabric that is both versatile and soft. It's ideal for both dry and moist heat therapy, depending on your liking. It measures 12 x 24 inches, making it large enough to reach most points on your body and cradle your pain spots.
The controller included reaches a max temperature of 140 Fahrenheit and has 3 different levels of heat to give you more control. This should heat within seconds for immediate relief. Another great function is the 2-hour auto shut-off, keeping you safe and your energy bill relatively low.
Boncare –
Soft Velvet Cover
Auto shut off feature
4 different heat levels
Can be used dry or moist
Soft velvet cover
Ignoring safety could be quite dangerous to your well-being if you're not careful, as you may cause serious injury to your body. And when it comes to safety, the Boncare heating pad excels. It comes with a multitude of features for pleasant and safe relief.
The dimensions are 12 x 15 inches, making it smaller than others, which is ideal for areas like your legs, wrist, or arms. With that being said, this still packs enough warmth to knock the pain out fast with its vinyl fabric and velvet cover. An included controller has four settings that can be adjusted between a temperature range of 104 to 158 degrees Fahrenheit.
Also included is an insert sponge (for moist heat relief), velcro strap, and storage bag for convenience. To help customers conserve energy there is a 40-minute auto shut off. If you're in the market for something safe and effective this could be for you.
Things To Consider Before Purchasing a Heating Pad
Auto Shut Off
If you're concerned about safety, consider getting one with an auto shut-off feature. You may fall asleep while using yours, so having one that shuts off after an hour or so could prevent serious injury. You'll want to decide if a long or short shut off is best for you, as a short timer may be a problem for extended use.
Timer
This is similar to the auto shut off but is a feature designed to give you more exact control over how long your therapy lasts. Most brands come with different timers, and some are easier to handle than others, so be sure to check into this before you buy.
Size
Size is important, and you'll need to decide on what you're going to be using your pad for. If you require full body relief for larger sections like your spine or waist, you may want to consider a large pad. If you're relieving smaller areas like the wrist or legs, go for something smaller in size.
Number Of Heat Settings
If you're a fan of having lots of options to customize your pad's temperature, you may want one with extra settings. Some have more than others, and these will sometimes come with memory functions to remember previous settings, so keep an eye out for this function.
Heat Up Time
How long does it take yours to warm up? This varies from product to product, as some take only seconds, while others may take up to a minute or more. It might help to check multiple reviews to get a more exact estimate on the time it may take.
How Hot Does It Get?
Depending on your needs, the max temperature can make a world of difference in what kind of relief you receive. Usually, product descriptions can tell you the max temperature in both Fahrenheit and Celsius, so check these out before buying.
Material
There are different types of materials used in manufacturing, like micro plush fiber, velvet, polyester, and so on. Some materials distribute warmth better, while others might be softer or more durable, so check up with manufacturer descriptions to find out.
Length Of Power Cord
There's nothing more disappointing than finding out that the cord is too short. Usually, cord length is specified in product descriptions or the manufacturer's website, so it's important to check before you buy, or you might end up with wasted time and money. Longer cords are not only convenient but can give you more options for where to place it.
Wireless Capability
Some models are wireless, meaning that cord length is irrelevant. There are pros and cons with this, such as battery length and charge time, so be sure to weigh these in when deciding to ditch the cord or not. Both suit different needs and purposes.
Heating Methods
There are different types of designs, such as microwave, electric, infrared, and other non-electric sources of heat. These will be explained in more detail later on, but for now, just be aware that methods vary, and some may be more suitable for your needs than others.
Types Of Heating Pads
There are a number of different types of hot pads on the market, all suitable to specific needs and areas of your body. You wouldn't use a pad designed for spine support on your knees, and you wouldn't use a pad for knees on your neck, so knowing the differences will definitely come in handy.
Not only will choosing the right pad for your needs alleviate pain much better, but it could save you a headache in finding the appropriate one. Compiled below is information on the various versions, which should be able to assist in your search.
Body Parts
As stated before, some models were made with certain body parts/areas in mind. It's helpful to know how each pad helps these parts, and how to recognize the right pad for your body, as each pad is shaped and specifically designed to work in certain ways.
Heating pads designed for these parts of your body are usually contoured in a specific way, so as to fit snugly around your neck or to fit and drape on your shoulders. These are form fitting to take relief off high-pressure areas around your neck.
Your back and spine are some of the larger areas of your body, meaning that they require more surface area. You'll want to look out for an XL-sized brand, so as to get appropriate relief across your entire lower back and spine. Smaller ones work too for more precise pain targeting.
You can also buy some with knee support to target joint pain. These products wrap firmly around your knees and are designed to deliver exact and precise pain relief, as the fabric contours and bends easily. Be sure to check on the size of your pad too, so you'll have a comfortable therapy session.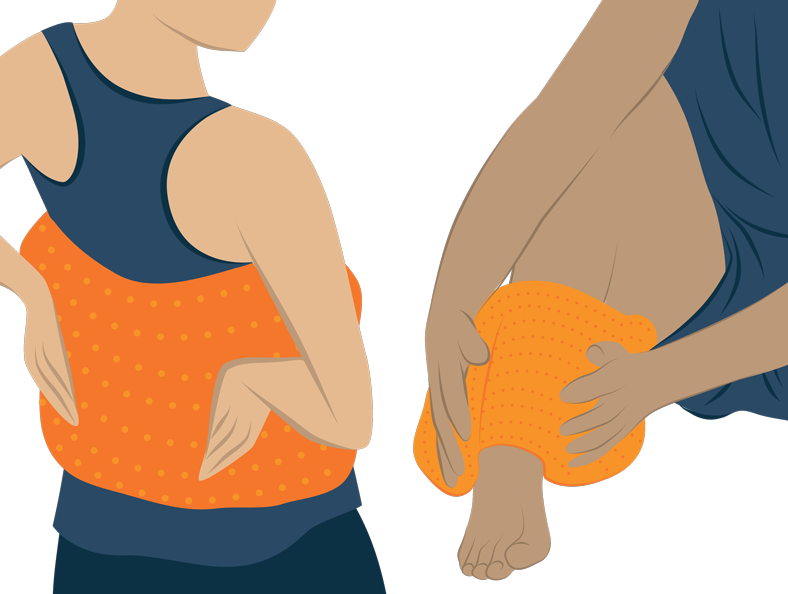 Heating Methods
There are different methods in the market, with some methods delivering warmth more effectively than others. It's important to know what each does so you can make an informed decision on which pad will be right for you and your body.
The main drawback of electric models is that they need recharging and often have higher temperatures than non-electric models. They usually heat the skin at just a surface level, meaning they aren't necessarily more penetrating than others. This might be an issue for some people, which should be kept in mind.
Infrared can usually give a more penetrating type of relief in comparison to electric. Their design goes beyond penetrating the skin's surface and can really give deep relief to aching bones and muscle. Be sure to check if your pad is infrared on the product description if that's what you need.
Heating pads designed for moist methods are perfect for deep skin penetration and relief in ways that traditional electric can't do. Much like infrared, moist can expand tissue elasticity and give more effective joint and muscle relief. Moist is also better for people with specific medical concerns, like skin dehydration and people with aging skin.
Microwave is very different from electric, moist, and infrared. Firstly, these warm-up solely by putting them in the microwave. Various gels and other materials are used to fill them, like wheat and lavender. The microwave makes a great alternative to traditional means.
Non-Electric Heating Pads
These are pocket-sized ones that don't require charging or any other additional power source. You snap a metal plate, which then starts generating heat through a chemical reaction, making them excellent for camping or traveling. The drawback is that these are usually one-time use and don't last very long.
Portable
These are good to take on the go, giving you heat and relief wherever and whenever you may need it. There are different types, like cordless, rechargeable, USB, and so on, so decide which one is best for you before purchasing.
These are great because they can be folded and transported easily. Usually, these come with a storage bag for convenience, though that may vary depending on the manufacturer. If you're in the market for one you can take with you from place to place, check these out.
USB versions can be a viable alternative to other designs, as they usually aren't as bulky and don't need a power cord. However, if you can avoid them you should, as the temperature control on them is usually not all that good, and they're frequently made with subpar materials.
These double as a pad for comfort and relief on the go, as well as at home. As these don't require a power cord, they're exceptionally portable. This can come in handy if you anticipate going somewhere without easy access to a plug outlet or other power source.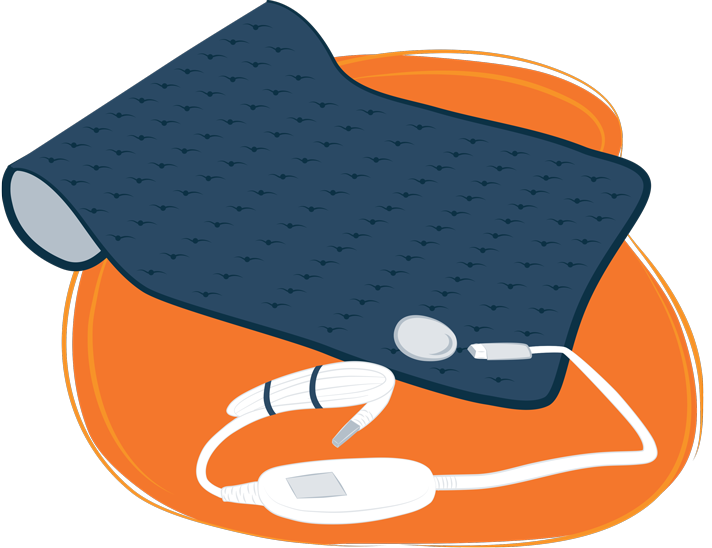 Helpful Benefits of Using a Heating Pad
Heating pads are great for relieving pain at certain spots on your body, but they can also have extra benefits for certain health conditions like arthritis and muscle spasms. Depending on what condition you have, you may find great relief by using one for half an hour or more a day.
As always, be sure to check with your doctor before using one to mitigate symptoms. Conditions such as muscle spasms may require special treatment before applying a heating pad. Improper use can worsen conditions, so it's absolutely vital that you know how and when to use a pad for a medical condition.
Arthritis
Those suffering from arthritis can find immediate relief from using a heating pad. Daily use of a pad can help alleviate arthritic pain, and give short term benefits when used properly. Be sure to check with your doctor, as it may have a negative effect on certain types of arthritis.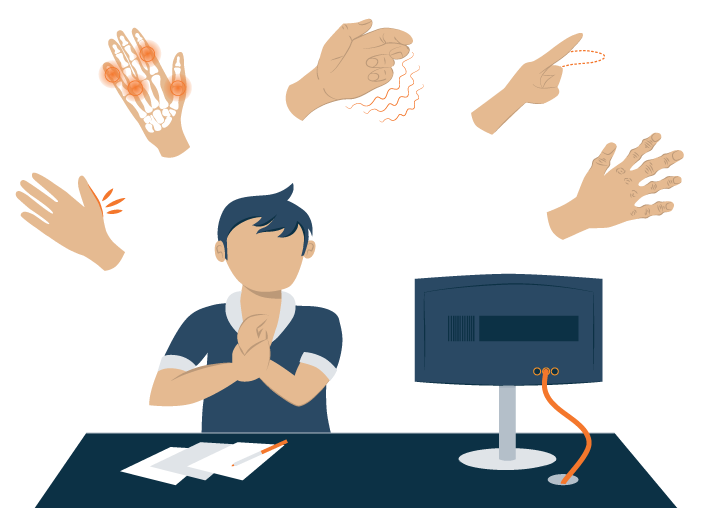 Fibromyalgia
Those suffering from fibromyalgia are in luck, as inflammation isn't an issue to contend with. Heat therapy can soothe muscles and make them more flexible, which is especially beneficial for those with this condition. As always, double check with a doctor.
Muscle Spasms
Muscle spasms are a bit more complicated to relieve when using these types of products. While in general, heat therapy is beneficial for muscle spasms, you might have to wait 3 days or 72 hours after spasms begin, as inflammation may be an issue. For more information, be sure to check up with a doctor for this specific condition.
Cancer
People with cancer may find heat therapy to help with pain relief, as suggested by The American Cancer Society. This can relieve deep aches and stimulate your skin, depending on what type of therapy suits you best. If you're currently going through chemotherapy, you should check with a doctor, as heating pads are not a generally recommended approach.
Lower Back Pain
Heat therapy is usually very effective in relieving lower back pain. Using one on a daily basis not only gives you pain relief but also works as a helpful treatment, according to The American College of Physicians. Though, this varies from person to person, so a doctor can better guide you on what treatment is best for your back pain.
Frequently Asked Questions about Heating Pads
What's The Best For Menstrual Cramps?
Those suffering from menstrual cramps will be happy to know that a heating pad can offer you pain relief. Heat therapy can soothe muscle contractions and help improve blood flow. The best one for this is largely going to depend on what features you're looking for, as well as other factors such as size and type of energy design.
Is a Heating Pad Safe For Pregnancy?
This depends on what stage your pregnancy is in. They are not recommended during the early stages by most medical professionals.
Women in their second and third trimesters can benefit from them under low to moderate temperatures and only for brief periods of time. As always, it is crucial that you ask your doctor ahead of time.
Can a Heating Pad Reduce Swelling?
The main cause of swelling comes from bleeding muscle tissue. As applied heat would make more blood collect in a swollen area, they do not reduce swelling at all. It's not recommended nor good for your well-being to use one for such conditions.
What's The Difference Between Infrared And Electric Heat Pads?
Electric heating pad works mainly on the surface of the skin. These are not usually able to penetrate the epidermis more than an inch or so.
Infrared, on the other hand, can penetrate much deeper than traditional electric methods, going directly into the bone, improving circulation and quickening both relief and healing. The pain you are experiencing can determine which is best.
Conclusion
Heating pads are getting increasingly more popular for pain relief, and for good reasons. Heat therapy is beneficial for relieving tension and aches after a long day of work, or for chronic conditions, making them very versatile and great for a variety of purposes.
Finding the best one can be a bit of a challenge, but it doesn't have to be. With just a little bit of know-how, you can shop smart and pick out the perfect pad for your body, and your physical health will thank you for it. If you're someone who suffers body pain from time to time, invest in a good pad, as your well-being will likely improve.