Transparency Disclosure – We may receive a referral fee for products purchased through the links on our site…

Read More

.
Disclaimer – Nothing on this website is intended to be a substitute for professional medical advice, diagnosis, or treatment…

Read More Here

.
We all know how hard it can be to sleep on the couch or sofa, especially because they are not designed for that. Even though we sometimes feel the urge to grab a little nap in the afternoons or just lay there reading a book or watching TV, they are not designed for people to lie down for long periods of time.
As they move the weight differently as a mattress does, your body is not fully supported, so there are various things that can happen when you sleep on the couch, especially to your body. The five main reasons why you should avoid sleeping on the sofa are these:
1. Wrong Position when Sleeping
This is something common that sofa sleepers suffer from: a bad sleeping position. An unfavorable position can eventually damage your back, harm your neck muscles, leave you tired and unrested, and end up in serious medical conditions.
As we are designed to sleep on our sides, we need enough support to do it freely, but on a couch or sofa, this sleeping position can be difficult to achieve, making us lose a lot of sleep and eventually waking up much more tired than normal.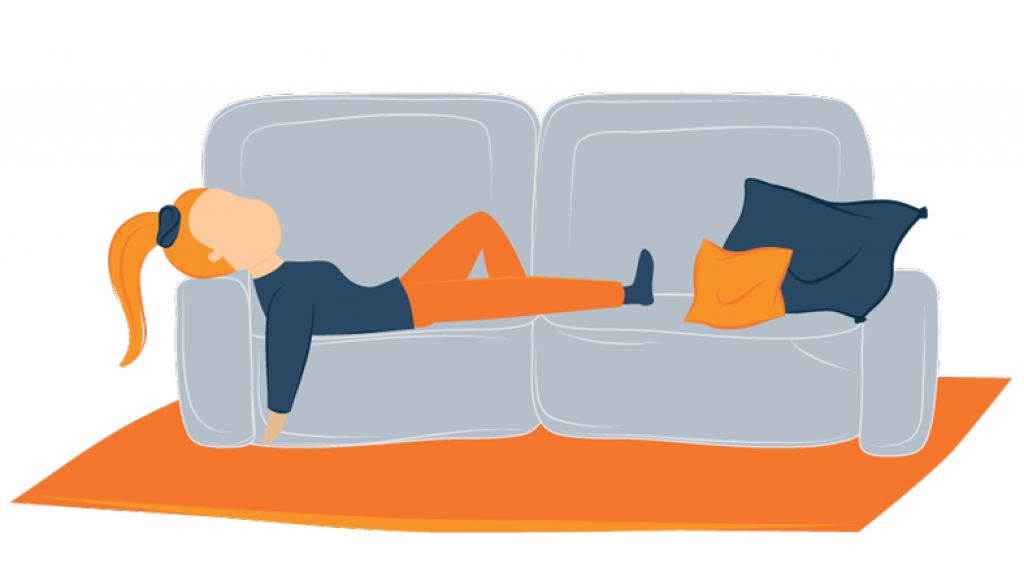 2. The Material is Not Right
Couch material is not the same as a mattress. Not only when it comes to the position you adopt on a couch is not supported as well as it is in a mattress, but the heat is not absorbed as well as it is in a mattress. This happens due to the materials used in each one, most sofas are not made to absorb much heat while others absorb too much.
3. Back Pain
Back pain is not something that may start due to a specific injury, disease or accident. Most people who suffer from back pain start feeling it gradually. It is something that comes from repeated wrong positions while sitting, walking or sleeping. In addition, you may not feel anything but then one day you wake up and your back feels really bad.
Sleeping on the couch can increase the pressure on your spine, making it a lot more likely for your body to increase back pain in the long run. Do yourself a favor and get a bed designed to relieve back pain.
Already dealing with a spine issue or joint pain? Check out our top picks for the best mattresses for herniated discs.
4. Lights
Almost everyone has a couch in their living room, one of the most illuminated places on houses. So, when you rest on your couch you are less likely to be totally black-out, one of the most important things we need in order to sleep well. Sleeping on the sofa means being subject to more illumination and lights, so we are more likely to get disturbed and woke up in our sleep.
Find Out More: How Technology Impacts Sleep Quality
5. Distractions
Apart from being more predisposed to annoying illumination, sleeping on the sofa can also mean much more distractions for us. Not only are we more likely to have a TV, a computer or just anything that can distract us, but we are more likely to be interrupted in the middle of our rest by someone else, especially when we live along with other people.
Learn More: Why You Should Never Sleep With the TV on
As you see, sleeping on the couch or sofa can be harmful to our sleep, and eventually, end up in serious medical conditions that could be avoided if we slept in our normal bed. So, why don't you start sleeping in your bed right now and avoid all of these consequences that can be really bad for your health? It's free and makes your mind and body feel a lot better.
Conclusion
If you insist on falling asleep on the couch from time to time, we do recommend that you invest in a pillow to prevent neck pain. This can help to support your head, neck, and spine. While you're at it, consider a soft blanket too!
Sources
Jill Zwarensteyn
Editor
About Author
Jill Zwarensteyn is the Editor for Sleep Advisor and a Certified Sleep Science Coach. She is enthusiastic about providing helpful and engaging information on all things sleep and wellness.