Transparency Disclosure – We may receive a referral fee (at no additional cost to the buyer) for products purchased through the links on our site or other applicable pages. To learn more, please read our full disclosure page here. We also encourage you to read about how we may research and/or test Products here.
As it starts to get cooler outside, the desire to create the coziest, warmest indoor space possible starts to take hold. There are autumn-scented candles to buy, fluffy pillows to put on the couch, and of course, making the bed soft and cozy is a cold-weather must.
Another essential part of a cozy bed? A soft blanket.
We've rounded up the seven softest and coziest blankets, just in time for fall and winter. We'll also walk you through our buyer's guide so you have a better understanding of what to look for as you shop for your new blanket.
The Best Plush Blankets of 2023 Reviewed
Brooklinen Pure Wool Throw Blanket
100 % Pure Lambswool

Handmade in Germany

Comes in two colors: "Greige" and "Latte"

365-Day Trial

1-Year Warranty
When people hear "wool blanket," they may think "scratchy." That's because wool can feel scratchy or rough, especially for those with sensitive skin. This blanket, however, is neither of those things. This Brooklinen blanket is warm and thick and yet feels soft and light, earning the Editor's Choice spot.
The wool itself is soft, virgin lambswool, and each blanket is handmade in Germany by a 100-year-old family mill. The blanket measures just 59 by 83 inches, so it works well as a throw for the bed, couch, or to cozy up any room. 
The Brooklinen blanket can only be dry-cleaned and because of the quality material, it runs on the more expensive side. However, Brooklinen does offer a one-year return policy. 
Why did it make the list?
Unlike some other wool blankets that can feel warm but scratchy, this one is incredibly soft

This product is the perfect size for a light and versatile throw blanket 
Most Comfortable Soft Blanket
Cozy Earth Bamboo Blanket
Temperature Regulating 

Soft, Smooth fabric

Premium 100% Viscose from Bamboo Fabric

Oversized to Fit All
The Cozy Earth Bamboo Blanket feels like it is made out of something between silk and a cloud, though in reality it is made with 100 percent viscose from bamboo. So, not only is it the most comfortable soft blanket on this list, but as a bamboo blanket, it is also eco-friendly. 
This blanket comes in four sizes: Baby, Twin, Queen/Full, and King. However, each of these blankets runs a little bit oversized, so every sleeper will have plenty of room and coverage. Plus, for you hot sleepers out there, the fabric is designed to be breathable and moisture-wicking. As a result, you shouldn't have to worry about waking up hot or sweaty underneath this blanket.
Why should you buy it?
This soft, bamboo material is great for hot sleepers, as it is moisture-wicking and temperature-regulating.

The blanket is eco-friendly as it's made 100% from bamboo.
Silk & Snow Alpaca Wool Throw Blanket
100% Peruvian Baby Alpaca Fiber

Lightweight and Warm

Available in Six Natural Colors/Patterns

100-day Trial
This throw blanket from Silk & Snow is made from 100 percent Peruvian Baby Alpaca fiber, sourced from generational breeders in the Andes. In fact, these breeders are partnered with the Sustainable Alpaca Network, an initiative that helps improve the standard of living for alpaca breeders and their alpacas across Peru.
These throws come in a variety of colors and patterns. Unlike other blankets, Alpaca fiber grows naturally in a variety of colors, so these blankets are naturally colored with no added dyes. Each one measures 51 by 71 inches and is thin, so they're a good size for the foot of the bed, thrown over the back of your favorite chair, or even to take with you on a flight. 
Why we love it 
These blankets are sustainably and ethically sourced, and they support the welfare of Peruvian alpaca farmers. 

The blanket is soft and lightweight.

No added dyes or chemicals are used to create these six colors and patterns.
Saatva Diamond Knit Blanket
100% Cotton Knit

Hypoallergenic and Moisture-wicking

OEKO-TEX® Standard 100 Certified 

1-year Limited Warranty 

Pre-washed for Extra Softness
The Saatva Diamond Knit Blanket feels incredibly soft as it's made from 100 percent cotton knit and pre-washed before it gets to your home, so there's no need to break it in. The cotton itself is made from long fibers, which makes for a more durable blanket that isn't likely to fray. These fibers are woven together in a geometric knit that is hypoallergenic, antimicrobial, and very breathable, making this a great option for hot sleepers and those with allergies or skin sensitivities. 
The blanket comes in three colors: ash, sand, or white. Additionally, you can choose from three sizes: Twin/Throw, Full/Queen, or King/Cali-King. 
Why did we pick it?
The quality cotton materials make for a soft and luxurious-feeling blanket.

This blanket is made from long fibers, and therefore it is more durable and less likely to fray than other cotton blankets.

The Saatva blanket is free from harmful chemicals.
Best Soft Organic Blanket
Avocado Luxury Natural Throw Blanket
4 Material Options

Multiple Color Choices

30-Day Return Policy

Made with Natural Dyes and Metallic Salts
If you want a soft blanket that is also eco-friendly, you may have found your match. All of Avocado's throws have no added dyes or harmful chemicals, and Avocado itself is a carbon-negative business. That means they offset more than 100 percent of their emissions. 
You can choose between four materials: Merino Wool, cashmere, organic cotton, or recycled cotton. 
The Merino Wool option is made of 100 percent Merino Wool from weavers in Mongolia. The edges are finished with rows of hand-tied fringe. Cashmere is the most luxurious (and expensive) option, made from 100 percent cashmere. Their organic throws are made from either 100 percent organic cotton or recycled cotton, and both of these options are made in the United States. 
What stands out?
These throws are soft and come in a variety of materials and colors. 

They are eco-friendly through and through, from the materials and dyes used to the care the company takes in their supply chain.
Best Soft Weighted Blanket
Layla Weighted Blanket
Deep Touch Pressure

Top Side is Made of Plush Fur

Bottom Side is 100% Cotton

5-Year Warranty
If you are anxious, have ADHD, or are just experiencing stress, a weighted blanket might help. Science shows that using a weighted blanket helps put your autonomic nervous system into "rest" mode, which can reduce some of the symptoms of anxiety, stress, or insomnia. 
The top of the Layla blanket is covered with soft, mink-like fur, and the bottom is made from quality 100 percent cotton that is soft, breathable, and easily washable. Inside, the blanket is filled with small glass beads sewn between two layers of poly-fill batting, so the blanket will be quiet. Additionally, the outer hexagon quilting keeps the weight evenly distributed throughout the entire blanket. 
Why did it make the list?
Unlike other weighted blankets, this one is completely washable and the weight stays evenly distributed. 

This company offers a money-back guarantee. If you try it for a few nights and you don't like it, send it back and receive a full refund. 
What to Look for When Buying a Soft Blanket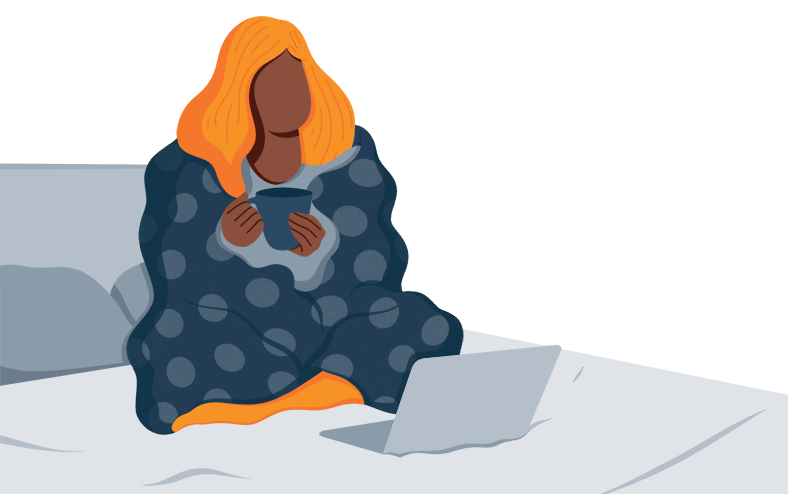 Price
Depending on the materials used and the quality of the blanket you're looking at, the price will vary widely. We try to recommend blankets that should work for every budget, but some of the materials above will be more affordable (like cotton) than others (like cashmere). Keep in mind that synthetic materials will always be less expensive, so natural materials at a good price are an excellent find.
Material
Fleece

– Fleece is a synthetic material made from polyester. This material is great for keeping you warm without overheating because it is moisture-wicking. Fleece is a synthetic material, and as such, it should be less expensive than some of the others below. 

Flannel

– Flannel can be made from a variety of materials, including cotton, wool, fiber blends, or synthetic fibers like polyester. What makes something flannel, though, is its unique "napping" construction, which gives it its slightly fuzzy texture. Flannel is a great material for keeping heat in, so it's not the best for hot sleepers.

Faux Fur

– Faux fur is usually made from a combination of acrylic and polyester fibers. This material tends to be soft and good at trapping heat. Since it is made from synthetic materials, faux fur should also be more affordable. 

Cashmere

– Cashmere is a lightweight and extremely soft luxury material that is made from wool. Cashmere is generally expensive, can shed over time, and is not machine washable. 

Wool

– Wool is a versatile material that can be used to create luxurious and super-soft cashmere blankets, or it can be used for durable, warming, and moisture-wicking blankets. In general, though, wool is a great material for keeping you warm, and depending on the construction and quality, can either feel soft or a bit scratchy. 

Chenille

– Chenille can be made from a variety of fibers, including cotton, silk, wool, or rayon. This material tends to be super soft, fuzzy, and warm. Chenille is not ideal for those who sleep hot, as it can absorb a lot of moisture, and it needs to be dry-cleaned since it can easily shrink or stretch.
Feel
Different blankets work for different needs. When shopping for your new blanket, ask yourself, do you want to feel warm, or do you want something more breathable? Do you want something super soft and fuzzy or more smooth? Heavy or light? Fluffy or thin? Depending on your answer to these questions, you'll need to look at different blanket materials and weights. For example, if you sleep hot and want something cooling, bamboo is a great option. If you want something soft, fuzzy, and warm, cashmere or wool would work well for you. Ultimately, the right blanket feel depends on what you prefer.
Maintenance
Be sure you're paying attention to care and maintenance instructions when looking at different blanket options. Some are easily machine washable, whereas others require more care and attention. Some are less likely to pill or fray (like bamboo), and other materials like cashmere are more likely to pill over time.
If ease of maintenance and washing is a top priority for you, you'll be better off going with a blanket that is not Dry Clean Only.
Color
Some of the blankets we have listed only come in white, which is a beautiful and clean-looking option for many. However, for those with animals or kids or who like to drink grape juice in bed, it is probably not the most practical option. Luckily, many of the blankets on our list come in a variety of colors and patterns, many of which are made from natural dyes and naturally-colored fibers. Be sure to pick the blanket color that not only looks good but works practically in your life.
Size
Most blankets come in a variety of sizes, from Throw to King. Be sure you are picking the right size for your bed, and keep in mind, depending on the material, the blanket may shrink in the wash. Prices will likely increase as the size of the blanket increases.
Frequently Asked Questions
What type of blanket is the softest?
Blankets made from fleece, flannel, faux fur, cashmere, wool, or chenille tend to be the softest. Each of these materials will vary in quality and price, with the synthetic soft materials being less expensive, and the natural materials being more expensive.
Why do blankets stop being soft?
Blankets can stop being soft if you are washing them incorrectly. Adding too much detergent or harsh chemicals can deteriorate the fabric or make it stiff. Also, adding too little detergent might leave hard water (minerals in the water) in the wash, which can also harden your blanket.
Be sure you are following your blanket's care instructions, and when possible, line dry the item or put it on low heat.
What is the best blanket for winter?
Going with a warm materials like wool, fleece, cashmere, or flannel is a great choice for Winter. If you live with anxiety or insomnia, the Layla Weighted Blanket is a great option for Winter to not only keep you super warm but also relaxed.
What's the difference between a throw and a regular blanket?
A throw blanket is smaller and usually lighter than a regular blanket. Throws are designed to be added as a decorative element on top of your regular bedding or over the back of furniture. A regular blanket is sized to fit and cover your entire bed.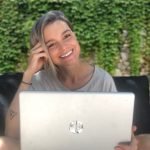 Natalie is a content writer for Sleep Advisor with a deep passion for all things health and a fascination with the mysterious activity that is sleep. Outside of writing about sleep, she is a bestselling author, improviser, and creative writing teacher based out of Austin.
When she's doing none of these things, you will most likely find her outdoors, at the gym, or... asleep.