Transparency Disclosure – We may receive a referral fee for products purchased through the links on our site...

Read More

.
Constantly on the quest for a travel pillow that allows you to sleep well on a flight, even if you're in the middle seat? Meet the Trtl (pronounced 'turtle') Travel Pillow, which is the world's first mechanically engineered travel pillow. This isn't your traditional travel sleep accessory – visually it looks like a cross between a neck brace and a scarf. Featuring a fleece wrap with concealed foam-covered plastic support, it's designed to keep your head and neck supported when sleeping upright, offering a unique alternative to traditional U-shaped travel pillows.
How does it work? Unwrap the scarf and place the supportive part between your shoulders/chest and jaw, which will cradle your head. Then, wrap the scarf around your neck and fasten the velcro patch.
If you're thinking, "That doesn't sound comfortable", we understand because we had the same thoughts. Read on to find out if our initial thinking was correct or if we were pleasantly surprised.
Who Is the Trtl Travel Pillow Best for?
Who Might Like the Trtl Travel Pillow:
Who Might Like the Trtl Travel Pillow: – A common complaint with traditional travel pillows is their size, but the Trtl's compact design means it's easy to stash in your bag or around the handle of your carry-on, without adding bulk to your luggage.


---

People with neck pain – Nothing ruins the start of a trip like tension in your neck from sleeping in a plane seat. The Trtl is designed to keep your head and neck supported when sleeping upright, helping to keep aches and pains at bay.


---

Side sleepers – If you're used to side sleeping, you'll likely lean your head to the side when sleeping on a plane, which isn't ideal if you're in the middle or aisle seat. However, the Trtl offers fantastic support for your head, keeping it in the correct alignment with your neck and spine.
Who Might Not Like the Trtl Travel Pillow:
Those who want a versatile pillow – The Trtl isn't a pillow you can hug or use as lumbar support – it's more like a comfy neck brace. While it does a great job of supporting the head and neck, be cognizant that it's not a traditional plush travel pillow.


---

Petite/taller people – While you can adjust the tightness of the wrap, the Trtl's plastic insert (the part that supports your head and neck) is of fixed size, so may not suit smaller or taller people. It's worth using the 100-day trial to give it a go and then switching to the Trtl Travel Pillow Plus, which is height adjustable but more expensive, if need be.
Sleep Advisor's Testing Methodology
We're here to take out the guesswork, providing unbiased reviews so you can make informed decisions. We tested this pillow for key factors like temperature, support, and comfort. Despite being a travel pillow, we still tested this product for different sleeping positions, as how you sleep in a bed may affect how you sleep while sitting upright.
What is the Trtl Travel Pillow Made of?
Cover
The Trtl's cover is a soft, breathable, and hypoallergenic fleece fabric that wraps around your neck, securing it in place with a velcro fastener. It's designed to look like a scarf and has a bit of stretch to it which lends to that scarf feel. This allows you to pull the fabric up around your mouth and nose if need be.
The Trtl is currently available in four colors.
Core
This is where the Trtl shines – the core's internal support system is made from a plastic c-shaped 'flipper' that is reminiscent of a neck brace. This flipper can be positioned to be on either side of your head or below the chin, depending on your sleeping style, to hold the head in place.
The top part supports your jaw while the bottom part rests on your shoulder or chest. A piece of thin foam covers the flipper to add a cushioned feel, and the flipper has a bit of give to it, eliminating any pressure build-up while preventing your head from bobbing.
Trtl Travel Pillow Firmness & Feel
Firmness
The Trtl doesn't have the plush feel of a foam pillow, but despite the thin fabric and plastic insert, it's not rigid and firm either. The plastic insert is covered with thin foam and has a bit of give to it, providing a good balance between firm support and cozy comfort.
Feel
The scarf wrap is soft and fleecy, creating a cozy feel around your neck. While it's not plush like a regular travel pillow, the foam covering the plastic insert does provide a surprising amount of comfort for your head.
Loft
As this is more of a neck brace/scarf hybrid than a pillow, the Trtl has zero loft.
Weight (Density of the Pillow)
The Trtl weighs 4.5 ounces, which is way less than a normal foam travel pillow, and its compact size is great for travel.
Sleeping on the Trtl Travel Pillow
Overall, we were highly impressed with the Trtl, as it offered fantastic support for the head and neck while sleeping upright. However, be aware that it's not a traditional plush pillow, so won't offer any cushioning for those who like to place their head on the tray table to sleep.
| Side Sleepers | Back Sleepers | Stomach Sleepers |
| --- | --- | --- |
| ★★★ | ★★★ | ★★☆ |
Side Sleepers
Those of us used to side sleeping can find it tricky on a plane if we haven't scored a window seat as we're used to resting our heads to the side when sleeping. The Trtl combats this perfectly – simply position the flipper to the preferred side of your face, and you'll be able to rest your head to the side without it rolling out of alignment with your neck, making it great for any seat. 
However, one issue is that you have to choose which side the support rests on, so if you decide you want to lean the other way, you'll have to unwrap the Trtl and place it on the other side.
Back Sleepers
Back sleepers can struggle when sleeping upright on planes as their heads tend to fall forward, especially if they're unable to recline their seat. The Trtl is great for back sleepers as the plastic flipper insert can be positioned between the chin and chest, preventing the head from moving out of alignment with the rest of the spine. 
Stomach Sleepers
It can be hard for stomach sleepers to get comfy when sleeping upright as they're used to leaning forward to sleep. The Trtl can aid this in the same way it does for back sleepers by preventing the head from rolling forward. However, if you're someone who likes to rest their head on the tray table to sleep (the Trtl won't do a good job at cushioning as it's more of a neck brace than a traditional pillow. 
Trtl Travel Pillow Sizing Options & Pricing
| Size | Dimensions | Price w/o Discount |
| --- | --- | --- |
| One size | N/A | $49.99 |
Sleep Advisor's Performance Ratings for the Trtl Travel Pillow
The Trtl is made with a breathable fleece fabric, which is nice and cozy for when the temperature drops in the cabin. If you're someone who tends to overheat, you may be better off getting the Trtl Pillow Cool, which costs more but features cool-to-the-touch Tencel fabric (instead of fleece) and a mesh venting panel.
In our opinion, the Trtl is unmatched for support when it comes to travel pillows. The plastic flipper doesn't compress under the weight of your head as traditional foam does. The fleece wrap does a great job of keeping everything in place, and the inner support cradles the face beautifully. It's even designed to hold the head in a better ergonomic position when sleeping upright than a traditional foam travel pillow.
While the velcro fastener and plastic insert of the Trtl feel strong and durable, the pillow requires a bit more care than a regular travel pillow – if you squash it at the bottom of an overstuffed carry-on or accidentally stand on it, you may find yourself with a broken and useless 'neck brace'. Also, the Trtl doesn't come with a carry pouch, which is a shame as that could prevent it from getting dirty or snagged in transit.
We were surprised at how comfy this pillow was. The fleece is super soft and cozy and feels like a hug for the neck. However, it takes some getting used to, and we did miss having a plush pillow to hug when watching a film. Plus, this pillow won't be of any use to you if your flight's delayed and you need a nap on the floor of the airport.
This product only features a small amount of foam, which isn't compressed on arrival, so there's zero off-gassing smell.
While the Trtl Travel Pillow uses hypoallergenic fleece, it loses a point for not having any hypoallergenic certifications.
The Trtl's fleece wrap can be machine-washed; simply remove the plastic internal support and pop it on a cool wash with mild detergent. The fabric air dries pretty fast, which is handy for travel, but it can also be put in the dryer on low heat. However, one thing to note is that we find it a little tricky to put the plastic support back in place after washing.
The Trtl comes with a generous 'no questions asked' 100-day money-back guarantee – plenty of time to test it out on vacation. However, there's no warranty for this product.
Trtl Travel Pillow Frequently Asked Questions
What is a Trtl pillow?
The Trtl pillow is an innovative alternative to the traditional U-shaped foam travel pillow. Essentially, it's a fleece scarf/neck wrap with a plastic insert that props your head up to keep your head and neck in line with your spine.
Where is Trtl based?
Trtl was founded by two Scottish friends, so the company's headquarters is in Glasgow, Scotland. Their products are designed in the UK and manufactured in Asia.
Who is the founder of Trtl?
Scottish friends Michael Korrigan and David Kellock founded Trtl in 2013 after experiencing far too much discomfort from traditional travel pillows while flying on low-cost airlines. The mechanical engineering graduates developed over 80 prototypes until they settled on the first Trtl. Kellock left the company in 2018, while Korrigan is CEO.
How Does the Trtl Travel Pillow Compare to Other Pillows?
Trtl Travel Pillow vs Trtl Travel Pillow Plus
trtl Pillow Plus
Sleep Advisor Score
4.80 / 5
Who Should Get the Trtl Travel Pillow?
People who tend to get cold on planes
Shoppers on a smaller budget
Average-sized people
Who Should Get the Trtl Travel Pillow Plus?
Petite or taller individuals
Those who tend to overheat on planes
Shoppers who want a carry pouch for their pillow
Our Final Thoughts on the Trtl Travel Pillow
We were pleasantly surprised at how comfortable the Trtl was after initially thinking it was little more than a fleece neck brace. It offers fantastic support when sleeping upright. Additionally, it's lightweight, compact, and easy to carry around (although we wish it had a carry pouch).
It can take a while to figure out how to wear it, so we recommend practicing at home before you get on your flight. It comes with a removable label explaining how to use it; it's best to leave this attached for the first use. However, we wouldn't recommend the Trtl for those seeking a squishy, plush pillow. Taller people may be better off with the adjustable Trtl Travel Pillow Plus, and hot sleepers should check out the Trtl Pillow Cool. Our overall score for this product is 3.9 out of 5.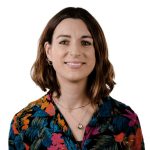 Lisa is a content writer for Sleep Advisor, which combines two of her greatest passions – writing and sleeping. She can also be found writing about fitness, sustainability and vegan food.
Her life revolves around her two rescue dogs (who she shares her bed with) and if she's not running around after them, she's likely doing yoga, buying new plants, or enjoying a sunset rum at the beach.
Writing for Sleep Advisor has made her realise she needs a new mattress, stat.