Transparency Disclosure – We may receive a referral fee for products purchased through the links on our site...

Read More

.
Instagram has helped launch the careers of models, singers, artists, and lifestyle influencers. However, did you know the social media platform also helped make a star out of a bed frame? Simply known as "The Bed," this sleek, eco-friendly, and easy-to-assemble bed frame from Thuma set Instagram algorithms ablaze. The company has nothing but the best things to say about their product, but I'm here to find out if this is true or just hype.
I tested this frame for myself, and in this review, I'll bring you the details of the Thuma bed frame. I'll let you know who this bed is a perfect match for and who may want something else. I'll also give you the pros and cons of the construction and materials, as well as how supportive and easy to assemble the frame is. Last but not least, I'll help you understand how it feels to actually sleep on it.
Thuma Bed Frame
Known as "The Bed," this frame comes together without tools and offers robust support with its wooden slats.
Sleep Advisor Score
4.90 / 5
My Video Review of The Thuma Bed Frame
Who Is the Thuma Bed Frame Best for?
Pros: Who Might Like the Thuma Bed Frame:
People looking for a simple-to-assemble bed frame – From my experience, the Thuma bed is super easy to put together. Thuma utilizes an age-old construction technique called Japanese Joinery that makes this frame easy to assemble and disassemble. You don't need any tools, and I found the process to be quite fun.


---

Those who need more storage space – If you like keeping boxes under your bed, you'll love that this bed frame provides 9 inches of under-bed space for storage.


---

People desiring a quiet bedroom experience – I found that the Thuma bed makes little to no noise thanks to the simple but sturdy design. This makes it a good choice for combination sleepers, sexually-active couples, and restless sleepers.
Cons: Who Might Not Like the Thuma Bed Frame:
Shoppers on a budget – There's a lot to love about the Thuma bed, starting with its quality and eco-friendly materials. However, this also means a higher-than-average price, so this may not be the best option for budget shoppers looking for an affordable bed frame.


---

Fans of high-profile beds – When fully assembled, this frame is only 9 inches off the ground. This may not be a drawback for everyone, but those who want a taller bed frame should look elsewhere.


---

Folks looking for a more traditional-looking bed frame – While the sleek, minimalist design of this bed frame may appeal to many, others may not have the same appreciation. This isn't necessarily a traditional design, so if you're looking for a more ornate or traditional appearance, this is probably not the best bed frame for you.
Sleep Advisor's Testing Methodology
Your sleeping environment is important to your overall health and well-being. For this reason, it's important to have a bed that meets your needs and desires. Therefore, I took testing, evaluating, and analyzing this frame seriously. This helped me understand how the frame performs and what you can expect if you decide to purchase it. I wanted you to know not only what it is made of but how those materials perform when sleeping on this particular frame.
For more on our testing methodology, visit our in-depth product review process guide.
What is the Thuma Bed Frame Made of?
Materials
The Thuma bed is an eco-friendly product as it's made from all-repurposed wood and recycled plastic. The frame is made from rubberwood and doesn't contain any wood veneers, plywood, or medium-density fiberboard (MDF).
What I liked is that each of the frame's legs has cork pads applied to the bottom to help protect your floors. On top of that, you don't need a box spring with this frame because your mattress sits directly on sturdy slats. Each slat is lined with eco-felt made from recycled plastic.
You will also receive a minimalist headboard alternative called a PillowBoard. The headboard is made from CeritPUR-US® certified foam and polyester pebbled linen weave.
Height
The frame measures 13 inches, but there are 9 inches of clearance under the bed. If you decide to attach the PillowBoard, the head of the frame comes in at 35 inches.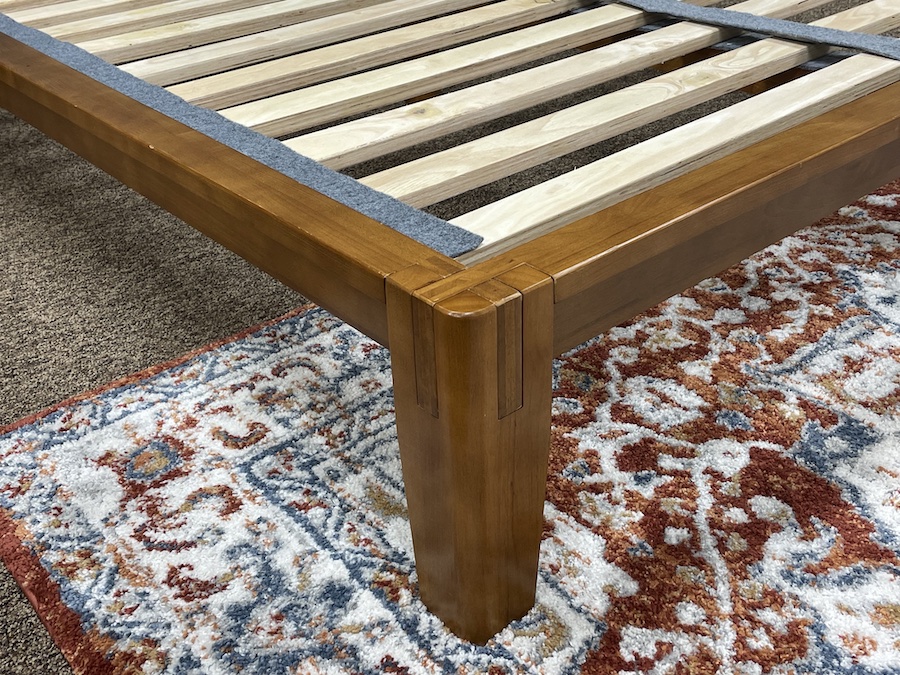 Sleeping on the Thuma Bed Frame
If you sleep with a restless partner or a rambunctious pet, you should be careful about choosing a bed frame that doesn't create noise. I mention this because I noticed near-absolute silence when I tested the Thuma bed.
Although some may appreciate a taller frame, I think the lower profile of this frame makes it easy to get in and out of bed for most people. On top of that, this one has a weight capacity of over 1,500 pounds, so it's a good option for couples and heavier individuals.
Thuma Bed Frame Sizing Options & Pricing
| Size | Dimensions (inches) | Price (w/o discount) |
| --- | --- | --- |
| Twin | 44" x 80" x 13" | $695 |
| Twin XL | 44" x 85" x 13" | $795 |
| Full | 59" x 80" x 13" | $895 |
| Queen | 65" x 85" x 13" | $995 |
| King | 81" x 85" x 13" | $1,095 |
| Cali King | 77" x 89" x 13" | $1,095 |
Thuma Bed Frame
Known as "The Bed," this frame comes together without tools and offers robust support with its wooden slats.
Sleep Advisor Score
4.90 / 5
Sleep Advisor's Performance Ratings for the Thuma Bed Frame
I'd recommend Thuma to everyone who says they're looking for a sturdy and supportive bed frame. It's made with high-quality materials that can hold over 1,500 pounds, with an easy-to-assemble design. The Japanese Joinery technique uses groves instead of screws, nails, and fasteners, so you don't need any tools to put it together. More importantly, this practice is known to produce supportive and strong products.
Additionally, the slats are protected by eco-felt lining. These provide a secure base for your mattress, ensuring you don't need a box spring.
Although I haven't had a chance to really test Thuma's durability for an extended period, I can tell you my opinion regarding the matter.
Thuma uses repurposed rubberwood, which is a durable hardwood from the maple family. The frame is made entirely out of this wood, so it has the same strength and durability across the entire construction. This way, the company shows their dedication to making a durable product that should last many years.
On top of that, the eco-felt lining helps protect the slats from rubbing against the frame's wood.
The frame arrives in boxes with numbers that indicate the order in which you should open them. Inside every box, you'll find instructions that are easy to follow.
The Japanese Joistry technique means all you need to do is insert the wood into pre-cut groves with nothing but your hands. This may feel a little tight, and you'll likely need to use a bit more force, but this is so that the frame doesn't end up wobbly once assembled. Once you put it together, simply roll the slats across it.
The company says this is a one-person job, but I think it goes smoother and faster if you have another set of hands helping you.
When I tested the Thuma, I noticed no bumping, creaking, squeaking, or any other noises. I think this is because there are no screws or nails, but rather the wood is slid into grooves. Additionally, the groves are tight, so there's not a lot of room for the wood to move and make noise.
Thuma offers free standard ground shipping within the contiguous U.S. for their bed frame.
The company offers a 100-night trial for sleepers to test the Thuma bed frame. If you decide to return it during the trial, you can contact the company to initiate a free return. One thing to keep in mind is that although you don't have to keep the original boxes, it helps to have them in case you wish to return the frame.
Also, Thuma offers a lifetime warranty, which I think is a great deal.
Thuma Bed Frame
Known as "The Bed," this frame comes together without tools and offers robust support with its wooden slats.
Sleep Advisor Score
4.90 / 5
Thuma Bed Frame Frequently Asked Questions
Can you put any mattress on a Thuma bed frame?
Yes, Thuma is a supportive and strong bed frame with slats that can support any mattress, including foam, latex, innerspring, and hybrid. You do not need a box spring with the Thuma frame.
Can you attach a headboard to a Thuma bed frame?
Interestingly enough, the PillowBoard, or any headboard for that matter, cannot be attached to the frame. Rather, the PillowBoard is designed to rest against the frame and the wall, secured by the weight of the bed. This means your bed will have to be against a wall if you decide to use a headboard with this frame.
How long has Thuma been in business?
Thuma was officially launched in 2018. The founders spent two years working on designs and prototypes before making their product available for purchase.
How Does the Thuma Bed Frame Compare to Other Frames and Bases?
Thuma Bed Frame vs Saatva Adjustable Base Plus
Saatva Adjustable Base Plus
The Saatva Adjustable Base Plus has almost every base covered (pun intended) with its array of features, including under-bed lighting, adjustable legs, and more.
Sleep Advisor Score
5.00 / 5
Who Should Get the Thuma Bed Frame?
Heavyweight people and couples
Light sleepers sensitive to noises
Folks who aren't particularly handy
Who Should Get the Saatva Adjustable Base Plus?
Snorers or those who sleep with someone who snores
Folks shopping for an affordable adjustable base
Those who are looking for extra features such as massage
For more on Saatva's adjustable base, visit our Saatva Adjustable Base Plus review.
Thuma Bed Frame vs Nectar Adjustable Base
Nectar Adjustable Base
The Nectar Adjustable Bed Frame has a wireless remote, tool-free assembly, and an anti-snore setting.
Sleep Advisor Score
4.70 / 5
Who Should Get the Thuma Bed Frame?
People with smaller bedrooms
Those who will have the head of their bed against a wall
Eco-conscious shoppers
Who Should Get the Nectar Adjustable Base?
Folks who want an adjustable base that is easy to assemble
Those who weigh more than 230 pounds
People who want an intuitive and easy-to-use remote
For more on Nectar's adjustable base, visit our Nectar adjustable base review.
My Final Thoughts on the Thuma Bed Frame
Thuma started in 2018 and quickly became a social media darling. Being that it was so hyped up on social media, many people didn't believe it really was all it claimed to be. However, they've been in business for over five years now, and it's clear that the Thuma bed frame has the quality to back up that hype.
Although the headboard design may not work for everyone and the frame is on the pricey side, I think it's worth considering if you're after a quality, durable, and eco-friendly bed frame. On top of that, I found it to be quiet and easy to assemble, which is always a plus for most of us. Keeping all of this in mind, I give the Thuma bed frame an overall score of 4.8 out of 5.
Thuma Bed Frame
Known as "The Bed," this frame comes together without tools and offers robust support with its wooden slats.
Sleep Advisor Score
4.90 / 5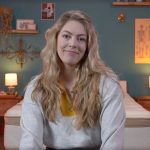 Julia is the Lead Reviewer at Sleep Advisor, specializing in testing out mattresses and sleep accessories – she's in the right line of work, because she loves to sleep.
Julia has been working in the sleep health space for nearly 4 years with brands like Roku's This Old House, Sports Illustrated, and Real Simple Magazine, and researches new products coming onto the market daily. She is based in Raleigh, North Carolina. When she's not testing out mattresses, she's going to the farmer's market (or probably taking a nap) with her senior pup, Rosita.