Transparency Disclosure – We may receive a referral fee (at no additional cost to the buyer) for products purchased through the links on our site or other applicable pages. To learn more, please read our full disclosure page here. We also encourage you to read about how we may research and/or test Products here.
Maybe you've recently moved somewhere new or you're redecorating. Whatever the reason, you are looking for a new bed frame, and if you are just starting your search, it may feel daunting.
There are different styles, materials, designs, and colors to choose from, but perhaps the most important question you have to answer is whether it's affordable.
We've rounded up a list of eight bed frames of various styles and designs that are cheaper than comparable frames. We'll also include some important information on what you need to consider when shopping for a new bed frame.
The Best Cheap Bed Frames for Your Mattress
Nolah Platform Base
Wood Structure 

Steel Rails

Compatible with All Mattress Types

15-Minute Assembly

14.5 Inches High
The Nolah Platform Base is where durability meets convenience. This product features a sturdy wooden framework combined with highly supportive steel rails. As mentioned, convenience is a major benefit to the Nolah Platform Base; the company says their base is compatible with all mattress types, including latex, foam, hybrid, and innerspring models. Additionally, the assembly should take about 15 minutes, which means you won't have to spend an entire afternoon putting your new bed space together.
The total profile measures 14.5 inches high, providing a good height to pair with the mattress of your choosing.
Why do we love it?
This base from Nolah offers substantial durability, so it should last you a long time. Plus, its compatibility with multiple mattress types means you don't have to worry about veering off from your favorite mattress style in order to use this product.

The company offers free shipping and a 10-year warranty with this base.
Best Customizable Bed Frame
Brooklinen – The Floyd Platform Bed
Modular and Customizable Design 

Adjust Between Twin, Queen, and King

Headboard Option for Queen & King Frames

Birch Plywood Panels

6 inches of Storage Below
The Floyd Platform Bed is ideal for those who like to change things up. Perhaps you move around a lot, or maybe you just don't want to commit to a particular size or design. Unlike most bed frames, this one is modular and customizable. 
The panels are made from either birch or walnut plywood and have a modern and simple look to them. This bed sits relatively low to the ground with six inches of clearance, which you can use as storage space. 
The Floyd is designed for mattresses that don't require a box spring, so if you have an innerspring mattress, this might not be the frame for you. Also note, it is designed to be easily assembled but will likely take two people. 
Why did it make the list?
Unlike many other bed frames, this one is super customizable.

The Floyd is great for those who move often or will want to change bed sizes in the future.
Best Affordable Adjustable Bed Frame
Nectar Adjustable Bed Frame
Completely Adjustable

Includes a Zero-gravity Setting

Dual Massage Settings 

Built-in USB Charging Ports

Controlled by App or Wireless Remote
This adjustable bed frame is truly futuristic. The Nectar is completely adjustable; you can choose to elevate your head for reading or watching a movie, prop up your knees, elevate your feet, and get a massage. There is even a zero-gravity setting designed to alleviate pressure from your joints and back. 
All of these settings are controlled by an app or wireless remote, so you won't have to get up from relaxing to change things up. 
If you have a partner who wants to sleep in a different position, that's also doable. Their Split-King size allows you to individually control each sleeper's position with two Twin XL mattresses.
The best part about this adjustable bed is that it is more affordable compared to most adjustable beds. 
What stands out about it?
The Nectar offers adjustability, massage options, and even zero gravity technology to relieve pressure. 

The Nectar Adjustable Bed comes at a budget-friendly price compared to competitors.
Best Affordable Bed Frame with Easy Set-Up
Brooklyn Bedding The Frame
No Tools Required for Assembly
No Sharp Edges
Weight Limit: 2,500 Lbs
5-Year Warranty
Made in the United States
Brooklyn Bedding's The Frame has a refreshing no-frills design that can be assembled without any tools. The frame clicks together quickly and easily, and customer reviews attest to the smoothness of the process. Once it's ready, it remains user-friendly, with rounded corners and no sharp edges. Its deceptively simple construction should also stay quiet when topped with a box spring (or other foundation) and mattress.
The Frame is also extremely versatile. It can work with most major bed sizes as well as headboards, and its legs are compatible with both hardwood and carpeted floors. A 2,500-pound weight limit and 5-year warranty ensures that it stays stable over the long term.
Why it made our list
One of the coolest things about The Frame is that it's built with reclaimed railroad tracks, combining sustainability with solid support.
Best Affordable Bed Frame for Small Spaces
Avocado City Bed Frame
Comes in Twin, Twin XL, Full, Queen, King, Cal King

Easy Assembly 

Hand-crafted, Solid Wood

100% Non-toxic

Platform Shelves & Book Nook Add-ons
This bed frame is made from sustainably-harvest American timber and includes no particleboard, fiberboard, and toxic finishes or stains. The dovetail joints and interlocking design in each corner are so sturdy they've even patented the technology. 
The Avocado is easy to assemble and comes with everything you'll need, including felt pads to protect your floors. This bed is also easy to disassemble for those of you who move a lot. 
This bed sits just five inches above the ground, and you can optionally add on shelves and a book nook. They'll attach easily onto the side of the bed, anywhere you want them to go. This is an excellent feature for those working with a smaller space.
The frame comes in two colors: blonde or brown.
Why we chose it
The Avocado City Bed Frame is beautifully crafted and perfect for smaller spaces, with its easy-to-add-on shelves and book nook. 

This product is carbon-negative and biodegradable with zero waste. 
Best Affordable Bed Frame for Heavy Sleepers
Wink Beds Heavy-Duty Bed Frame
Fiberglass-infused Resin

Supports More Than 2,500 Pounds

Easy Assembly

Requires a Foundation or Box Spring

Easy to Clean
This bed frame is ideal for those of you who are heavier sleepers, as it can support up to 2,500 pounds. Keep in mind, this does include the weight of your mattress, and this bed frame requires you to have a box spring or foundation. Even so, it is one of the sturdiest and most supportive beds we have seen out there for heavier sleepers or those who want to sleep with more people (or animals) on the bed. 
This WinkBeds frame is so strong because it's made with fiberglass-infused resin, which is also warm to the touch (unlike other metals) and easy to clean. 
This product comes in Twin, Twin XL, Full, Queen, King, and Cal King and is compatible with a headboard. Plus, all sizes are under 250 dollars. 
What makes it special?
This bed frame is uniquely built to support up to 2,500 pounds while maintaining a simple and sleek look. 
Best Affordable Upholstered Bed Frame
Puffy Bed Frame
Upholstered with Cool Gray Cloth

Soft, Padded Fabric Headboard 

Noise-free

Wooden Foundation

101-Night Sleep Trial
The Puffy Bed Frame is upholstered with a cool gray cloth that will go well with almost any space. The headboard itself is padded and soft, providing you with some comfort if you're sitting up and reading or watching a movie. 
This frame is easy to assemble, and it is sturdier than most with its wooden slat foundation. This means you can say "bye-bye" to your box spring; you won't need that anymore. Plus, it is noise-free. 
The bonus on top of all of this is that this bed frame will be delivered fast (estimated at just 2-5 business days), and if you don't love it, they'll pick it back up for a full refund. 
Why should you consider it?
This bed frame is not only sturdy and high quality but also more affordable than many other upholstered bed frames. 

The frame comes with a lifetime warranty.
Best Affordable Bed Frame with a Minimalist Design
Helix White Wood Frame
Modern Aesthetic 

Two Color Options

100% Appalachian Hardwood Bed Rails

100% Solid Southern Yellow Pine Slats

100% Solid Appalachian Maple Legs

Tool-less Assembly
The Helix White Wood Frame is the perfect frame for those looking for something simple, easy to put together, and modern-looking. This frame has clean lines and comes in two color options: natural or white. Either way, the frame is made from all-natural materials, and no harmful chemicals or VOCs are used to make it. 
Perhaps the best part is that you won't need tools to put it together. The Helix comes in a variety of sizes: Twin, Twin XL, Full, Queen, King, and CA King; each one with a clearance of 8.25 inches from the floor to the bottom of the bed, which leaves a good amount of space for storage. 
Do note, this bed frame is not compatible with a headboard. If you're set on having a headboard, this frame isn't the one for you.
Why we picked it
We love its minimalist design, durability, and simple construction. No tools are required!
What to Consider When Shopping for an Affordable Bed Frame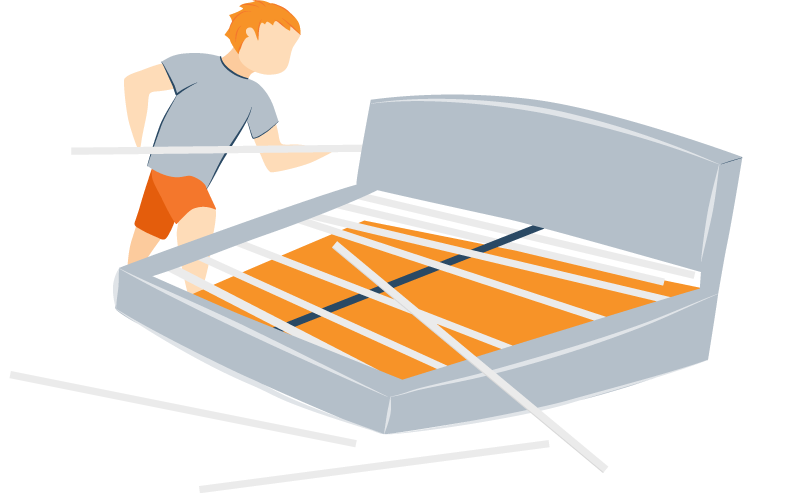 Height
Whether you choose a high, medium, or low bed frame will determine the look and practicality of your bed. For example, a low bed frame has a more modern look and is easier to climb into. A lower frame is also more practical for shorter people (including children) or for those who want it to be easier for their four-legged friends to hop on the bed. 
A high bed frame might make it easier to store things underneath and has a more classic look. This will be a bit harder to climb into for kids and dogs, and depending on what you want, that might be a good thing. 
Weight Capacity
When you're looking at bed frame weight limits, keep in mind that the limit mentioned usually includes people and the mattress, so if you have a dense, thick, memory foam mattress, you'll want to figure that in. 
If you are a heavier individual, or you know your bed frame will be supporting a lot of weight (dogs and kids party), you'll want to look at bed frames that support more weight.
Appearance
For some, a bed frame is just a utility – a device to lift the mattress off the ground for some elevation or storage space. For others, looks matter. When shopping for a bed frame, keep in mind that some options will and won't be compatible with a headboard. Additionally, some choices will even come with a headboard connected to the bed frame. Make sure you look into this before making a purchase.
Materials
Bed frames come in all sorts of materials: metal, wood, and fabrics. In general, metal frames tend to be easy to set up, and they are inexpensive and sturdy. Wood options might cost more, but they can be more aesthetically pleasing, depending on what you prefer. 
Just be sure you're getting a good understanding of the cleaning, maintenance, and setup required for the bed frame before you buy it. You can usually find out more information by looking up "set up" or "care" for the bed frame. 
Storage Space Underneath
Bed frames lower to the ground tend to have less storage space, and higher bed frames tend to have more. Some bed frames will even have built-in storage in the design, so all of those boxes and that camping gear won't be visible beneath your bed. 
If you know you'll be storing things under your bed, take the amount of space provided and the design in mind before you buy. 
Slats or Box Spring
The age-old question: to box spring or not to box spring? If you have a slatted bed frame, you don't need a box spring. Slatted support usually includes wooden or metal slats across the base so your mattress will be supported. The benefit here is that your mattress will be lower to the ground (a great option for a more modern aesthetic or for practical purposes), and yet you'll still have plenty of space for storage. Most mattresses these days will get enough support from a slatted bed frame, but some will need something more solid. 
That's where a box spring would come in. Box springs provide a strong and stable foundation for your mattress, and they also elevate your mattress higher. Many innerspring mattresses need a box spring. You should always make sure your type of mattress is compatible with the bed frame you're looking at.
Durability
You may find it hard to tell if a bed frame is durable when shopping online or even in-store. Unfortunately, it's one of those things you might not truly find out for a few years. The best you can do is make sure it is made of quality materials, from a reputable company, and read the reviews. The bed frames we've included here are high quality and should be long-lasting but again, always do your own research.
Price
The price of a bed frame can range anywhere from less than 100 dollars to well over 1,000 dollars, depending on the size, the materials used, and where you buy it. This list includes the best cheap bed frames, with quality still being a top priority. Anything below 100 dollars probably won't be high-quality. Anything above 1,000 dollars is pretty high, unless it has added features like adjustments or an elaborate headboard and footboard. 
Frequently Asked Questions
What is a good bed frame price?
Bed frames range in price depending on the material, size, style, and where you get them. A simple metal frame can cost as little as 100 dollars, whereas something made with wood, upholstery, or adjustable features can cost up to 2,000 dollars. We think a reasonable price for a bed frame is below 1,000 dollars unless it has additional advanced features. 
What type of bed frame is most durable?
Metal tends to be the most durable type of bed frame, generally speaking. That's because they won't bend or break as easily as wooden ones. This depends, though, on the quality and the manufacturer. All of the bed frames we recommend here should offer good durabilty. Another indidication of durability is a good warranty, which shows the company stands behind the product. Also, be sure to read multiple reviews before you buy.
Does a box spring make a bed more comfortable?
The point of a box spring is to give your mattress a little more height and support. The springs in the middle of its construction are designed to absorb your body weight. Some types of mattresses will benefit from a box spring, like an innerspring mattress. With latex, hybrid, or memory foam, you probably won't feel more comfortable because of the added box spring. 
Are wooden or metal slats better?
Metal slats are usually more durable than wooden ones, whereas wooden ones tend to be more affordable. Metal slats will also likely be able to handle more weight than wooden ones. Be sure to check if your bed frame has a weight limit, and keep in mind, this weight limit usually includes the weight of both the people and the mattress. If you have a heavy mattress or are heavy yourself, you might want to go with metal slats. 
Is it cheaper to buy a bed frame or make one?
If you have the skill, it might be cheaper to make your own bed frame, depending on the materials you choose. The cost of the supplies can be as minimal as you would like them to be. Just keep in mind the time, mental energy, and labor it will take to design and create your bed frame. If you're not much of a carpenter, you might do better to just buy a cheap bed frame and save yourself the time and energy.
Conclusion
Bed frames are an important part of your sleep space, but that doesn't mean you have to spend a fortune on them, especially if you've already invested in a new mattress. You can find many quality-made frames and foundations at budget-friendly prices. The list of products we've featured above provide great value.
As you shop for a bed frame, you'll also want to make sure that it's compatible with your current mattress or whichever mattress you plan to buy down the road. Most mattress manufacturers will suggest the types of frames that work best with their mattresses, so you don't have to do any second-guessing and you can feel confident in your purchase.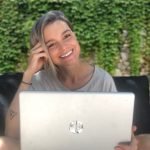 Natalie is a content writer for Sleep Advisor with a deep passion for all things health and a fascination with the mysterious activity that is sleep. Outside of writing about sleep, she is a bestselling author, improviser, and creative writing teacher based out of Austin.
When she's doing none of these things, you will most likely find her outdoors, at the gym, or... asleep.