Snowe isn't just a bedding company.
They also make just about everything you need for your home, including drinkware, plates, and towels. So, if you're looking to do a total home or room makeover, you might be able to get it done all in one place!
Founded by two Wharton MBA grads, Snowe has a place in our hearts as a company that makes simple and basic, affordable luxury. There aren't any frills, fancy stitching or bright colors, but they make up for the lack of pizazz with quality and American and European craftsmanship.
So, how do their sheets stack up to the competition? Read our Snowe bed sheets review to find out.
Snowe Percale Sheet Set
Sleep Advisor Score
4.40 / 5
Read Full Review
---
Snowe Sheets – Key Features
500 thread count
Choose from a percale or sateen weave (this review is for the percale sheet set)
Hand-finished in the final stages of production
Available in four colors: Essential White, Classic Ivory, Ash Grey, Slate Blue
Available in sizes ranging from Full to Cal King
90-day trial
Made in Italy
Pros & Cons
Pros
Crisp and clean design
Breathable fabric
90-day guarantee
High-quality with attention to detail
Handwritten note included
A new color was just introduced. Maybe more to come soon?
Percale envelope included for organized and stylish storage
Free shipping and returns
Cons
There are only four different color options
Ash grey color looks more like vomit than grey
Material / Style
These 100% cotton sheets are woven in a percale pattern, which is a perfectly balanced blend of threads with the same number of threads on the top that are on the bottom. By contrast, sateen has a 3:1 ratio.
The effect of the percale weave is a crisp, lightweight fabric that makes you feel like you're crawling into bed with a fresh set of linens night after night. This type of cotton is also incredibly breathable, so if you're trying to stay cool in the summer, or you tend to sleep hot no matter what the thermometer says, you'll love how well this helps regulate your body temperature.
Percale creates a matte-like finish and combined with Snowe's muted color palette, expect this set of linens to blend in with any bedroom setting.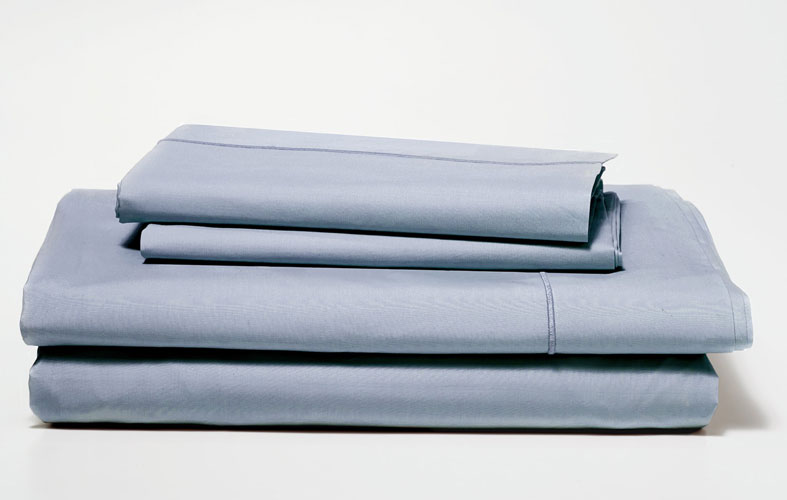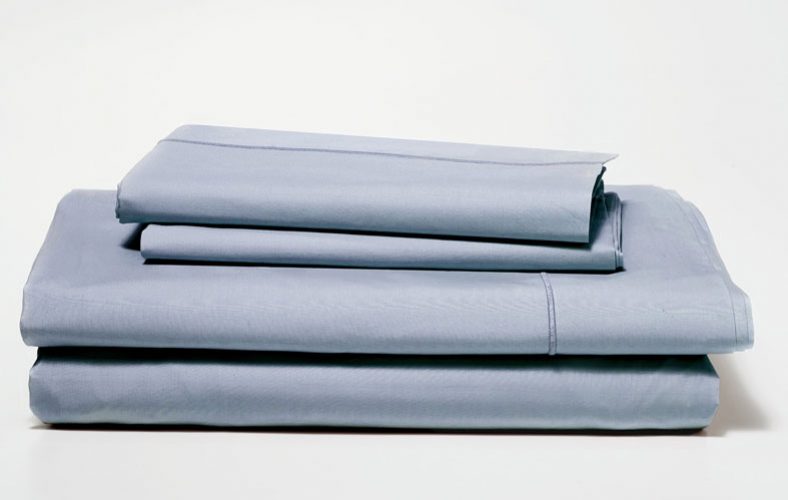 Build Quality
We've got to hand it to the team at Snowe. They've done an excellent job of design and quality control. These sheets are reported to arrive in tip-top shape with zero loose threads. They also feel like a premium quality product.
In the crowded bedding market, it's a challenge to stand out, and one of the things that Snowe has done to give them an edge is to design their sheets to be slightly oversized. This allows for them to accommodate any mattress, no matter the depth, as well as still fit your bed even if you disregarded the washing instructions and put them in the machine on high.
Durability
These things are built to last! We've tried a lot of bedding brands over the years, and we can tell right away which ones won't make it past a year or two. We look at the sturdiness of the stitching, the look of the weave and the strength of the elastic. Snowe gets top marks in all of these categories.
Not sure if they'll hold up to our rave review of the durability? Since you get a 90-day risk-free trial, feel free to put them to the test.
Remember when we said that they're made to be slightly oversized to accommodate deep mattresses as well as shrinkage? It's a good thing they thought of this detail because you should expect more shrinkage than normal.
Weight
Classic percale is a lightweight and breathable fabric. Snowe's collection is no exception. If you want a breathable set of bedding that won't make you feel stifled, warm or sweaty, you'll love the look, feel and weight of this product.
Feel & Comfort
How something feels and the degree of comfort it provides is a purely subjective measure, but we think we have a fairly descriptive way of relaying this information. At least, we hope so. Here it goes…
In our opinion, the Snowe percale sheets feel most like the bed linens at a hotel. The top words we'd use to describe them are crisp, cool, and smooth. Exactly in that order. We will say that before you wash them, they feel a bit coarse. However, once they go through a cycle or two in your washing machine, they soften right up!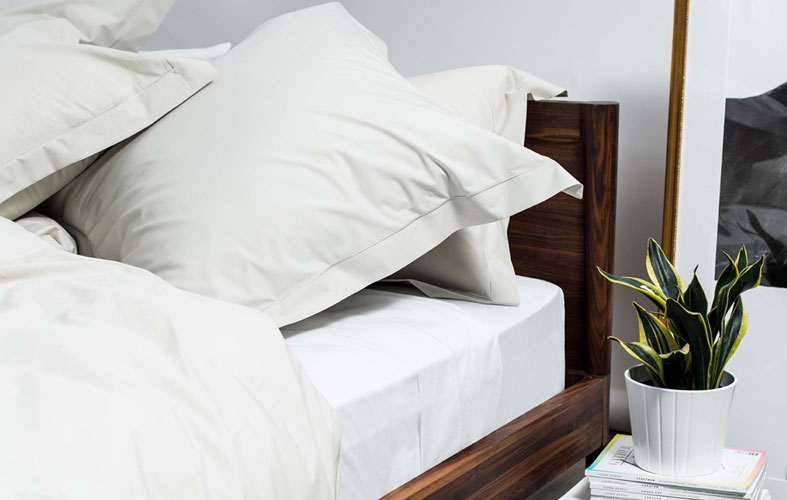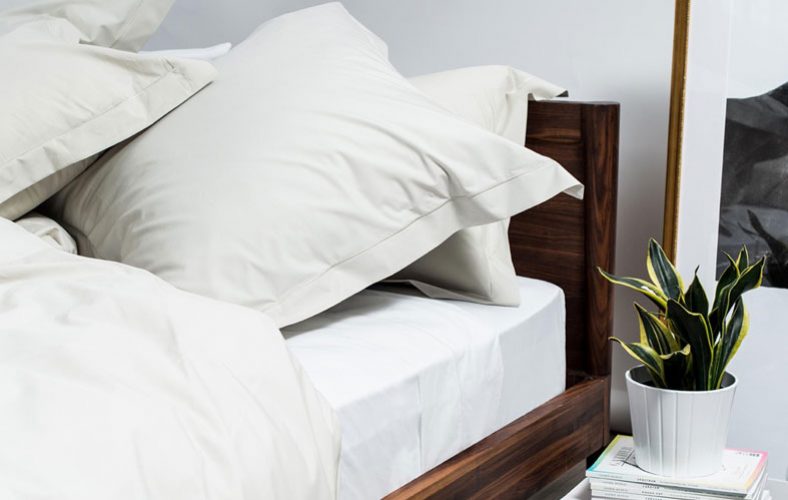 Price / Value
For a company that talks about how affordable their products are, we think the prices are a bit steep. The price might be inflated because the bedding is made in countries with more expensive labor (someone has to pay for the four weeks of vacation that's mandated in the EU).
What we found particularly misleading is that when you click on the product description, the price listed for the set is a full-size, while most companies select their default as Queen. If you're looking to buy a set of king sheets, be prepared to pay well over $200 if you don't use a coupon code.
Who Should Buy Snowe Sheets?
People who appreciate attention to detail will fall in love with Snowe: The set comes in a beautiful envelope package that is simply gorgeous. It doubles up as a way to store your sheets when you're not using them (assuming you can fold as perfectly as they do), although we decided to use ours as a lingerie holder when traveling.
Do the words hipster or millennial describe you? While it's not required to be this type of person, all of the communication, design, and marketing is executed with this demographic in mind. Even if you're not a millennial or a hipster or a millennial hipster, quality is quality, so if you want a reliable product with a clean aesthetic, you'll love the Snowe sheets.
You like buying European goods: Granted, most sheets look alike. But there's something to be said for putting a fresh set of Italian linens on your bed. It suddenly makes you feel more worldly and sophisticated. Well, it has that effect on some of us, anyway!
Who Shouldn't Buy Snowe Sheets?
If you hate ironing and you want your sheets to be wrinkle-free, we recommend skipping this option and choosing the sateen weave instead. The percale fabric tends to wrinkle, and unless you're diligent about taking your sheets out of the dryer immediately and folding them to perfection, you're likely to have a crinkly mess. Although, some people enjoy the lived-in, comfortable sheet (us included!), so this is strictly a matter of preference.
If you prefer bedding that is soft, cozy, and supple, skip the percale and opt for the sateen. Same goes for if you're a silk pajama type of guy or gal.
Are you on a tight budget? If so, you might not want to pay this much for bedding. There are plenty of other options that are of comparable quality and cost 25 to 50 percent less.
Conclusion
Have you noticed that there a lot of sheet companies out there? You probably have since you're reading reviews, trying to sift through what's worth the cost and what's over-priced garbage. Our verdict: considering how much time you spend in your bed, we think these sheets are worth the splurge.
Snowe Percale Sheet Set
Sleep Advisor Score
4.40 / 5
Read Full Review
Jill Zwarensteyn
Editor
About Author
Jill Zwarensteyn is the Editor for Sleep Advisor and a Certified Sleep Science Coach. She is enthusiastic about providing helpful and engaging information on all things sleep and wellness.