Sleep, it is the one thing that we all need and, yet it is one thing that can exceptionally difficult for us to get. Do you find yourself tossing and turning at night? You've tried it all – blackout blinds, changing your mattress, and even using a white noise machine to help you sleep more easily.
Why then is getting a good night's rest still something of a hit and miss affair? Believe it or not, the answer may lie in the sheets that you use. Did you know that your sheet is the primary cooling barrier between you and your mattress? The right choice in this area means sleeping cooler, no matter what the mercury reads outside.
Malouf is a company that follows the principle that everyone, regardless of budget, should be able to afford luxurious bedding and so an improved quality of sleep. They claim that the Malouf bamboo bed sheets offer the perfect balance between cool comfort and luxury. Let's see if this claim holds up, shall we?
---
Malouf Woven Bamboo Sheets – Key Features
You get a fitted and flat sheet, along with two pillowcases in the bundle.
Malouf sheets have deep pockets with reinforced elastic to ensure a great fit.
The fabric used is Rayon made from 100% bamboo fibers.
The pocket depth will cover mattresses with depths of up to 22 inches.
You can opt for a set of sheets, a set of pillowcases or a bundle
There are six colors to choose from.
You can also get different sizes, including more unusual ones such as Split sheet and Extra Large.
The fabric is naturally hypoallergenic and has anti-bacterial properties as well.
Pros and Cons
Pros:
Feels soft to the touch, and very silky.
Easy to drape on the bed.
You have a wide range of choice in terms of color and style.
Can be washed in the machine.
Better pocket depth means that they will fit most mattresses.
Cons:
The care instructions can be a bit of a downer – this is not a set of sheets that you can just throw into the wash. When machine washing, you need to use the right cycle, not overload the machine, etc.
These do wrinkle quickly.
Some users say that the Malouf sheets are heavy when they have been washed.
Read More: Best Mattresses for 2023
---
Material/ Style
The fabric used when making these is rayon that has been derived from bamboo fibers. The resultant fabric is light, feels soft and helps to regulate your body temperature. It is highly absorbent and naturally resistant to bacteria and bad odors.
You can choose a plain white sheet or one of the other five pastel colors – Ivory, Rain, Driftwood, Citron, and Ash. Malouf sheets are plainly made up, and the colors are perfect for creating a restful sleeping environment.
Malouf uses what it calls "Universal Sizing" to make sure that the sheets will fit. What this means is that the elastic runs the full length of the sheet, making it easy to secure to any bed.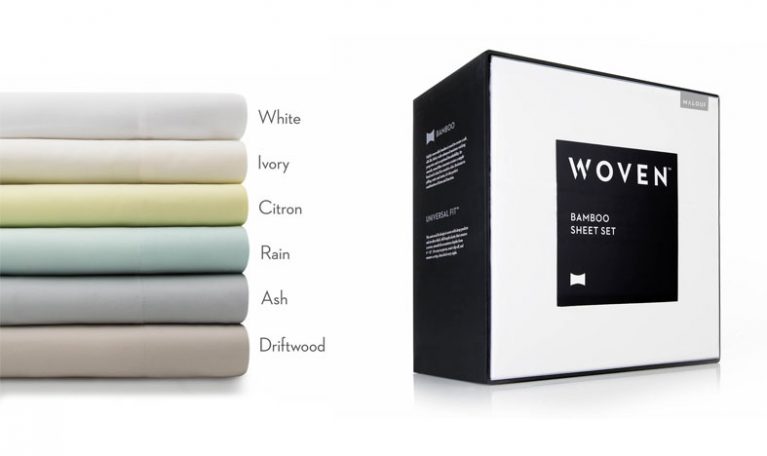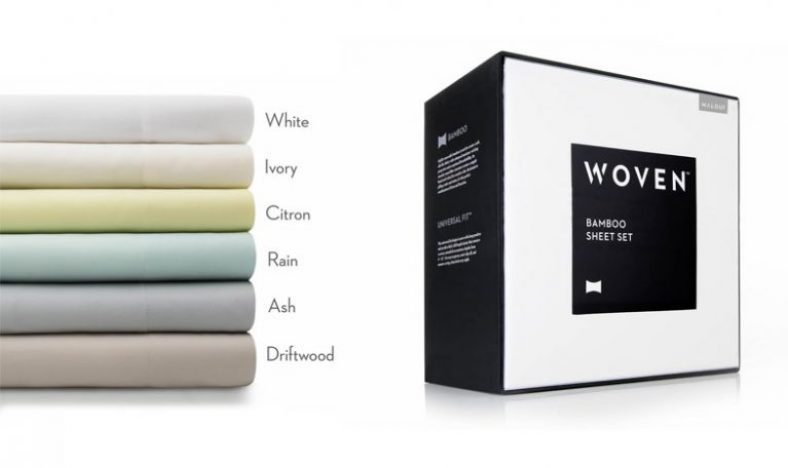 ---
Build Quality
The construction of the product is excellent. The weave is loose enough to make it more breathable but sturdy enough so that it holds its shape in the wash.
One of the unique features here is the full-length elastic that reaches all the way around the outside. This is strong and ensures that the linen stays where it needs to. It will not budge, no matter how much you toss and turn at night.
The stitching is durable and finishes off the product nicely.
The one complaint is that the pillowcases are slightly bigger than standard ones. This is no doubt to enable them to accommodate different sized cushions. If you want a perfect fit with a standard, you will need to get your sewing kit out and use a larger seam allowance.
---
Durability
The big advantage of using bamboo-based material is that it is durable and hard-wearing. The catch, though, is that you need to be careful when washing it. You need to wash these using the cold cycle of your machine and without the use of harsh chemicals like bleach. The manufacturers recommend drying the sheets on the line for the best results.
You can also tumble dry them as long as you use a low setting.
Caring for bamboo bed linen can be a little irksome, but it pays off because they will last a lot longer. Once you get the hang of it, though, it will soon become natural enough.
Weight
These sheets do come in at a bit of a heavier weight than other similar products, but this is really only noticeable after washing them. This is actually a good thing because it shows precisely how absorbent they are. Once in use, you will have no issues with the weight of the sheet at all.
That little bit of extra weight should help them to drape better over your bed.
It may also help make them feel sturdier. If you like your bedding to be will-of-the-wisp thin, then this is not a good option for you to choose.
Feel and Comfort
What sets the bamboo-based products apart from cotton-based ones is that softness of the fabric and how breathable it is. This is a porous material that is excellent for wicking away moisture and so helping you to feel cooler for longer.
The fibers are more rounded than is the case with cotton and so you get a much softer feel overall. This is perfect if you have sensitive skin. Cotton fibers, on the other hand, are not rounded in the same way, and so the fabric can feel harder and, at times, even scratchy,
Sliding into bed with these kinds of sheets is a very sensuous experience.
And with a cooling bed you can forget about those horrible nights of tossing and turning just because it's too hot.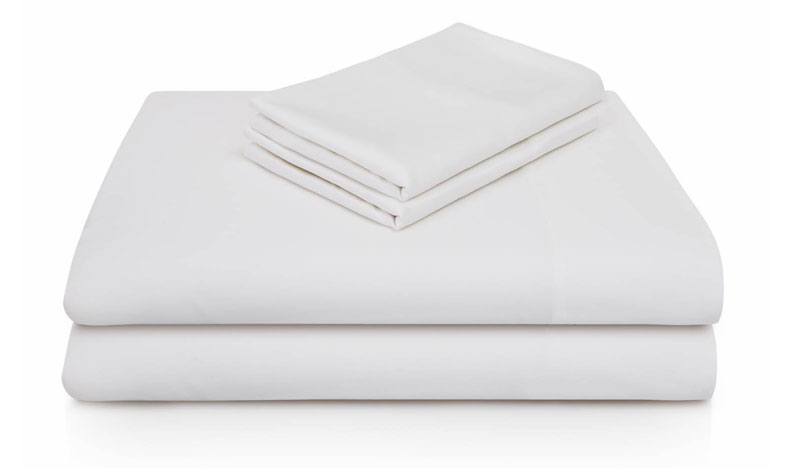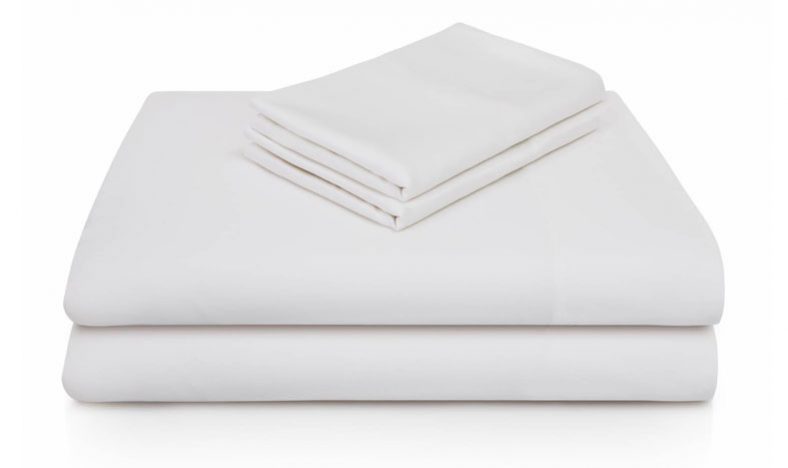 Price/ Value
Right, pricewise these are not the cheapest option. It makes sense, while the processing of bamboo is a lot more efficient than the process with cotton, it is still a relatively new process. There are still only a few companies that use bamboo in place of cotton and, as a result, cotton works out less expensive to buy.
By the same token, you cannot compare the prices of cotton bedlinen with the costs of bamboo bedlinen because they are so very different. Bamboo textiles, for example, are more effective at wicking away moisture and have a much softer finish. If you take into account the feel, the durability, and all the other factors, it makes sense that you are getting value for money here.
---
Who Should Buy Malouf Woven Bamboo Sheets?
---
People who like the feel of silk against their skin. This textile has a smooth feel that you just cannot get from cotton.
Those who have a little breathing room in their budget – these do cost more than average.
Hot sleepers looking for a solution that actually works – the breathability factor here exceeds that of cotton.
Those who have sensitive skin – the softer, rounded fibers are a lot gentler on the skin. The silky finish helps to reduce friction when moving on top of or under the sheet at night and so reduces the chances of irritation developing on the skin.
Those who like pastel colors and want something a little prettier for their bed linen.
People with allergies – these are hypoallergenic and can help to deter dust mites.
Those who have deep mattresses.
People who toss and turn so much at night that their linen all comes off. The elastic used here is strong, and it will prevent the linen from shifting during the night.
Who Shouldn't Buy Malouf Woven Bamboo Sheets?
---
Those that prefer the crisp feeling of cotton and who hate the feeling of silk. These are definitely soft and smooth, but some people might find the texture too much different to that of cotton. If you want to see what's the difference you can read our comparison of Cotton and Bamboo Bed Linen.
People who cannot stand wrinkled sheets. These wrinkle quickly and will come out of the wash wrinkled. You can minimize the wrinkles by hanging them on the line but, unfortunately, it is just one of those things with this textile – it wrinkles quickly.
You want an easier time when it comes to washing and drying. The manufacturers say that it is better to wash these in a smaller load, by cold wash and then to hang them on the line. If you do not have a washing line, or don't have the time to separate the linen and check all the care instructions, this is not a good option.
Those on a restricted budget.
Conclusion
When all is said and done, you need to decide what is most important for you. Malouf sheets offer a luxurious texture and will last well if you care for them correctly. The range of different colors that the company provides is enticing, and they have put a lot of care into putting out a product designed to be both luxurious and affordable.
Bamboo textiles are taking the world by storm. They breathe well, are naturally antibacterial, and are soft and smooth. Yes, they work out a little more expensive, but the benefits do outweigh the cost. The only real downside is that they crinkle quite a lot, but that is something really minor when you consider the increase in comfort.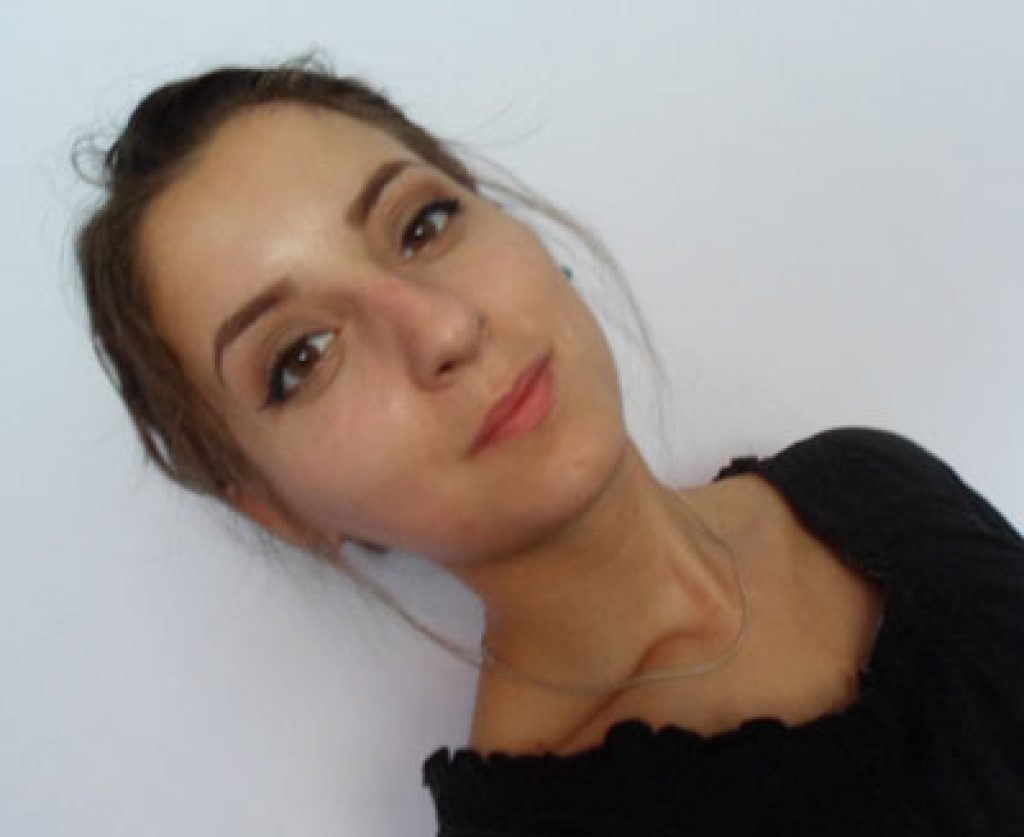 Olivera Jancikin
Content Writer
About Author
Olivera is a content writer for Sleep Advisor and is enthusiastic about sleep. She firmly believes in the benefits of daytime naps on top of getting a full 8-hour sleep at night.