Buying a new mattress is rarely an easy task. While we may rely on the opinions of our friends for other purchases, the choice of a mattress is largely subjective. Our body types, sleeping style, and personal preferences all play a part in the decision-making process. To help you find the best mattress for your home, we've considered each of these elements and more. Today, we'll be looking at the Kingsdown Body Essential mattress.
Our Kingsdown mattress review will reveal the advanced features of the product, who should buy it, and more about it. By the end of our review, you should be able to decide if the Kingsdown Body Essential mattress is your best option for high-quality sleep.
If you are no stranger to the Kingsdown mattress and its features, skip down to our verdict on this product.
Noteworthy Updates
Kingsdown offers bedMATCH, a virtual tool that uses sleep science and your physical data to identify the perfect mattress for you.
The Kingsdown Body Essential mattress has a variable foam core: multiple layers of foam that can adapt to any body type.
VISIT KINGSDOWN.COM FOR MORE INFORMATION ON KINGSDOWN BODY ESSENTIAL MATTRESS →
Who Do We Think Matches Best With Kingsdown?
Hot Sleepers: This bed is ideal for individuals who sweat a lot while sleeping. The mattress uses airflow technology to enhance breathability, keeping you cool while you slumber.


---

Restless Sleepers: Sleepers who are prone to tossing and turning will appreciate the Kingsdown's variable foam core. The responsive mattress adapts to match your sleeping position and provides optimal support to ensure uninterrupted sleep.


---

Eco-Conscious Shoppers: The Kingsdown mattress' natural latex foam is ideal for individuals who prefer organic products. The mattress also has certifications that verify its environmental friendliness and safety.
Possible Kingsdown Complaints
Luxury Pricing: The Kingsdown Body Essential mattress costs more than most foam mattresses. The mattress justifies its high price by featuring top-notch organic materials.


---

Requires Rotation: Some customers have complained that the bed's firmness quickly deteriorates. Kingsdown suggests combatting this issue by rotating the mattress four times a year. Doing this will prevent one part of the mattress from wearing down faster than the rest. It can also help prolong the mattress' lifespan.
Weight Considerations
The Kingsdown Body Essential contains several layers of tightly packed latex foam. Latex, like regular rubber, is elastic. The elasticity of the foam enables it to conform around your body, cradling it to deliver optimal comfort and pressure relief as well as some bounce and support.
Since the Body Essential contains multiple layers of latex foam, the elasticity of the foam shouldn't fade quickly. However, individuals over 300 pounds may wear out the mattress faster than lighter-weight sleepers. As such, we recommend the Kingsdown mattress for sleepers who weigh less than 250 pounds.
Construction: What's Inside Kingsdown?
The Kingsdown Body Essential is available in 10.5-inch and 12-inch profiles, and the company offers the line of mattresses in plush, firm, and motion versions. The motion version should work extremely well on adjustable bases.
On the surface of the mattress is a silk and wool cover that feels luxuriously plush. The silk and fabric cover also has moisture-wicking qualities that minimize sweat and keep you cool.
Under the quilt are multiple layers of adaptive latex foam, each with a different density. Tightly packing the foams together gives the mattress its firmness and ensures optimal support. At the center of the layers of latex foam is a variable core profile that can adapt to your body and deliver custom body support and pressure relief.
Besides providing support and pressure relief, the breathable latex foam promotes air circulation for superior cooling while you sleep.
The core boasts a self-adjusting Progressive Support system that should adapt to most body sizes and types. Most distinctive is a tongue-and-groove design that allows couples with very different sleep support needs to individualize the support each person receives on their side of the mattress.
Note that mattress firmness varies between the various Kingsdown mattresses. For instance, the Kingsdown Prime contains innersprings that deliver more firmness than the Body Essential mattress except for that special micro coil support in the lumbar area.
The micro-coil lumbar support zone embedded in the area under the sleeper's lower back to provide for stronger support for the lumbar region. This is especially helpful for back sleepers, heavier individuals, and those needing extra back support.
On the perimeter, High-density foam surrounds the sides of the mattress to provide the edge support. Edge support prevents the sides of the mattress from sinking when you lie or sit there. If the sides don't sink, you won't feel like you are about to roll off when close to the edge. Edge support also prolongs the life of the mattress by helping it maintain its shape.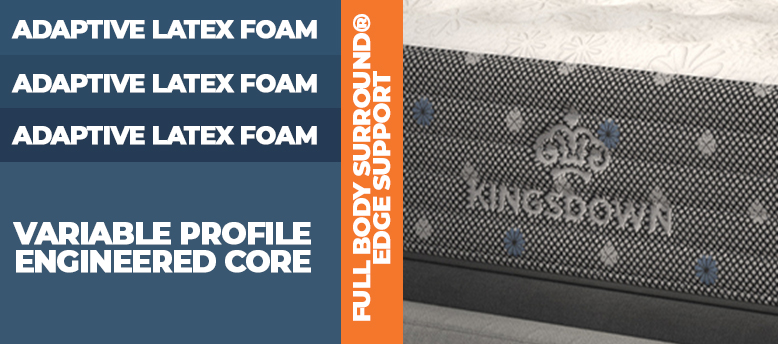 First Impression: How Does It Feel?
Kingsdown doesn't handle mattress delivery. Instead, it ships mattresses to retailers that then sell and ship to consumers. The quality of the delivery process will depend on the retailer you choose, and you can find a retailer near you with Kingsdown's Find-a-Retailer tool.
Each Body Essential mattress is available either flat-packed or as a roll-packed boxed bed. Since most Kingsdown mattresses weigh over 100 pounds, it's best to choose a retailer that offers delivery.
Settling into the Kingsdown Body Essential, you'll notice the quality of the stitching and the texture of the fabric cover. After lying on it, here's what you can expect.
Pressure Relief
The Kingsdown mattress provides even pressure relief by evenly distributing your weight across the bed, ensuring that your body stays level and aligned while lying down.
The mattress' latex foam delivers this benefit by lightly contouring around your body to provide pressure relief around your shoulders, lower back, and thighs. The contouring design of the multilayer latex foam is highly responsive, meaning you should feel supported by the mattress, but also sink in comfortably.
Support
The elasticity of the Kingsdown latex foam should maintain natural spinal alignment. As the mattress has a variable foam core, it should adapt to most body types to provide custom alignment with extra lumbar support.
The Kingsdown Body Essential mattress is springy but not as bouncy as the typical latex mattress. That's because most latex mattresses include only one layer of foam. The Body Essential provides several layers of latex foam, which increases resistance and minimizes bounciness for a more stable sleeping.
Preference-based Features
Below are some features that set the Kingsdown mattress apart from its competitors.
Variable Firmness Levels
The layers of latex foam within the Kingsdown Body Essential mattress allow it to adapt its firmness to match your body type. That way, the mattress is never too firm or soft, and you can go to sleep without worrying about waking with body pains.
---
Cooling
The Kingsdown mattress combines several technologies to create a comfortable and cool sleeping surface. These technologies include silk and wool quilting with moisture-wicking capabilities and breathable latex that promotes cooling air circulation.
---
Eco-Conscious Materials
Latex foam is biodegradable and recyclable, making it one of the most environmentally friendly materials for mattresses.
---
Adjustable Base Compatible
An adjustable bed base facilitates sleeping in different positions. The Kingsdown mattress (motion option) is compatible with a wide variety of adjustable bases.
---
Manufactured in the USA and Canada
Canadian and American manufacturers have to adhere to some of the strictest quality standards in the world. Since Kingsdown's production facilities are in Canada and the U.S., you can rest easy knowing that you are buying a top-quality product.
Coupons, Trials, Warranties, and Shipping
Shipping – Kingsdown does not sell mattresses directly to consumers. You will need to find a nearby retailer that stocks Kingsdown mattresses to buy one. Many Kingsdown retailers offer home delivery, but most of them only ship to specific states. The quality and cost of shipping will depend on the retailer you choose.
Trial – Unlike other top mattress brands, Kingsdown doesn't offer a trial period. However, you may be able to find a retailer that offers trials or a friendly return policy. Use the Kingsdown Find-a-Retailer tool to find a nearby store that stocks your preferred mattress and see if it offers free returns or trials.
Warranty – Kingsdown makes up for its lack of a trial period with a 10-year warranty. The warranty guarantees that if there is a defect or issue with your mattress, you should be able to get a refund or replacement product. Note that the 10-year warranty will start counting from the day you purchase the mattress.
Kingsdown vs. Winkbed
We've done a quick comparison to show how Kingsdown compares to a popular alternative – the Winkbed. Unlike the Kingsdown mattress with multiple layers of latex foam, the Winkbed contains one layer of latex foam seated over an innerspring base.
The Winkbeds innerspring base provides additional support for heavy users, but the bed isn't as firm as the Kingsdown Body Essential. The reduced firmness is due to the Winkbed containing only one layer of latex foam.
Despite being marginally softer, the Winkbed should provide satisfactory pressure relief and support. However, the Kingsdown mattress scores higher for pressure relief and support because its variable core should be able to adapt to a variety of body types easily.
The Winkbed should have a bit more bounce than the Kingsdown, which can provide optimal support for sex or easy repositioning while you sleep, however, for those who sleep with partners, the bounce could keep them awake.
Winkbed aims to minimize this issue with pocket coils that restrict motion to one spot. Nonetheless, if a light sleeper is sharing a Winkbed with a restless sleeper, their constant motion may still cause some disturbance.
Lastly, unlike Kingsdown's limited warranty, Winkbed offers a lifetime warranty and a 120-night risk-free trial. Winkbed also provides free shipping to shoppers all over the contiguous U.S.
Overall Summary
Side sleepers ideally need a mattress that's not too firm. Otherwise, they could wake up with painful shoulders, ribs, or a sore neck. The ideal mattress for a side sleeper should be soft enough to compress and accommodate the shoulders and hip while cushioning the rib and head for optimal spinal alignment.
The Kingsdown mattress is optimally firm for back sleepers because and should provide support for heavier body parts like your lower back and shoulders.
Stomach sleepers require ample support in order to maintain proper spinal alignment, as the heaviest parts of the body, the hips and stomach, often sink into a softer mattress, creating a lack of support and an unnatural arch in your back. The Kingsdown mattress should be firm enough for lighter stomach sleepers, however heavier people should consider an innerspring bed.
If you typically change sleeping positions throughout the night, the Kingsdown mattress should ensure ease of repositioning due to the bounce provided in the latex layers.
This mattress has a unique tongue-and-groove design that allows couples to individualize the support they need. However, reviewers report that Kingsdown's motion isolation isn't the best on the market.
According to the average Kingsdown mattress review from heavy individuals, the mattress may tend to soften up after a few months. If you want continued firm support and you're a heavier person, we recommend purchasing a latex mattress that also has innersprings.
The Kingsdown mattress is ideal for small to average-sized individuals. The bed can handle their weight and provide adequate pressure relief and support.
---
The Kingsdown bed is pricy and features high-quality materials. However, it doesn't offer as many features as its less costly competitors.
Our Verdict
Based on our experience and the many Kingsdown mattress reviews from consumers, the mattress is a good choice for small to average-sized individuals. Such people should find comfort on the mattress, regardless of their preferred sleeping position.
On the downside, compared to other pricy mattresses, this Kingsdown mattress doesn't offer many stand-out features. For instance, it has an uncompetitive warranty, and buyers don't get a free trial.
Nonetheless, if you want a high-quality and eco-friendly latex mattress, the Kingsdown Body Essential may be worth considering—if you can find it at a retailer near you.
Julia Forbes
Lead Product Tester
About Author
Julia is the Lead Reviewer at Sleep Advisor, specializing in testing out mattresses and sleep accessories – she's in the right line of work, because she loves to sleep.