Transparency Disclosure – We may receive a referral fee for products purchased through the links on our site...

Read More

.
Adjustable firmness mattresses may not be new to the industry, but they certainly aren't standard, and other brands like Sleep Number have set a high bar. However, a new contender has entered the ring, and we've researched the product to let you know if it's worth the price tag.
We'll answer this question by taking an in-depth look at the top features of the iSense Revive Hybrid Premier Mattress. We will also look at who can benefit the most from buying this mattress.
By the end of our iSense mattress review, you should have no trouble deciding if this should be your next mattress. If you already know all about the iSense mattress and its features, skip down to our verdict.
Noteworthy Updates
The iSense Revive Hybrid Premier Mattress has added these upgrades to help users sleep better:
Comfort Control Technology App and Sensors: This attachment monitors heart rate, sleep cycles, and breathing. You can use the insights to adjust your mattress and achieve the ultimate sleep experience.
iSense FlexHead and Split Mattress Variations: The iSense FlexHead mattress has a divided upper section, and each side has separate controls for raising and lowering the head. A Split mattress is two mattresses in one, split down the middle, and you can adjust one side without disturbing the person sleeping on the other half.
Who Do We Think Matches Best With the iSense Mattress?
Couples: Each individual in a relationship has unique sleeping needs and preferences. The iSense mattress ensures that couples can share a bed without compromising on comfort. It accomplishes this by allowing each sleeper to personalize the firmness of their side of the bed for maximum comfort.


---

Luxury Shoppers: The iSense Revive Hybrid Premier Mattress is a luxury product that justifies its high price tag with high-quality materials that guarantee durability and superior comfort.


---

 People confined to a bed: If you need to spend long periods in bed due to injury or illness, the coziness and adjustability of the iSense mattress can prevent bedsores and similar issues.


---

Combo Sleepers: The iSense mattress can support a variety of sleeping positions, including sleeping on your back, side, and stomach. The versatility ensures that you stay comfortable regardless of how much you toss and turn in your sleep.
Possible iSense Complaints
Off-Gassing: Some buyers complain about the iSense mattress having a peculiar odor after unboxing. Fortunately, the smell dissipates after giving the mattress a few hours to air out. Since the iSense mattress is a CertiPUR-US certified product, you don't have to worry about the temporary odor posing any health risks.


---

High Price: The expense of the iSense mattress may not be for everyone. However, it's a worthwhile investment, especially since iSense offers free delivery and a ten-year warranty. The brand's financing options also ease the burden of paying the high price.
Weight Considerations
The iSense Revive Hybrid Premier Mattress has a weight limit of 350 pounds per side. That means the bed can support a couple with a combined body weight of 700 pounds. Since most American adults fall in this range, this bed will be a good fit for most homes.
If you weigh more than the average sleeper, the iSense mattress can still support your weight and provide sweet sleep. All you have to do is adjust the firmness of the bed to support your weight.
When you increase the firmness via the app or attached remote, the micro air chambers within the foam will expand to harden the bed to better support your weight. That means you won't have to worry about the mattress sinking in and causing back problems. The mattress also features superior edge support that helps it retain its shape around the edges.
Are you on the lighter side? You can adjust and soften the firmness of the iSense mattress to provide proper support and avoid painful pressure points.
Construction: What's Inside the iSense Mattress?
The iSense Revive Hybrid Premier Mattress is 13.5 inches tall. The bed's cover is high-performance Celliant, an advanced fabric that contains 13 thermo-reactive minerals to guarantee breathability and cooling comfort.
Beneath the Celliant cover are four layers working together to make the iSense mattress an excellent sleeping product. These layers include the following. 
Premium Graphite Energex Cooling Foam
Like memory foam, Energex cooling foam can adapt to match the shape of your body, ensuring optimal comfort regardless of your sleeping side. However, unlike the typical memory foam that causes sleepers to overheat, Energex cooling foam has an open-cell structure that transfers heat away from your body.
The foam also contains an Aquafresh Surface Cooling Treatment and Cool Infused Gel to help you maintain the most comfortable body temperature while sleeping.
Comfort Control Technology
Comfort Control Technology is an adjustable mattress that contains 12 air chambers – 10 more than the average adjustable mattress. Filling the air chambers hardens the mattress while letting out the air gives you a softer mattress.
You can quickly adjust the air levels for a softer or firmer bed with the push of a button. The adjustable mattress is also durable and quiet.
Pocket Coil Support
The third layer of the mattress consists of pocket coils that provide motion isolation. Each pocket coil acts like an innerspring, but unlike regular innersprings, these pocket coils are whisper quiet.
When you move on your side of the bed, your partner shouldn't feel or hear your movements on their side of the bed. That makes the iSense mattress a great choice if you want to stop waking your partner each time you sneak out of bed to grab a midnight snack. Besides motion isolation, the pocket coils serve as a support system that helps the mattress maintain its firmness for many years.
Superior Edge Foam
The iSense mattress has a high-density edge foam around its perimeter. The edge foam helps the mattress maintain its shape and eliminates issues like the edge of the bed going soft after sitting there a few times.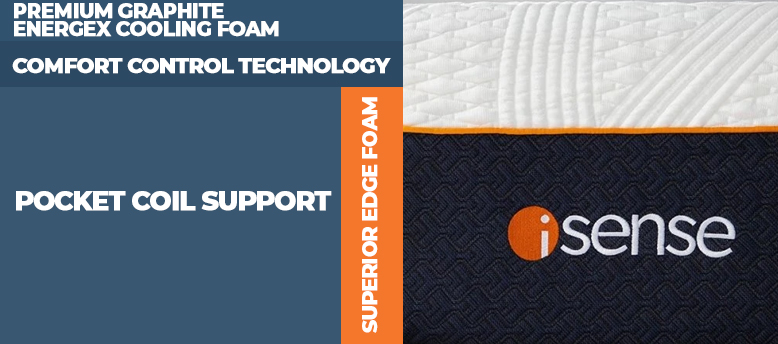 First Impression: How Does It Feel?
The mattress will arrive wrapped in plastic and rolled into a box, making it easier to fit through narrow doorways, corners, and stairways. After unboxing, you'll need to give the mattress a day or so to decompress and air out.
After lying down on the mattress, the first thing you will notice is how soft and plush the surface feels. Below, we rate what lying on the bed felt like for us.
Firmness Scale: 3-8/10 (Adjustable)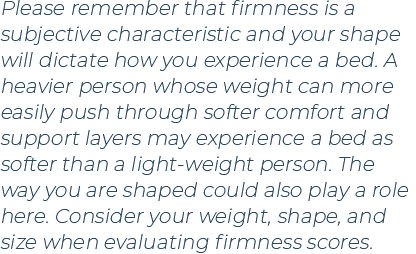 Pressure Relief
A pressure-relieving mattress prevents pressure ulcers (bedsores) by supporting your head and body and redistributing your weight so that no part of your body experiences too much pressure while lying down.
The iSense mattress evenly distributes body weight with the help of its advanced pocket coils that respond to your body and adjust to match your current position. The Energex cooling foam at the upper layer of the mattress also cradles your body and gives your skin room to breathe.
Support
A firm mattress can support spine alignment by evenly distributing your weight and preventing your lower back from sinking into the bed. However, an overly firm mattress can cause body pains.
The iSense mattress provides ideal support by allowing you to choose your preferred level of firmness for back support. The Comfort Control Technology enables you to harden or soften the mattress to match your changing sleeping style and needs.
Preference-based Features
Multiple Firmness Options
With the remote or mobile app, you can adjust the firmness of the iSense mattress. The controls are user-friendly, letting you manually tweak the mattress's firmness or pick from one of 40 preset support settings.
At-Home Customization
The iSense mattress is easily customizable to fit your unique needs.
White-Glove Delivery
Setting up the iSense mattress yourself is easy. However, if you prefer, you can choose white glove delivery and have a delivery agent set up the mattress for you for an extra fee of $199.
Bed-in-a-Box
The iSense mattress comes in a single box to facilitate easy shipping. The box's size ensures that it can pass through hallways and doorways with ease.
Celliant Cover
The outer cover of the mattress consists of a luxurious and breathable fabric that will keep you cool while you sleep and features moisture-wicking technology that prevents uncomfortable sweating.
Adjustable Base Compatible
You can pair your iSense mattress with an adjustable base to create your ideal sleep system and environment.
Exceptional Edge Support
iSense mattress edge support minimizes the risk of accidentally rolling off your bed during sleep by keeping the mattress edges firm, regardless of how often you sit there.
Great Motion Isolation
If your partner is a restless sleeper, iSense's motion isolation technology will prevent their constant tossing and turning from affecting your side of the bed.
Comfort Control Technology
This technology allows you to adjust one side of the bed without disturbing the other side. Your side can be as firm as you want, while your partner's side stays as soft as needed, or vice versa.
Handcrafted in the USA
iSense manufactures all of its mattresses in Missouri. Buying a U.S.-made mattress ensures that you get a product with the best materials that adhere to the highest production standards.
Certifications
The iSense Revive Hybrid Premier Mattress has a CertiPUR-US Certification that verifies the mattress' performance and durability. It also verifies the mattress' safety by indicating that the product does not contain any of the following:
Mercury, lead, and heavy metals
Ozone depleters
Phthalates regulated by the Consumer Product Safety Commission
PBDEs, TDCPP, or TCEP ("Tris") flame retardants
Formaldehyde
Volatile Organic Compounds that can compromise indoor air quality
As such, the iSense mattress is safer than conventional foam mattresses.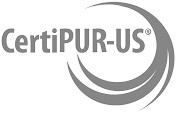 Coupons, Trials, Warranties, and Shipping
Shipping – iSense offers free standard shipping within the contiguous 48 states. If you live in Alaska or Hawaii, additional shipping and handling fees may apply. You can have your order shipped to your door and install it yourself or you can choose the White Glove Delivery and Setup option.
Trial – The iSense mattress comes with a 180-night risk-free trial that allows you to send it back if you are unhappy with its quality. iSense recommends using the mattress for at least 45 nights before initiating a return. If you return the mattress within the trial period, iSense will pick up the mattress and refund you.
Warranty – If you choose to keep your iSense mattress after the 180-night trial period ends, you will get a limited ten-year warranty. If the mattress develops issues due to defective components or shoddy fabrication, iSense will replace or repair the product.
| Size | Dimensions (inches) | Price (w/o discount) |
| --- | --- | --- |
| Twin XL | 38" x 80" x 13.5" | $2,799 |
| Queen | 60" x 80" x 13.5" | $3,799 |
| King | 76" x 80" x 13.5" | $4,299 |
| Cali King | 72" x 84" x 13.5" | $4,299 |
iSense Mattress vs. WinkBed
If you still can't decide if the iSense mattress is right for you, here's a quick breakdown of how the mattress compares to a popular competitor – the Winkbed. Like the iSense mattress, the Winkbed is a hybrid mattress, but the iSense mattress has far more advanced features than the Winkbed.
The Winkbed is comfortable and has a fixed firmness rating of 6. On the other hand, you can adjust the firmness of the iSense mattress to fit your unique needs. The adjustability of the iSense mattress guarantees superior support and pressure relief.
Also, while the average Winkbed has a maximum weight capacity of 250 pounds, our iSense Mattress review shows that the iSense can carry 350 pounds on each side. Even better, unlike the Winkbed, the iSense mattress is dual adjustable, meaning that you can adjust each side separately.
Another advantage that the iSense mattress has over the Winkbed is its mobile app for remote adjustments and sleep quality insights.
What about the price? Since a queen-size iSense mattress costs far more than a queen-size Winkbed, a Winkbed is a better budget buy. However, if you want superior comfort, optimal spinal alignment, and easy repositioning, an iSense mattress could be a wiser investment.
Overall Summary


The iSense mattress does not have zoning for shoulders or other special features for side sleepers. However, its adjustable firmness ensures that you can easily modify the bed to accommodate your needs while sleeping on your side.


The iSense mattress doesn't have any special provisions for back sleepers, but its adjustable firmness ensures that you can adjust the mattress to fit your needs. The softness of the mattress' upper layer will also provide superior pressure relief to prevent bedsores.


If you prefer sleeping on your stomach, the iSense mattress provides enough hip support to ensure proper sleeping posture. The mattress' firmness also ensures optimal comfort by not pushing too hard against your belly.


The iSense mattress is perfect for combination sleepers who switch sleeping positions throughout the night. That's because the bed can easily adjust to fit your frame and provide support and pressure relief.


Since you can adjust each side of the iSense mattress separately, you and your partner can each have your side of the bed as firm or as soft as you prefer. Also, the bed features motion isolation technology that prevents movements on one side of the bed from disturbing the sleeper on the other side.


The iSense mattress can handle a combined body weight of 700 pounds, making it ideal for heavy-set sleepers. The pocket coil support and superior edge foam also help the bed maintain its firmness and shape under weightier individuals.


Lightweight sleepers will love the ability to adjust their iSense mattress to be as soft or firm as they want. That way, they won't have to worry about the mattress being too firm and causing body pains.
The iSense mattress is a versatile product suitable for sleepers of all sizes, weighing up to 350 pounds, and is exceptionally adaptable for couples. In addition, its adjustability and comfort make it ideal for people confined to their beds or those recovering from injuries or illnesses.
Our Verdict
After everything that we have discovered in our iSense mattress review, we can't help but recommend the iSense Revive Hybrid Premier Mattress mattress to couples. Its dual adjustability allows you and your partner to customize each side of the bed to match each sleeper's preferences. In addition, the bed's motion isolation technology will ensure that your motions will not disrupt your partner's sleep.
The mattress' adjustable firmness and pocket coil support make it a superb fit for sleepers of any weight up to 350 pounds. While we admit that this mattress is expensive, its versatility, advanced technology, and ten-year limited warranty make it a worthwhile investment.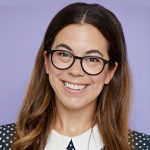 Jill Zwarensteyn is the editor for Sleep Advisor and a certified sleep science coach. She is enthusiastic about providing helpful and engaging information on all things sleep and wellness.
Based in Los Angeles, she is an experienced writer and journalist who enjoys spending her free time at the beach, hiking, reading, or exploring new places around town.
She's also an avid traveler who has a personal goal of being able to successfully sleep on an airplane someday.