Transparency Disclosure – We may receive a referral fee for products purchased through the links on our site... Read more here.
Sick of wrapping a blanket around yourself all winter long because you don't want to turn up the furnace? Well, you're not the only one. A great way to keep your bill low while staying toasty warm is by using a space heater.
There are dozens out there, and each one has different features—some work better for large spaces, some are ultra-portable, and some have cool features, like a remote control.
Deciding what you want can be overwhelming, but our highest-reated space heater list should get you closer to picking the right one.
8 Top-Rated Electric Space Heaters Reviewed
Lasko CD09250 –
Advanced Features
3 quiet settings
Adjustable thermostat
Built-in safety features
ETL listed
This product has some awesome bells and whistles that most users will love. Using a ceramic heating plate, this heater has a couple of dials for your convenience. One of the dials controls the temperature—with 11 different temp settings—and the other dial has a fan-only, a low, and a high setting.
It is pretty small, so it works best as a personal heater and in small spaces. Although it is small in size, it has 1,500-watt power, so it gets comfortably warm. It has a handle for portability, too, which makes it easy to move from room to room.
Another nice feature is that its body is cool to the touch even when on high heat, essential if you have pets and kids. Although it should be perfectly safe (it is ETL verified), do make sure that you do not leave this heater unattended; it does not have an auto shut-off feature when overheating or tipped over.
Lasko 751320 –
Best Remote Control
2 heat settings
Adjustable thermostat
Auto-off timer
Built-in safety features
ETL listed
Why be bothered by having to get up every time you want to change the settings on your heater? When you have finally gotten cozy in bed and realize that you forgot to turn off the unit, you are going to be thankful that you had the foresight to buy one with a remote control. This Lankso has convenience written all over it.
It has a timer with 1, 2, and 4-hour increments. After the desired time is up, it will automatically turn off. Its thermostat has six precise degree settings and a low and high heat option.
This unit is oscillating, meaning that it can rotate if desired for a more even warming. All of these features can easily be controlled with the remote, so even from bed or your desk, you can turn the oscillation on and off, turn down the heat, and turn up the power.
It has a tall, narrow design, so it can fit nearly anywhere. Plus, its convenient carrying handle makes it easily portable.
Lasko 755320 –
Best Ceramic
2 heat settings
Adjustable thermostat
Auto-off timer
Built-in safety features
ETL listed
Ceramic units use convection heating to warm your room, which basically blows warm air in its surrounding area. Ceramic is an awesome choice because it gets really warm really fast, so your room will heat up quickly and evenly. Plus, this Lasko has a fan with an oscillator that rotates around the room, so its range is a lot further than usual units.
Featuring two heat settings (low and high) with an adjustable, digital thermostat, you can personalize the temperature to exactly what you need. And with a timer with options between 1 and 8 hours, you can stay warm all day long without needing to turn it off and on. With a convenient remote control, you can change all the settings across the room, so there is no need to interrupt your movie when you get a little chilly—just click it on from the couch.
Lasko Designer –
Best Fashionable Design
2 heat settings
Adjustable thermostat
Auto shut-off feature
Built-in safety features
ETL listed
Let's not forget that looks matter; if you don't think so, you might be lying to yourself. Some heaters are eyesores, and if you are using your heater all-season—or year—long, you are going to be looking at that thing a lot. So it might as well be pretty.
Lasko Designer has a stylish look that blends into your decor. It comes in beige and gold, with a black wrought-iron style design base. It has a built-in timer of 1, 2, or 4-hour intervals, and it can be set at temperatures between 60 degrees and 85 degrees Fahrenheit. And, with 1,500-watt power, it is sure to keep you cozy.
It stays cool to the touch even when on maximum power for hours and prevents overheating. Plus, it has a remote control for easy adjustments without leaving your bed.
Dr. Infrared –
Best Infrared
3 heat settings
Adjustable thermostat
Auto shut-off feature
Built-in safety features
UL listed
Want your heater to feel as natural as the sunlight? Infrared units can heat objects rather than air, much like how the sun warms your skin when it touches it. Because of this, it is much quicker than other types of heating, so if you are looking for something fast-acting, this is your pick.
Dr. Infrared has a dual heating system and a removable filter that is designed to help the unit last for years. It has a timer that can be programmed up to 12 hours, and the auto-mode turns it off when it reaches your desired temperature and on when it gets too cold. Infrared models are one of the safest on the market, and this unit has tip-over protection in case a pet or child makes it fall.
It has wheels attached to the bottom, so when you are moving around the house, you can easily wheel it along with you.
3 heat settings
Adjustable thermostat
Auto shut-off feature
Built-in safety features
ETL listed
If you are using your heater in the office or the living room, you are probably going to want a heater that is low-noise when it turns on. Rather than disrupting your coworkers or some good conversation, you can stay nice and toasty without having a loud hum disturbing everyone. Brightown is an option that can work for everyone—including your cubicle mate.
People who have purchased this product noted that it runs quietly, so if you are sensitive to noise, this is an excellent option. Its size is ideal for portability and using underneath a desk or on a tabletop. It has three heat settings and an adjustable temperature knob.
This is a radiant model, so make sure that you keep it away from the kitchen, bathrooms, or damp places for your safety. Humidity can corrode the heating element.
Homegear Infrared –
Great Timer
3 settings
Adjustable thermostat
Auto shut-off feature
Built-in safety features
ETL Certified
Timers are nice features to have because you can set it for the amount of time that you want it to be on, and it will automatically shut off once that time has been reached. Safe and convenient, if you want to warm up your room before you fall asleep, you can do that while leaving it up all night long.
Homegear has you covered; using infrared power, it works well heating large, open spaces because it also has a fan. The company claims that it can heat a room up to 1,500 square feet, impressive for any portable heater.
Controlling the unit by a remote makes it easy to adjust the temperature and turn it on and off. An interesting feature is that it can toggle between displaying Fahrenheit and Celsius on its LED display, convenient for all the Canadians out there.
DeLonghi –
Best Portable Oil Filled Radiator
3 settings
Adjustable thermostat
Auto shut-off feature
Built-in safety features
You are probably most familiar with this type of heater; radiators often use oil that gets super-heated, and that heat gets sent around the room. These consume a lot less energy than other units, and they stay hot long after they turn off. Plus, they do not use a fan to circulate the air, so your house will not get too dry, great for babies or the elderly.
DeLonghi is portable with attached wheels to the base, so it can go anywhere. With three heat settings, you are sure to find the right one to get cozy, no matter the temperature. This product can to prevent both overheating and freezing; it will turn off when it is too hot, and it will turn on a bit to stop the pipes from freezing.
It works best and is most efficient in rooms that are 250 square feet, so keep that in mind when purchasing.
Buyer's Guide for Bedrooms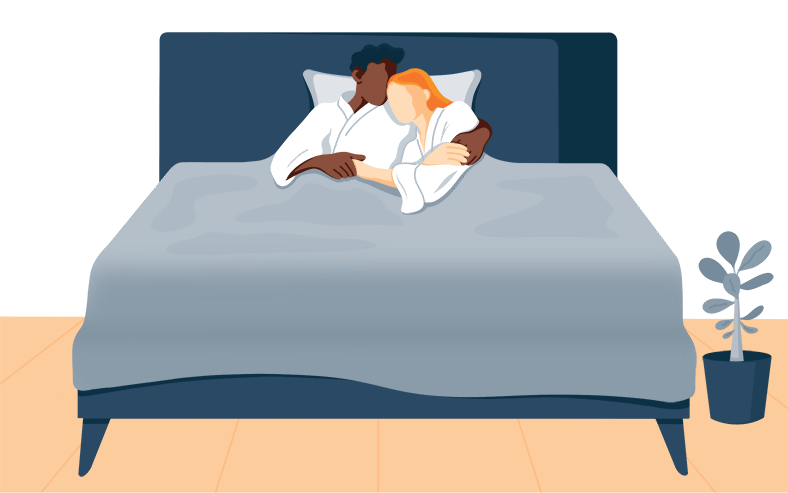 Winter is coming, and your bedroom is not ready. Space heaters work best as a supplement to central heating and can lower your bill all season long. Keep your room toasty by adding some extra warmth this year, and you'll never go back.
Types of Heaters
There are many space heaters out there, and each is constructed with different features that work best for certain circumstances and heat up the room in various ways. Most of them are electric, 1,500-watt heaters.
They should warm up quickly—you should notice a difference in 10 or 15 minutes. They are not magic-makers, so you can not expect them to heat your room by more than a few degrees or replace a central heating system. If you are just looking to save a bit of money on your bill and feel added warmth, a space heater can easily accomplish those things.
Oil-Filled
Most are familiar with this type of warmer, often called a radiator. It is an electric heater that heats up oil through a current, and then the warmth "radiates" around the surrounding area.
Learn more in our complete oil-filled heater guide with top 6 picks.
Infrared
Infrared heaters use a bit more science in their construction; rather than heating up the air around them, they emit radiation that warms whatever it touches (your skin, the couch, etc.), much like the sun. These heaters work well in large rooms and open spaces because they can heat larger spaces quickly.
These are going to be more expensive; however, they have a lot of benefits that may be worth it to you. Besides being more energy-efficient, they are often safer than other models because the warming elements do not get ultra hot. They also don't dry out the air because they don't need to circulate heat.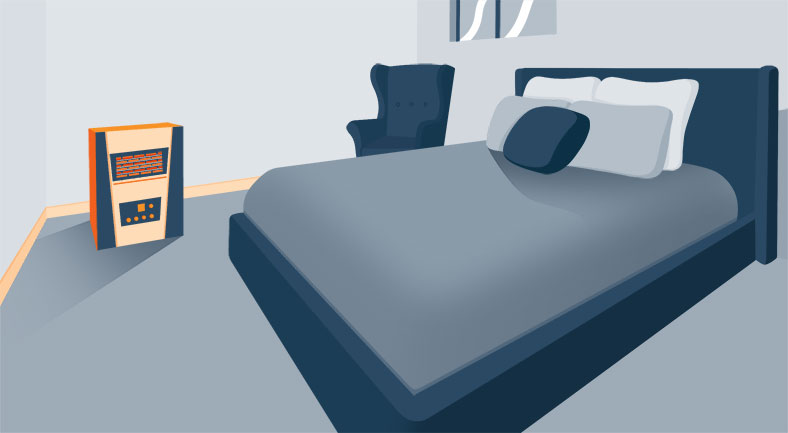 Convection
These use convection currents that heat up some kind of element, often coils or a ceramic plate. As the element heats up, it slowly expands across the air in the room evenly, starting from the air closest to it.
Many of these types have fans to help circulate the air more quickly because, without them, it could take a while to heat up a large space. Although it may take longer to heat, convection is your best option for keeping a room warmer for longer, so they are more energy-efficient than radiant heaters. Generally speaking, ceramic plates get hotter and work more effectively than coils.
Micathermic
Micathermic heaters use both radiant and convection methods to warm the room; the warming elements are covered in thin layers of mica, which conducts a lot of heat. These are usually more compact and unobtrusive than other warmers.
Features to Look For
Quite a few factors go into shopping for a space heater, so let's break down some of them to make sure that you are purchasing the right one.
Size and Type
First, plan out where you are going to put your space heater. If your room is large and open, you might need to go with a bigger, convection type warmer. This type would also be best if you are using it often or as a main source of heating during the winter.
Smaller, closed-off spaces would be fine with a smaller unit or a radiator. It is ideal if you only want to heat one section of the house, as well.
Timer and Automatic Shut-off
Most heaters nowadays have an automatic shut-off feature for safety and efficiency reasons; after it has been on for so long or starts to overheat, it turns off.
Timers are another awesome factor that you may want to look for. You can easily set the amount of time that you want the heater to be on for, and it will automatically turn off when the timer runs out. This can save you a bunch of money on your bill.
Tip-Over Protection
Just in case your heater tips over, make sure that your model has an auto-shutoff feature that triggers when this happens. This will keep you and your family safe.
Wattage
The vast majority of products you will find out there are rated 1,500 watts, which works well in a variety of rooms and are pretty powerful. Some may be lower, around 750, and many people use these for personal heaters at work or in bed.
Thermostat and Controls
Most products come with different heat settings that you can toggle between to achieve your desired temperature. Two settings of "high" and "low" are the most usual, but some units come with exact temperature options. So, if you like your room at precisely 77 degrees, you can do that.
Throughout the duration that it is on, it should stay at your desired heat level. Units with more control options usually come at a higher cost, but it might be worth it if you are picky about how your room feels.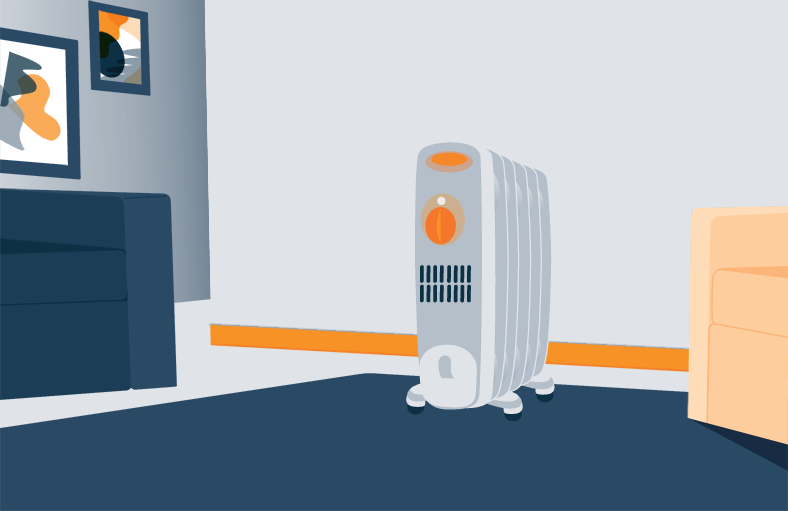 Power Cord
To be able to move your unit around to the perfect spots, you are going to want to have a heater with a long cord. This way, it can maneuver around furniture and plug placement, and you will not have to use an extension cord (which is not recommended due to safety reasons).
Volume
A noisy model could easily get in the way of a good night's sleep in the bedroom or pleasant conversation in living spaces. Generally, units with fans are louder than those without, but most are constructed to have low noise levels.
Ability for Fan Only
If you want to use your space heater year-round, check to see if it has a fan-only option. This turns off the heating element and just circulates the air.
Ease of Portability
Plan on moving your unit around the house? Portability will be key. Models that are smaller and lighter with wheels or a handle will be the easiest to transport.
User Manual
Make sure to read through the instruction manual before using it, as it will contain important safety and setup directions.
Seasonal Availability
Once it starts getting cold, space heaters start flying off the shelves. To make sure that you get the model that you want, start looking before winter comes.
Safety and Important Considerations
General Fire and Safety Information
Portable models can be dangerous; when used incorrectly, they can start fires. In fact, they are the culprits of 44 percent of house fires from 2012 to 2016. Don't worry—as long as you follow proper safety guidelines, you and your family should be safe.
Be sure that you purchase a unit that has safety-organization verification. In the United States, heaters will have a label from UL or ETL, and Canadians should look for CSA or ULC. These organizations test and verify the product's safety.
Make sure that you fully read the instruction manual before using your heater, and only purchase those with an automatic shut-off feature. Accidents happen, and anyone could forget to turn off the heater before leaving the house. Even where you place them matters; flammable materials can start a fire when getting too warm, and pillows or curtains can fall on top of them causing potential danger.
But by following safety precautions, and only buying heaters with safety verification, you can rest easy—and warm.
Leaving the Room
You should never leave your heater unattended while it is on. Kids and pets can particularly be an issue; they could accidentally knock them over or push flammable things on top of them. Try to turn off your heater before leaving the room.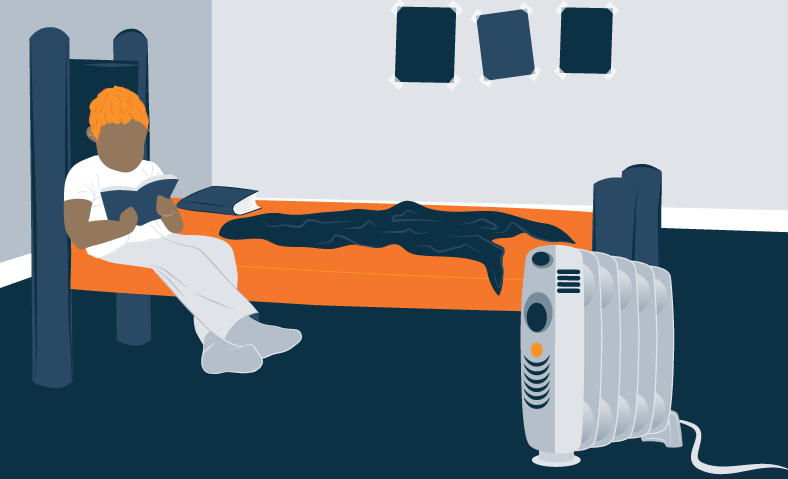 Running Them Through the Night
Again, units should never be left unattended, and most people are not very attentive while they are sleeping. Although many products have automatic shut-off features when overheating, you do not want to count on them just in case. Plus, older homes can have issues with wiring and may start a fire while heating up the walls.
If you are concerned about your room being cold, try warming it up before you go to bed for an hour or so. Convection heaters will do the best job keeping your room warmer for longer.
Where They Should Sit
Keep your unit at least two feet away from any flammable materials, including upholstered furniture, pillows, and bedding. Make sure that nothing would be able to fall on top of it, such as curtains blowing in the breeze or your kid knocking over a blanket. Avoid putting your warmer on top of any rugs or carpet, and keep them on a solid, flat surface.
Following these tips should keep your family as safe as possible.
Energy Efficiency
Besides keeping you a bit warmer, a huge benefit of portable heaters are their energy efficiency. When using a space heater, you can usually lower your bill by quite a bit, but you will have to be sure that you are choosing the right option for your space. If you have a large room, radiators will have to be on a lot longer than other types of warmers, meaning it will cost you more.
If you live in an extreme climate or are using multiple heaters in different rooms, it will probably be more cost-effective to use a central heating system instead. But those that live in places that do not get extremely cold and are looking for a little extra warmth can benefit from using a space heater.
Helpful Safety Tips
The main goal is to keep you and your family safe and warm, right? Both of these things are attainable, but here are a few tips to follow so that you can be sure.
Make sure to unplug your heater while not in use; turning it off and unplugging it is important. Water can also be dangerous, so avoid placing your warmer in the kitchen, bathroom, or anywhere that water might come into contact with it. Inspect the power cord before plugging it in every time you use it and do not use an extension cord—damaged cords are the most common reason that fires begin.
When your heater is on, stay in the same room to keep an eye on it and avoid any possible fire issues, and make sure that children and pets stay away, especially from heating elements; if they touch it, they can get burned or knock it over.
Want to know more? Read our full space heaters safety guide here.
Maintenance
Your space heater takes care of you on the coldest days, so you must take care of it and return the favor. Wipe down your heater regularly to keep the dust away because it can become flammable. It is important to keep it clean and store it in a safe, dry place.
When wrapping up your cord, be sure to not damage it and wrap it loosely. And when you do take it out of storage, be sure to inspect the cord before plugging it in.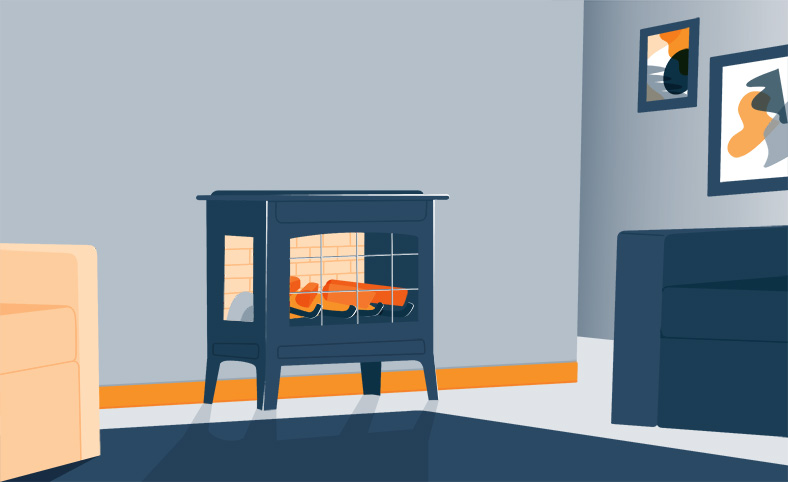 Frequently Asked Questions
How long do space heaters last?
This really depends on the make and model that you purchase, how you care for it, and how often you use it. Careful maintenance can make it last much longer.
Conclusion
Space heaters can be life-savers during the long, freezing winter months. For most, using these portable units saves money on expensive winter heating bills and keeps it nice and toasty. Now that you know all the ins-and-outs of buying a space heater, you are equipped to make an educated purchase.
This winter, you won't need to spend the whole season wrapped in a blanket like a burrito to lower your electric bill. Instead, you can roll around your brand new space heater from room to room and brag to all your friends—or just your electric company.
Our team covers as many areas of expertise as we do time zones, but none of us started here as a so-called expert on sleep. What we do share is a willingness to ask questions (lots of them), seek experts, and dig deep into conventional wisdom to see if maybe there might be a better path towards healthy living. We apply what we learn not only to our company culture, but also how we deliver information to our over 12.7M readers.
Sleep research is changing all the time, and we are 100% dedicated to keeping up with breakthroughs and innovations. You live better if you sleep better. Whatever has brought you here, we wish you luck on your journey towards better rest.