Transparency Disclosure – We may receive a referral fee for products purchased through the links on our site...

Read More

.
Sometimes it's hard to sleep when your house is cold, especially if you don't want to warm up your entire home with expensive house heating. A space heater can come in handy by providing enough heat to keep you warm both at night and during the day. If your basement often gets cold, consider investing in one to keep things comfortably warm.
What kind of indoor heater suits you best? Do you need one for a large or small basement? You should be able to answer these questions after reading this guide, as we've gathered a list of some of the top rated space heaters for the basement on the market, along with a few tips to help facilitate your purchase.
8 Top Rated Basement Space Heater Reviews
Heater and Cooling Fan functions
HEPA filter removes 99.97% of allergens and pollutants
Automatically monitors and reacts
Auto mode, sleep timer, night-time mode
This product has an interesting duality in its design, giving both heating and cooling options. Its bladeless design runs silent and safe, keep your room warm/cool without much noise pollution. Another added benefit of this machine is that it also has an air purifying option, using a carbon HEPA filter to remove 99.97% of pollutants and allergens, potentially being useful for those with asthma or allergies (certified with Quietmark accreditation).
It also has a night-time mode, auto mode, and sleep timer for convenience, turning off after a set time to ensure that your space does not get too hot or create a fire hazard. The Dyson link app gives you information about air quality in your space and in your local area, along with temperature, in real time, on the go.
Use an Amazon Echo? There's also voice control for hands-free input to customize your heating/cooling experience to your benefit.
LifeSmart –
Burnished Oak Finish
Efficient infrared heat

3 heat settings with ECO mode

On/off 12 hour timer
The LifeSmart Infrared Quartz Fireplace is a solid choice for larger rooms. This product utilizes infrared heating to appear like a real fireplace, but without actual combustion or fire taking place, making it a good alternative. You don't even necessarily need to have it heating to use the fire effects either if you just want to use it as decoration.
It comes with a remote as well, with 3 heat settings to set temperatures to your liking. Along with that, a 12-hour timer makes sure that you don't leave it on accidentally, which is a positive for making your experience safer.
The cabinet and mantel are made from durable Quakerstown dark oak, which might be a positive if you're looking for a product that might blend into your room's surroundings. It can heat up to 1000 square feet with around 5100 BTUs, which should be good for those with larger basements in mind.
Fan-forced convection coil heat
Automatic thermostat
Adjustable temperature settings with High and Low feature
Durability is an important factor to take into consideration when purchasing any product. Usually, most heaters can last a long time, but all machines break down over time. Finding one that is durable can increase the value of your purchase. The Patton Milkhouse Utility Heater offers many features made for protection.
It is built with durable steel housing for protection against knocks and bumps, along with front guards for accidental contact with its hotter components. If knocked over, a built-in automatic shut-off feature quickly cuts the power, which is good if you have safety in mind.
The low and high heat settings reach 1000 and 1500 Watts of heat respectively and have a hands-off control setting with the automatic thermostat. A fan-forced convection coil should run heat quietly and warm. This product is a go-to for consumers considering good protection and efficient heat in one package.
Dr Infrared Heater –
Auto Energy Saving
Dual Heating System  featuring infrared quartz tube + PTC
12 hour automatic shut-off timer
Eco, High and Low temperature settings
How many features a heater has and how best they suit your needs is an important detail to note when considering a purchase. Having more options is sometimes better, depending on what you want. The Dr Infrared has a large variety of features, making it fit for buyers with that on their checklist.
This product comes with 3 heat settings, auto, low (1000 watts), and high (1500 watts), along with an IR remote control to change these settings at a distance for your convenience. Built in are both tip-over and overheat protection for safety, along with infrared quartz and PTC dual heating for efficient warmth.
Its blower is low noise, meaning you shouldn't reach noise levels above 39 dB, making it ideal for those with quiet in mind. It heats up to 1000 square feet and weighs in at 24 pounds, making it hefty, but sturdy.
Homegear –
Dual Heating System
Dual Heating System – Mica and Quartz Infrared Heating Tubes
Easily adjustable settings
Timer function
How long it takes your choice to heat up is undoubtedly a concern. You may not have a pleasant experience if it takes forever for the warmth to kick in. If this is important for you, you might be interested in the Homegear Infrared Electric Portable Space Heater, which boasts fast heating.
The way it works is that a series of Mica and Quartz dual heating tubes work together to bring fast and efficient warmth. The blower inside also runs quiet for those with noise concerns, which could potentially give a more comfortable experience. A remote control included also gives easy convenience in temperature regulation.
An LED display is built into the product, allowing you to quickly and easily see settings and temperature. Power usage is around 1500w, making this brand well-suited for medium and large sized rooms.
Pelonis –
Programmable Timer
Electric Heater
24-Hour Programmable Timer
Easily adjustable thermostat
How comfortable you are when using your indoor heater is very important. If you're not comfortable at all, it won't matter too much how warm your room is. Most quality choices like the ones on this list are comfortable to use, but you might be interested in looking for a little bit more. The Pelonis Ceramic Space Heater is comfort and heat in one.
This ceramic tower fan oscillates to deliver its warmth, providing comfortable heat in many directions throughout your storage room. It's made with ABS flame-resistant material and has overheat protection, making it safe in situations of fire. It can reach a temperature of 40 to 95 degrees Fahrenheit and is advertised as heating up in seconds.
While this product is more suited to smaller spaces of 120 to 160 square feet, it should be just as effective at providing warmth as other competitors. Its remote control gives you safe regulation at a distance, which should invite anyone in the market for comfort.
Lasko –
Ceramic Tower Heater
Knowing how multi-functional your choice is may be important to consider, as multi-functionality itself can make your experience more versatile. Another thing to note is that you should be aware of what type of functionality your purchase includes because there might be a few functions you need that might not be included. The Lasko Ceramic Tower Heater is good for those with these considerations, as it is multi-functional in its heat delivering design.
It uses around 1500 watts of power, and its blower is designed for fast warmth without loss in comfort. An automatic overheat protection built-in also ensures safety with continued use.
Standing at 23-inches, this ceramic tower comes with a multi-function remote control that allows for easy user input, along with oscillation for even heat distribution across a space. The recommended room size is up to 300 square feet, meaning it's a very good choice for those with smaller spaces.
Duraflame Electric –
Indoor Space Heater
Infrared quartz  fireplace stove
Easily adjustable heat levels, 3D flame effect color, brightness and speed
Year Round Ambiance
If you have an interest in electric fireplaces, you might consider the Duraflame Electric Fireplace Stove an enticing purchase. This warmer has a 3D flame effect to give off a convincing illusion of real fire but without hazards of actual flames. There are five adjustable settings that allow you to control speed, brightness, and color of the flames.
The recommended space is 1,000 square feet, at about 5,200 BTUs. Built into this product is overheat protection in the form of Safer Plug technology. The way it works is that the electric plug has a thermometer built in, which is used to automatically detect high temperatures and cut off before a fire breaks out.
A digital thermostat also helps you to set room temperature and regulate just how much energy you want to output. Consider this electric fireplace if you want all the benefits of a traditional fireplace, but with better convenience.
Factors To Consider When Buying Space Heaters for Basement
Size
Typically, you'll want to look at wattage and square feet when making this type of purchase, as that, not necessarily size, will be a better indicator of how much heat to expect. With that being said, if you have concerns about portability or how much space your purchase will take up, absolutely look into how heavy and how large a product is.
Heating Options
Also, take into consideration what heating options are available. Some are more effective at providing heat than others, due to design, so be sure to read product descriptions to find out. Knowing how performance varies between choices is key, and gives you a better understanding of how your heating product will perform.
Wattage
To put it simply, wattage is simply how much energy your heater will output. Usually, higher wattage means more warmth, but will also consume more energy and potentially lead to higher electric bills. Generally, 1,500 watts is enough for a 150 square foot room, so depending on your living space, your wattage needs will vary.
Learn More: How Much Does It Cost to Run a 1500 Watt Electric Heater?
Types
Electric heaters are known for their fast heating that can quickly warm up a sizeable space. If you have a big room that needs heating, such as a large basement, look into these for efficient warmth. Electric is also known to be cost-effective, making them a good pick for those who have their power bills in mind as well.
Radiant heating systems differ in that they heat up objects in a space instead of circulating hot air, giving them their notable quiet heating operations. Many people value radiant heating over other types because they work efficiently and can keep heat in a space for a long period of time. If this sounds like it may meet your needs, you should look into this system.
Products using propane are also a suitable alternative in heat systems. Typically, these tend to work best with a small space, such as a small basement or any other room that fits within 300 square feet or less. One added benefit of these is that no additional ductwork is required for installation, which might be beneficial to you.
Space is a concern for many people, as not everyone has enough room for a larger heater. Having a smaller product might be better for your needs, which is what makes baseboard heaters a respectable choice for heating. Installation is also simple, and you don't require too much space.
Recommended Usage Area
Pay close attention to the recommended usage area of your potential purchase. If a brand that is designed for much smaller spaces is used for a large basement, you're not going to get full, proper heating in that area. Make sure you always buy with space in mind.
Check Out Our Guide: Best Space Heaters for Large Rooms
Benefits Of Indoor Heater For Storage Rooms
Warmth
Indoor heaters have the benefit of heating a sizeable space without needing to heat up an entire home or property. They usually output lots of heat, depending on wattage and type, keeping a storage space warm for extended periods of time. On top of that, they could also be a cheaper alternative to more traditional means, if that is a concern.
Auto Shut-off
Nobody likes accidents, and heaters can cause significant damage if improperly used, such as electrical fires or burns. You may not always remember to shut off your heater after use, which is what makes an auto shut-off feature handy and important. Keep an eye out for this feature if you want added protection against accidents.
Learn More: Space Heaters Safety Tips
Portable
Portability is important for every heater owner, as being able to reposition wherever warmth is needed is vital. Some products are lighter than others, which might make relocation more convenient for you. Check out what features are included to ease transportation if that is part of your checklist.
Easy To Maintain
Is your heater easy to clean and keep clean? This is a legitimate question to ask when buying, as if some products are harder to clean, that might mean less convenience for you in the long run. The best ones on the market typically don't require too much maintenance or none at all.
Heating with Ease
How fast do you expect your heater to heat up? Quick heating might be important for you if you don't like waiting for your space to warm up. Some warmers are faster than others, which should be kept in mind when doing research.
Frequently Asked Questions About Space Heaters for Basement
What's The Best For Large Basements
This typically depends on other factors as well, such as size, wattage, features, etc. Typically, you'll want a higher wattage for larger spaces, as the extra energy goes towards producing more warmth. What's best for your basement is going to be determined by various needs.
What's The Most Energy Efficient Brand?
You'll need to be aware of wattage when considering an energy efficient brand, as that's going to be the most important aspect in determining energy use. Check for brands that offer other energy saving features too, like timers and an auto-shut off. If your heater turns off by itself when not in use, you'll save a lot of energy.
View Our Full Guide: Most Efficient Space Heater
What Are Other Ways To Heat A Cold Basement
There are a few viable alternatives to heating up your basement, such as a traditional fireplace if possible, or radiant heat flooring. You can also look into the ductwork of your home and see if you're able to use your existing thermostat system to heat up your basement.
Conclusion
The most important factor in choosing a proper heater to buy is knowing your spatial needs ahead of time. Don't skimp out on this, as if you make the wrong purchase and don't have enough wattage to cover your entire basement, you will end up with less than efficient heating.
Pay close attention to features included, as well as the type of heating (some function differently than others), along with portability, energy saving capabilities, and so on. Knowing how exactly your heater is going to perform will make the process all that much easier.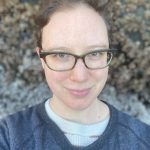 As Sleep Advisor's Performance Editor, Melanie writes and edits content throughout the site to ensure it's accurate, engaging, and up-to-date.
Sleep has always been a top priority for her—even at childhood sleepovers, she was never able or willing to pull an all-nighter. After spending some time researching studies and writing articles for a sleep hygiene app, she became hooked on sleep science writ large.
These days, she's a proud member of the Sleep Advisor editorial team and finds continual inspiration in the best sleeper she knows: her enormous cat, Cole.