Transparency Disclosure – We may receive a referral fee for products purchased through the links on our site...

Read More

.
Babies tend to take up a lot of space in your home for something so tiny. Swings, bouncers, changing tables, toys—the list of baby products that you need never seems to end.
One of the most important things that you are going to buy your child is a safe sleeping space, and choosing a mini crib can help you safe some space for the rest of the essentials. Our list of highest-rated  mini cribs can help you find the right fit for your growing family without taking up half the footprint of your tiny house.
5 Top-Rated Mini Crib Reviews
Delta Children –
Best Portable
Dimensions: 39 x 25 x 37.25 inches
5 color options
Foldable design
2 position mattress height adjustment
JPMA certified
Meet safety standards set by the CPSC & ASTM
1.5 inch hypoallergenic mattress included
Portability is a huge reason why people choose a mini crib. Being able to move it around the house or take it in the car on vacation while avoiding unnecessary additional purchases is appealing to most parents. Delta Children is a top choice for portability.
The castors attached to the bottom allow you to wheel it easily from room to room, and it can easily fold flat for easy packing when moving or for trips to Grandma's. This is also a great option for storing your cradle because it is so unobtrusive and takes almost no room when it is collapsed.
This product comes in five different color options that should fit in with your decor, and it is durably constructed with wood. It does come with a mattress, but some reviewers suggested purchasing a different one because it is rather thin.
Dream on Me –
Best 4-in-1 Convertible
Dimensions: 32 x 24 x 38 inches
6 color options
4-in-1 convertible bed

Meets all CPSC & ASTM standards

3 position mattress height adjustment
1" mattress pad included
You are having a kid but only want to buy one bed until they are moved out? Dream on Me is a 4-in-1 convertible bed that can go from a cradle to a toddler daybed to a twin bed, with or without a footboard. It can be your child's bed from birth to teens, which is a pretty great investment.
Dream on Me has an appealing design that comes in white, black, cherry, natural, and espresso, so picking a neutral color that you will love for years shouldn't be too much of an issue. It is constructed out of New Zealand pine wood, which is nice and durable.
There are three mattress height settings, so as your baby grows and begins to be able to pull themselves up, you can safely lower it as needed. Some people who purchased mentioned that they had difficulty putting it together, so keep that in mind.
Delta Children –
JMPA Certified
Dimensions: 38 x 24 x 2.75 inches
3 color options
Convertible design
2 position mattress height adjustment
JPMA certified
Meets safety standards set by the CPSC & ASTM
1.5 inch hypoallergenic mattress included
Parents want the safest options for their children, especially when it comes to sleeping. The more research is being done, the more we discover about the importance of safe sleep environments. Luckily, there is plenty of government regulations necessary for cradles to be on the market, but extra precautions are always nice to have.
JMPA certification goes above and beyond, and these baby products get more rigorously tested in an independent laboratory. Although optional, products that are JMPA certified help you rest easy knowing that your product has safe levels of toxins, lead, and other harmful elements. Delta Children's Emery is certified and safe and comes in white, black, chocolate, and gray.
It is convertible, changing into a toddler bed and twin bed if desired, and it even comes with a mattress. The two mattress heights keep your baby safe, and its simple design is unobtrusive and classy.
Baby Joy –
Best for Travel
Dimensions: 37.5 x 23.0 x 28.0″

2-in-1 – bassinet and a crib
Foldable design
Included Oxford carry bag
Detachable cloth on the sides
One of the best features of mini cribs is that many can be packed up small and used when traveling. Baby Joy is easily portable and lightweight and can be used as a bassinet next to your bed. With a newborn baby, you are probably going to want them to be as close as possible, especially for late-night feedings.
This crib comes with a mesh lining for breathability during the warm months and an optional zippable cloth that can be added during the colder season. The lining is washable, so no worries when those inevitable blowouts happen. Plus, it has an easy pull tab that folds it up in one motion and a carrying bag for traveling.
The bottom rails of the bassinet are stationary but can be switched out with rockers so that you can calm your baby down by rocking them back and forth.
DaVinci Kalani –
Best 2-in-1
Dimensions: 39.88 x 28.63 x 38 inches
5 color options
4-in-1 convertible bed
4 position mattress height adjustment
Meets all ASTM International and U.S. CPSC safety standards
GREENGUARD Gold Certified
Sturdy, safe, and small, Kalani is a great example of a well-made mini cradle with a classic look. It is made with sustainable New Zealand engineered pine that is TSCA compliant, which should be durable and long-lasting. This is GREENGAURD Gold Certified, meaning that it is tested for safe levels of harmful chemicals and toxins.
One of the best features of DaVinci is that it is convertible; while you will probably start out sharing a room, it will be easy to transport once you are ready to transition them to their own space. And when you finally come to terms with your baby growing up, it can become a big-kid bed. A possible downside is that you do have to purchase separate conversion kits.
There are a variety of colors to choose from, so you don't have to sacrifice looks when it comes to this product.
Buyer's Guide for Mini Cribs
Cribs might seem like a simple purchase, but there are hundreds of options and strict safety regulations to follow. Many new parents can be overwhelmed but want to make an informed decision.
What is a Mini Crib?
To be frank, they are exactly as they sound—a miniature version of a regular-sized crib. The government standardizes crib sizes, so a cradle that is smaller than 25.375 inches wide and 49.75 inches long is considered a "mini crib." These are non-foldable, sturdy sleep spaces for babies; although they may be advertised as portable, they will likely have to be deconstructed to move them.
There are thousands of baby products out there, so it might come as no surprise to you that there is also a portable (travel) cradle, often called a pack-and-play. These are not considered mini cribs because they fold up and pack small and they usually have wheels, but they are generally the same size. These are often used when going to grandparent's houses overnight or on vacation.
On top of that, there are also mini pack-and-plays, which are even smaller.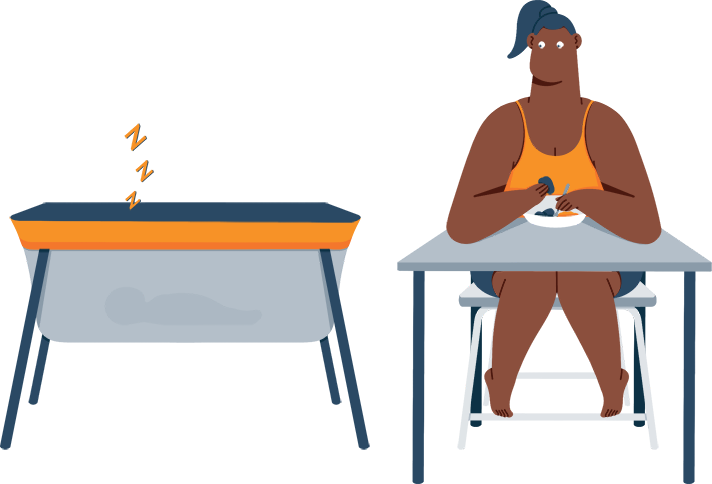 Why You Should Consider One
Don't know if a mini crib is the right choice for you? Here are a few reasons why you may or may not choose a mini size over a regular-sized baby bed.
To Save on Space in an Apartment or Home
Babies come with a lot of stuff, and if you live in a tiny apartment, it can be pretty hard to find space for a bulky crib. The biggest reason why people choose mini cribs is lack of space. The total footprint is small, so you can have plenty of room for all that other baby stuff you need.
To Accommodate Multiple Children in One Room
So this isn't your first time around the block? Many parents need to have their children sharing a room, due to lack of space or just by choice. Kids sharing a room can be difficult enough sleep-wise, but not having enough play space and storage makes it even harder. Mini cribs save space so that your toddler can have a million and one stuffed animals and your baby can still somehow have a place to sleep.
To Have a Portable Solution
Although they are not as portable as a pack-and-play, mini cribs are much easier to move around than a regular-sized cradle. Many parents want their baby sleeping in the same room as them throughout the day, and mini cribs make it possible to do that and transport them around the house semi-easily. Most of them can fit through a door frame, so there is no deconstructing that you need to do.
To Make Transitioning Easier
Many parents have their child sleep in a bassinet for a few months before transferring to a crib, and this can be a difficult transition for a baby. Having a smaller sleep space might make them more comfortable. Plus, most products can transform into daybeds or toddler beds, which could make the change into a big-kid bed simpler for the whole family.
Typical Dimensions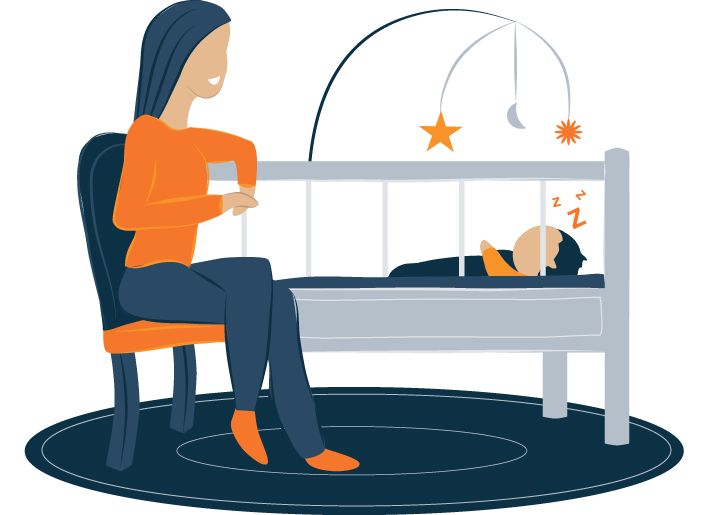 Most of the time, your standard mini crib will be 24 inches wide and 38 inches long, but this is not a hard and fast rule. Some might be a bit narrower than this, so be sure to check the dimensions before buying to make sure it is the size that you want. Measure out the space that you are planning to place when making your decision; also measure your door frames if you are planning on moving it from room to room.
As your baby grows, it may start to get a bit cramped, especially if they are taller than average, so if you want it to last for a while, the bigger size might be best for you.
Portability
A huge benefit of mini cribs is the portability. Parents of newborns probably want their baby around them during naps throughout the day, and having something portable makes it possible to keep them in the cradle while being able to leave your bedroom. Because they are so small, many models are lightweight and easy to move.
Some even have lockable wheels so that you can wheel it around the house and then lock them when you need it to be stationary. Portability means that your crib can be transported and stored easily. You may be able to take it to Grandma's house for the weekend because it can fit in the car, especially if it is collapsible.
Once the mattress has been removed, many are designed for easy takedown and reassembly. When your baby is all done with it, you will be able to store it in a closet or the attic for future children or visitors because of the small size.
Adjustable Features
Like most parents, you probably want your purchase to last as long as possible. Most products will last about one or two years before your kid grows out of it. Convertible options can last for years longer than that, though. There are 2-in-1 options and even 4-in-1 beds that can turn into daybeds by removing the front panel, toddler beds, and even twin beds with the right adjustment kits.
If you want to avoid extra purchases, a convertible option will probably be the best fit. But if you just want something to last for a short while, you will not have to worry about buying a convertible bed. What you will have to worry about, though, is adjustable mattress heights.
Any crib that you purchase should have the option of moving the mattress up and down. For the sake of your back, newborns should be on the highest setting. As soon as your baby starts to show signs of sitting up, you need to move the mattress lower for safety reasons—you want the mattress to be low enough that when they pull themselves up, the bars are at or above the chest.
Quality of Product
You, like all parents, want what is best for your child, and a quality sleep environment is one of the most important things you can offer them. If you want a crib to last for years, look for one that is built with solid wood with sturdy support; this is especially necessary if you plan to use a convertible bed. Although it will be more expensive, if you have multiple children, it may be worth it.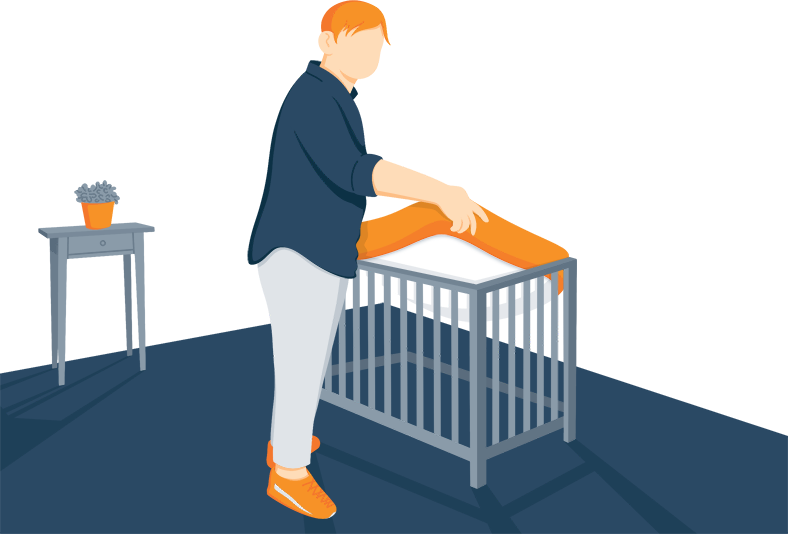 What You Can Expect to Pay
Mini cribs are both smaller and more affordable, ideal for families with new babies on the way (after all, there is nothing cheap about having a baby). You can expect to find these to be around $100 to $300, but there are some exceptions. Those that are made with higher quality materials, are convertible, and have collapsible features or wheels will probably be on the higher end.
Baby Safety
All baby sleep spaces are required to meet certain standards depending on your country. In the U.S., they are regulated by the CPSC (Consumer Product Safety Commission). This is a government organization that makes sure your products are safe.
Nowadays, all cribs should have strong mattress support, tested hardware, and no drop-side railings. They should also have been tested for safety, including all paint and materials, and the bars need to be close together so that your baby's head cannot get stuck. Those that are collapsible should have extra safe locking systems.
The CPSC released the newest standards in 2011, so for your baby's safety, do not use hand-me-downs or vintage cradles, unless you know that they were made after 2011, because they may not meet safety guidelines. This might be hard to do because using pre-owned cradles is often cheaper and more convenient, but it is important. Unsafe sleep spaces can also lead to using other unrecommended items, like bumpers and ill-fitting mattresses.
The American Academy of Pediatrics, also known as the AAP, has safety recommendations as well to reduce the risk of SIDS and suffocation hazards. Mini cribs will easily fit into a parent's bedroom more easily than a regular size, which the AAP recommends for at least six months.
Additional Safety Tips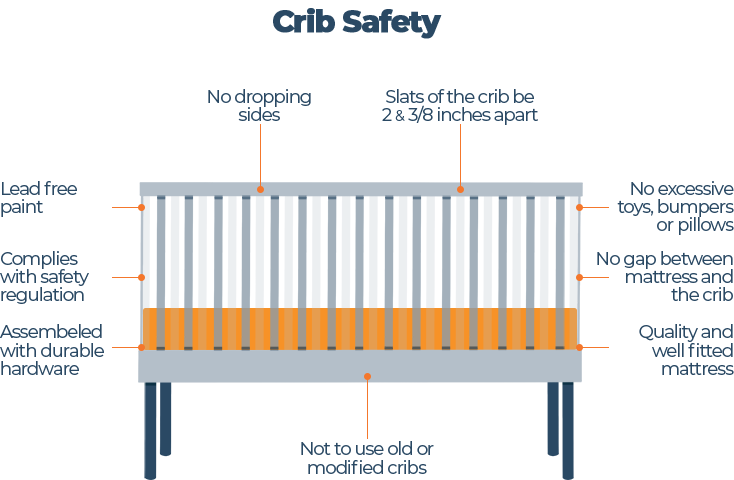 Besides sleeping in the same room as your baby, the AAP has some other safety guidelines to follow to keep your baby as safe as possible. Always make sure that your kiddo is sleeping on a firm, flat surface. The mattress must fit snug in the cradle, and the sheet should be well-fitted with no loose material.
There should be nothing in the crib with your baby, including pillows, blankets, and stuffed animals. Always place your baby on their backs when putting them down to sleep to reduce SIDS risks.
Frequently Asked Questions about Mini Cribs
How long can a baby sleep in a mini or narrow crib?
Your baby can sleep in one as long as they fit within the height limits and do not look too cramped. If it is convertible, your child could potentially sleep in it for several years as it transitions into a toddler bed and sometimes even a twin bed.
Conclusion
Mini cribs are ideal for new parents tight on space who want a convenient, portable, and safe place for their babies to rest. If you have multiple children and are trying to squeeze them in a small room, they can add a bit of breathing room. Or if you want to follow the AAP's recommendation on room sharing but do not have space in your bedroom for a regular crib, minis might be your answer.
Having a new baby can be scary, but finding space in your house for a crib does not have to be.