Transparency Disclosure – We may receive a referral fee for products purchased through the links on our site...

Read More

.
Cribs are usually at the top of every baby registry, but more and more new parents are opting for bassinets during the newborn stage. These smaller versions of cribs are designed for infants in the first few months of life. Portability allows parents to keep their sleeping baby close by their side.
Bassinets may be a safer option based on the American Academy of Pediatrics safe sleep guidelines that recommend babies sleep in the same room as parents for at least the first six months of life. Keep reading to see our top 7 picks for the highest-rated bassinet so you can soak up all those precious newborn days.
7 Top Rated Bassinet Reviews
Dream on Me –
Best Portable
Portable design
Lightweight aluminum frame
Double canopy shield for outdoors
1-inch mattress pad
Elegant design
Quick folding
For families frequently on the go, this Karley bassinet by Dream on Me features the best portable design. Weighing in at a mere 16 lbs with a lightweight aluminum frame, this versatile choice should be easy to move from room to room or even outdoors. Afternoons at the park or beach can be a whole family event thanks to the double canopy for shielding your infant from the sun and bugs.
The spacious sleeping area comes fully equipped with a comfortable 1-inch thick mattress pad and storage underneath for all of those newborn essentials. The soft and safe polyester foam fabric should be easy to clean and features an elegant design. There are multiple color options to choose from, including aqua, periwinkle, and rose.
The compact and quick folding mechanism was designed to make storage and travel a breeze. The Karley is designed for infants and babies weighing up to 25 lbs.
Delta Children –
Best Budget
Budget-friendly
Calming night light
Plays gentle lullabies
Adjustable, removable canopy
1-inch water-resistant pad
Supports up to 15 pounds
Large basket underneath
This Sweet Beginnings bassinet by Delta Children is a budget-friendly option that offers exceptional value. The elegant fabrics feature neutral-colored patterns that should complement any home decor. Parents can choose from falling leaves, playtime jungle, and turtle dove.
Sweet Beginnings features a calming night light and gentle lullabies to soothe your little one to sleep. The adjustable, removable canopy is designed to block out unwanted light during naps or at bedtime. This serene sleeping environment comes equipped with a 1-inch, water-resistant pad, and fitted sheet so it is all ready to go.
Little ones up to 5 months of age, or 15 lbs, should feel safe and secure in their own cozy space. The large two-section basket underneath is made to provide plenty of room for storage and the locking wheels are designed for safety and easy mobility.
Munchkin Fold N' Go –
Best for Travel
Travel friendly
Slim, lightweight design
Folds flat for storage
Carrying handles
Easy set-up and take-down
Ventilated mesh panels
The Brica Fold N' Go travel bassinet by Munchkin is our top choice for travel. The slim, lightweight design weighs in at under 3 lbs and folds flat for easy storage. This "easy to use, easy to transport" bassinet features convenient carrying handles and should fit into any carry-on or suitcase.
The Brica is designed for quick and easy set-up and fold-down with durable side-walls for stability and a locking frame. Ventilated mesh panels and breathable fabric should provide good airflow to keep infants safe. A firm mattress and fitted sheet are included to create a comfortable space for babies to rest on.
The Brica was designed with active families in mind; this portable design should keep your baby safe and comfortable at home, the park, the beach, or while you travel. This Fold N' Go option works best for newborns up to 3 months old, or 15 lbs.
Arm's Reach –
Best for Storage
Bedside design
Attached basket for storage
Maximum visibility
Breathable mesh sides
Fold-down side
Built-in leg extensions
The Clear-Vue Co-Sleeper features a large attached basket for storing diapers, burp cloths, and wipes! This unique bedside design was created to allow for maximum visibility at all times. The breathable mesh sides should let parents keep an eye on their baby from any area of the room.
This bedside bassinet is designed to allow mother and baby to sleep side-by-side for bonding and safety. The fold-down side should make it easy for feeding, changing, or even when a comforting touch is all they need. This innovative design features built-in leg extensions to adjust to the height of your bed between 24 and 30 inches high.
The four castor wheels should allow for easy mobility and can be locked into place for safety. The Clear-Vue Co-Sleeper is designed for babies up to 5 months of age, or once they can push up on their hands and knees.
Graco DreamGlider –
Best Glider
Gliding swing with 6 speeds
Reclining
Two-speed vibration
Plug-in or battery
Classical melodies or nature sounds
Mobile soft toys
The DreamGlider by Graco may be your little one's favorite spot for rest thanks to the gliding swing. The swing seat can be reclined in one easy motion to create a cozy space for sleep. The DreamGlider mimics the same back-and-forth motion of your nursery rocking chair to help soothe babies, hands-free.
The DreamGlider features two-speed vibration with 6 swinging speeds and can be plugged-in or used with batteries for portability. Classical melodies and nature sounds should provide a comforting environment along with mobile soft toys for visual stimulation. The timer mode is a convenient feature that can help to extend battery life.
Safety is a big concern for your baby, and the 3-point harness with cover should keep your infant secure. The DreamGlider should keep newborns up to 30 lbs comfortable and relaxed with plush body support and a three-position recline for a serene sleeping space.
Gentle rocking feature
Beautiful mesh canopy
Lightweight and portable
Breathable mesh sides
Organic cotton surface
Supports up to 18 pounds
This luxurious cradle by BabyBjörn offers a stylish spot for babies to rest. The gentle rocking feature is similar to the motion of a stroller and should help to lull your baby to sleep. The beautiful mesh canopy is an added accessory that is designed to reduce ambient light and allow infants to sleep undisturbed.
The lightweight design should make it easy to carry this cradle anywhere in your home, and the low height is a feature many parents love for easy access and viewing. The breathable mesh sides should provide generous airflow, and the durable foot grips are included for stability and safety.
Newborns up to 6 months or 18 lbs should sleep peacefully on the super-soft organic cotton surface. All materials and fabrics are Oeko-Tex Standard 100, class 1 approved, an international safety standard for textiles. BabyBjörn uses only materials that are gentle and safe for your baby's delicate skin, and should not contain any health-hazardous substances.
Baby Delight –
Best Co-Sleeper Design
Co-sleeper design
Attachment strap
Multiple height adjustments
Converts from bedside to bassinet
Breathable mesh walls
The Beside Me Dreamer Bassinet & Bedside Sleeper by Baby Delight features the best co-sleeper design for parents and infants who want to sleep side-by-side. With attached straps, this bedside sleeper should stay snugly in place next to your adult bed. Six position height adjustments adapt to the height of most beds to find the proper fit.
This unique design allows for use in bassinet mode when you want a safe space for baby to nap or rest, and the bedside sleeper mode allows you to unhook one side for quick access for feeding or comforting. The quick and easy conversion means you should be able to reach for your little one in seconds.
Breathable mesh walls were designed for optimal airflow and circulation, and a water-proof fitted sheet and mattress are included for comfort. The gentle gliding feature should make it easy to soothe your little one to sleep.
Bassinet Buying Guide
There are many different styles of bassinets depending on your needs. Consider factors like whether you will be traveling with baby, if you want to co-sleep safely using a bedside crib, and the age and weight limit restrictions of the model you are looking at.
Knowing When You Need One
One of the top benefits of having a bassinet is peace of mind, although convenience is probably a close second. Those early newborn days can be full of joy and excitement as you get to know your baby, but they can also bring worries and fear about their safety. Having your infant close by at all times may help to reassure you that they are safe and sound.
If you choose a co-sleeper that keeps baby within arms reach, those middle-of-the-night feedings can be accomplished without ever having to leave the comfort of your bed. Babies, having spent 9 months inside a womb, usually sleep better with a warm body by their side.
Many parents who keep their newborn in their room find it easier to cope with the sleep deprivation this stage brings since they aren't running back and forth to the nursery all night long.
The American Academy of Pediatrics recommends that babies sleep in the same room as their parents for the first year of life, or at least a minimum of 6 months for safety reasons. While many bedrooms will not be able to accommodate an adult bed and a full-size crib, bassinets are much smaller and take up very little space.
Bassinets are designed for newborns until they are able to move around, push up on their hands, or roll over, usually between 3-5 months old. Some models may have weight restrictions as well.
Types of Baby Bassinets
Bassinets come with many features you won't find in your average crib. Some have built-in night lights and vibration modes, others can rock, swivel and even fold for storage or travel.
Standalone
Standalone bassinets may be designed to rest on the ground or have built-in legs to stand higher up. These mini beds are convenient for stationary use around the house. Some have added features like the ability to play music, glide, or project lights.
Co-sleeper
Co-sleepers are designed to be next to an adult-sized bed and may have adjustable height legs. Most feature a fold-down side for easy access or late-night feedings. Co-sleepers can be a safer way to sleep side-by-side so your little one is always within arms reach.
Travel
For those who frequently visit friends and family or travel to exotic destinations, having a portable crib is a must. Some bassinets can be quickly folded into one compact travel case that can be packed into luggage or used as a carry-on.
Folding
Having a bassinet that can be folded is a convenient feature for portability and storage. Being able to move your infant's bed from room to room or take it for an afternoon outdoors is also a huge plus. For apartments or smaller homes, folding bassinets can free up a lot of space when they are not in use.
Safety Information and Tips
One of the biggest concerns for many new parents is keeping their newborn safe, especially during sleep. Using a bassinet can be a great way to follow the AAP recommendation to keep infants in the same room as parents for at least the first six months of life.
Other safety guidelines to consider are removing all bedding, blankets, or toys from your child's sleeping place. The only bedding should be a tightly fitted sheet that is securely attached to the mattress or pad.
To keep your baby at a comfortable temperature, dress them in layers or use a safety-approved sleep sack according to your baby's age and weight. Maintain a neutral room temperature, and use ceiling fans to increase airflow.
Always follow the manufacturer's directions for safe installation. For co-sleepers, always ensure that the walls of the bassinet are higher than the top of your mattress to prevent pillows and blankets from falling into the bassinet.
Additional Considerations
Some of the other important factors to consider are convenience, budget, and any extra features that may be included. Having a new baby is stressful enough, so look for options that will make life easier. Easy assembly, portability, and washable covers can help to simplify life with baby.
Bassinets come in many shapes and sizes, with options that should suit any budget. Keep in mind that your newborn will only be using this bed for the first few months of life, so it may be better to splurge on their crib and choose something more economical for the early days.
Many models have added features like vibration, music, lights, or the ability to rock. Hanging mobiles and canopies are also very common. If you have a baby that is more challenging to soothe, these features could come in handy. For others, they may be unnecessary.
Most seasoned parents will tell you that the feature you will love the most is a large basket for storage underneath. Being able to reach for a diaper, wipes, or pacifier can be a lifesaver in the middle of the night.
Frequently Asked Questions About Bassinets
What's the difference between a bassinet and a crib?
Bassinets and cribs are both considered to be sleeping spaces for newborns and infants, but each has specific guidelines for age and weight. Bassinets are mini versions of cribs and are usually reserved for newborns until they are 3 to 5 months old, or reach the product's weight limitations; cribs can generally be used until age 2 or 3.
Are bassinets safer than cribs?
Both bassinets and cribs can be safely used with newborns, but bassinets offer a smaller space designed for the first few months of life. These smaller beds have safety features designed specifically for younger infants such as mesh walls and soft coverings. Bassinets offer portability and convenience so your baby always has a safe place to sleep.
Conclusion
Having a safe and comfortable bed for your newborn to sleep on is a big consideration for new parents. In the first year of life, there is a huge focus on getting babies to nap during the day and sleep through the night.
A cozy bassinet can make the difference between a fussy or a happy baby that is getting all the restorative sleep they need. Being able to sleep side-by-side or within arms reach of your infant can offer convenience and peace of mind.
Finding the best sleeping arrangement for you and your baby can help the both of you get some much needed rest.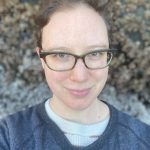 As Sleep Advisor's Performance Editor, Melanie writes and edits content throughout the site to ensure it's accurate, engaging, and up-to-date.
Sleep has always been a top priority for her—even at childhood sleepovers, she was never able or willing to pull an all-nighter. After spending some time researching studies and writing articles for a sleep hygiene app, she became hooked on sleep science writ large.
These days, she's a proud member of the Sleep Advisor editorial team and finds continual inspiration in the best sleeper she knows: her enormous cat, Cole.