Transparency Disclosure – We may receive a referral fee for products purchased through the links on our site...

Read More

.
If you're adding a new baby to the family and wondering what the scoop is on infant monitors, we're here to help. What are they, how do they work, and do you need one?
Since you've probably been researching since you found out you were having a baby, we've done the hard work for you when it comes to answering all of these questions.
For some families, monitors may seem like a waste of money. For others, they are an absolute must, giving tired parents a well-deserved break. Keep reading to discover everything you need to know about choosing the highest rated baby monitor, including which features you need and which you can pass on.
6 Top-Rated Baby Monitor Reviews
Infant Optics –
Best Seller
Interchangable lenses
Visual soundbar
Two-way talk
Temperature monitoring
Secure channel
The Infant Optics DXR-8 is an award-winning model with video capability and interchangeable optical lenses, allowing you to customize zoom and the viewing angle. With a 3.5-inch color screen that loads instantly without any lag time, it becomes easier to know exactly what is happening in real-time.
A visual soundbar allows you to see when your infant is crying, even in silent mode. Other notable features include two-way talk, a remote thermometer, alarm function, and invisible night vision. Remote pan/tilt/zoom functions provide easy viewing from any angle.
One hundred percent digital privacy helps to keep your family safe, and a 700-foot range gives you the freedom to move around the house.
For growing families, this unit is expandable up to four cameras. Parents love the 12-hour battery life and how easy the Infant Optics is to use; just plug and go!
ANMEATE –
Best Video Monitor
Remote pan-tilt camera with zoom
Night vision
Temperature monitor
Lullabies and talkback
960-foot range
You'll be able to keep a watchful eye on your little one with this monitor from ANMEATE, which is our selection for 'Best Video Monitor.' This monitor features a remote camera with controls that allow you to tilt the camera or zoom in for optimal viewing. 
The camera also features infrared night vision to provide a clear picture of the baby during the night, automatically switching to this capability when bedtime rolls around. To further ensure your baby is resting comfortably, the ANMEATE also monitors the temperature of the room so you can know if the space is too hot or cold.
What stands out
You can easily watch your baby while doing work around the house or yard thanks to this device's impressive 960-foot range.

The addition of lullabies and a talkback feature mean that you can help calm your baby from a distance.
Visual soundbar
Can connect up to 3 cameras
Temperature monitoring
Two-way talk
Secure channel
The Anmeate Digital System provides the overall best quality with a 2.4-inch high-resolution display screen and high-definition night vision capabilities. Eight built-in LED infrared lights constantly keep track of every movement, so you should know instantly when your child wakes.
This model features 2x digital zoom so you catch those precious yawns and smiles with a single touch. The high-quality picture and crystal clear sound help to ensure you won't miss a thing.
The two-way intercom and four pre-programmed songs were designed to provide comfort and soothing in your absence. Remote temperature controls work to ensure your child is in a safe environment anytime, day or night.
A sound-activated power-saving mode extends the battery life, and the 960-foot range keeps you close to your little one no matter where you are. This unit can be expanded up to four cameras and is easy to install and use.
Vili Nice –
Best for Long Use
High-resolution display
Two-way talk
Temperature sensor
Extended battery life
Worry less about battery life with the Vili Nice baby monitor, our pick for 'Best for Long Use.' The product features a rechargeable battery that can last up to 10 hours in the display mode. However, with the display turned off, the battery can last as long as 24 hours.
The high-resolution display allows you to zoom in to get a closer look to make sure your baby is resting comfortably. You can also adjust the display to move it up horizontally and vertically.
In the event your baby suddenly wakes up, you can quickly soothe them with the sound of your voice, thanks to the device's two-way talk system.
What stands out
The monitor can further help to keep your baby comfortable with its temperature sensor. The feature provides a real-time room temperature monitor, so you know if the baby's room is too hot or cold. 
VTech –
Best in Audio Features
Audio-only system
Visual soundbar
Two-way talk
Belt clip
Vibrating sound alert
If a sound-only system is what you are looking for, the VTech DM221 has some excellent features. The vibrating sound alert on the parental unit can notify you if your baby is awake. A five-level visual sound indicator can also display the degree of sound when the unit is muted.
Rechargeable batteries provide up to 18 hours of monitoring before needing to be charged, and a belt clip allows parents to go hands-free. This system can operate up to 160 feet indoors and 1000 feet outdoors. Two-way talk allows you to communicate with your child when a reassuring word is all they need.
Many older, analog monitors are known for their annoying white noise, but the DM221 uses DECT 6.0 technology to provide clear transmission without the static.
This simple yet functional system is a great economical option for audio-only monitoring.
Motion detection
Remote survailance app
Two-way talk
Sensitivity settings
Motion alert
The Tenvis IP camera provides wireless, remote surveillance in 720p high definition. This multifunctional system provides the best value by allowing you to view your home on your smartphone or wireless device anytime, anywhere.
The wide-range camera allows for 355-degree rotation horizontally and 120 degrees vertically. It also has a rotatable pan and tilt, and 11 infrared lights provide high-quality viewing in night vision mode using "smart eyes" that should not disturb a sleeping baby.
Motion detection recording can capture a 15-second video and send you an alert within seconds. Real-time video and sound monitoring with two-way communication allow you to talk to your children, babysitter, or spouse.
128GB of storage allows you to record those precious moments and share them with family and friends instantly.
With so many incredible features and easy set-up, the Tenvis IP camera provides incredible value for families looking for a safe and functional Wi-Fi unit.
Why Use Infant Monitors
Before the invention of monitors, parents had to remain in close proximity to their infants at all times to ensure their safety and to hear if they had woken up. Thankfully, those days are gone, and parents now have the ability to have a life outside of the nursery.
A baby monitor can give parents peace of mind knowing that with a click of a button, they can check in on their little one to see if they are sleeping or awake. With handy functions like video, "peep" mode, and even microphones that allow parents to offer reassuring words to a fussy baby, parenting can be easier than ever.
What Are Baby Monitors?
Think of baby monitors as your eyes and ears when you are not in close proximity to babies (or children). Transmitters and receivers allow parents to listen in, and some units even have cameras and portable screens so parents can check in on a sleeping baby or children playing in their rooms.
In addition to the microphone or camera in the nursery, monitors come with a parental unit (in some cases this can be your phone) that wirelessly connects, allowing you to freely move about your house within the given range.
Newer models come with many upgraded features, including bigger screens, Wi-Fi capability, and longer battery lives.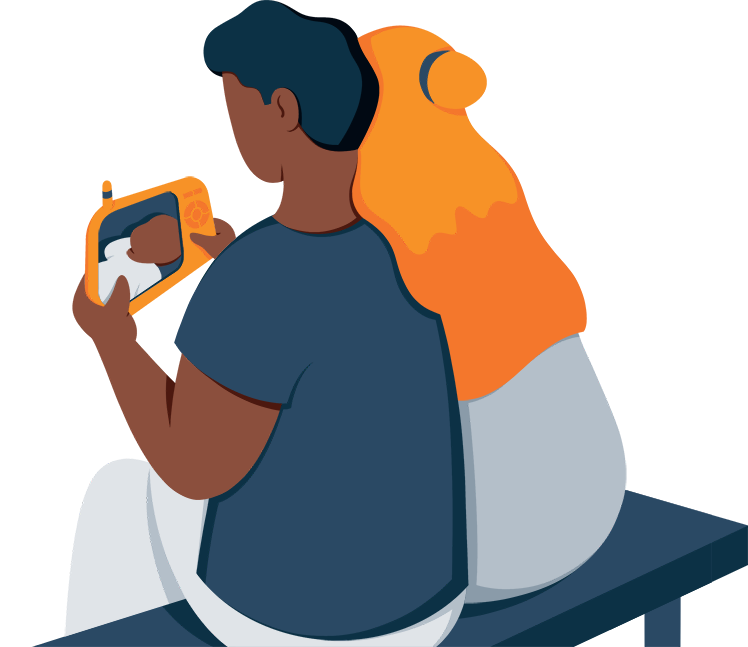 Buyer's Guide for Baby Monitor
Screen Size
Screen sizes can vary depending on the unit you are buying and may come with options like color, LCD, or zoom-in. Greater resolution and bigger screen sizes will allow for a clearer picture and better detail, but keep in mind that the bigger the unit, the bulkier it is to carry around.
Battery Life
If you plan on moving about the house or yard with your unit, longer battery life may be important. The last thing you want is to be entertaining friends on the patio, only to have your monitor die and need to be plugged in.
Remote Adjustments
Being able to change the angle of the camera, turn lullabies on and off, and even zoom in to check on your baby close up can all be done using handy remote adjustments. Being able to make adjustments remotely means more sleep for your baby and for you!
Portability
Some monitors allow you to move the camera(s) around the room or take them along on your travels; others must be mounted to the wall. If you are a family who likes to take a lot of trips, choosing a portable unit may be a good choice for you!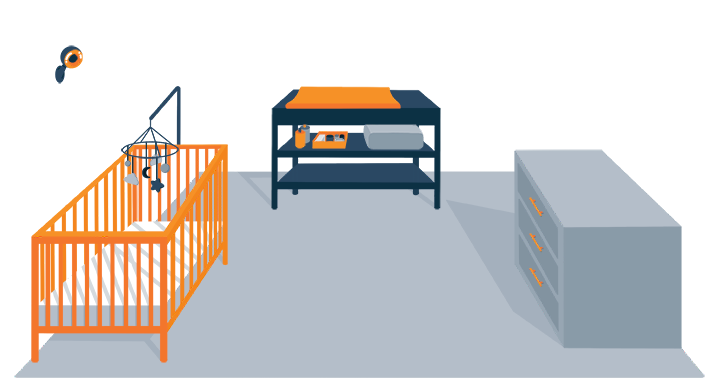 Remote Controls
Some monitors will allow you to remotely change from one mode to another, check in on multiple children, and make various adjustments to the camera and screen. Remote controls save you from accidentally waking a sleeping baby when you need to pan or tilt the camera angle for better viewing!
Features
Many added features are now available allowing you to track room temperature, sleep/wake patterns, breathing, or baby's vitals. Multiple cameras, Wi-Fi, picture or video recording, and remote viewing from a phone or computer are just some of the many options you can find.
Wireless Encryption
Wi-Fi monitors can outperform in range and portability, but they also pose the biggest threat to hacking. The best way to prevent others from being able to tap into your feed is to buy a model that offers wireless encryption or has a 2.4 GHz FHSS wireless transmission.
Type
The three main types of baby monitors on the market are sound, video, or motion, and some combine all three features. Knowing which type you need comes down to preference, budget, and the age of your child. Motion detection can be useful for newborns, but can no longer be used once a baby becomes mobile.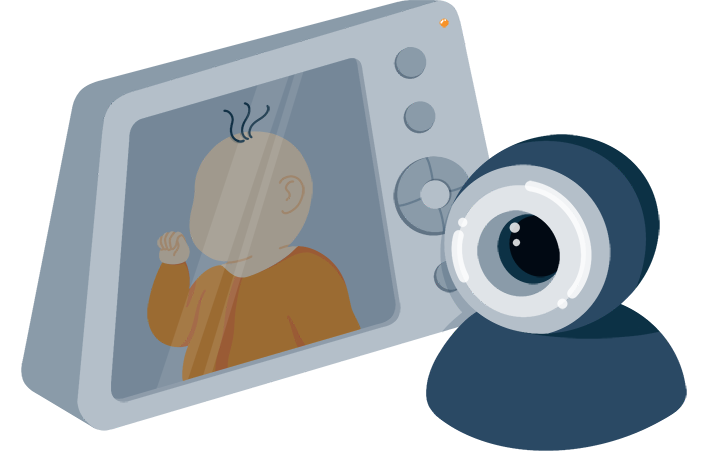 Range
The distance you can be from the nursery and still be able to have a good range will vary from one brand to the next. If you live in an apartment, the range won't be an issue. In a large home with multiple floors, having a wide range is necessary.
Audio and Image Quality
Quality can vary with sound and image, so look for high resolution if you want to be able to make out those tiny newborn features. Some options will allow for better viewing in "night-mode" so parents can still see babies in the dark without turning on any type of light.
Monitor Options
Options like two-way communication were designed to allow you to speak to your child, while "peep" mode should only trigger the video and sound if noise and movement are detected. Other features like touch screens and built-in stands are also factors to consider.
Camera Options
The ability to pan, tilt, or zoom the camera angle remotely from the parental unit is quite useful for tracking little movers. Lenses with wider angles and the option to add multiple cameras are also nice features to have with these types of products.
Expandability
For families with multiple children or who want to be able to monitor more than one room, being able to expand to multiple units is important. Some models will allow parents to scroll from camera to camera, while others have the option to view all cameras on one screen.
Security
Stories of monitors being hacked remotely are popping up in the news, so choosing a safe model that has security measures in place is a must for some families. Be sure to check what privacy features have been put into place to keep your family safe.
Value
Cost is a big factor for most parents, and monitors can vary in price. Set a budget for what you are willing to spend, then look for monitors that offer the most features without breaking the bank. Thinking of having more kids down the road? Buying a package with multiple cameras now may save you money in the long-term.
How/When to Know That You Need One
The American Academy of Pediatrics (AAP) has recommended that all infants sleep in the same room as their parents for the first 6-12 months of life. Newborns can usually sleep anywhere, so most parents keep them close during those early days to soak in all of those adorable baby sounds.
Most parents find that a monitor comes in handy once their baby is ready to transition into the nursery overnight or if the baby is napping in a separate room. They can also be useful for keeping a silent eye on older kids who are spending time playing in another area. If you like the reassurance that your little ones are breathing and safe but enjoy the convenience of being able to get tasks done apart from your kids, a monitor can help to simplify life as a parent.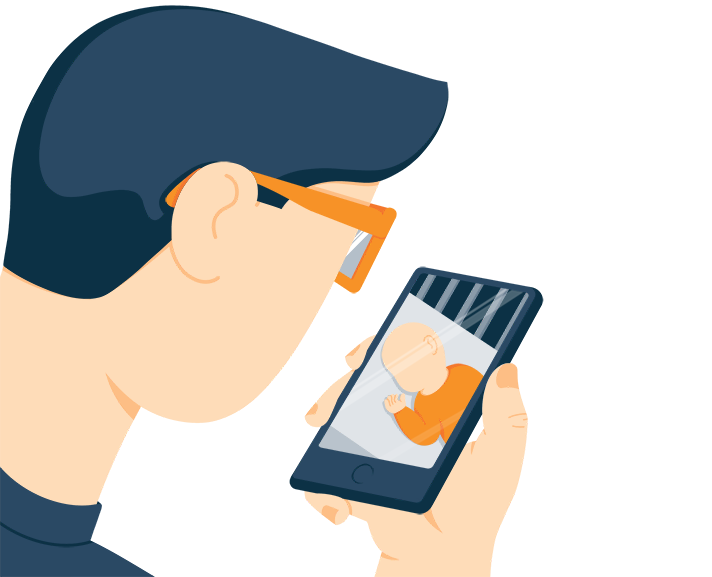 For families who live in apartments or other small spaces where noise travels easily, chances are you will hear if your baby cries. In this case, a simple sound only model may be all you need for the occasional use.
Once infants are mobile or no longer sleeping in cribs, having the ability to make sure they are still in bed (or in the room at all) can be extremely helpful. Some units will even allow you to snap a picture or record those tiny baby snores.
For working parents, Wi-Fi enabled models can give you peace of mind while you are away. Being able to check in on what is happening at home while you are working, traveling, or even running errands is convenient and reassuring.
Parents typically love the added features like the option to remotely turn on lullabies to soothe your little one back to sleep. For parents who want extra reassurance that their baby is safe, some models can track movement and even breathing.
What Type of Monitor Do You Need?
Determining which model will be the best fit for your family comes down to the type of space you live in, the features you need, and the amount of security you are looking for.
For larger homes or those with multiple levels, wider ranges may be important. Single story homes or apartments may not need range, but monitors that won't turn on with every honk or siren would be very helpful.
For parents who will be away frequently but want to keep an eye on things at home, Wi-Fi capabilities can allow you to stay connected via your smartphone.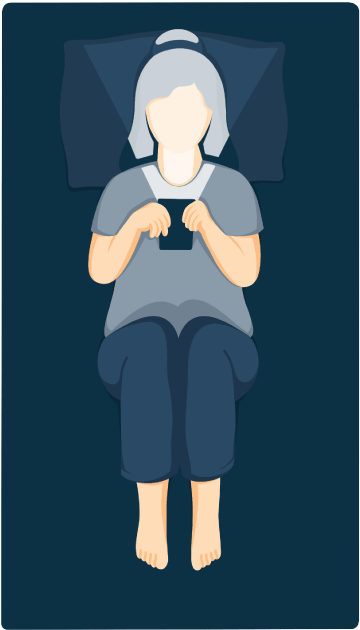 Why Parents Love Them
Almost every parent has found themselves creeping in to check on a sleeping baby or to retrieve a forgotten item, only to accidentally wake their child. How frustrating! Monitors can be a lifesaver for anxious parents who want to keep a close eye on their little ones without having to be side-by-side 24 hours a day.
Being able to keep an eye on your littles while working or traveling remotely is also a bonus for many people. Added features like soothing music or microphones to talk to your kids can also help to keep them sleeping longer so you can have more time to catch up on chores, Netflix, or sleep!
Frequently Asked Questions About Baby Monitors
What's the best brand for twins?
For twins that are sharing a room, look for monitors that have cameras with remote adjustability so you can pan from one baby to the other. For twins in separate rooms, consider an expandable unit with multiple cameras to allow you to switch back and forth between each child.
Are there brands with Wi-Fi features?
Many brands now have Wi-Fi capability so parents can simply use their computer, tablet, or smartphone as the receiver and keep an eye on things when they are at home or away. As long as the model has security measures in place to prevent hacking, Wi-Fi units can be very convenient and affordable.
Conclusion
Most parents cannot get enough of those squishy newborn cuddles, but even the best SuperMom needs rest. For times when you are unable to be with your child, a baby monitor can provide extra reassurance that your little one is safe and sound.
Choose a system that has the best features for your family and that will make life the easiest! Whether you want a multifunctional model that can sing your baby to sleep or a basic unit that is easy on the budget, this list has outlined some great options for you to consider.