Did you think it possible that your bedding can help save the environment?
With Tencel bed sheets you can, and you don't have to sacrifice any comfort.
These days it's tough to find house items that give you everything you're looking for. An item may be economical but not environmentally safe. If this is an issue close to your heart you'll fall in love with Tencel bed sheets.
Tencel is not a bedding company, but the fabric it produces gives you everything you're looking for in sheets. Tencel forms part of the Lenzing company. Tencel is now the branded name of a certain type of lyocell fabric.
The lyocell originates from organic substances. It's the end product when cellulose from eucalyptus trees are transformed into a handy, hygienic and comfortable fabric. Because of the long production process it's technically a synthetic fabric and it's used in many applications such as bedding.
Read the review below so you can see how this meets your expectations of what bed sheets should be.
---
Tencel Sheets – Key Features
In short, this is what you have to look forward to:
Smooth fabric
Average set includes:

Fitted sheet
Flat sheet
2 x pillowcases

Eco-friendly manufacturing processes using less water
Won't aggravate skin problems
Universal fit options:
Available in various colors
50% better moisture management than most other fabrics
Constructed from botanic material
Pros and Cons
Pros
More effective wick process than cotton
Softer fabric when compared to silk
Cool fabric improves sleep
Soft feel and natural origins don't irritate skin
Various sizes available
Moisture management prevents bacteria from forming
Doesn't stretch after washing
Sustainability is practiced in the forests where natural eucalyptus are harvested
Less toxic impact than cotton production
Cons
Expensive brand
Not a true natural fabric; the manufacturing results in synthetic fibers
Deteriorates faster than other fabrics
Unique feel isn't to everyone's liking
Absorbs skin oils which can cause stains
---
Material/Style
Tencel is made of lyocell fibers. These come from extracting cellulose from eucalyptus. After a solvent spinning process, you get fibers to make these stunning products with.
During the material's manufacturing, all solvents are recycled instead of them harming the environment. The process uses up to 20 times less water than cotton fabric production.
This results in an eco-friendly fabric that can be used in many items. It's so safe to use that it's even incorporated in baby products.
The Tencel sheets are stylish and modern, suited to any décor style.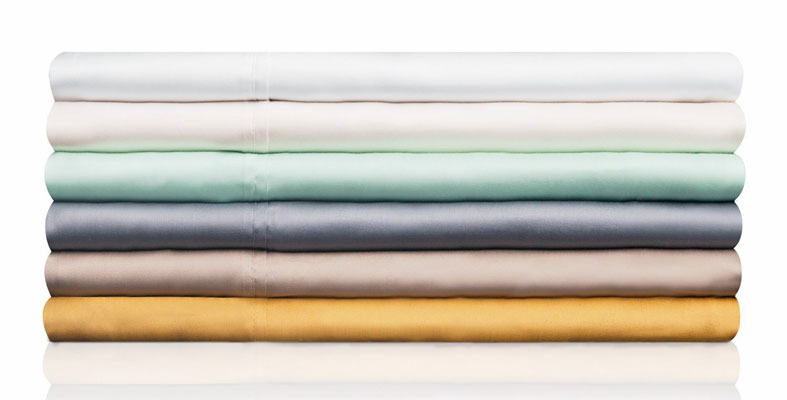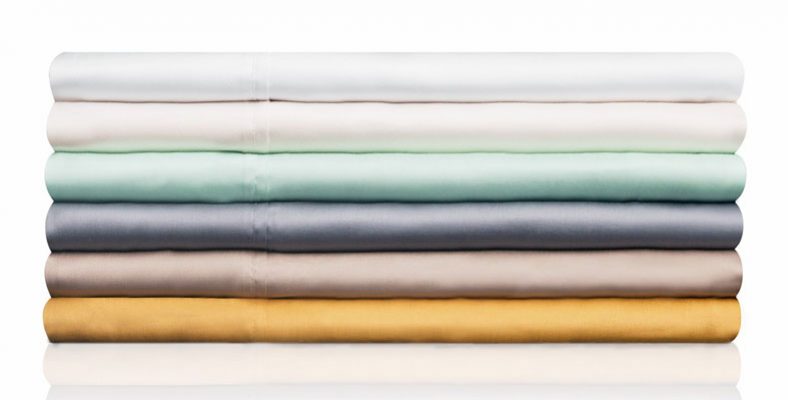 ---
Build Quality
You want your eco-friendly sheets to serve you as well as they do the environment, right?
Remember, synthetic products can't always be rated according to their thread counts. This applies more to natural fabrics. Despite it not being rated according to thread count, this is proven to be a reasonably durable fabric.
You'll love how the designers made sure you'll have ease of use and low wear & tear. This is thanks to ultra-thick elastic used on the fitted sheets. Because it's held in place there's less friction. This results in comfortable nights in bed and the products won't wear out that quickly.
The extra deep pockets allow you to make up the bed easily, and the fit is secure around the mattress. It won't come loose to bother you or cause threads to fray.
---
Durability
These are not the most durable sheets you'll find. Certain circumstances will affect its aesthetics and longevity:
If it absorbs too much of your skin oil, stains will occur and scrubbing them may damage the fabric
Excessive washing will lead to them deteriorating faster than similar cotton or silk products
Excessive friction during use, such as when pets or children play on beds, will cause fabric to fray
They perform well in general circumstances, but can show wear and tear if not looked after properly. It's important to keep to washing guidelines for the best results.
---
Weight
Are you looking for perfect bedding that won't leave you feeling trapped? Tencel products should be on your list then.
Firstly Tencel keeps moisture away from your body so the bedding won't cling to you. You'll also love the light and comfortable feel.
---
Feel & Comfort
The unique manufacturing process shows itself in the texture you feel when sliding into bed.
Tencel is smoother than silk, but some users report it's more akin to cotton. This makes sense because of the natural items used in production. But it's not as stiff as cotton.
If you can get used to the unique feel you'll love the comfort it affords you. Because it wicks moisture away, you won't feel uncomfortably hot at night. The sheets don't cling to each other too much, so you'll also feel free inside the bed.
If this is the environment you love sleeping in, you've found your bedding solution.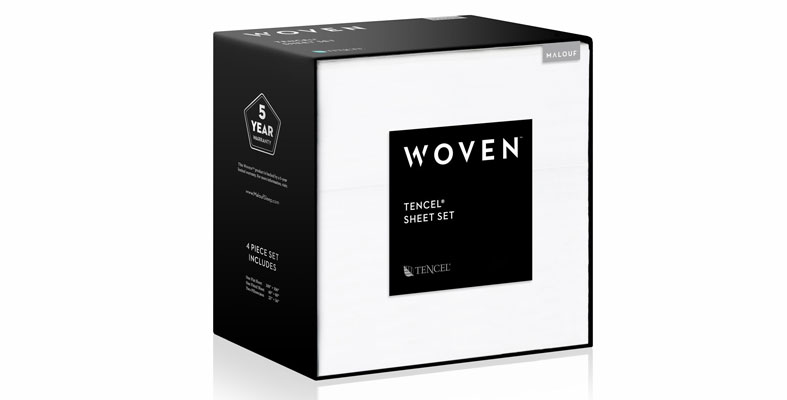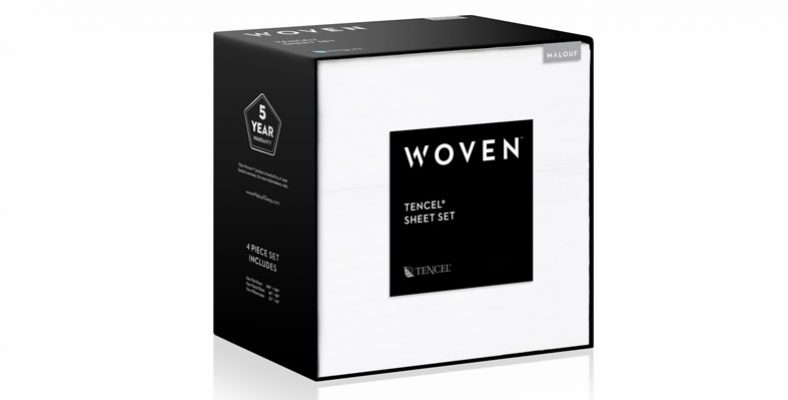 ---
Price/Value
What are you looking for the most to improve your sleep habits?
If it's about falling asleep faster and sleeping without waking up sweaty, these sheets will be valuable to you & worth all the money you pay for them.
But they are pricey. If the ones you're currently using don't cause you any frustrations, you'll feel the high price tag of Tencel is unnecessary.
Sheets are personal. Compare your requirements with what these quality sheets offer you. Is it what you've been looking for all along?
---
Who Should Buy The Tencel Sheets?
If you need more comfortable sheets to get more sleep these are the sheets to consider.
Because they're designed to channel moisture away from your body, you'll be kept cool all night. The surfaces are smooth, and the layers don't stick to each other too much. All of this results in a comfortable, cool and less constricting sleep environment.
Of course you'll love these sheets if you want to benefit the environment. The company does everything in its power to promote sustainable manufacturing processes. It's proven less water is used than in most fabric manufacturing.
So you can feel proud every time you slip into bed. You're helping to save the earth!
---
Who Shouldn't Buy The Tencel Sheets?
How used are you to your current bedding? Before purchasing these you must consider their uniqueness.
You may love the eco-friendly approach but hate the texture. It's softer than silk but very different on the surface. You may not prefer the texture to your current sheets.
If you wash your sheets often you may find these wear out quicker than what you're used to. Average usage will leave you with quality bedding for a long time. Using them in the hospitality industry—where bedding is changed more often than in homes—you'll quickly end up with disintegrating bedding.
---
Conclusion
Have you tried all there is on the market and given up finding a proper bed sheet? This unique product can be what you're looking for.
No, they're not the most durable ones available. But imagine cool nights instead of sweating. Think of a smooth cotton surface. Think about products that can help the environment.
Of course, your budget needs consideration too. These products won't serve you for years, and they're a bit pricey. Can your budget handle replacing them in years to come?
Despite the drawbacks, there are enough reasons to take a chance on Tencel bed sheets. It's a worthwhile investment.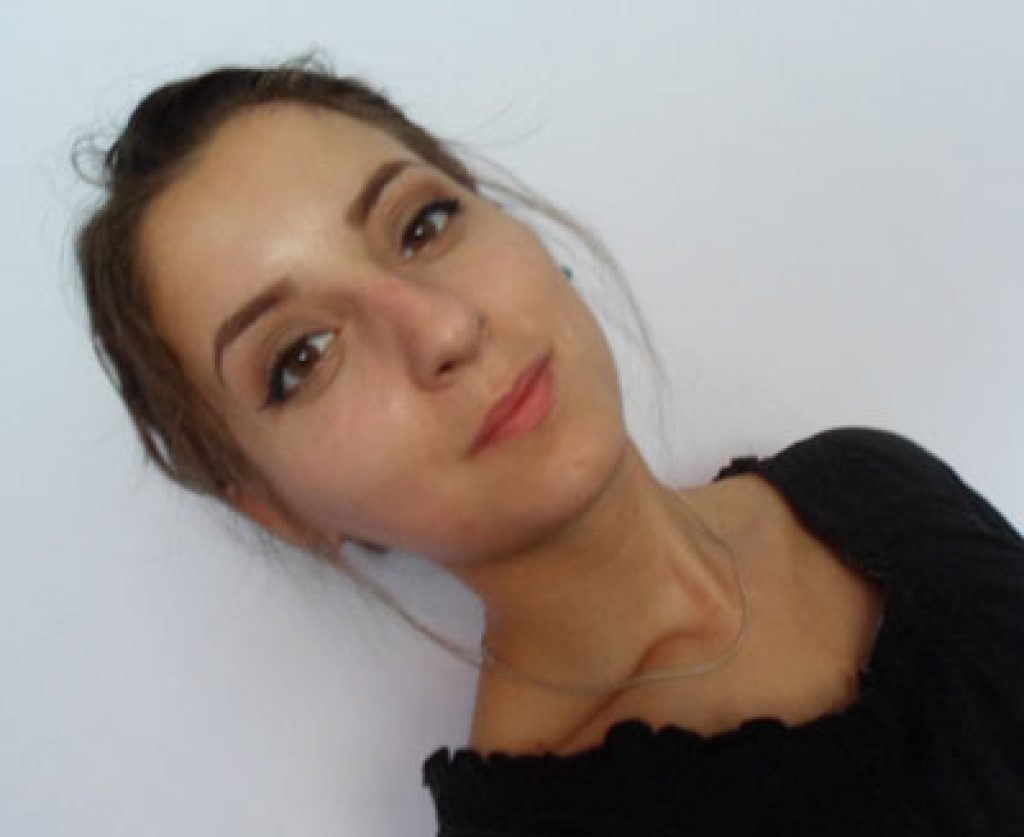 Olivera Jancikin
Content Writer
About Author
Olivera is a content writer for Sleep Advisor and is enthusiastic about sleep. She firmly believes in the benefits of daytime naps on top of getting a full 8-hour sleep at night.