Transparency Disclosure – We may receive a referral fee for products purchased through the links on our site...

Read More

.
Have you ever thought about how your sheets are manufactured, and more importantly, what is in them?
Most bedsheets are made from either conventional cotton, which has pesticides and insecticides, or polyester, which is plastic. And often, your bedding is produced in a part of the world that uses forced child labor. It's tragic to think that a basic sleeping essential could be so harmful to both people and the planet.
In response to these tragic circumstances, SOL Organics decided to make bedding that is ethically sourced and sustainably produced, all while being breathable, comfortable, and luxurious. And they decided to provide it at an affordable price.
We know that there's a tendency to view the term "organic" as an overhyped trend to justify charging more for something. We decided to put the SOL Organics bed sheets to the test in this review.
SOL Organics – Key Features
Made from organic, non-GMO cotton
300 thread count sateen fabric
Single ply yarn
Soft and silky texture that resists pilling
$7.50 donated to charity for each set purchased
Available in Twin, Twin XL, Full, Queen, King, and Cal King
Set includes 1 flat and 1 fitted sheet, and 2 pillowcases (twin sets come with only 1 pillowcase)
Available in six neutral colors
Pros and Cons
Pros
Cotton is 100% Fair Trade Certified
Environmentally friendly and ethically produced
Sheets get even softer with each wash
Premium quality at an affordable price
No plastic packaging
Cons
Available color palette is neutral and limited
Strict care instructions
Material / Style
SOL bedding is made from certified organic cotton that's free of pesticides and contains no GMOs (genetically modified organisms). They have a sateen weave that gives the sheet a subtle sheen. To achieve this look, the manufacturing process involves weaving one yarn underneath and three on top.
SOL Organics sheet sets are available in six colors:
White
Ivory
Sand
Blue (it's a very light shade)
Dove Gray (light gray)
Steel Gray (more like charcoal)
Within this color range, there are three different styles: Hemmed, Classic and Pleated.
Classic is plain and simple. It's a clean look with no extra stitching. The hemmed option has stitching at the top of the sheet to provide a more finished look. And the pleated design has three rows of stitching at the top edge for a more ornate look.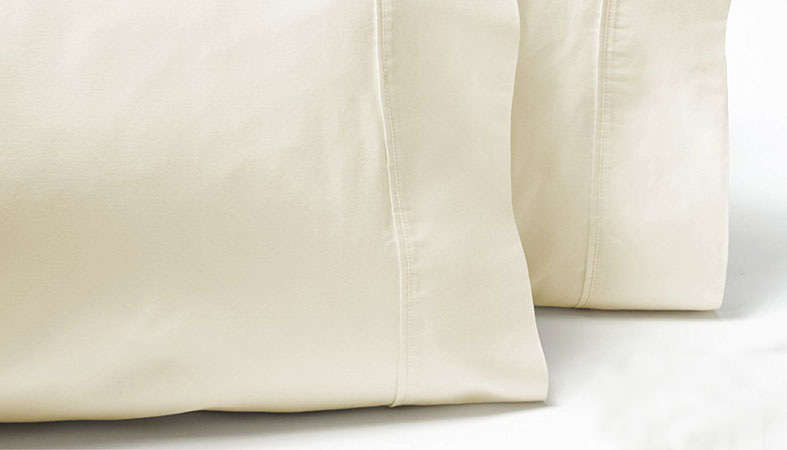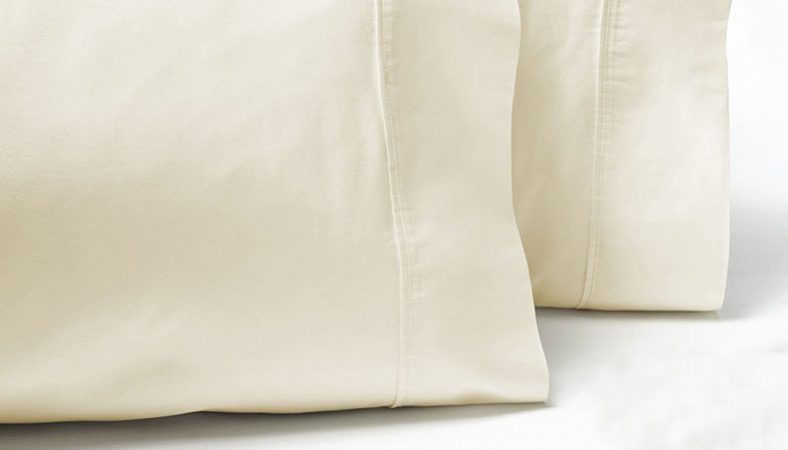 Build Quality
SOL's product line is made from single ply yarn, which is long and sturdy. The yarn is classified as 60s, which has to do with the thickness and this number is ideal for medium to high-end sheets.
The thread count is 300, which is ideal for high-quality bed linens. Ideally, you should seek out a number ranging between 200 and 300. It wasn't long ago that manufacturers tried to trick us into believing that higher thread counts meant better quality. However, this isn't the case.
In order for a manufacturer to achieve higher thread count, they weave the threads together in a braided pattern, making them denser and less comfortable!
Durability
Sheets should last for years. One of the biggest determinants of durability is the fiber composition. Shorter strands of fiber tend to unweave from the rest of the fabric, leading to a coarser texture. SOL Organics uses longer fibers, which make for a stronger structure.
As long as you wash them according to proper care instructions, these sheets could last a generation or longer. The manufacturer recommends washing in cold water with about half of the detergent you would use for a typical load of laundry.
In an ideal world, you'd hang your sheets to dry, but most of us don't have the time or space for that. In that case, tumble dry on low and avoid using any bleach or whitening detergents. Bleach and whiteners may break down the fabric and also cause yellowing.
Weight
Most people prefer lightweight sheets, and there's an easy way to tell what you're getting based on the label. Look for single ply yarn, rather than two or three-ply yarn. While a higher number may seem better, in this case, it means that the resulting fabric will feel coarse and heavy.
Instead, SOL's bedding with the single ply yarn produces a soft, lightweight and breathable sleeping experience.
Feel & Comfort
Individual preferences vary, and some people want a cool and crisp feel, while others prefer bedsheets that are smooth and soft. Since you're buying online, you probably won't be able to feel them beforehand, so it's important to read labels and reviews before deciding, so you know what to expect.
SOL's bedding has the soft and smooth feel. Their sheets are very breathable, and all of our reviewers had nothing but positive things to say about how much they enjoyed sleeping on them.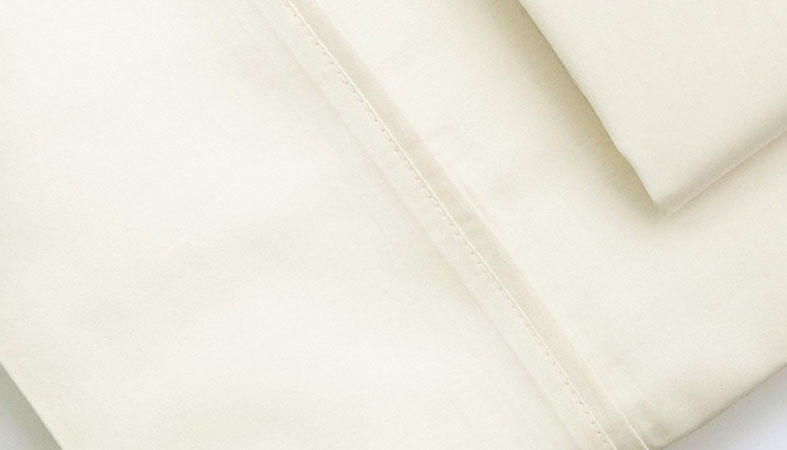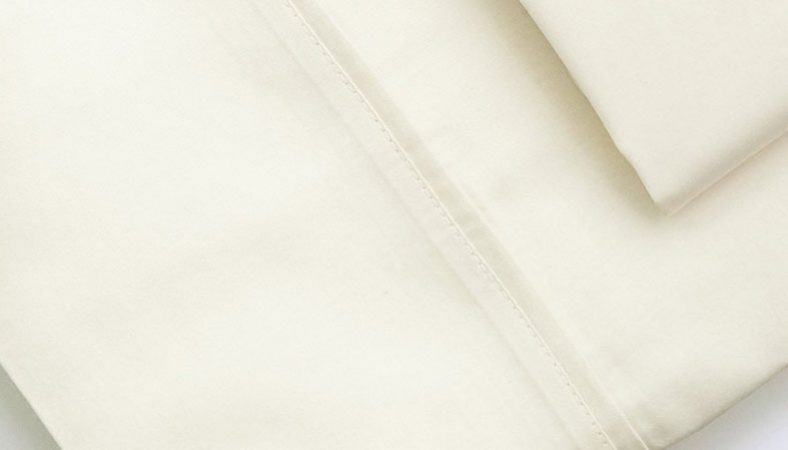 Price / Value
When you hear organic, you tend to think expensive. With SOL Organics, they've cut out the middleman and sacrificed some of their profit margins to make these premium and sustainable bedsheets affordable. Other brands charge between $200 and $250 for something comparable, but a queen set of SOL sheets is around $169, sometimes less.
All of SOL's manufacturing partners are certified by organizations like FLO, GOTS, Oeko Tex and Fair Trade. This means that each step of the manufacturing process is strictly controlled to ensure quality and the use of only organic materials. It helps us rest easier knowing that there's an ethical company out there making top quality products at an affordable price.
Who Should Buy SOL Organic Sheets?
If you eat organic food and avoiding pesticides is important to you, it seems logical that you'd also want to sleep on something that's healthy, too. Keep in mind that your skin is your largest organ, and it also absorbs toxins.
Conventional cotton is also responsible for 25% of the planet's use of insecticides and 10% of the pesticides. These are known to strip farmers' land of nutrients, degrading the soil and causing a whole host of other problems. If you're actively trying to reduce your carbon footprint, this brand is an excellent choice for you.
Who Shouldn't Buy SOL Organics Sheets?
If you love brightly colored sheets, you won't find any from SOL Organics. The same applies if you're looking for patterns or intricate stitching. The neutral color palette is classic and timeless, but if you've got something bolder in mind, this isn't the brand for you.
Another thing to consider is what type of feeling you're going for. Among quality brands, there are two distinct textures: cool and crisp, versus smooth and soft. Neither one is necessarily better than the other; it's strictly a matter of preference. SOL's sheets are of the smooth and soft variety. They feel like pure heaven. However, if you crave crisp-feeling linen, you'll probably find SOL bedding to be too smooth.
Conclusion
---
There's a famous quote by the author Anna Lappe. It goes like this: "Every time you spend money, you're casting a vote for the kind of world you want."
All of us have unique priorities, which is why there are so many product options, especially when it comes to choosing bedding. If you're looking to make a positive difference in the world and you'd like to support companies that practice ethical and sustainable business models, we encourage you to vote with your dollars and support SOL Organics.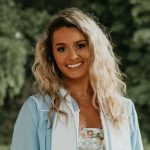 Katie Simpson is an editor for Sleep Advisor. She brings her experience in the wellness space, specifically in testing products and writing honest reviews, to the Sleep Advisor site where she provides helpful information on mattresses, sleep accessories, sleep health, and more.
As a former insomniac and dedicated back sleeper, Katie loves sharing her newfound appreciation for sleep with others. She's also an advocate for cranking the thermostat down at night — setting the temperature above 68 at night should be a crime.
Outside of work, her passion for living a healthy lifestyle continues in the gym, where you can find her lifting weights and doing yoga.