Transparency Disclosure – We may receive a referral fee for products purchased through the links on our site...

Read More

.
Nile Threads has a fascinating origin story.
The company was started by two brothers who grew up in Rhode Island but later moved to Egypt. They loved everything about the country, from the culture and food, right down to the bed linens.
When they got back to the United States, they noticed a distinct lack of quality Egyptian sheets, so they decided to fill the void and start their own business.
Nile Threads sheets are designed in New York, made in Egypt and sold all over the country.
But do these two brothers know how to make bedding that you'll want to sleep on? Read our review of Nile Threads to find out.
Nile Threads Sheets – Key Features
Sateen weave
Available in white only
600 thread count
100-night trial
Pros & Cons
Pros
Luxurious Egyptian cotton at an affordable price
Twin sizes come with a second pillowcase
Transparent pricing
Free shipping and returns for 100 days
10% of profits donated to refugees through the UN Refugee Agency
Cons
Only available in white
At the time of publication nearly everything is out of stock. Keep checking back.
Wrinkles easily
Material / Style
Back in 1909, Henry Ford was famous for saying, "Any customer can have a car painted any color that he wants, so long as it is black."
It's the same thing with Nile Threads and their sheets. They come in one color only: white sateen. We get it. They're a new company, and adding multiple color options adds complexity and expense. As they strive to deliver luxury and keep costs low, it's logical that there will be a lack of choice.
The material is 100% Egyptian cotton, and technically referred to as "Egyptian Long Staple Super Combed Cotton." All this means is that the treads they sourced are longer than standard. The longer the threads, the more desirable because they create a softer and more durable fabric.
The sheets feature a sateen weave, which is shinier than percale and linen. It's also soft and silky smooth.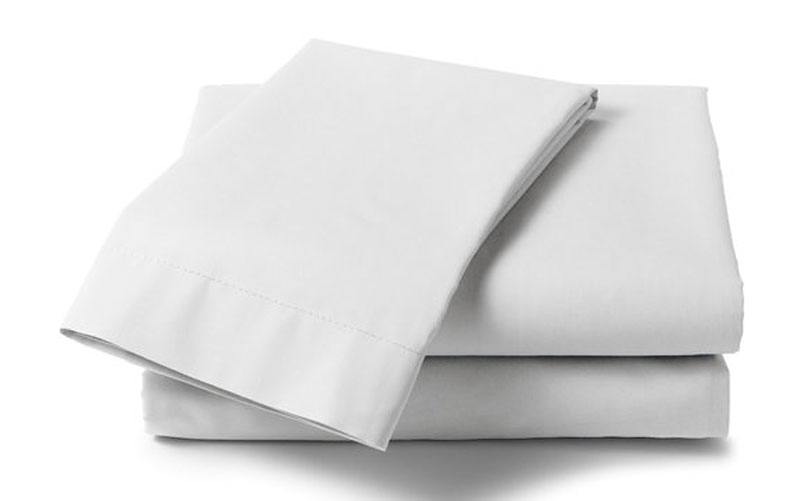 Build Quality
Because they're a newer company and they're importing from halfway across the world, we were a bit concerned about their ability to compete with the big guys on quality measures. While the overall construction of the sheets passed the tests with flying colors, there is some concern over variable shrinkage.
On average, you can expect your sheets and pillowcases to shrink by about three to five percent after their first washing and drying cycle. One tester reported a pillowcase shrinkage of over six percent. We think there may still be some variation in their manufacturing process that they're working through. Fortunately, they do offer a 100-day return policy so if things do shrink too much, you can get a complimentary replacement.
Durability
The longer threads combine into a very stable yarn. Shorter threads can break apart more easily and poke through the surface. The result is pilling and snags, which make your bedsheets worthless.
Higher thread counts don't always mean softness, but the higher numbers can translate to durability. The 600 thread count figure is on the higher end of what we usually see, so your bedding could potentially last longer.
Weight
Perhaps it's the thread count of the durability of the fabric, but these bedsheets are slightly thicker and heavier than average.
Feel & Comfort
These linens are exceptionally soft. On a scale of one to ten, with one being stiff as a board and 10 being a piece of heaven, we rank these at around a seven or an eight. We believe this is due to the high-grade Egyptian cotton that they're sourcing for the product.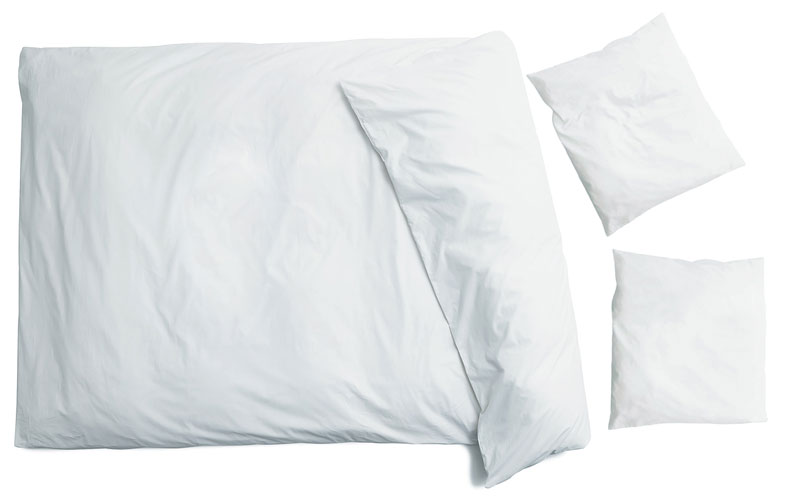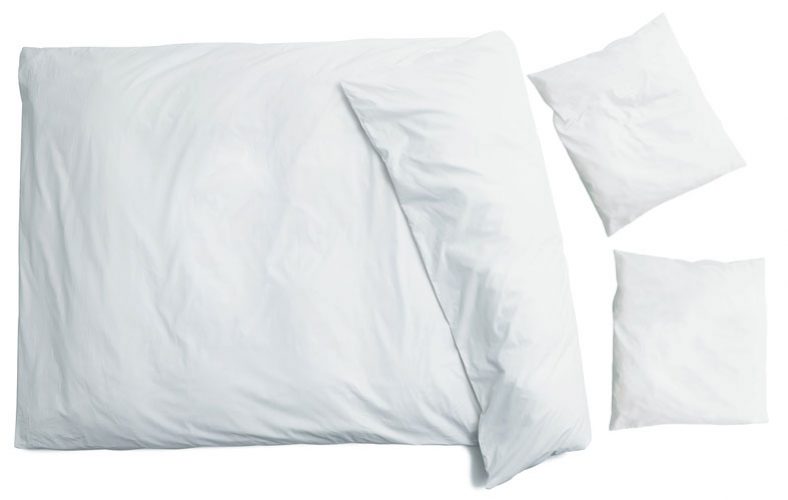 Price / Value
Egyptian cotton sheets have a reputation for costing a fortune. You might expect to spend $500 for a set, and many brands charge nearly $1500. Starting at about $154, this company offers a tremendous bargain.
However, there aren't any fancy bells and whistles with these sheet sets. They come in one color only, there are not patterns or intricate stitching, and there's one type of weave. Yes, this keeps costs low, but unless you want plain white, there's not much choice. Actually, scratch that. There's no other choice except for white.
That being said, plain white is often best. That's what you find in high-end, luxury hotels, so you'll be able to replicate that feeling with this bedding.
If you're buying a la carte, prepare to pay more. For example, one Queen fitted sheet will cost $139, but if you buy the whole set in the same size, you get the top layer and the two pillowcases as well as your fitted base layer for $189.
Who Should Buy Nile Threads Sheets?
If you love Egyptian cotton but don't want to pay an arm and a leg for it, you'll appreciate the value and bargain of this startup's offering.
People who like supporting companies that give back to charity will find a lot to love with Nile Threads. They give back 10% of their profits to the United Nations High Commissioner for Refugees (UNHCR).
Choosing among similar-looking options can be hard. Some companies offer close to 200 shades of sheets, and among them, there will be about 20 different shades of "white." Cream, ivory, eggshell, seashell, corn silk, and the list goes on. Trying to make a choice you won't regret is paralyzing. Luckily, you've only got one option with Nile Threads. While some may view that is stifling, others see it as freeing.
Who Shouldn't Buy Nile Threads Sheets?
If you want colored sheets, you won't find them here. As of now, the company has made no announcements to expand their offering.
For people who prefer the breathable, matte finish of a percale weave, you'll probably want to shy away from Nile Threads' sateen weave. Although these sheets are still open, airy and will keep you cool, this brand's product is slightly thicker than average.
The company recommends avoiding ironing but be prepared for the fact these sheets will wrinkle. You can count on it. For most people, this won't be a deal breaker because they'll have a duvet or comforter over the sheets, but if your bed is designed to allow some of the underside to peek through, you run the risk of having your bed look sloppy.
Conclusion
---
This company is new to the market, and they have challenges keeping items in stock. Their customer support is limited as well. If you're in a rush to get new sheets, you might want to look for another brand that can ship your exact order right away.
However, we're always rooting for the underdog, so we encourage you to give these guys a try and see if they've got your size in stock.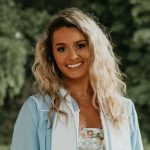 Katie Simpson is an editor for Sleep Advisor. She brings her experience in the wellness space, specifically in testing products and writing honest reviews, to the Sleep Advisor site where she provides helpful information on mattresses, sleep accessories, sleep health, and more.
As a former insomniac and dedicated back sleeper, Katie loves sharing her newfound appreciation for sleep with others. She's also an advocate for cranking the thermostat down at night — setting the temperature above 68 at night should be a crime.
Outside of work, her passion for living a healthy lifestyle continues in the gym, where you can find her lifting weights and doing yoga.