Transparency Disclosure – We may receive a referral fee for products purchased through the links on our site...

Read More

.
In recent years, baby mattresses have seen numerous improvements that enhance their safety for little ones. So if you're on the hunt for a modern crib mattress that can give you peace of mind while your baby sleeps, a Newton Baby crib mattress could meet your needs.
Newton crib mattresses prioritize infant safety by using 100% breathable, non-toxic materials that prevent infant suffocation. However, are these mattresses worth their steep price tags, or could a cheaper option serve you just as well?
In this Newton crib mattress review, we closely examine the Original Crib Mattress from Newton Baby and compare it to another popular crib mattress brand. Once you finish reading, you'll have all the information you need to determine whether Newton crib mattresses might be suitable for your baby.
If you already know about Newton crib mattresses, you can skip to the verdict here. If not, keep reading to learn the ins and outs of this innovative crib mattress brand.
Noteworthy Updates
The Newton Original Crib Mattress now comes in four colors: white, pink, blue, and purple.
Who Do We Think Matches With Newton?
Newborns and Infants: The Newton Original Crib Mattress includes several features that make it safe and comfortable for infants. This mattress is highly breathable, reducing the risk of suffocation. It's also 100% washable and remains cool while your baby sleeps.


---

Growing Toddlers: The Newton Original is also suitable for toddlers. This mattress features "two-stage firmness" that adapts to your baby's weight and sleeping needs as they grow. While the mattress remains firm for infants, toddlers who weigh a bit more can benefit from the bed's conforming, responsive qualities.


---

Protective Parents: This mattress includes several safety features to give you peace of mind as your baby sleeps. The Newton Original is fire-resistant and uses non-toxic, hypoallergenic materials. In addition, each of its layers is 100% breathable, and the mattress maintains optimal firmness for infants.
Possible Newton Complaints
The waterproof mattress costs extra: Many parents opt for a waterproof crib mattress to make cleaning up urine and other liquids quick and easy. However, if you're looking for a waterproof Newton mattress, you'll need to pay extra for the Waterproof model of the brand's crib mattress. You cannot add a generic waterproof pad to the Original model, as this could reduce the mattress's breathability.


---

Newton mattresses are not organic: Some parents prefer crib mattresses that use only natural, organic materials. While Newton mattresses do contain a few natural materials (like viscose), they also include polymer and polyester. If you're looking for a 100% natural mattress, you may prefer a company like Avocado.
Weight Considerations
The Newton Original Crib Mattress can hold up to 100 pounds. This steep weight limit is impressive in the crib mattress industry, as most baby mattresses have a lower limit ranging between 40 and 50 pounds.
Newton designed its mattresses to be suitable for the first several years of a child's life, from the day they are born until they grow too tall to fit in a standard crib. These mattresses also utilize a unique Wovenaire core that remains firm for lightweight infants and feels comfortable and supportive for growing toddlers.
Because most three-year-olds weigh 40 pounds or less, this mattress should be able to support toddlers in any weight class without issue. As a result, you can feel confident tucking your child into their Newton Original bed for several years, or until it's time to transition to a "big kid's bed."
Construction: What's Inside Newton?
The Newton Original Crib Mattress features a simple yet effective construction that emphasizes safety, breathability, and comfort for your little one. The bed includes one core layer and two covers that you can easily remove to keep the mattress clean and allergen-free.
Here's a closer look at the three primary components in the Newton Original:
100% Breathe-Through, Dual-Layer Cover: The Newton Original's outer layer is a soft, quilted cover that optimizes comfort for your baby. This layer is 100% breathable, reducing the risk of suffocation.
Natural Viscose Cover: Next, a semi-synthetic, removal viscose cover makes the mattress flame-resistant without the use of any harsh chemicals. This layer is also 100% breathable and machine-washable.
Wovenaire® Core: Wovenaire® is a patented material that Newton uses in all of its crib mattresses. This cushioning material is a safer alternative to traditional foam, springs, and latex that you may see in other baby mattresses. Wovenaire® is 90% air and 10% food-grade polymer, making it lightweight, comfortable, and toxin-free.
The Original Crib Mattress is 52 inches long, 28 inches wide, and 5.5 inches tall. It should fit snugly in all standard cribs.

First Impression: How Does It Feel?
When you purchase the Newton Original Crib Mattress, the company will ship the mattress to you in a box that is slightly larger than the mattress itself. The unboxing process is quick and easy, and the mattress does not require any time to inflate or decompress once you remove it from the box.
When looking at the mattress's shorter edge, you will see a zipper that you can unzip to remove the top quilted layer. Beneath this layer, you will see a second zipper to remove the inner viscose cover. Removing this cover will reveal the mattress's patented Wovenaire core.
The Wovenaire core somewhat resembles dry ramen noodles in appearance. However, pressing down on this layer reveals that the cushioning material is responsive, springy, and impressively breathable.
You'll see large gaps among the woven polymer that give the mattress a spongy quality that yields to significant pressure. In theory, you could press your face to the mattress and breathe right through it with minimal discomfort.
Overall, the Newton Original mattress feels firm, comfortable, and lightweight.
Firmness Scale: 8/10 for Infants, 7/10 for Toddlers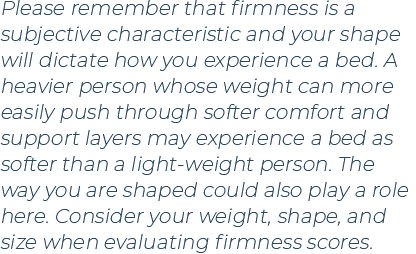 Pressure Relief
Pressure points are areas of the body that come into direct contact with the mattress while you sleep. If your toddler's bed is too firm, your child may wake up with sore knees, elbows, and hips due to harsh contact with their mattress.
Thankfully, the Newton Original Crib Mattress provides the right cushioning and softness to reduce pressure buildup for toddlers. The mattress's core is 90% air, allowing it to distribute your toddler's weight evenly across the bed and gently cradle pressure points.
Support
Toddlers need supportive mattresses that promote proper spinal alignment as they grow. The most supportive mattresses keep a toddler's spine in a straight, horizontal position throughout the night by supporting recessed areas and allowing for gradual sinking to cushion pressure points.
The Newton Original Crib Mattress is about as supportive as you can get with a two-stage crib mattress. This 5.5-inch mattress provides a balance of firmness and softness to keep a toddler's spine in a healthy position, but it doesn't include any special measures to optimize support.
Preference-based Features
Hand-Crafted in the USA
Newton Baby designs and assembles all of its crib mattresses in Nashville, Tennessee. While the company obtains some of its mattress materials from China, it produces its patented Wovenaire material in the U.S.
100% Washable
This mattress is one of the only crib mattresses on the market that is 100% washable. The two outer layers are removable and machine-washable, making it easy to clean them during the night.
If needed, you can also wash the inner Wovenaire core in the shower. Simply scrub the mattress with soap, rinse it with cool water, and stand it up to dry.
Cooling
Babies can quickly overheat if their sleeping conditions aren't just right. However, using a crib mattress that promotes air circulation can prevent overheating and keep your baby at the optimal temperature overnight.
The Newton Original crib mattress features a lightweight, airy core that promotes air circulation and cools your baby's bed. This Wovenaire® core is 90% air, making it both comfortable and breathable. Your child's body heat can easily circulate through the Wovenaire® air pockets to prevent the bed from becoming too warm.
Eco-Conscious Materials
This mattress includes some eco-friendly, natural materials that promote healthy air quality. For example, the mattress utilizes a natural viscose cover, a material derived from wood pulp. Additionally, 90% of the mattress's core layer is air, while the other 10% is a food-grade polymer.
The entire mattress is also recyclable.
Safety
This reliable crib mattress meets all American Society for Testing Materials (ASTM) and Consumer Product Safety Commission (CPSC) crib safety standards. However, this mattress also goes above and beyond to prioritize your baby's safety.
The Newton Original features two 100% breathable outer layers that can prevent accidental suffocation. CPSC testing showed that babies get 97% more air while breathing through a Newton Original mattress pad compared to a traditional crib mattress.
Accidental suffocation while sleeping accounts for around 3,500 infant deaths each year. Unfortunately, once babies turn six months old, their risk of rolling onto their stomachs while sleeping increases.
However, if your baby accidentally shifts face-down on the Newton Original mattress, they will still be able to breathe through the mattress cover, dramatically reducing the risk of suffocation.
Certifications
GREENGUARD Gold Certified
The Newton Original Crib Mattress exceeds top-level GREENGUARD Gold standards for low chemical emissions. As a result, you can feel confident that this bed promotes healthy, contaminant-free air quality in your baby's nursery.
Coupons, Trials, Warranties, and Shipping
Shipping: Newton provides free shipping throughout the contiguous United States through FedEx. If you live in Alaska or Hawaii, you may need to pay an additional shipping fee. You can expect your mattress to arrive within four to twelve business days of your purchase date.
Trial: The Newton Original Crib Mattress comes with a 100-night home trial. This trial begins the day your baby comes home from the hospital, meaning you won't waste trial time if you purchase this mattress before your baby is born. Be sure to register your mattress on the Newton Baby website to qualify for this offer.
Warranty: Newton crib mattresses come with a limited lifetime warranty that covers material and workmanship defects.
Newton vs. Colgate Eco Classica III
If you're unsure whether the Newton Original Crib Mattress is right for you, looking into other similar options can help you make the most informed decision. The Colgate Eco Classica III is a similar crib mattress that could check more of your boxes than the Newton Original.
Like the Newton Original, the Colgate Eco Classica III is suitable for babies and toddlers. However, while the Newton Original features "two-stage firmness," the Eco Classica III includes "dual-firmness," meaning you can flip it over to transition from the firm side to the softer, cushier one. This feature could allow you to extend the mattress's life.
Additionally, the Colgate mattress brings a more natural, organic approach to crib beds than Newton by using organic cotton and eco-friendlier foam made from plant oils. The Eco Classica III is also waterproof, preventing you from needing to purchase an additional waterproof covering.
However, the most significant advantage the Newton Original has over the Eco Classica III is breathability. The Newton Original includes a breathable Wovenaire core that prevents suffocation, while the Eco Classica III does not feature any special breathable qualities.
Price-wise, the Eco Classica III is about $50 cheaper than the Newtown Original.
Overall Summary
Overall, the Newton Original crib mattress goes above and beyond to provide a safe, comfortable sleeping experience for infants and toddlers. Here are our scores for specific age ranges and sleeping styles.

The Newton Original crib mattress checks all of our boxes for a safe, reliable, and comfortable baby mattress. However, the bed's breathable nature is what sends it into the "perfect" range in our scoring system. Not only does this mattress meet safety standards for infant beds, but it goes above and beyond to prevent infant suffocation.

The Newton Original's two-stage firmness makes it suitable for toddlers along with newborns and babies. This mattress remains firm for infants but provides pressure relief for heavier children, making it comfortable and supportive for growing toddlers.

This mattress has an impressive weight limit of 100 pounds, making it suitable for older children. However, as a crib mattress, it measures 52" by 28", making it unsuitable for children who are taller than around 50".

Toddlers who prefer to sleep on their sides will find that the Newton Original crib mattress provides the perfect balance of firmness and pressure relief. This mattress gently yields to firm pressure, making it comfortable on pressure points like elbows and hips.

Back-Sleeping Infants and Toddlers
The safest sleeping position for infants is on their backs. As an infant crib mattress, the Newton Original provides a firm, unyielding surface for babies to sleep safely without risking suffocation. However, this mattress also provides the proper cushioning support for toddlers who prefer to sleep on their backs.

Stomach-Sleeping Toddlers
If your toddler regularly shifts to their stomach during the night, you can feel confident that the Newton Original will give them adequate comfort and support to maintain proper spine alignment. This mattress contours slightly but does not yield enough to put the spine out of proper alignment.
The Newton Original includes numerous features to help new parents feel confident in their babies' comfort and safety. While the mattress could be more eco-friendly and may be above some parents' budgets, it should surpass a typical baby's needs.
Our Verdict
After analyzing all of the Newton Original's features and comparing it to other crib mattresses, we highly recommend this baby mattress option. The Newton Original crib mattress provides an impressively safe, comfortable sleeping experience all around for babies and toddlers.
Infants can benefit from the bed's 100% breathable materials, firm support, and cooling qualities that promote restful sleep without risking suffocation. Meanwhile, toddlers can feel comfortable and cradled in this bed, as the mattress should yield slightly to their heavier weights.
Overall, the Newton Original delivers all of the essential qualities and more that you would expect from a modern, high-end crib mattress.
Katie is a content writer and serial hobby collector who enjoys naps almost as much as her pets do. When she isn't writing, she likes to ride her motorcycle, catch Pokemon with her hubby, and practice yoga with her dog.