Transparency Disclosure – We may receive a referral fee for products purchased through the links on our site...

Read More

.
Disclaimer - Nothing on this website is intended to be a substitute for professional medical advice, diagnosis, or treatment...

Read More Here

.
Do you love memory foam but hate waking up in a pool of sweat? What if you could experience the joy of contouring pressure relief but wake up cool, dry, and refreshed?
Muse is looking to transform the way we think about memory beds with innovative cooling technology both in the cover and top layers. The company does all of its design and construction in-house, which allows them to offer a lot of high-performance materials at a competitive price.
Our in-depth Muse mattress review will give you a breakdown of what sets this mattress apart from the pack, from the quality of materials to comfort and support. Though the company offers three different firmness options, our review will focus on the bestselling Medium firmness option, which is usually the most accommodating choice for the widest range of sleepers.
Read on for further details, or if you're short on time, skip to the end to read our summary.
This mattress is no longer available for purchase. To help you find your next mattress, check out our list of the best mattresses available on the market now.
Who Do We Think Matches With Muse?
People who sweat – Muse has specially engineered both the cover and the top layers with innovative technology to noticeably reduce the heat retention associated with this kind of product and help keep your body cool while you sleep.


---

Side sleepers – The top layers of cradling memory foam are great at reducing pressure in the hips, shoulders, and knees, which is especially ideal for people who spend all or part of the night on their sides.


---

Folks who love customized support – Muse is customized to order at three different firmness levels. For sleepers who want to find that sweet spot that meets their individual needs, having options is a huge bonus!
Possible Muse Complaints:
It doesn't have an innerspring feel – Some people prefer the feel of an innerspring mattress because they're known for good support and airflow, but Muse provides the deeper hug of memory foam to melt away pressure points. It also features one-of-a-kind performance materials that sleep cool, which isn't always the case with memory beds.
Muse on Our Best Lists

BEST
Memory Foam

BEST
Cooling Mattress
Construction: What's Inside Muse?
The real star of the construction is the ultra-cool cover, with proprietary Diamond Breeze Technology made from polyester and polyethylene knitted yarns for a luxuriously cool finish that wicks away moisture. The mattress's base is covered with a high-end jacquard chenille, a durable blend of rayon and polyester, which gives the entire product a soft look and feel.
Muse is one of very few brands in the online space that offers a removable cover that can be machine washed and dried. Overall, this mattress measures 12 inches high and consists of 4 unique layers. The contents of each layer differ slightly based on the firmness level.
In the Medium:
The first layer is 2 inches of temperature-regulating open-cell memory foam for comfortable contouring and pressure relief.
The second layer is 2 inches of responsive comfort foam made from a resilient memory foam that is customized depending on which of three firmness levels you specify. This layer is designed to relieve pressure and promote spinal alignment.
The third layer is 2 inches of transition foam that supports the upper layers and works to minimize motion transfer.
The base layer is made from a supportive foundation of 6 inches of core support flex-foam, which provides stability and durability as well as support for the sleeper.
Muse is one of very few brands in the online space that offers a removable cover that can be machine washed and dried. Overall, this mattress measures 12 inches high and consists of 4 unique layers. The contents of each layer differ slightly based on the firmness level.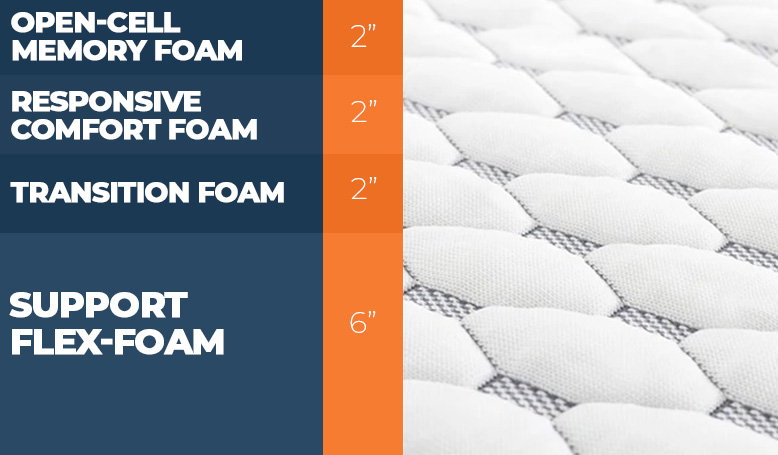 First Impression: How Does It Feel?
Muse arrives to your door rolled and compressed in a box. A Queen weighs roughly 90 pounds, so it will likely take two people to carry the box into your bedroom and get it up onto your bed frame. Once it's unrolled, expect it to take a day or two to fully take shape before sleeping on it.
Straight out of the box, the Muse feels substantial, as if there are a lot of quality materials packed into its 12-inch height. Overall, this bed offers a more traditional memory foam experience with four inches of memory materials in the top two layers that allow the body to sink into the bed for a deep hug feel.
While the top two layers have the slower response time commonly associated with memory beds, you should not get that "stuck" feeling when trying to roll over or change positions. Also, the thick base layer forms a strong foundation for the memory materials, and that will provide good support for most individuals, even those who are substantially heavier.
Though you are sleeping more inside this mattress than you are floating on top of it, the cooling technologies really go to work as soon as you lie down. Memory foam has a reputation for trapping heat close to the body, but the gel and cooling technology in this mattress allow its temperature to remain well regulated. The cover is even cool to the touch and has a zipper, so you can remove it for easy machine washing.
Firmness
Firmness Scale: 4/10 (Soft), 6/10 (Medium), 8/10 (Firm)
Please remember that firmness is a subjective characteristic and your shape will dictate how you experience a bed. A heavier person whose weight can more easily push through softer comfort and support layers may experience a bed as softer than a lightweight person. The way you are shaped could also play a role here. Consider your weight, shape, and size when evaluating firmness scores.

Pressure Relief
Beds with good pressure relief are designed to minimize aches and pains that occur when heavier body parts are compressed for longer durations. Similar to your tailbone hurting when you've been sitting in a hard chair for a while, areas like the shoulders and hips are subject to excess pressure if a bed is too firm.
Memory foam is known for its pressure-relieving capabilities, so all three firmness options should do a satisfactory job in this capacity. Depending on which position you sleep in and your overall body shape and size, you'll experience this differently. Side sleepers and lighter individuals tend to need a softer surface to cater to their needs, while heavier folks and stomach or back sleepers often prefer a firmer bed.
Support
If a bed is too soft or lacks support for folks with heavier weight considerations, the result could be an aching back from being in an unnatural position all night long. Good support is necessary to promote optimal spinal alignment and prevent sleepers from sinking in too deeply, especially those who sleep on their stomach or back.
Muse is an all-foam bed that includes firmer foams in the third and base layers. These work to keep the sleeper in an optimal position by providing pushback support and resiliency. Those looking for extra support should look at the Medium and Firm options.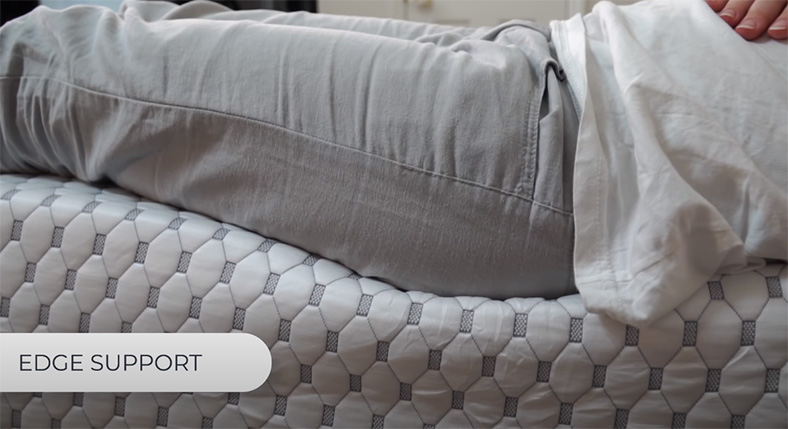 Preference-based Features
Multiple Firmness Options
With three levels of firmness to choose from, sleepers should be able to customize the level of pressure relief and support they require based on their individual needs. The Personalized Sleep Quiz is designed to assist those who aren't sure which level is right for them.
---
Bed-In-A-Box
Muse is a direct-to-customer company that ships directly to buyers. By shipping beds rolled and compressed into a box, the company saves a considerable amount of money, which is reflected in offering its products at affordable prices.
---
Cooling
While many people love the conforming properties of memory foam, one of the biggest complaints is typically how hot it sleeps, building in heat throughout the night. Muse has designed this bed with advanced cooling features, including phase-change cooling technology in the cover, gel-infused foam, and open-cell foams that allow for breathability and airflow.
---
Great Motion Isolation
Motion transfer refers to how movement on one part of the bed affects the rest of the bed. If you have a partner that tosses and turns, how much you feel it will depend a lot on motion transfer.
For the Muse, motion transfer is virtually non-existent. This is especially advantageous for light sleepers with partners who change positions throughout the night or with large pets who jump on and off the bed.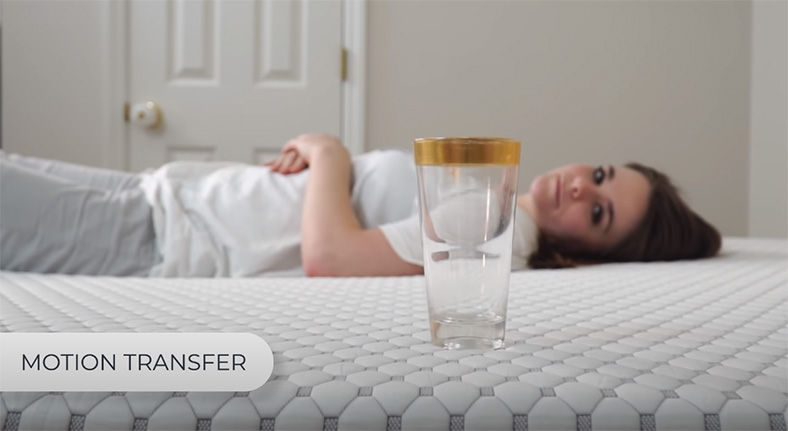 ---
Adjustable Base Compatible
Muse is a memory foam bed-in-a-box option suitable for practically any frame or base, including platforms, box springs, slatted or adjustable frames, and flat on the floor.
---
Overall Summary
Muse's concentration on cooling and its pressure relieving capabilities make it a stand-out in the market.
Side sleepers, who we think would benefit particularly from this mattress, will appreciate the above-average pressure relief at the hips, shoulders, which can sometimes experience stress in this position. Lighter-weight people may find they prefer the Soft firmness option that will allow their weight to sink deeper into the mattress for further contouring and pressure relief. Likewise, people who only sleep on their side may also benefit from the Soft option and its enhanced pressure-relieving abilities.
Back sleepers are well supported by the base layer while benefiting from pressure relief in the lumbar region. Most back sleepers will be comfortable on the Medium, but those who want even greater support should opt for the Firm.
Stomach sleepers, who sometimes risk sinking too deeply into foam at the hips and misaligning their spines, should be well-served by even the Medium firmness option of this bed, though significantly heavier people may find the Firm option is slightly more supportive
Muse offers a lot of versatility for sleepers who like to change positions throughout the night. The Medium is likely the best fit for this group of people since it has a more balanced feel that should meet the needs of a variety of sleeping positions.
Muse is aware that different people have different needs when it comes to sleep. When you take the Sleep Quiz, you will be asked about both yourself and the needs of the person who you share a bed with. Your individualized results are designed to meet both partners' needs, including aspects that matter to couples, like cooling, versatility, and motion isolation.
Many heavier sleepers find they sink in too deeply in an all-foam bed and don't experience enough support. While back sleepers may feel comfortable on the Firm, those with weight considerations who sleep on their stomach or side may want to consider a hybrid model or beds designed specifically for plus-size sleepers.
Lighter sleepers should be exceptionally happy with Muse regardless of which position they sleep in. The Soft would be the ideal choice for lighter folks since they would still get that sinking feeling and be able to activate all of the layers. The Medium could also work for those who like sleeping on their side.
---
One of the biggest complaints we hear about memory beds is that they sleep too hot for some people, but Muse has put a lot of thought and energy into innovative technology for the cover and gel-infused foam that can keep a sleeper cool and dry, even within the deep hug of the mattress.
Muse combines high-quality materials into 12 inches of foam for a luxurious feel and a great value that is possible because they do all of their design and construction in-house and can pass on savings to their customers.
With customizable firmness, an online sleeping quiz, and a 120-night sleep trial, the company wants to make sure that you find the right fit for your body.
This mattress is no longer available for purchase. To help you find your next mattress, check out our list of the best mattresses available on the market now.