Transparency Disclosure – We may receive a referral fee for products purchased through the links on our site...

Read More

.
Latex has made a name for itself in the mattress market and for a good reason. Latex is hypoallergenic, breathable, and eco-friendly, which makes it a good choice for many sleepers. Latex for Less is a brand with an emphasis on quality latex beds.
Their Organic Latex Mattress comes with certified organic latex and an affordable price point for shoppers. The Latex for Less Organic Latex Mattress is available in three firmness options and two heights, so you should find one that suits your needs.
If you're after a latex mattress, this one is definitely worth your attention. Take a moment to learn more about its features and structure, or skip to our final verdict to see how it scores.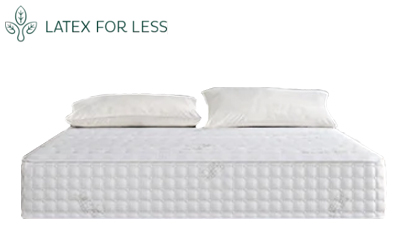 Get the Latex For Less Mattress
This latex mattress is carefully designed to deliver comfort, pressure relief, and temperature regulation, making it a great option for a variety of sleepers.
Click the button below to get Latex For Less Mattress.
Excellent Matches For Latex for Less
Latex Fans – This all-latex bed is conforming and cradling but also responsive and won't make you feel trapped in the upper layers. The bed's responsiveness should aid with repositioning.


---

Hot Sleepers – Latex is naturally cooling because the it allows plenty of airflow to keep the construction cool. In addition, the mattress has a natural wool barrier that helps with temperature regulation, which is important for those who sleep hot.


---

People with Allergies – Latex is hypoallergenic and resistant to mold, bacteria, and dust mites. This makes it a good option for those who struggle with allergies. However, make sure you don't have a latex allergy before buying.
Possible Latex For Less Considerations:
It doesn't have the best motion isolation – Latex is a bouncy material, so motion transfer is a common issue for beds made entirely from this material. Although Latex For Less showed better motion isolation than most latex mattresses, this may still not be good enough for couples that are used to memory foam beds.


---

Possibly not firm enough for heavy sleepers – This mattress is available in three firmness options, with a firm option that could accomodate this group. However, the company says that the highest their 12-inch bed can accommodate is around 230 pounds. So, if you weigh more than that, you'll likely want to seek a brand that makes beds for heavier frames. The 9-inch option can only support up to 200 pounds.
Weight Considerations

The total amount of weight a mattress will support is vital to consider because you want to be sure you'll get adequate support to keep your body in optimal alignment. According to the company, the Latex for Less mattress with the 9-inch profile can accommodate up to 200 pounds while the 12-inch option can hold up to 230 pounds. This makes the mattress limiting for couples and heavier sleepers.

In this case, we would only recommend the Latex for Less mattress for solo sleepers, with the exception of someone who shares a bed with a dog or small child. However, this bed likely won't deliver enough support to an adult couple, particuarly if both individuals are heavier.

The upside to the Latex for Less bed is that the multiple firmness options can be great for customization, so as a solo sleeper, you can select something that complements your body type and sleep position.
Construction: What's Inside Latex For Less?

The Latex For Less Organic Latex Mattress is available in three firmness options and two heights. The 12-inch model has three Dunlop latex layers, whereas the 9-inch model has only two. Both models are covered in a GOTS-certified organic cotton cover and feature a wool barrier for added temperature regulation. The construction below refers to the 12-inch model.

Ultra-Soft Organic Cotton Cover The company organic cotton in the cover. This makes the surface plush and comfortable, especially since cotton is stretched and not woven.
Natural Wool Fire Barrier This wool fire barrier helps enhance cooling while also exceeding safety standards by not having any chemicals or toxic substances.
Comfort Layer The Latex For Less bed has a comfort layer made from 3 inches of Dunlop latex. This gives the bed responsiveness, contouring, and comfort before the denser support and base layers.
Support Layer The support layer is made from the same 3 inches of Dunlop latex but the foam here is firmer. This unit supports the upper layers and helps prevent you from bottoming out.
The Core The final layer of this Latex For Less mattress features 6 inches of Dunlop latex, giving the upper layers structure and durability.

The Organic Latex Mattress comes in three firmness levels, but this doesn't affect the number of layers. The firmness you choose affects the feel of the bed, but the number of layers only depends on the height of the bed.
First Impression: How Does It Feel?

Latex For Less ships the Organic Latex Mattress in a box, so it's easier to move from your doorstep to the bedroom. The bed doesn't have any odor upon arrival, so you can use it right when you remove it from the packaging.

The mattress looks luxurious and feels just as high-quality when you first touch the cover. Settling into the bed, sleepers should feel gentle cradling, contouring, and support in the lower back and shoulder area. The mattress also feels springy, so repositioning shouldn't be an issue.
Firmness Scale: 4/10 ( Soft) 6.5/10 (Medium) 8/10 (Firm)
Pressure Relief

Pressure build-up is a common concern for most people looking to buy a new bed, especially if they prefer sleeping on their side. Side sleepers have most of their weight concentrated on a more narrow surface area, which can easily create pressure on the shoulders and hips. However, back sleepers can also benefit from pressure relief on their shoulders as the lie down.

Latex For Less targets this concern by providing three levels of firmness: Soft, Medium, and Firm. Those seeking advanced pressure relief will likely enjoy the Soft model as those should provie more contouring to ease pressure points throughout the body. The Organic Latex Mattress contains Dunlop latex, which tends to feel firmer than Talalay (another latex manufacturing method), and the Dunlop latex may be too much for some sleepers in a firm model. Therefore, the Soft model could provide side sleepers with the pressure relief they need for better rest.
Support

Latex For Less should offer solid support to solo sleepers from the firm and durable latex layers, though couples and heavier individuals may prefer a different bed. That being said, the 12-inch model should provide better support since it has an extra layer of Dunlop latex to help keep the body lifted. Most of the support comes from the Dunlop latex support layer included in both models. The bed also has a 6-inch base that supports the upper layers. We also want to emphasize that choosing the right firmness for your body type and sleep position will help you achieve optimal support.
Preference-based Features

Multiple Firmness Options

By providing Soft, Medium, and Firm models, Latex For Less allows shoppers to find the best match for their sleeping habits and needs.

---

Two Height Options

The Latex For Less Organic Latex Mattress is available in two heights, allowing you to choose between a 9-inch and 12-inch model. Both models have multiple firmnesses, so the only difference is the extra latex layer included in the 12-inch mattress.

---

Natural Wool Fire Barrier

Wool is commonly used in mattresses, pillows, and sleep accessories as it helps with temperature regulation which is excellent for hot sleepers. In addition, wool is a natural fire barrier that exceeds safety standards.

---

Cooling

Latex is known to run cooler than memory foam, so hot sleepers should benefit from this all-latex bed.

---

Exceptional Pressure Relief

The Organic Latex Mattress comes in a soft model that should provide the most pressure relief to sleepers, though the medium option could work for some people too. Side sleepers and other folks struggling with pressure build-up should like the gentle sinkage this bed provides.

---

High Bounce

Combination sleepers and those with mobility issues should like how responsive the Organic Latex Mattress is. Even with a bit of sinkage, the bed shouldn't make you feel stuck in its layers.

---

Eco-Conscious Materials

Latex is a sustainable material and so are cotton and wool included in the cover and fire barrier. This makes the bed a good choice for eco-conscious shoppers and those looking to reduce their carbon footprint.

---

Adjustable Base Compatible

If you want to use an adjustable base, the company recommends their Latex For Less Adjustable Base model, which is a perfect fit for the Organic Latex Mattress.

---

Handcrafted in the USA
Certifications

Eco-Friendly Certifications - This product has an eco-INSTITUT® certification, completed by a lab in Germany with 30 years of experience in the mattress industry. The certification signifies that the company has gone above and beyond to ensure levels of hazardous chemicals are well-below safety regulation requirements.
Certified Natural Materials - Cotton in the cover is GOTS-certified, which means the cotton meets the international third-party standard to be certified organic. The latex used across the bed is also GOTS-certified.
Coupons, Trials, Warranties, and Shipping

Shipping - Shipping is free within the continental United States.
Trial - The company offers a 120-night trial, giving consumers enough time to test how they like this latex mattress. Returns are free, and the company will arrange a pickup.
Warranty - There is a warranty good for 20 years.

| Size | Dimensions (inches) | Price (w/o discount) |
| --- | --- | --- |
| Twin | 38" x 75" x 12" | $1,999 |
| Twin XL | 38" x 80" x 12" | $2,099 |
| Full | 54" x 75" x 12" | $2,599 |
| Queen | 60" x 80" x 12" | $2,799 |
| King | 76" x 80" x 12" | $3,199 |
| Cali King | 72" x 84" x 12" | $3,199 |
| Split King | 38" x 40" x 12" | $3,499 |
| Split Cal King | 36" x 42" x 12" | $3,499 |
| Split Queen | 30" x 40" x 12" | $3,199 |

| Size | Dimensions (inches) | Price (w/o discount) |
| --- | --- | --- |
| Twin | 38" x 75" x 9" | $1,599 |
| Twin XL | 38" x 80" x 9" | $1,699 |
| Full | 54" x 75" x 9" | $2,099 |
| Queen | 60" x 80" x 9" | $2,199 |
| King | 76" x 80" x 9" | $2,499 |
| Cali King | 72" x 84" x 9" | $2,499 |
| Split King | 38" x 40" x 9" | $2,699 |
| Split Cal King | 36" x 42" x 9" | $2,699 |
| Split Queen | 30" x 40" x 9" | $2,499 |
Overall Summary
Latex For Less specializes in latex products, and their Organic Latex Mattress stands out with three firmness and two heights to fit a range of sleepers.


Side sleepers, especially those struggling with pressure build-up, should like the construction of the soft model. The comfort layer helps relieve pressure on the shoulders, legs, and hips, which is where most weight concentrates when sleeping on the side. However, some side sleepers who carry more weight may prefer the medium model.


Back sleepers should like the medium Organic Latex Mattress as it provides ample support, especially in the lower back area. The bed allows just enough sinkage to relieve pressure but also offers sturdy support to keep your spine in alignment when sleeping on your back. Some back sleepers may also like the firm version, depending on their preference.


Stomach sleepers should be careful with mattress firmness because a bed that's too soft will allow the hips to sink in too much. This could cause spine misalignment, which leads to back pain and poor posture. The Organic Latex Mattress in Firm should be a good match for most stomach sleepers, although heavier sleepers will likely need a different bed.


The medium version of this mattress should give combination sleepers the versatility they need for sleeping in different positions. Latex is a buoyant material and this bed shouldn't make you feel trapped in its upper layers. As a result, you should find that changing positions is a breeze.


Couples looking for versatility should go for the medium option as it fits most sleeping positions. However, this all-latex bed isn't the best for motion isolation and can't support as much weight, which wouldn't be ideal for adult couples. Unless you and your partner are under 130 pounds, we likely wouldn't recommend this model to couples.


Although the 12-inch model can support up to 230 pounds, people weighing above this may find they don't get enough support to keep their body level. Some sleepers close to that weight may do okay on the 12-inch firm model, but in general, we don't think this mattress would be a great match for larger sleepers.


Lightweight sleepers should like the soft version of the Organic Latex Mattress as it feels the plushest for pressure relief and comfort. However, some lightweight people who prefer a firmer mattress, such as stomach sleepers, might consider the medium version.
Latex For Less is a value option for everyone interested in sustainable materials, safety certifications, versatility, and outstanding comfort. The company offers a great warranty and trial period and even offers to pick up the mattress should you decide it's not the right for you.
Our Verdict
The customization options for the Organic Latex Mattress make it a great selection for many types of sleepers, allowing you to find a fit that closely meets your needs no matter your sleep position.
We would recommend this bed for combination sleepers and people prone to overheating. The buoyancy of latex should make it easier for combination sleepers to adjust their position throughout the night. Hot sleepers should like the cotton and wool layers that enhance the natural cooling and breathability of latex. Additionally, this bed is a great match for eco-conscious shoppers. The bed features multiple safety certifications to ensure no chemicals are used in the production process.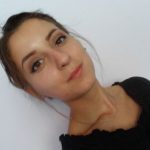 Olivera is a content writer for Sleep Advisor and is enthusiastic about sleep. She firmly believes in the benefits of daytime naps on top of getting a full 8-hour sleep at night.
She started writing in 2016 and never looked back. What she appreciates the most is her flexible working hours and the ability to work with people worldwide.
In her free time, Olivera enjoys reading Spanish literature, taking pilates classes, and trying out new cocktails with friends.