IKEA lovers know that this brand is all about inspiring a better life through affordable home furnishings. The home and furniture giant has a lineup of well-priced mattress selections that have done well in stores and on their online market.
The IKEA Morgedal is a budget-friendly, all-foam mattress with zoned support to lighten the load on your pressure points and your wallet.
While this bed is available in two levels of firmness, this in-depth review of the IKEA Morgedal Mattress will look at the Medium-firm model.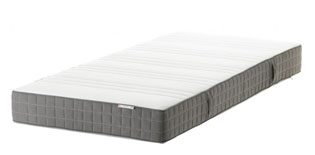 Get the Ikea Morgedal Mattress
The Morgedal is a good option for folks who prefer a foam bed and do not want to spend a lot for a new mattress.
Click the button below to get the Ikea Morgedal Mattress.
Who Do We Think Matches With IKEA Morgedal?
Sleepers who prefer firmness – There are lots of sleepers who prefer firmer beds. This product should fit your needs, as it provides ample support and leaves you sleeping on top of rather than in the bed. If you like exceptional firmness, it might not be a bad idea to check out the Firm option of the Morgedal.


---

Folks on a budget – Whether you're shopping for yourself, your kids, or for the guest bedroom, this mattress is a bargain. IKEA is known for keeping their products affordable, and they've certainly done that with the Morgedal's streamlined design.


---

People short on time – Like most bed-in-a-box brands, you set this product up yourself. What sets the IKEA Morgedal apart is this bed is extremely lightweight and could be set up by one person. Just place it on your bed frame, cut open the plastic, and voilà—your mattress begins expanding before your very eyes and is ready to sleep on in just a few short hours.
Possible IKEA Morgedal Complaints:
It is on the firmer side. – A softer mattress than this one can provide additional pressure relief for those that need it. Softer beds allow those with curvier figures to sink deeper into the materials. Many people prefer a firm mattress because they like to sleep on top with minimal sinkage, so if that is you, this bed should be a great fit.
Construction: What's Inside IKEA Morgedal?
The Morgedal has an attractive polyester-cotton blend cover that is breathable and has a zipper for easy removal. Being able to machine wash your cover is a welcome feature for those with allergies and respiratory issues.
Overall, it stands about 7 inches high and has two comfy layers.
The first layer is made from a zoned polyurethane foam designed to relieve pressure on both the shoulders and the hips. Grooves in the foam help target pressure areas and work to relieve strain.
The second layerof polyurethane foam serves as the base and overall support for both the mattress and the sleepers. This layer should also help with cushioning the heavier areas of your body.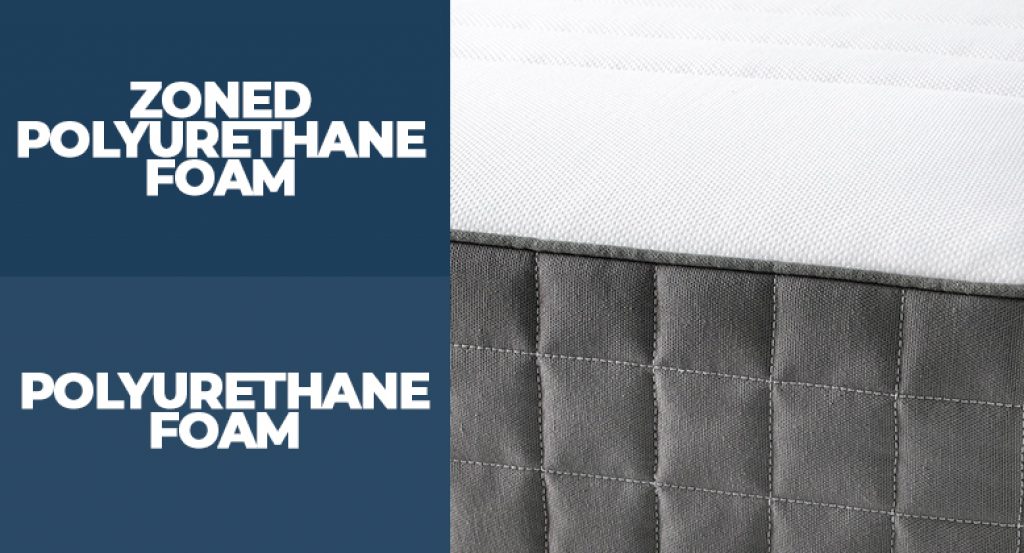 First Impression: How Does It Feel?
IKEA ships this product compressed in a box. It should be fairly lightweight, but it might be preferable to seek assistance for set up. The company makes a large assortment of bed frames that should work great with this product.
The zip-off cover is a cotton-poly blend with a charcoal gray coloring around the perimeter and handles that should make it easy to move. It feels soft and has some thickness to it, which may help cushion your body as you lie down onto the surface. Once it is out of the plastic and decompressed on your foundation of choice it stands at right about 7 inches tall.
As you first lie down on the Morgedal you should immediately feel how firm it really is. Most people will notice that they do not sink into it but are lying on top. Some might find they experience the most minimal of a cradle in either their hips or shoulders thanks to the comfort zones.
Firmness Scale: 7.5/10


Pressure Relief
If you struggle with morning aches and pains, pressure relief is likely at the top of your priority list. Excess weight in any one area of your body can cause pressure to build, making it uncomfortable to sleep.
Sleepers in need of pressure relief should find it in this all-foam bed with grooves built into the layers that are designed to relieve pressure in areas like the shoulders and hips. These firmer foams provide responsiveness to pressure, which is good news for combination sleepers who change positions throughout the night.
Support
Individuals who need extra lumbar support should appreciate this bed's firmer base. The zoned support is designed to keep the hips and shoulders even for proper spinal alignment.
The supportive foams in the IKEA Morgedal should get the job done for most people, although those with higher weight considerations may want to look at thicker options. Curvier folks, or those who simply want a softer sleeping option, may want to consider shopping for a softer mattress within their price range.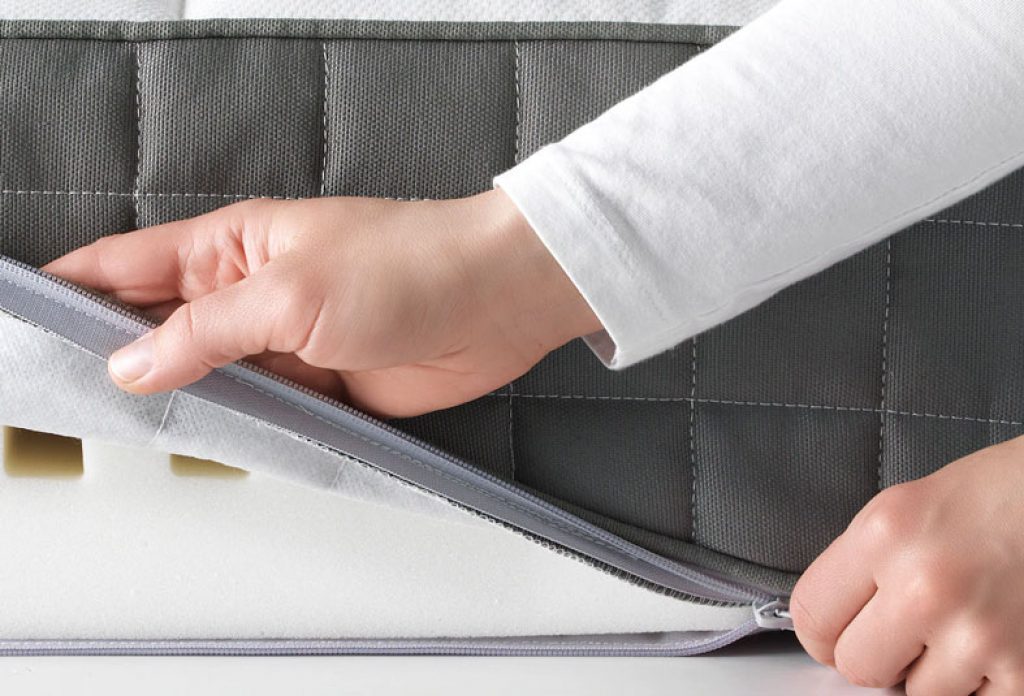 Preference-based Features
Multiple Firmness Options
IKEA offers this bed in Medium-firm and Firm options to provide all-over support and pressure relief to individuals with different preferences and needs.
---
Bed-in-a-box
This brand is all about sustainability and fostering a cleaner planet. By shipping this product roll-packed, it cuts down on wasted packaging and costs less to transport, lowering its carbon footprint.
---
Great Motion Isolation
The Morgedal's foam minimizes motion, so by the time it reaches your side of the bed, it will likely be hardly noticeable. This should keep most of your partner's movements isolated to their side of the bed.
Overall Summary
The Morgedal foam mattress by IKEA is a splendid option for folks who prefer a foam bed and do not want to stress over thousands of dollars for a new mattress.
Side sleepers typically enjoy a softer mattress because more pliable materials can help ease away pressure points that build up in their hips and shoulders. This should perform adequately for most of these individuals, but if you are an exclusive side sleeper, you might do better on a softer product, especially if you are curvier.
Back sleepers should rest comfortably on top of this bed, especially if they prefer firmer support. The comfort foam gently contours to the body's shape and the support of both layers should be apparent to most sleepers as they rest.
Most stomach sleepers should find that this product performs really well for them. Stomach sleepers typically like a firmer mattress because it supports their hips, keeping their backs aligned all night long. The Medium-Firm should work for most of these folks, but those who want an even firmer option might look into the Firm model.
Combinations sleepers should appreciate the bed's responsiveness and the slight amount of bounce when moving around on the surface. These two aspects are great for people who reposition at night and find that a little extra support helps to ease their movements.
Couples with unique needs should appreciate this Medium-firm option that offers versatility for a wide range of sleepers. The foams are designed to isolate motion that could disturb sleep, which is welcome news for light sleepers with partners who move around a lot in the night.
Individuals with heavier frames need a good support system to prevent a mattress from bottoming out. This thinner model with just two layers may not have the long-term support and durability that heavy sleepers need. If you're looking for a mattress designed for those with significant weight considerations, you may want to look at these top-rated beds for heavy frames.
Lighter individuals often find most beds too firm since they lack the weight required to benefit from pressure-relieving materials. Being on the firmer side, lighter folks may find they're stuck sleeping more on the surface, which can lead to morning aches and pains. While the Medium-firmness could work for those who sleep on their stomach, side sleepers may want to consider something a little softer.
---
This budget-friendly mattress is a great deal for the price. The Morgedal provides comfort and support at a fraction of the cost of some other mattress retailers. This could be a great option for those looking for an entry-level bed or for a child's bedroom.
What really makes this bed stand out, though, is how great it should be for stomach sleepers and people who like firm mattresses. If this sounds like you and you're in the market to save on your sleeping space, this might be a winner!
Julia Forbes
Lead Product Tester
About Author
Julia is the Lead Reviewer at Sleep Advisor, specializing in testing out mattresses and sleep accessories – she's in the right line of work, because she loves to sleep.