Transparency Disclosure – We may receive a referral fee for products purchased through the links on our site...

Read More

.
Disclaimer - Nothing on this website is intended to be a substitute for professional medical advice, diagnosis, or treatment...

Read More Here

.
Do you love your pillow? If you're reading this, the chances are that your affection has grown colder. Well, our review of the I Love My Pillow is here to change all that for good. We'll break down their three most popular pillow models to help you decide which one is right for you.
---
Memory Down Model
This one is made out entirely out of memory foam, and it has a fill of down feathers as well as a cover made of cotton. The feathers are filled within a pocket which is situated on the inner portion of the cover.
What that said, right beneath this layer is a core made of memory foam which is intended to deliver a nice, soft and supportive sleeping surface. The combination of both materials is known to be incredibly comprehensive and one which is preferred by a range of different people.
How does it feel?
Well, the truth is that the I Love My Pillow come with a unique feel. The combination of memory foam and down feathers is something quite interesting. On the top, you are conveniently welcomed by a rather soft layer made of down feathers.
Read about down vs. feathers here.
However, as your head continues to rest, you will notice the foam right down below it as it begins to cradle your head and neck to deliver an extremely convenient support. This model comes with a rather average response time which is mainly brought by the feathers, but as soon as you apply slight pressure, it would kick in. The response is not as quick as you would get from a great latex pillow, but it's also not slow.
Regarding the support, this model does an awesome job. This is true for both side and stomach sleepers. Regardless of whether you rotate between those positions, you will feel that the pillow can adjust and deliver the support that you need.
As you lie on your stomach, the down feathers are going to sink deep enough to make the pillow flat out. That's what's important for a good stomach sleeping pillow. On the other hand, as you rotate on your side, the solution is going to conform to your shoulders and make sure that you receive the definitive and proper hug that your shoulders might need. This is something tremendously important.
All in all, this particular model is one that would cater to your preferences if you are looking for something comfortable and supportive. The comfort of the feathers, alongside the overall support of the memory foam, is rather nice.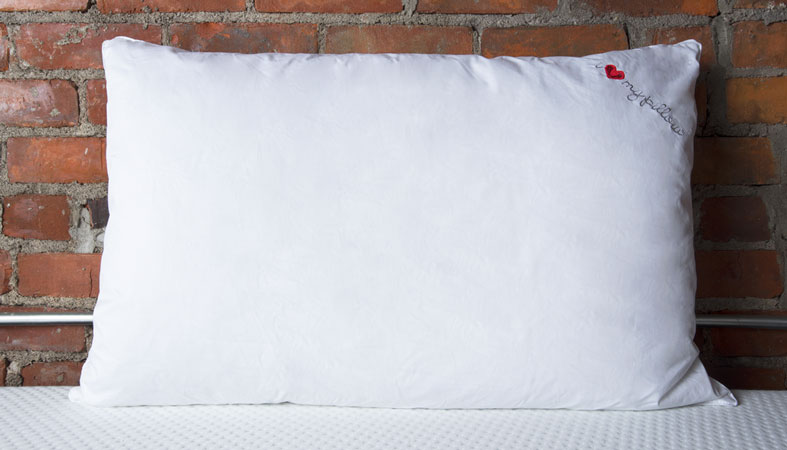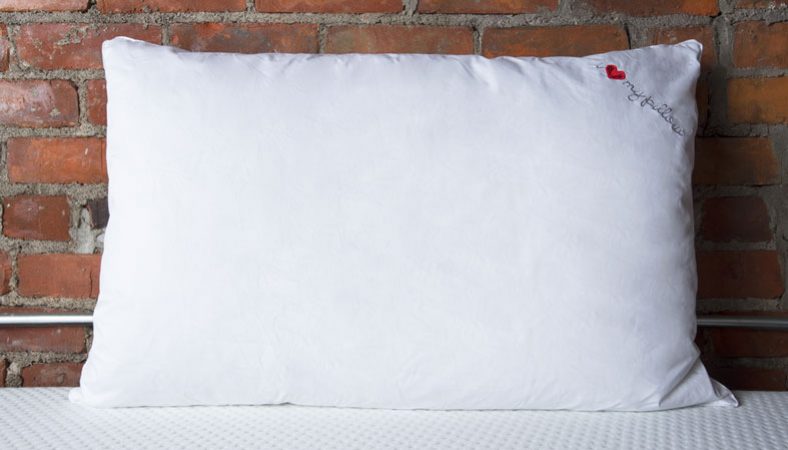 ---
Contour Décor Model
This is another popular option that's brought by the company. It is made with a luxurious plus outer cover as well as 100% memory foam. The I Love My Pillow is quite simple, but its construction is rather interesting. The memory foam pad comes with a slight dip which is designed to deliver a rather natural contouring support to both your head and neck.
The cover is made out of polyester, and it is one of the softest covers that we've tested so far. The cooling is also up to the highest standards. The inner material can get the necessary breathability because the cover doesn't obstruct it at all.
How does it feel?
The truth is that this is one of the most traditional memory foam pillows we've laid our heads on. The cradle of the product, however, is great and it outperforms a lot of other solutions on the market – this is something quite important.
What we found very interesting is that dip that we told you about. It does an awesome job, contrary to what we expected, when it comes to balancing the level of support and the overall contouring of the pillow.
When you stack it against a traditional round pillow, this one takes advantage of the dip to prevent rolling off when you sleep. This is a dip that is a flat spot on this model, and it makes sure that your spine remains perfectly aligned with your neck. If we had to give a definitive conclusion, we'd say that the contouring capabilities of this pillow are far better than the majority of others.
Regarding sleeping positions, we are fairly sure that it's intended for side sleepers. However, it does an awesome job of aligning your spine when on your side. It isn't very thick but the foam within it is dense, and it has a comparatively quicker response time which makes up for the lack of thickness.
---
Traditional Memory Gel Model
Now, this I Love My Pillow is made out of gel-infused memory foam, and it comes with a very nice plush outer cover. The design is intended to deliver a larger sleeping surface sacrificing neither the comfort nor the contouring capabilities.
The entire thing weighs a total of 2 pounds and 11 ounces. The cover is quite different compared to the other pillows which are subjected to this review. It is made of polyester and viscose bamboo. The cover is very porous which means that it breathes excellently. Regardless, it's machine washable and very easy to maintain – this is something worth taking into account.
The manufacturer, however, recommends that you clean it with a spot cleaner only to avoid any damage.
How does it feel?
This particular solution brings a slightly different feeling compared to other pillows by the company. You will most benefit from it if you decide to use it while sleeping on your back. With this said, there is a substantial amount of side sleepers who would benefit from the pillow as it will deliver splendid support in this position as well.
Also, if you are a heavier sleeper who prefers the free-falling position, this one would cater to your requirements as it is a bit denser. We'd have to conclude that it's best for back and side sleepers though, there's no doubt about it.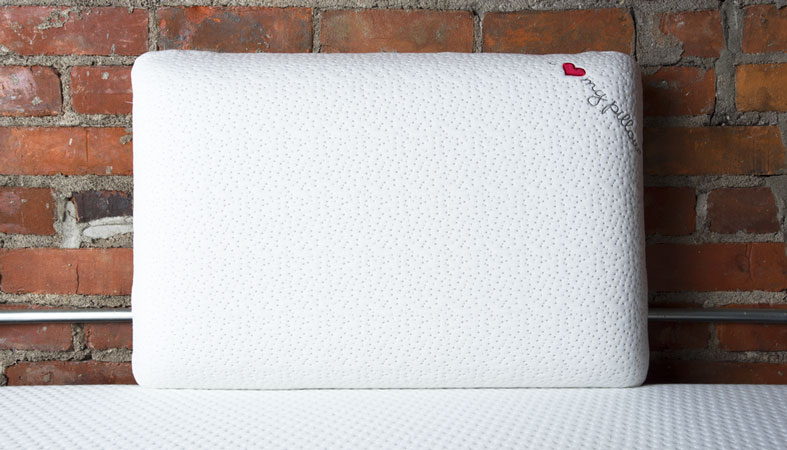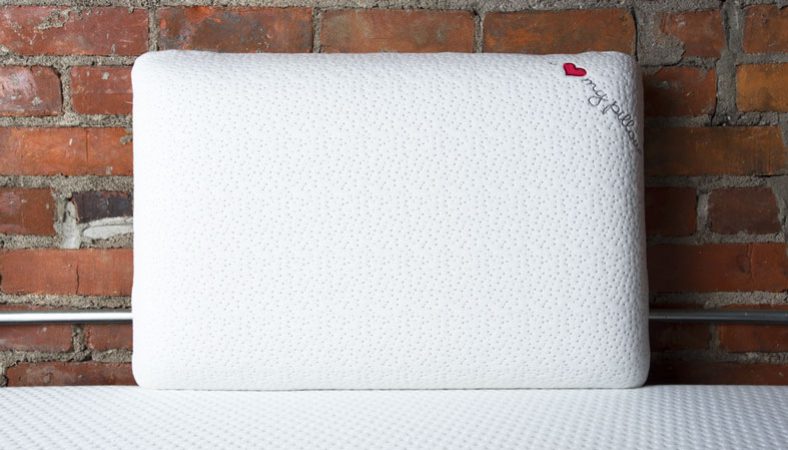 ---
Other Considerations
Now, we took a look at some of the most important specifications about all of the popular pillows, and it's time to see some general ones.
All of the pillows are shipped after making an online order. The shipping time would differ depending on your current location. Keep in mind the prices between each product line will differ.
There is virtually no off-gassing smell which is associated with any of the pillows. This is something that we are particularly hyped about as you can go to sleep immediately instead of having to wait for it for a couple of days and a few wash runs before the smell is off.
The products are all made in the USA which guarantees the quality of their material. Regardless of which type you choose, you can rest assured that everything is handled as per the highest standards. This is something that you ought to account for.
---
To Conclude
---
I Love My Pillow delivers products that you'll love. While it may sound a little under the nose, this is the best way for us to summarize these products. Of course, it would ultimately depend on your personal preferences to pick up the one that suits your sleeping requirements the most but all of them are quite capable of fulfilling serious standards.
The three pillows cover a broad spectrum of sleeping preferences, so the chances are you'd be able to pick one up. If you like the idea of memory foam and down, you might choose the first one.
If you are looking for something more stable, we'd suggest the last option. If you are looking for a traditional memory foam contouring capabilities taken to the next level, the Contour Décor is something that you ought to keep in mind.
All in all, this manufacturer has made sure that it covers all of the possible scenarios to expand its market potential as much as it's possible. And, it's safe to say that it has done so very conveniently.
More Reading