Transparency Disclosure – We may receive a referral fee for products purchased through the links on our site...

Read More

.
Disclaimer - Nothing on this website is intended to be a substitute for professional medical advice, diagnosis, or treatment...

Read More Here

.
If you've ever gone to bed and woken up halfway down your mattress, you may be struggling with stopping your mattress topper from sliding. Getting your bed linens to fit just so, or wrestling with a fitted sheet isn't fun, much less feeling unsupported due to a loose topper.
With plenty of industry experience, research, and product knowledge, we want to help each sleeper get many nights of peace and comfort, with their mattress topper firmly in place. We've collected the best advice and compiled a list of tricks and tactics to help you keep a mattress topper from sliding.
If you struggle with mattress pads, we've collected the best ways to keep your mattress topper in place.
Why Do Mattress Toppers Slide?
Your mattress and topper could be mismatched, preventing your bed from gripping the topper in place, or a smooth mattress cover could be lacking the friction necessary to keep the topper in place.
Headboard and Footboard Absence
Without a barrier at the head or foot of your bed preventing a sliding mattress topper from shifting, it can be challenging to get into stay put. In order to keep it in place, a headboard or footboard could help to secure your bed and keep your mattress topper from sliding off the top. Keep in mind this will likely only work if your footboard is long enough to reach beyond the top of your mattress topper.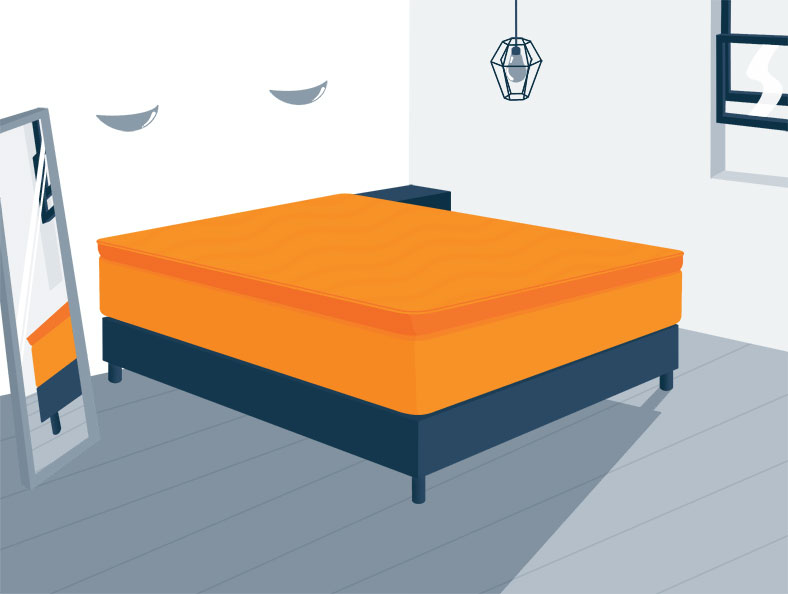 Smooth Mattress Cover
Many natural and synthetic fabrics offer a smoothness not conducive to a strong grip. Many toppers and mattresses lack the friction needed to prevent shifting. With a person sleeping on top, pulling at a bed sheet, mattress toppers can wind up slipping off the bed.
Bed Frame
A bed frame can help to keep a mattress pad in place. If a bed frame is tall enough on either side to extend beyond the top of a memory foam mattress and pad, it could prevent shifting. Not all toppers will be kept in place by a bed frame, however. If you have a queen bed and the frame isn't a perfectly snug fit, shifting could still occur.
Incompatible Size
When a topper isn't sized for your bed, it can easily slide off your bed. Individuals who are combination sleepers and adjust frequently throughout the night can end up slipping off the topper and onto the mattress, inadvertently pushing the topper off the bed.
Learn More: Mattress Size Guide
The Mattress is Old
An old bed or poor bedding brands can result in diminishing firmness and slipping mats due to weak structure. Investing in a mattress can be expensive, so watching your mattress topper slide around can feel frustrating, and we detail some solutions in the paragraphs further along in this article.
The Mattress is Two-Sided
Two-sided mattresses can be convenient if you feel your needs could change over time. However, with both sides designed for sleeping, they could also lack the grip necessary to stay put on the bed. Placing a topper on a bed with dual firmness options defeats the point of these products, as the purpose of firmness options is to provide you with customized comfort.
Learn More: How to Stop Mattress From Sliding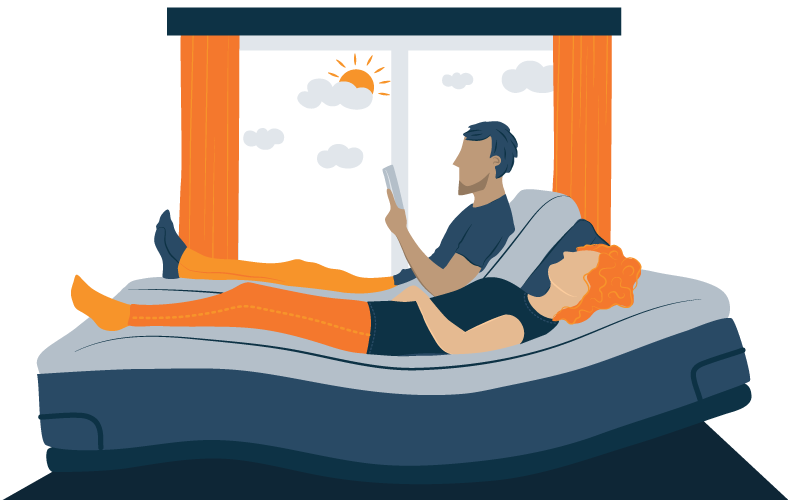 Bed Skirt
Bed skirts can be a terrific addition to a bed especially if you have an unattractive frame that you're looking to hide. They can look lovely if you enjoy a softer aesthetic, however, they're not great for keeping a bed or mattress pad in place. Bed skirts don't provide much grip, so mattress toppers often end up slipping.
Jumping on the Bed
If you have munchkins who enjoy trampling around on the mattress, or if you're an adult who frequently "flop" on the bed after a long day, the constant movement can cause mattress toppers to shift. If you can refrain your kids from doing this or resist flopping it could help keep your topper in place.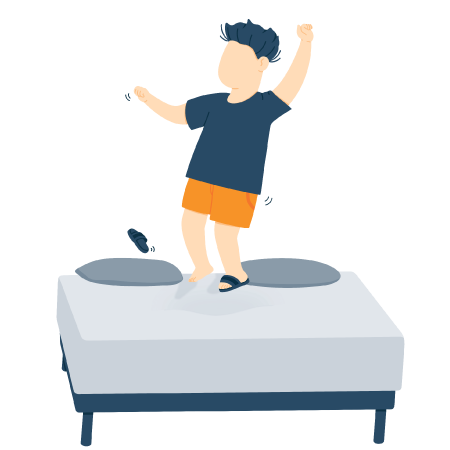 How to Stop Mattress Topper from Sliding
We've gathered a few smart tricks for preventing your mattress topper from slipping off your bed, and when implemented correctly, we believe they'll bring you relief.
Velcro System
An effective way to keep your mattress pad from moving is by using velcro tape to secure it in place. You want to be sure you use multiple pieces of velcro strips in a formation that takes into consideration the entire span of the mattress topper. Take the velcro tape apart, and place the soft velcro side on either your bed or your topper, and place the sharper velcro side on the other product, in direct opposition for a firm grip.
Non-Skid Mat
Non-skid mats are great for multiple purposes. Rubber matting works well for their original intention, to keep area rugs from sliding out of place. However, they're excellent when used between a mattress and mattress pad, or a mattress cover. What's wonderful about rubber matting is that it's easy to use and doesn't take much effort. You lay the mats flat on your bed and plop the mattress toppers right on top, and the mats should keep them firmly secure.
Tight Fitted Sheet
Fitted bedsheets can be more than just a bed sheet, they can secure your mattress topper to your bed as well. If your mattress topper is shifting off your mattress, find yourself a strong, deep fitted sheet. Place the mattress topper on top of your mattress, and then pull the fitted sheet tightly over both. The sheet should hold them both together, providing a cozy, tightly fitted bed.
Want to know more? Check out our top rated bed sheets guide.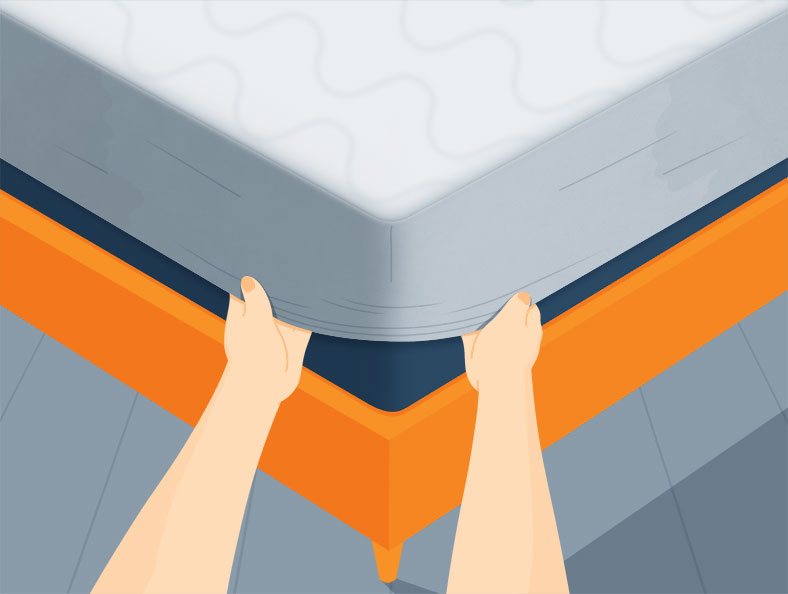 Sheet Straps
Sheet suspenders work great for keeping mattress toppers of most bedding brands in place. Most sheets and toppers of these sorts will have sheet straps on the corners. Put the topper on the mattress, loop side down, and wrap the sheet suspenders around your bed, securing your mattress topper to your mattress.
Additionally, you could buy separate sheet suspenders and attach them to your mattress topper, then wrapping them around the corners of your bed, which should keep your mattress topper from sliding.
Safety Pins
Another strategy for keeping a mattress and mattress toppers squarely together is by using safety pins. This is certainly a cost-effective strategy but should keep your pad from slipping off your mattress.
You'll want to use multiple safety pins; safety pins are strong however you'll still need to distribute the weight evenly. Using at least five on each side, particularly the larger pins should keep your topper in place, and shouldn't damage mattress toppers when securely with plenty of evenly distributed safety pins.
Duct Tape
Duct tape is well known for its strong adhesive abilities, and while it's surely not designed to use on a mattress, you can use duct tape to keep it in place. You can attach your topper to your mattress using the tape by strapping the corners as you would with sheet suspenders, additionally, you likely won't be sleeping on the corners of your mattress, so you shouldn't feel the duct tape straps. Duct tape is a great alternative to spray adhesive, which could leave residue on your pad and mattress.
Carpet Tape
Carpet tape is extremely durable, and you can use carpet tape if you think duct tape won't be strong enough for your mattress. You can secure your topper to your mattress using carpet tape by placing the double-sided tape along the edges of your bed, and placing it on the topper, its gorilla grip should keep it tightly fitted.
Cotton Layer
Often a mattress and topper don't have enough friction to keep still. While there are a few ways to keep this from happening, one of the best ways to keep a memory foam pad from sliding is by putting a cotton mattress cover around your bed. Many mattress toppers slide due to a smooth mattress cover, but the cotton should provide more friction between the bed and topper.
Rubber Matting
Rubber matting works similarly to non-skid mats and should work well to keep a mattress and topper from slipping. Make sure to find a non-skid mat that's about the same size as your bed or bed frame, and place it between your bed and topper. The sticky sensation of the rubber should keep the mattress from allowing the topper to slide off or shift.
If you can't find a large enough rubber mat, you can put two side by side, and your new mattress should hold onto the topper.
Vacuuming Under Your Mattress
Your bed can collect a lot of debris, and might gather under your mattress, creating a thin layer. This could be a reason your mattress toppers slide and don't stay in place. A quick vacuum under the mattress topper could be one way to help keep it in place.
Get a New Mattress
Many people underestimate how badly they need a new mattress. If your topper is no longer functioning to the quality you need, you may consider looking to replace the whole bed. A quality bed, tightly fitted sheet, duvet, sheet set, and covers could work wonders for your nightly rest.
Interested in exploring further? Check our our Best Mattresses for 2023 page here.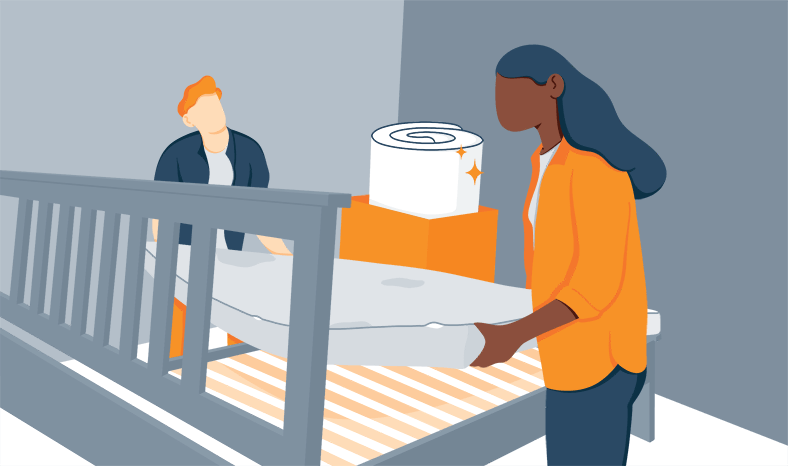 Frequently Asked Questions
Can safety pins shred your mattress?
Using sharp tips with your mattress pad may sound like a dangerous idea, but if you use larger pins the tips shouldn't shred the memory foam or latex, and help your topper stay in place. When you're securing a topper, make sure you use safety pins evenly around the perimeter. Spacing out the safety pins helps to distribute the weight, preventing damage.
Using safety pins should allow the topper to slide nowhere far, securing it firmly. These gadgets should prevent a mattress from sliding or shifting beneath the pad, letting your dream peacefully.
Conclusion
Many people struggle with creating a comfortable spot to sleep. Everyone is different and needs vary from person to person. Using a mattress topper is an excellent way to spruce up your bedroom and create a cozy, plush space.
If you're finding yourself frustrated due to a slippery topper, ill-fitted sheet, or old mattress, it might be worthwhile to invest in a remedy for your sleep. Sleep is critical to our physical and mental well-being, and with quality sleep products, we can help us be better for our families, our partners, our careers, and ourselves.