Transparency Disclosure – We may receive a referral fee for products purchased through the links on our site…

Read More

.
Disclaimer – Nothing on this website is intended to be a substitute for professional medical advice, diagnosis, or treatment…

Read More Here

.
The Casper Hybrid Pillow delivers a good balance of support and softness to ensure proper spine alignment and pressure relief. A hybrid pillow such as this Casper model has multiple types of filling, unlike other pillows that use only one material. The Casper has a unique construction, marshmallow-soft feel, and soft knit cover — a combination that delivers ultimate comfort and durability.
In this review, we'll talk about what makes the Casper pillow special, its construction, standout features, benefits, and drawbacks. Keep reading for the major details on this product, or skip to the end if you want to view our final score.
You will love Casper Hybrid if you:
Sleep on your side – The Casper pillow has a squishable feel, so it's easy to activate the filling for great pressure relief. The pillow offers gentle cradling, which side sleepers should enjoy.


---

Sleep on your back – Back sleepers should also like the Casper pillow as it remains supportive throughout the night. The pillow fills the gap between your neck and bed, helping maintain proper spine alignment and reducing upper back pain.


---

Need a versatile pillow – This pillow has a plush feel, without lacking vital support. The construction shouldn't collapse under your weight, which means the pillow stays supportive while still offering some softness to prevent pressure build-up.
You might not like Casper Hybrid if you:
Want a traditional pillow – The Casper Hybrid pillow has an outer foam layer, but the inside is filled with polyester fiber. Although this offers many benefits for various sleepers, some may prefer a more traditional feel with a single fill material.

Are seeking adjustability – Although this Casper pillow fits a variety of sleepers, some may prefer a more adjustable model, especially if their preferred sleeping position changes regularly.

Prefer a machine-washable pillow – If you live with kids or pets, you may not like that the Casper Hybrid isn't washable. While the cover is machine-washable, washing the whole pillow would ruin its foam and fiber filling. For some people, though, having a cover that's machine-washable is more important anyway.
Construction (Materials & Quality)
The Casper Hybrid pillow's construction starts with a polyester and spandex cover. The cover is easy to remove, which makes it easy to clean in the washing machine. However, tumble-drying isn't recommended, so make sure to let the cover air-dry.
Next is the polyester lining that reveals the outer layer made from polyurethane foam, which is what gives the pillow its structure and firmness. Further inside is the polyester fiber fill that balances out the firmness of the foam, making the Casper Hybrid a perfect combination of softness and support.
Firmness (Comfort & Feel)
The Casper pillow has a mid-range firmness, offering the best support, pressure relief, and comfort in nearly all sleeping positions. The first thing you'll notice is the gentle cradling that hugs your neck and head, which is meant to prevent pressure build-up. However, you shouldn't feel like you're sinking into the pillow. The medium firmness of the foam layer allows the pillow to maintain its structure so that it doesn't flatten under the weight. This should give you enough support to keep your spine aligned and avoid neck and back pain.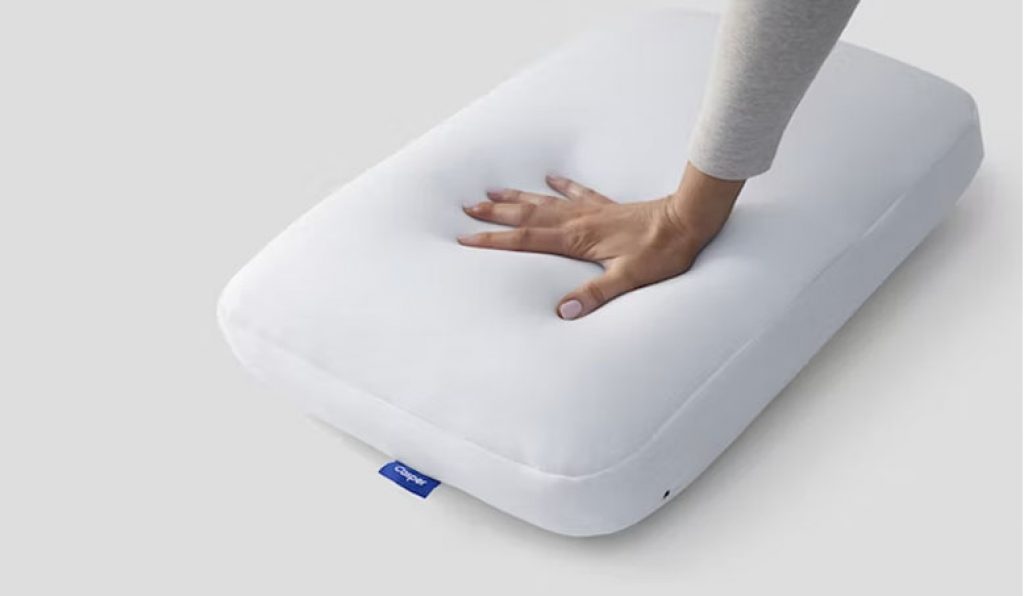 Temperature Regulation
Despite its unique design, the Casper Hybrid pillow doesn't have any cooling properties. The three-layer construction has minimal airflow, and the cover is made from polyester, a material that's unlikely to provide much cooling. Although the pillow itself won't make you any warmer than you already are, hot sleepers may prefer a pillow that's specially made to support a cooler sleep space.
Noise & Smell
The Casper Hybrid pillow doesn't have off-gasing, meaning you won't have to ventilate it before using it for the first time. The pillow has a three-layer construction made from foam and fiber, so it's unlikely to make any noise either. The pillow follows the shape of your head and neck to relieve pressure and enhance comfort without making any noise.
Other Considerations
Size Options – The Casper Hybrid pillow comes in two sizes: Standard and King. The Standard measures 15.6'' x 24'', while the King measures 15.6'' x 31''.
Warranty – The company offers a 1-year warranty for this product.
Trial – The Casper comes with a 30-night trial period, giving customers plenty of time to see if they like it.
Shipping – The company ships the pillow for free.
| Size | Dimensions | Price w/o Discount |
| --- | --- | --- |
| Standard | 15.6 x 24 inches | $99 |
| King | 15.6 x 31 inches | $129 |
Overall Summary
If you're after a unique pillow to alleviate neck pain and pressure build-up, this Casper Hybrid could be a great fit. The pillow has a unique three-layer construction that utilizes two different fills to give the sleeper cradling and support, which is especially beneficial to side and back sleepers.
This Casper is a hybrid pillow designed to fit many sleepers, although those who sleep hot may prefer a more model that priortizes cooling more. On the plus side, the pillow comes in two sizes and fits standard pillowcases, so you don't have to buy new cases specifically for your Casper pillow. Another feature worth noting is that Casper sells a low-loft version of this pillow for those who like sleeping on their stomach.
Jill Zwarensteyn
Editor
About Author
Jill Zwarensteyn is the Editor for Sleep Advisor and a Certified Sleep Science Coach. She is enthusiastic about providing helpful and engaging information on all things sleep and wellness.