Transparency Disclosure – We may receive a referral fee for products purchased through the links on our site...

Read More

.
Has your mattress been begging you for new clothes? Over time, even the best quality linen ends up becoming old and worn. They lose their softness, start looking a little sad and, most importantly, don't perform as well as you expect them to.
The importance of suitable bed linen when it comes to sleep well should not be ignored. Using the right bedding will enable you to sleep comfortably, regulate your body temperature and help to create an extra layer of comfort for your body.
Bamboo linen can ramp up this experience for you. It is softer, more durable and has natural antibacterial and hypoallergenic properties. But you have to choose the right brand to get all these properties. Do the Cariloha Resort Bamboo Bed Sheets make the grade?
Cariloha is a company that is concerned about the environment. As a result, they are producing bamboo sheets that is sourced from organically grown bamboo, and they use no harsh bleaches to dye the fabric.
Cariloha Sheets – Key Features
You get a flat and a fitted sheet, and two pillowcases.
The Sateen weave is used.
The sheets will fit a range of mattresses up to 18 inches in depth.
You can choose from seven different colors.
Organically sourced bamboo.
The fabric is Rayon derived from bamboo.
Helps to regulate your body temperature while you are asleep.
No bleach used when the sheets are dyed.
A thread-count of 320.
Pros and Cons
Pros:
Extremely soft.
A very nice range of colors.
Feels very light.
The company actually shows you what the manufacturing process entails.
Can be washed by machine and chucked in the dryer.
Cons:
The price point is high.
It will never look freshly ironed after being slept in – wrinkles are a pain here.
Material/Style
The fabric used is derived from bamboo. If you would like to know more about the process, the company has a video showing how the process works. The weave used is Sateen, so the sheets are soft, smooth and have a slight luster to them.
According to Cariloha, this bed linen is twice as soft as your standard cotton sheets. It outperforms cotton in this aspect because the fibers are shorter and have been made rounder.
There are seven different colors to choose from. All of them are understated and quite stylish. They are designed to be the perfect accent for your bedding, not to be the star of the show.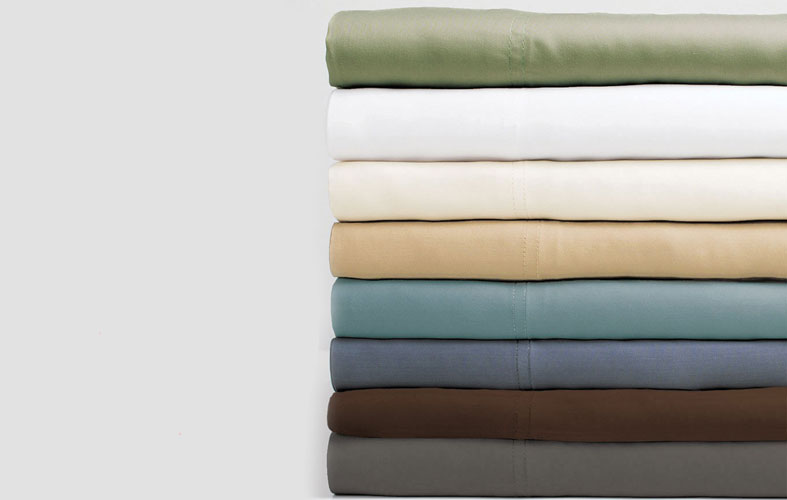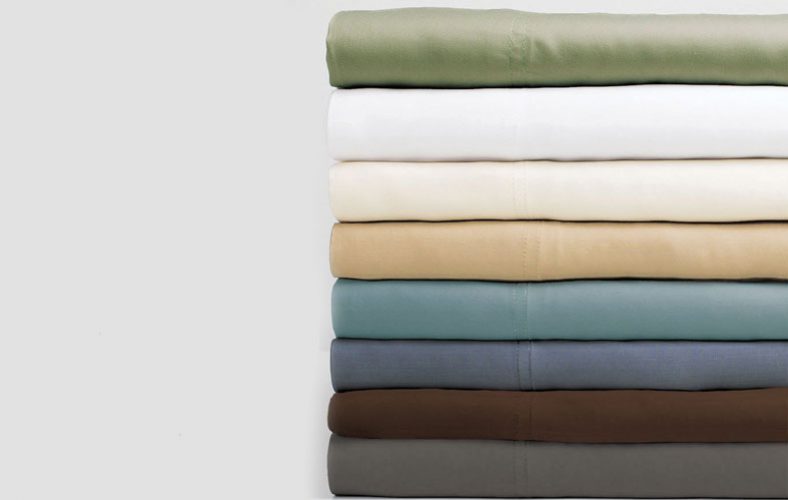 Build Quality
The build quality here is excellent. The stitching looks good, and the overall finish is pleasing. The company has paid attention to the quality of the product and seems to have taken time to get the stitching right.
The aim seems to have been to provide a product that looks stylish, and that is durable at the same time. The sheets are a nice size and will fit comfortably on your bed.
Everything seems to have been put together well. The fabric is lightweight but still sturdy enough that you won't rip the stitches out very quickly.
Durability
Is there anything worse than spending a lot of money on bed linen, only to have the color run or have it shrink a lot in size even when you follow the correct care instructions?
Now, with any natural fiber, there is a certain amount of shrinkage, especially the first time you wash it. The company has compensated for this by making their products a little larger than normal. They will shrink a little, but they will also still fit your bed afterward.
The dying process used ensures that the color stays where it should when you are washing the sheets. They will not lose their shape in the wash and so are pretty durable.
Weight
What many people like about bamboo linen is that it is very lightweight. It hardly feels like you have a sheet on top of you at all. This is a significant improvement over your standard, high-quality cotton linen. The sheets here are lightweight but are a little heavier than some of the others in the market. This can be partly attributed to the sateen weave used as this makes the material thicker.
Even though the fabric is a little thicker, it makes no difference to the breathability at all. The sheets allow for the circulation of air around your body.
Feel and Comfort
Most people who use this sheets agree that it is incredibly soft and allows for unrestricted movement in the night. The smoothness of the fibers combined with the weave does make these sheets a little slippery but not to the same extent that you would get from a material like satin. The fabric breathes well and does not cling to your body.
The company says that these sheets are cooler than your standard cotton ones by three degrees. This makes them ideal for hot sleepers. Users agree that sleeping on these is more comfortable because of the softness and the breathability of the material.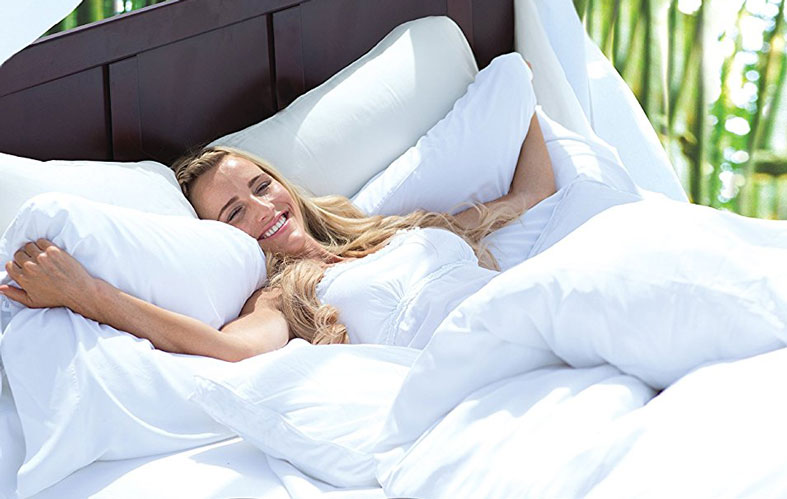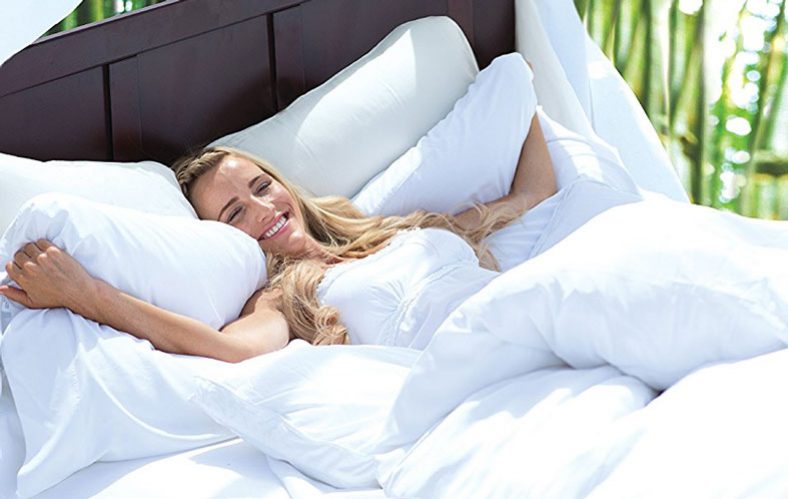 Price/Value
Let's not beat around the bush. Bamboo sheets are never cheap, and these are more expensive than a lot of bamboo sheets out there. However, unlike with most other companies, you can go to the website and see exactly how they manufacture the textiles for your sheets. This is important because not all manufacturers take the trouble to do so in an eco-friendly manner.
Also, the company offers a lifetime guarantee when it comes to issues with quality control, so you have the additional peace of mind that this brings. All in all, it's a lot to pay, but it is still worth the price. You get linen that is soft helps you sleep cooler, and you know that it is going to last for a long time to come.
Who Should Buy The Cariloha Sheets?
You like soft linen that is completely smooth. You just cannot beat this type of Rayon when it comes to softness. It's something that will never be achieved with cotton. And, sure, you could get similar results from synthetic fibers, but then you would have to sacrifice breathability.
You want to protect the environment. Buying this kind of Rayon instead of cotton earns you brownie points from the get-go. In terms of cultivation, processing, and biodegradability, bamboo-based Rayon scores a lot of points.
You sleep hot or live in a humid climate. These sheets do not cling in the same way as others might. This straightaway makes them cooler to sleep under. Because of their natural origins, they are also able to breathe very well, and so the air circulates around your body efficiently. The moisture is drawn away from your body because the sheets are so absorbent.
Who Shouldn't Buy The Cariloha Sheets?
People who are battling to make ends meet. This is not the cheapest option out there and can be difficult to afford if you already have money issues.
Those that do not like the feeling of satin. While these are not quite as slippery as satin sheets would be, the feel is still more reminiscent of satin than cotton.
People who might have a problem keeping the bedding clean. If you have little children, for example, who might make a mess of the sheets, it could be challenging to get the marks out again. You cannot bleach them or use hot water when washing them.
You like everything to be neat and orderly. This is a natural fiber and one that will wrinkle a lot. You can minimize this issue by following the care instructions. That said, wrinkles are going to be a problem most of the time.
Conclusion
---
All in all, this product comes out as an excellent one despite its higher cost. What sets this particular option apart from its competitors the most is how transparent they have made the manufacturing process. In many cases, this is something that you would never have been able to check, and it is something that is worth knowing more about, especially if you care about the environment.
People love how soft and comfy this linen is, and many have talked about how it has radically improved their quality of sleep. Taking into consideration how comfortable these sheets are, the lifetime guarantee the company offers and the excellent reputation this company has built, the price paid for the bedding is well worth it.