If you struggle with getting a good night's sleep, it may be time to consider a weighted blanket. These heavy blankets are the latest trend in natural sleep solutions, thanks to the power of deep-pressure therapy.
This model comes in two different weights and was designed by the popular American-made brand, Brooklyn Bedding. They've become well-known in the world of bedding for their innovative and handcrafted products, including mattresses, pillows, sheets, and other sleep accessories.
If you're curious how this one stands apart, keep reading for all the details in this Brooklyn Bedding Weighted Blanket Review.
Brooklyn Bedding Weighted Blanket
The Brooklyn Bedding Weighted Blanket not only has the calming and soothing benefits of weighted blankets but also has a warm and fuzzy feel to it for added comfort!
Sleep Advisor Score
4.80 / 5
You will love Brooklyn Bedding Weighted Blanket if you:
Want to choose from different weight options – Being able to select your preferred weight is a unique option that not every company offers. You can choose between 15 or 20 pounds depending on your preference and body size. Most experts recommend selecting a weight that is roughly 5 to 10 percent of your body weight.
Need temperature regulation – If you struggle with sleeping too hot or too cool (or fluctuate between the two), you'll love the dual-sided duvet cover. One side of the duvet has a Tencel cooling fabric with breathability for those who overheat under the extra weight. The other side of the duvet features a warm, minky dot, polyester fleece fabric for a cozy feel.
Prefer a removable cover – Having a cover that can be removed and washed is a huge bonus. The insert can be spot cleaned as needed, and the outer cover can be machine washed and tumble dried on low. For those who have pets or like a fresh and clean feel, this is a great feature.
You might not like Brooklyn Bedding Weighted Blanket if you:
Want to choose from different patterns or colors – This model is only available in a soft gray, but the color is very calming and neutral. While this hue should complement most bedroom decor, it can also be layered underneath existing bedding if it doesn't quite match.
Want a blanket for lounging – These heavy covers are designed to be used for sleep, not necessarily for lounging. The weight of this could make it difficult to carry around the house, but there's nothing stopping you from trying. We recommend having a regular throw for cuddling up while you read or watch TV and keeping this one for sleep. In that case, you can take a look at our top rated blankets and find the right one for you.
Video Review
How it Works
Weighted blankets have been recommended for improving sleep based on their ability to stimulate deep-pressure receptors throughout the body.
Deep-pressure therapy (DPT) has long been recommended for individuals with autism, ADHD, sensory issues, anxiety, and more. Many people who struggle with sleep have found that using a weighted covering minimizes the time it takes them to fall asleep and keeps them sleeping deeply longer.
One of the ways that DPT works is by stimulating the release of serotonin in the brain. This hormone and neurotransmitter is involved in regulating your mood, sleep, emotions, and more. The pressure from the blanket can be very comforting and has multiple therapeutic benefits.
If you're wondering how to select the right size, it all comes down to your own body weight. Most experts recommend choosing a weight that is between 5 and 10 percent of your body weight. This ideal size should give you all of the therapeutic benefits without feeling too heavy.
To learn more about how weighted blankets can help with autism, check out our full guide.
*Given the heavier weight, this product is not intended for use by children due to the risk of suffocation.
Construction (Materials & Quality)
The Dual Therapy Weighted Blanket comes in two parts: the outer duvet cover and the weighted insert. The overall dimensions for both weight options measure 60 inches x 80 inches, which is similar to the size of a Queen-sized bed.
The dual-sided cover has ties all along the perimeter that can be attached to the inner component to keep it secured. The heavy insert also has 130 individually sewn pockets so the weight is evenly dispersed. These are great features to have since weighted beads tend to shift to the bottom, thanks to gravity.
The dual-sided duvet cover features two fabric types that cater to different temperature needs. You can select the option that works best for you based on your preference, room temperature, and season.
One side of the duvet cover features a cozy, minky dot fabric made from polyester for a warming feel. On the other side is a microfiber Tencel cooling fabric that is designed for breathability and moisture-wicking. The warming polka dot side is a darker gray and has a fuzzy feel, while the cooling side features a lighter gray with a soft and smooth feel.
The heavy insert is also gray and has pockets where the tiny glass beads are contained. There are many different materials that manufacturers use to create the weighted component, but glass is often preferred over other fillings like poly pellets or grains. Glass beads are smaller but denser, so these blankets are often thinner and have a smoother finish.
Feel (Support & Feel)
The weight of the blanket is similar to the feeling of being swaddled or getting a big hug. DPT creates a therapeutic experience by stimulating touch receptors that elicit a calming effect.
Some people worry about overheating under the added weight, but Brooklyn Bedding has taken extra thought to design this product with a cooling Tencel material that should prevent excess warmth. For sleepers who prefer a cozy feel, the minky soft side has a fleecy finish that is designed for comfort and warmth.
This product has been engineered to keep the weight evenly dispersed, preventing clumping or excess pressure. The ties are designed to keep the blanket securely attached to the duvet, so you should never have to worry about bunching or shifting in the night. The larger size means it can be comfortably shared by couples to experience all of the same DPT benefits using one single blanket.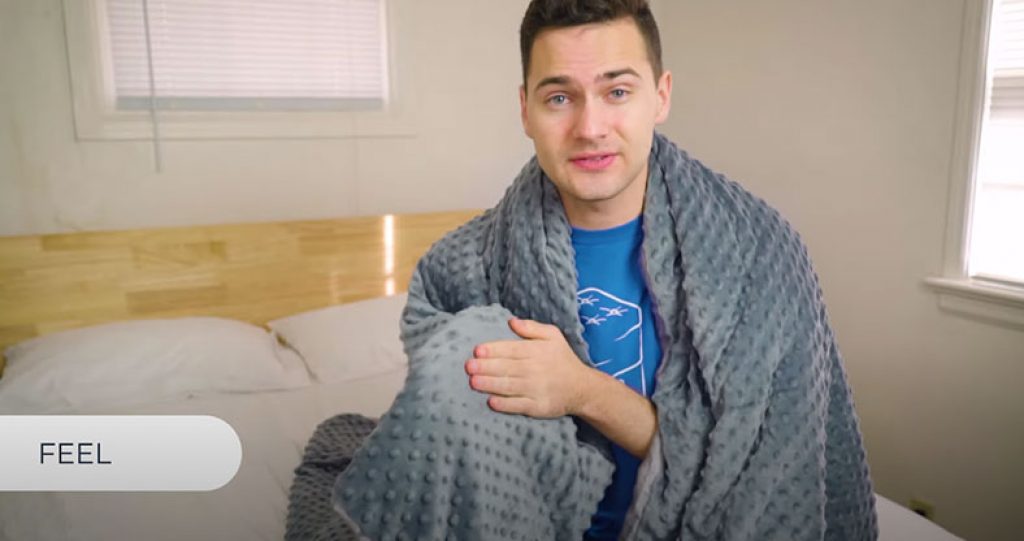 Noise
Some weighted covers are filled with materials that shift around and can sometimes be noisy. Compared to other brands, this blanket should be fairly quiet. The glass beads are distributed between 130 individually sewn pockets and are densely packed, so there should be minimal noise, which could be helpful for those with sensory processing disorders.
Click here for our full guide on Sensory Processing Disorders and Sleep.
Other Considerations
Trial Period – You can take advantage of a 30-night trial to test this product out and make sure it works for you.
Warranty – This company offers a generous two-year warranty on all their sleep accessories.
Shipping – Free shipping is available to all contiguous U.S. States (48 states, excluding Alaska & Hawaii). Shipping is also available to Alaska, Hawaii, and Canada for a small cost.
Machine Washable – The duvet cover can be removed and is machine washable.
Made in the USA
| Weight (lbs) | Dimensions (inches) | Price (w/o discount) |
| --- | --- | --- |
| 15 lbs | 60" x 80" | $139 |
| 20 lbs | 60" x 80" | $149 |
Conclusion
---
If you're looking for a weighted blanket with some amazing features that set it apart, look no further than Dual Therapy by Brooklyn Bedding. They've solved many of the problems that other models have by including ties to keep everything secure, pockets for evenly dispersed weight, and a cooling side to prevent overheating.
This generously sized covering is big enough for couples to share and comes in two weight options. If you've tried just about everything to get a good night's rest, a weighted blanket may be the solution you need. Brooklyn Bedding has taken the benefits of deep-pressure therapy one step further with added touches for extra comfort and quality.
Brooklyn Bedding Weighted Blanket
The Brooklyn Bedding Weighted Blanket not only has the calming and soothing benefits of weighted blankets but also has a warm and fuzzy feel to it for added comfort!
Sleep Advisor Score
4.80 / 5
Jill Zwarensteyn
Editor
About Author
Jill Zwarensteyn is the Editor for Sleep Advisor and a Certified Sleep Science Coach. She is enthusiastic about providing helpful and engaging information on all things sleep and wellness.