Transparency Disclosure – We may receive a referral fee for products purchased through the links on our site...

Read More

.
Congrats Mama! You did it – your new baby is here! You were a rockstar throughout pregnancy and delivery (okay, you barely survived, but we won't tell), and now comes the easy part, right? Wrong!
Considering the fact that every mammal nurses their young, you'd think that this should be a straightforward process, but the truth is – breastfeeding is hard! Thankfully, companies like Boppy have worked with Lactation Consultants to create accessories that can help.
Is this pillow right for you? Check out our Boppy Best Latch Nursing Pillow review. We've highlighted the most important points you'll want to know, but if you're short on time (what new parent isn't), feel free to skip ahead to the end for our final thoughts and scores.
You will love Boppy if you:
Struggle to get the right latch – One of the biggest struggles nursing moms face is getting the right latch. The Boppy's firm, minky-soft side features a contoured surface that was specifically designed to help position newborns for an easier latch.
Need a hands-free design – When you need a free hand to help position your baby or scroll through your phone during one of those marathon nursing sessions, a hands-free design is a must! This accessory comes equipped with an adjustable belt that goes around your waist to hold the pillow in place. The buckle allows for a quick and easy removal, and the strap is expandable up to 52-inches.
Want a 2-in-1 pillow – Unlike typical nursing pillows, the Boppy has two distinct sides that are designed to accommodate babies as they grow. The firm, contoured side helps to hold newborns in place with a soft minky fabric that's gentle for their delicate skin. As your baby grows, the squishier fiberfill side offers a comfy surface for little ones up to 12 months.
You might not like Boppy if you:
Want a positioner for baby – Some nursing pillows can be used to as positioners around babies that are just learning to sit or for tummy time. This cushion isn't intended as a positioner, but some of Boppy's other models like the Newborn Lounger or the Original can be used for positioning.
Recommended Use
Nursing pillows are designed to cradle babies in the optimal tummy to tummy position for an easier latch. Having a strap means you don't have to worry about the Boppy moving around while your little one is nursing and you get to give your arms a rest.
Instead of having to use one arm for positioning and one arm for helping baby latch, these cushions wrap around your waist and provide a gentle surface for your baby to rest on. The ergonomic design means less strain on your back so both you can baby can be comfortable.
Construction (Materials & Quality)
The Best Latch has two unique surfaces to accommodate babies as they grow. The contoured side has a soft, minky material that is perfect for a newborn's delicate skin. The bottom side has a squishier surface for positioning older babies who are slightly heavier.
The removable cover features a stylish design with gray circles on one side and a soft, plush fabric on the other side. The outer surface is made with a cotton-polyester blend with a polyurethane foam insert that can be removed. The foam piece can be wiped with a damp cloth when needed, and the rest of the pillow is machine washable.
The adjustable belt has two buckles for easy removal and positioning regardless of whether you are right or left-handed. You can conveniently tuck the buckles into tiny pockets when the pillow is not in use or for machine washing.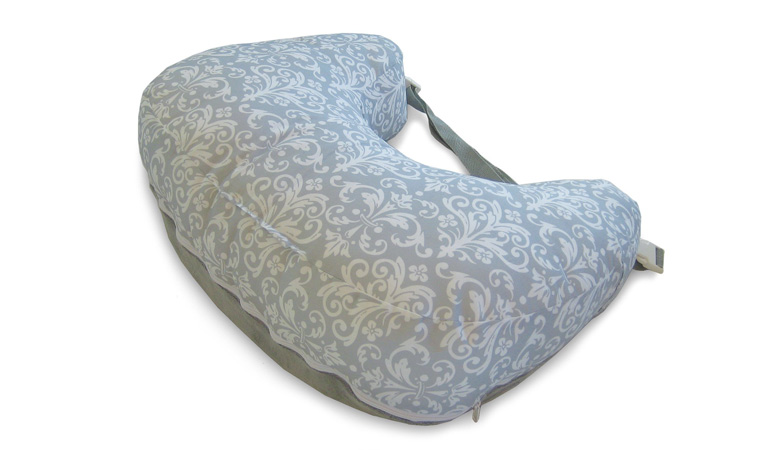 Firmness (Comfort & Feel)
The top side intended for newborns has a softer, minky material that provides a gentle surface baby should love. The firmer polyurethane foam insert keeps baby supported so they can easily latch without sinking deep into the pillow. The wrap-around sides create a comfortable armrest for moms or for positioning those tiny legs and feet.
On the bottom side is a softer fiberfill material that gives older babies a snuggly surface they can sink deeper into. Having the foam insert on the bottom means little ones can have the freedom to find a comfy position in the squishier material with a firm base to support their tiny spines.
Temperature Regulation
Foam has a reputation for absorbing heat, so having the foam material on the newborn side is perfect for new babies who love that comforting warmth. Because this foam piece is small, mamas shouldn't experience any overheating during nursing sessions. While breastfeeding can generate heat through the skin-to-skin contact, the open design of this pillow should allow for adequate airflow to keep mothers comfortable and cool.
Noise & Smell
Many foam-based products can have that "new smell" that may be a little strong for newborns. Removing the foam piece and allowing it to air out in a well-ventilated space should help, and the rest of the pillow can be washed with a mild, baby-friendly detergent. The only noise you should hear using the Boppy is the gentle coos of your nursing baby.
Other Considerations
Machine washable – With the foam insert removed, the rest of the pillow can be thrown in the washing machine. With newborn spit-ups and messy feeders, this is extremely helpful.
Adjustable belt – The removable and adjustable belt can be extended up to 52-inches. Use this to keep the pillow snug against your body during feedings then tuck it into the side pockets for safety when not in use.
Extended use – Suitable for babies 0-12 months of 7-22 lbs
Innovative design – Developed with a Lactation Consultant to offer the best support and positioning for breastfeeding moms.
2-in-1 design – Use the soft, minky side with newborns, then flip it over for a firmer surface as your baby grows.
| Size | Dimensions (inches) | Weight |
| --- | --- | --- |
| One size | 16 x 20 x 5.5 | 4 lbs |
Final Thoughts
---
Amazing
This upgraded version of Boppy's original design has some incredible features that nursing moms love. With two distinct surfaces, you get more value for your money and a product that can grow with your baby.
For over 30 years, Boppy has been creating innovative products with new parents in mind. The Best Latch Pillow expands on its original design, with bonus features like two unique sides, an adjustable belt, and a firmer foam insert.
When it comes to nursing, finding the right position for an easy latch is half the battle. The ergonomic support gives your tired back the break it needs and should make latching easier for your baby who is trying to figure this whole nursing thing out too. When new moms need a helping hand, the Boppy Best Latch Nursing Pillow is there to help.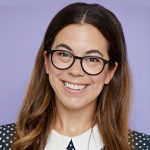 Jill Zwarensteyn is the editor for Sleep Advisor and a certified sleep science coach. She is enthusiastic about providing helpful and engaging information on all things sleep and wellness.
Based in Los Angeles, she is an experienced writer and journalist who enjoys spending her free time at the beach, hiking, reading, or exploring new places around town.
She's also an avid traveler who has a personal goal of being able to successfully sleep on an airplane someday.