Transparency Disclosure – We may receive a referral fee (at no additional cost to the buyer) for products purchased through the links on our site or other applicable pages. To learn more, please read our full disclosure page here. We also encourage you to read about how we may research and/or test Products here.
Have you heard of the fourth trimester?
This three-month period refers to the baby's first 90 days of life. Even though they're out of the womb, they're brand-new to this world and still getting accustomed to it. During this time, parents are encouraged to create a womb-like environment for their little one whenever possible.
By simulating the womb, your infant receives signals that they're safe and secure. This is especially desirable when it's time for sleep. It will help calm fussiness, and often it lengthens the baby's sleep duration, too. That's what we call a win-win.
We share a list of highest rated swaddle blankets, answer your burning questions about the topic, and outline step-by-step instructions, so you'll become a swaddling pro in no time.
Swaddling is wrapping an infant tightly in a blanket. It serves to simulate a womb-like experience while also restricting moving of the baby's arms and legs. The practice is meant to be calming, soothing, and promote longer sleep cycles.
The act of swaddling goes back to the first humans during the Paleolithic era millions of years ago. It's been a well-documented practice throughout the rest of our history, briefly falling out of favor in the 17th and 18th centuries. Some parents and caregivers were using swaddling as an excuse to limit attention and interaction with their babies, and generally leave them unattended in a corner of the room. As the saying goes, "nobody puts baby in the corner."
However, swaddling has made a recent resurgence recently, especially as new products have been developed that make it easier for new parents to swaddle correctly.
Top 6 Swaddle Blanket Reviews
HALO SleepSack 100% Cotton
The HALO SleepSack is an angel when it comes to keeping your baby bundled.
The Velcro wings and zipper closures of this zippered swaddle sack make even the least experienced parent feel like an expert.
If you're new to swaddling or feeling the effects of sleep deprivation, you'll appreciate the help here.
The inverted front zipper makes diaper changes a breeze.
We love the flexibility of the HALO. You can use the wings to keep just the legs covered in this swaddle sack, so your baby has their hands free. This is a great option when you still want them bundled but are okay with them having some freedom to move. In fact, many babies insist on having their arms free.
PROS
Helpful zippers and Velcro for easier diapering
Easy to get it right the first time
Option to swaddle legs only and leave arms free
Sleeveless design prevents overheating
Multiple sizes available, from newborn up to 5T
Aden + Anais Classic Swaddle Baby Blanket
This brand is a favorite among both Millennials and Gen-Xers alike.
These blankets are soft and cozy with simple patterns that make a bold statement.
These blankets are multi-purpose; meaning you can use them as a stroller or car seat cover, nursing camouflage, play mats, tummy time, and even as a burping cloth.
Once you try these blankets, you'll find excuses to use them for everything. The only downside is they don't come in adult sizes.
If you're a new parent, you may struggle with this brand. There are no wings, guides or Velcro to help you out. Practice with our step-by-step tutorial down below, and you'll get the hang of things soon. Traditionalists also appreciate the Aden + Anais classic blanket. It's the most similar to the way our ancestors used to swaddle their infants, using muslin and strips of cloth.
PROS
Extra soft
Cute patterns, but not overly bold
Multi-purpose
Thin fabric allows for easy wrapping
Popular for gift giving
CONS
No Velcro guides or zippers to help sleep-deprived parents
Summer Infant SwaddleMe Adjustable Infant Wrap
If you like the idea of swaddling your baby, but you're concerned about overheating, the Summer Infant brand should move to the top of your list.
It's a lightweight fabric, meant for warmer climates and summertime weather.
This brand makes every parent feel like a swaddling and diaper-changing pro.
The top wings are ideal for fastening, and there's a bottom leg pouch opening to allow for easy diaper changes.
This blanket comes in four stages depending on your baby's age and needs. For example, stages one and two create the womb-like environment while stages three and four are more focused on providing comfort and breathability.
However, because there are four stages, and each one is a unique product, you may find that your baby outgrows it faster than you'd like.
PROS
Thinner fabric for warmer months
Velcro closures take out the guesswork and awkwardness
Available in multiple sizes, including preemie
CONS
The Velcro sticks to everything
Miracle Blanket Swaddle
If you have a wiggly newborn that fancies him or herself an escape artist like Houdini, the Miracle Blanket Swaddle lives up to its name.
There's a dedicated foot pouch that keeps your little one comfy while virtually eliminating the chance of escape.
This brand gets top marks from parents, and if babies could weigh in, they'd agree, too.
The manufacturer designed the Miracle Blanket so that it places subtle pressure where they crave it most, and there's a secret spot in the abdominal area that has magically soothing properties that this swaddle gets just right.
You'll be able to wrap your mini-me up like a soft burrito with flapped tabs, but there's no Velcro to secure your fastening job, so wrap carefully. The advantage of not having Velcro is the lack of noise and stickiness. Even though these things look a bit like a straitjacket, trust us, they're comfy!
PROS
Easy to use for beginners once you figure out the flaps
No Velcro, so it's quiet to unfasten
Contains even the most stubborn escape artists
Gets top marks from both babies and parents
Comes with a 100% satisfaction guarantee
CONS
Available in one size only, so your infant will outgrow it quickly.
No zipper, so you have to unswaddle for diaper changes
Woombie Original Nursery
Welcome to the world of one-step baby swaddling!
The Woombie Original Nursery will remind you of bundling up in your college boyfriend's worn jersey tee-shirt, except this time it's your infant who will feel blissful relaxation.
To use the Woombie swaddle blanket, the only steps required are to close the neck button and zip the front. Just make sure your little one is actually inside!
Yes, obviously, but sleep-deprived parents might appreciate this tidbit of information.
This model is designed for slightly larger babies, ranging from 14 to 19 pounds, so it doesn't have the longest lifespan. They also make swaddle sleepers for young ones ranging in size from preemie to nine months, so you're covered for all of your little one's stages. Thankfully, the Woombies are reasonably priced and worth their weight in gold.
PROS
So easy to use, anyone can do it
Soft, snuggly fabric
No noisy Velcro
Different sizes to accommodate all babies
CONS
Limited size range, but different models are available
Woombie Original Kiss Elephant
From preemie size to nine months of age, the Woombie Original Kiss Elephant swaddle is sure to soothe your baby and help them sleep.
The ergonomically-designed shape keeps arms snug by the sides, but still allows the feet and legs to kick and move freely, a key in preventing hip dysplasia.
The Woombie is incredibly to use.
All you have to do is lay your baby down, secure the neck button closure, and then zip up the front.
Watch your child go from fussy to sleepy in mere moments.
Also, the elephant pattern is beyond adorable, but if you're not a fan of animal prints, you may prefer the Original Nursery option mentioned above.
PROS
Recipient of 18 awards design and innovation
Ideal balance of bundling and freedom
Arms are free to move about, which some experts advise is healthier
Lots of stretchy fabric to keep them comfy and secure
CONS
Fingers can escape out of the neck hole
Too much stretch can defeat the purpose of swaddling
Different Types of Infant Swaddles
Wrap
You've probably noticed that we've reviewed two different types of swaddle blankets: wraps and suits. The wrap version is a blanket made of either muslin or cotton. It'll be in either a square pattern or may have wings to help facilitate wrapping.
The wrap way of doing things is the same way humans have been doing it for millions of years, and it's the way your nurse wrapped your little bundle of joy at the hospital.
You may also hear this style referred to as a "dudu wrap." It is not meant to signify a bowel movement; instead, it's to jar your memory and stands for down up, down up, the technique to remember as your wrap your burrito baby.
Suit
The recent resurgence in swaddles' popularity has sparked a ton of innovation. Sleep-deprived parents asked for help, and the industry came to the rescue with one-step, fail-proof swaddling solutions. Instead of a simple square blanket, a swaddle suit may have snaps, buttons, zippers, and Velcro.
Not only do these "cheats" take the guesswork out of how to swaddle, but they also make changing a diaper a lot easier!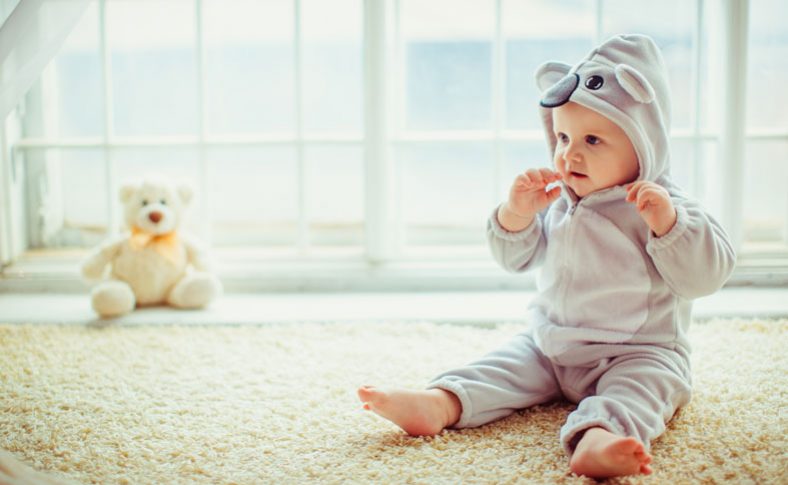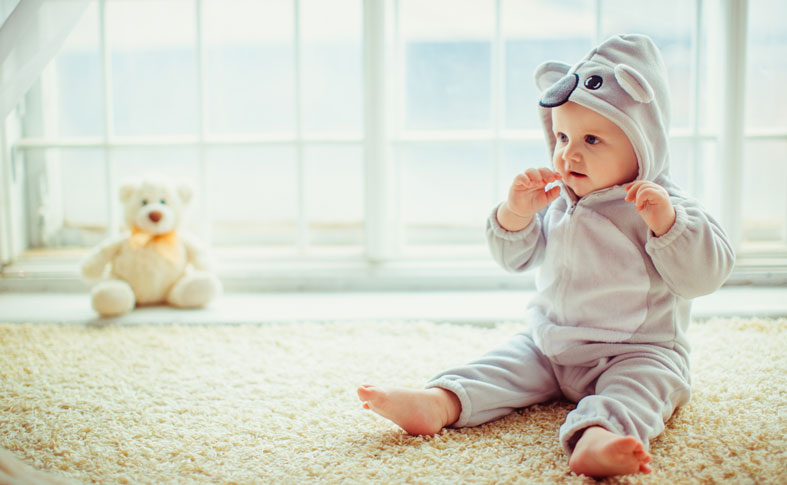 Step 1
First, spread out the blanket on a flat surface. It should be in a diamond shape (not square). Fold the top corner down to form a triangle shape. Gently lie your baby down, face up.
Step 2
Take one corner of the blanket (either left or right) and pull it across the baby's chest. Tuck the edge securely under the opposite arm at the armpit area.
Step 3
Grab the bottom of the blanket and fold it up and over the feet to the shoulder area. Tuck it behind the shoulder.
Step 4
Take the other side that you didn't tuck in Step 2 and pull it across the baby's chest. Then, tuck it underneath the body.
Step 5
Check for any loose fabric and tuck it underneath. Don't be surprised if your infant has already settled down and looks ready for sleep.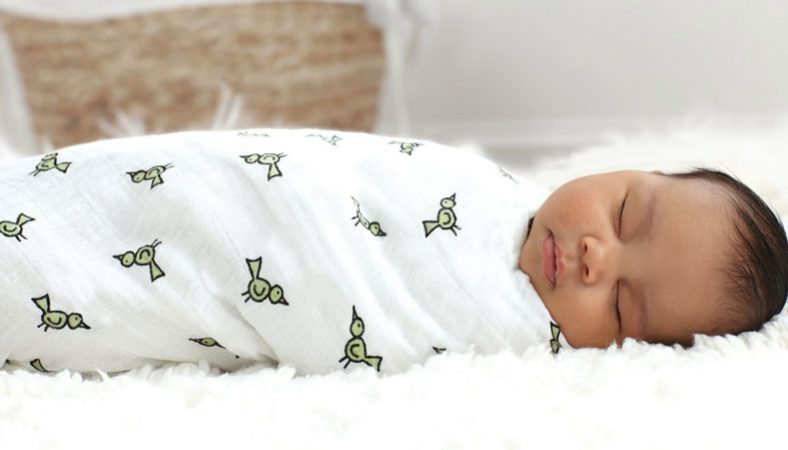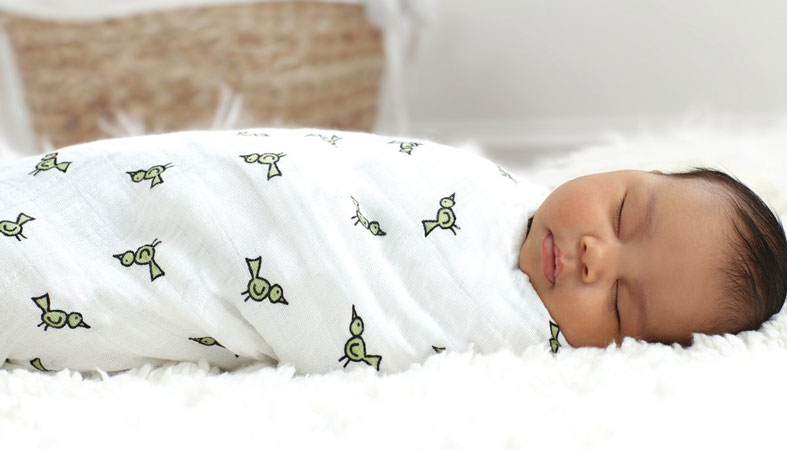 Benefits of Swaddling Your Baby
Longer and Peaceful Sleep
Some parents call it a miracle, but there's no doubt that swaddled babies sleep longer and wake up less frequently. If your infant resists the swaddle at first, it may be too loose or too tight. Keep experimenting to find the sweet spot that helps your infant doze.
Less Anxiety
The world is a big and scary place, and it's still completely foreign to infants and newborns. A swaddle blanket, however, mimics the womb by constricting their movement and making your little one feel safe.
No Unnecessary Items in the Crib
Having a swaddle blanket eliminates the need for blankets, pillows, and crib bumpers, and stuffed animals, all of which have been linked to SIDS (Sudden Infant Death Syndrome).
Prevents Face Scratching
What is it about babies and fingernails? Those things grow at lightning speed, and they're razor sharp. When your infant is asleep, sudden movements can cause them to scratch their face, and it's not uncommon to see angry red marks on an infant's face. By restricting a baby's arms at their sides, you eliminate this problem altogether.
Mimics Touch
A swaddle blanket is like a giant and constant hug. Assuming you're not snuggled up with your child during the 16 to 20 hours that they're asleep, this is the next best thing. It's especially helpful in the middle of the night when all baby sees is darkness (or a soft nightlight).
Maintains Back Sleeping Position
Doctors are in favor of back sleeping for infants. This type of blanket wrapping technique allows a baby to maintain this posture throughout the night. It also allows them to naturally maintain the "hands over heart" position that they had in the womb.
Soothes Babies with Colic
Colicky babies are inherently fussy, and with good reason! Because the swaddle resembles the environment of the womb, it can help ease that fussiness.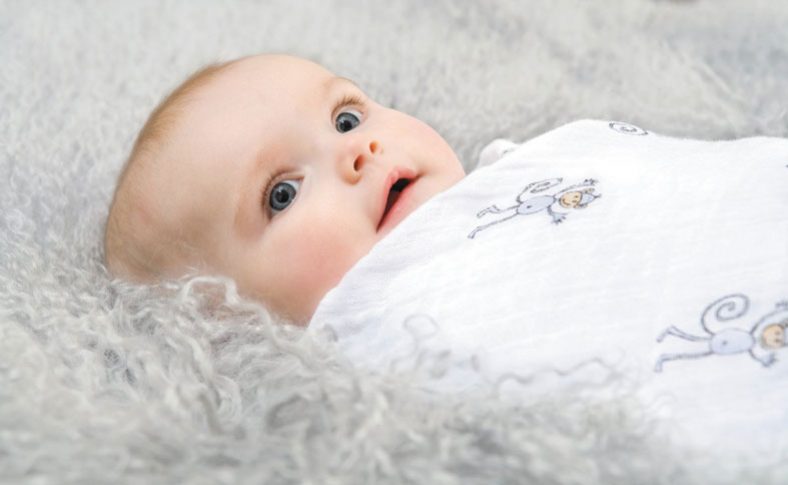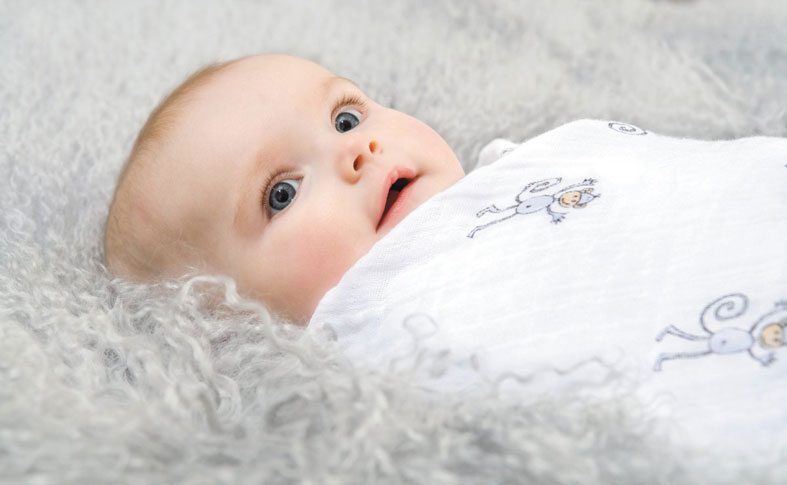 Frequently Asked Questions
Are Velcro swaddle blankets better than zip ups?
Good question! This is purely a matter of preference. Some parents swear by Velcro because it's easy to secure and unfasten. However, Velcro does make noise, which can startle your little one. Also, you have to be careful to secure the Velcro straps before laundering as they can cling to just about everything and collect lint and fuzz you never knew you had.
When is the best time to start swaddling?
The best time to start swaddling your baby is as soon as they are born. Remember, they're in a whole new and unfamiliar place. Wrapping them tightly mimics the womb and helps them acclimate to their new environment.
When you decide to stop wrapping your baby is up to you. It's recommended to stop swaddling them for naps as soon as they can roll over on their own. When they reach one month of age, you should consider abstaining from swaddling during waking hours, so they are freer to move around and develop bones and muscles naturally.
Are they safe for newborns?
Yes,100%. Just be careful not to wrap too tightly and use lightweight materials to prevent overheating.
Can swaddle blankets be used during the summer?
Yes, swaddle blankets can be used during summer months, but we caution you to use lightweight materials and monitor them closely to make sure they are not overheating. The risk is higher when a baby is swaddled because they're not free to move around and have air circulate. In addition to using a lightweight blanket, regularly feel the skin with your hand to make sure it doesn't feel hot or clammy.
Conclusion
---
Though it's gone in and out of favor, swaddling is a top way to soothe your infant and help them fall asleep faster. More sleep for them hopefully means more downtime for you, too! If you're not ready to try the burrito roll with a plain blanket just yet, opt for one of the swaddle suits, and then see how you like it before moving on to more advanced maneuvers.
Our team covers as many areas of expertise as we do time zones, but none of us started here as a so-called expert on sleep. What we do share is a willingness to ask questions (lots of them), seek experts, and dig deep into conventional wisdom to see if maybe there might be a better path towards healthy living. We apply what we learn not only to our company culture, but also how we deliver information to our over 12.7M readers.
Sleep research is changing all the time, and we are 100% dedicated to keeping up with breakthroughs and innovations. You live better if you sleep better. Whatever has brought you here, we wish you luck on your journey towards better rest.