Transparency Disclosure – We may receive a referral fee for products purchased through the links on our site...

Read More

.
The most famous lovey, also known as a security blanket, was owned by Linus Van Pelt from the cartoon comic, Charlie Brown. Linus was known for carrying around his tattered blue blanket and dragged it behind him wherever he went.
While you won't necessarily want your little one carrying something like that to school once they reach Linus's age, a lovey will be an important part of your baby or toddler's development.
It may end up being a small blanket, a strip of cloth, a stuffed animal, a toy, or some other seemingly random thing. Parents are never quite sure which object their little ones will latch on to.
Regardless of what they choose, nurture their behavior and protect their lovey with your life. In fact, you may need to get a couple of spares in case one gets lost.
In this article, we'll share our top security blanket picks. Some lovies are small blankets, while others are more like baby security blankets with animal heads.
In addition to sharing our favorites, we'll also share valuable tips on how to introduce a lovey to your little one, how to care for your new security blanket, and what you can do to ensure that a major meltdown doesn't ensue if you leave your primary one behind at a restaurant.
Top 10 Infant Security Blanket Reviews
Angel Dear Pair and a Spare
Comes with three
26 animal designs
Knotted corners for babies
Polyester fabric
Parents in the know often give expecting moms and dads a set (or two) of Angel Dear Pair and a Spare security blankets.
They come in 26 varieties of animals, ranging from elephants and lambs to pink giraffes and purple hippos.
The geniuses behind Angel Dear recognized that babies are infamous for losing lovies, so they include a set of three in the box.
Having three is also ideal for babies on the go, so you can leave one at grandmas, keep one at home, and have a spare for when it's laundry day.
Hence the name, pair and a spare. Clever, right?
This company also knows that their product is ideal for gift giving as newbie parents will probably have no idea how important a baby snuggly blanket is. That's why they've packaged their product in a beautiful box that's meant for gift giving.
The dimensions are 14 x 14 inches square, so this is an ideal size for babies, but it may be too small for toddlers.
Under the Nile Bunny Blanket Friend
Organic cotton fabric
Fairtrade
Soft, thick fabric
Knotted hands and feet for gripping and teething
When your infant is putting something in its mouth, your top priority should be to make sure it's safe. The Under the Nile Bunny Blankets are certified organic cotton, so they're all-natural and pesticide-free.
In addition to being organic, the cotton is of the Egyptian variety, which is one of the softest and most durable kinds of cotton in the world.
While this brand comes with only one blanket, it's thicker and more durable than most other options.
However, if you're concerned about losing a lovey or your child stays in multiple homes, we recommend buying a spare or two.
The thicker fabric also takes longer to dry, so if it's laundry day, you're going to need an understudy bunny on hand.
Barefoot Dreams
Blanket with plush toy attached
Satin trim
Machine washable
Poly-microfiber material
This clever design shows one of the three animals (dog, bear or bunny) snuggling its own lovey!
It's like you've got a Russian nesting doll situation on your hands, and it's downright adorable.
There are three color options as well: blue, white, or pink. The fabric itself is a soft microfiber polyester with a beautiful satin trim around the edges and on the inside of the animals' ears.
The satin is perfect for introducing varying textures and also providing a material that feels cooler on the teeth and gums.
They're on the high end of the price spectrum, especially if you plan on buying extras, but they're too cute to resist.
Little Giraffe Chenille Blanky
11 colors available
Soft, chenille fabric
Satin border
Premium materials
Made in the USA
In a sea of imported lovies, you'll find comfort in the fact that the Little Giraffe Chenille Blanky is made in the USA.
The fashion-forward colors and minimalist design may make you wish that these came in adult sizes, too, but the dimensions are only 14 x 14.
Be prepared to pay for the extra quality and domestic manufacturing.
This product is not even close to cheap, but we still think it's well worth the price for the happiness it will bring to your baby.
Aden by aiden + anais Issie
Cotton-muslin fabric
Satin trim
Open weave fabric for extra air flow
Multiple prints available
Aden + Anais have done it again. First they rocked the swaddle market, and now they've come up with a lovey that earns top marks from just about everyone who tries it.
The cotton and polyester fabric blend is the ideal blend softness and weight that baby will love.
Plus, it's a slightly larger size at 16 x 16 inches, so your baby will be able to use it a little bit longer than some of the other brands we mentioned.
If you're familiar with this brand, you'll recognize the signature muslin fabric, and this time they've added a satin trim for extra texture and soothing.
Currently, there are three prints available in a style that's modern enough for mom but playful enough for your little one. Their size and flatness also mean that you'll be able to use these for other purposes, though your infant might miss the stuffed animal heads if that's what they're used to.
Stephan Baby
Sherpa plush fabric
Large 18 x 18 size
Embroidered faces
Satin trim and ears
The Stephan Baby lovey gets a ten out of ten for overall cuteness. A smiling bear or bunny face will be a constant companion with flowing fabric that's ideal for snuggling.
The plush Sherpa fabric combined with the satin trim provides a soothing tactile experience with lots of variety. This brand also has arms for hugging. How sweet is that!
While the longer "fur" also provides a delightful experience, it is likely to mat after several washes. While this won't affect your baby's experience, it might be an annoyance for you to look at, especially if you've got OCD!
Burt's Bees Baby – Hold Me Bee
Soft, velour fabric
Organic cotton
Chemical-free
Modern color palette
It doesn't get much cuter than a bumble bee, does it?
The Burt's Bees lovey is made of a plush, velour organic cotton with absolutely no synthetics. Considering how sensitive a baby's skin is, this is a huge plus.
You'll be able to choose from three colors, all with a bumblebee attached to a flat blanket with knotted edges.
The color choices are sunshine yellow, blossom pink, and sky blue.
These are a bit on the smaller side at 12 inches in diameter, but they're perfect for babies as they seek comfort and soothing.
While the muted colors are pleasing to the parents' eyes, your infant may not be so enamored. Also, the light colors will show dirt and stains.
Angel Dear Giraffe Blankie
Interesting visual pattern
Cashmere-like texture
Other animal prints to choose from
From the company that brought you pair and a spare, you can also get these in singles. Choose There are 33 designs in all, but the giraffe is one of the most interesting due to its dynamic and varied print.
Your little one can stare at the design for hours and be mesmerized by the unique patterns.
The giraffe face has closed eyes and a peaceful looking face to encourage calmness and perhaps even sleep! At 14 inches square, it's the ideal size for babies at a variety of stages.
However, some other reviewers stated that their lovies were only about 11 to 12 inches square, so just be aware of that possibility.
Angel Dear Fox Blankie
Interesting visual pattern
Cashmere-like texture
Other animal prints to choose from
Angel Dear doesn't just make giraffe blankies.
They've got 32 other animal designs, including the fox! The fox pattern has a white belly, which is an interesting visual contrast to engage the mind of your baby or toddler.
The fox face has closed eyes, and a peaceful looking face to encourage calmness.
The three corners are knotted for holding and teething, but it's not unusual for the knots to come undone within about a year.
SwaddleDesigns
Custom prints
Detailed stitching
Satin trim
Ideal packaging for gift giving
Designed by a mom with sleep on the brain, SwaddleDesigns is a security blanket that will make both baby and parents and happy.
The detailed stitching combined with the satin trim creates a variety of tactile experiences to keep your little one engaged.
Plus, the darker jewel tones are sophisticated and hide dirt. Be careful when you wash this lovey. It has a tendency to shed some of its fuzz!
What Are Lovies?
A lovey is a "transitional" object that helps a baby find comfort and deal with separation anxiety from Mom and Dad. They're especially useful to handle when baby wakes up, and the parents aren't in the room, or when they're in a stressful situation and need something to help soothe their anxiety.
Other terms for lovies include security blanket or comfort object.
Often, a lovey is a blanket or stuffed animal, but it doesn't have to be. Any object that your baby bonds with can fit the bill. It may be a piece of cloth (a cloth diaper or mom's t-shirt, for example), teethers, or even a soft, plush book! The idea is that baby sees this object as an extension of Mom and Dad and a temporary substitute for when you're not immediately available.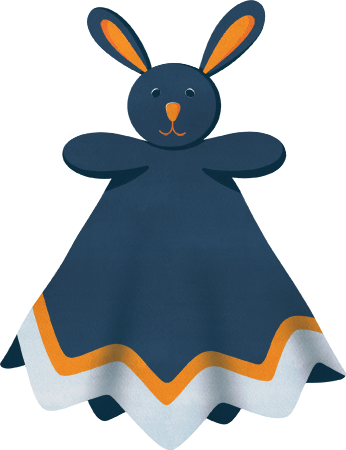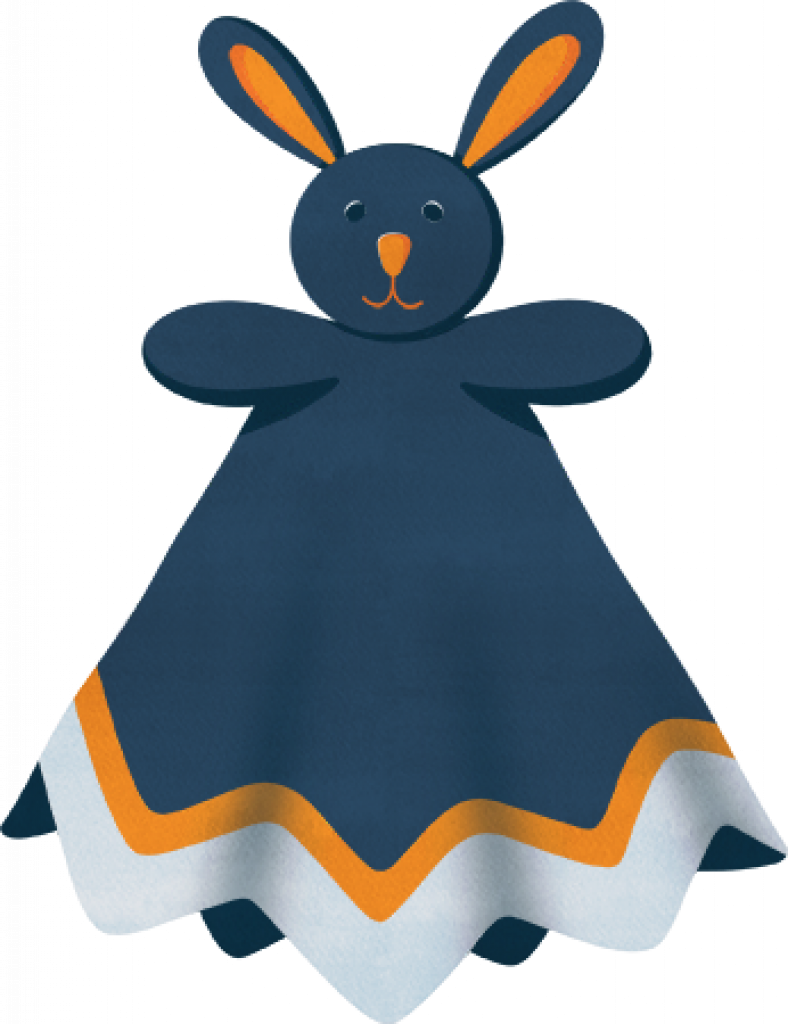 For the purpose of this article, we chose to focus on our top 10 favorite infant security blanket lovies.
Lovey for Baby Buying Considerations
Fabric
Babies' growing brains are experiencing new textiles every day, and their lovey will keep them interested with a variety of textures to play with. Knots are ideal for grabbing and teething, while a satin trim can offer something cool and soothing. You may want to opt for organic in order to limit baby's exposure to pesticides.
Size
The ideal size, at least for a security blanket, is about 12 to 14 inches, though you'll find many wonderful brands that are larger or smaller. You want it to be large enough to provide comfort, but not so large that it can smother your baby or toddler.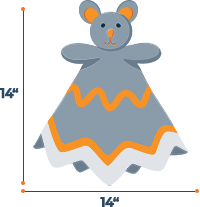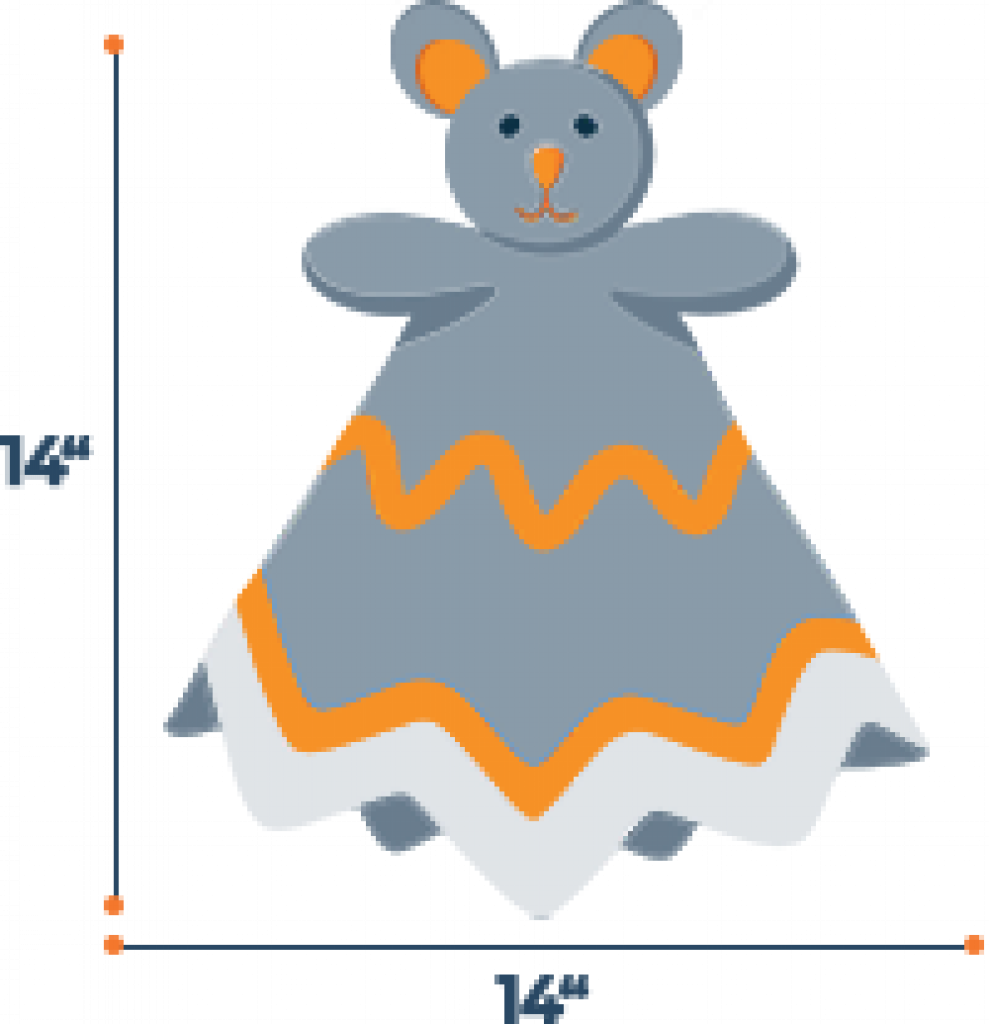 Replaceable
You may be tempted to give junior the object you had when you were his age, but what happens when he throws it out of the window of the car or leaves it in a restaurant? When babies lose their precious lovey, it's a traumatic and dramatic experience. Make sure you buy something that you can get more of down the road when (not if) you lose the original.
Washable
We love our bundles of joy, but they can be dirty little creatures. Slobber, food, spills, and accidents can make baby's security blanket a cesspool of germs and smells that need to be cleaned. Choose something that can be put in the washing machine or cleaned thoroughly without risk of falling apart.
Breathability
A breathable fabric is best for both comfort and reducing the risk of smothering.
Design
Over time you'll discover if your baby is drawn more to brights or pastels, neutrals or bolds. Maybe they like the idea of a lovey that blends a stuffed animal with a blanket. Or, perhaps they're a purist and want only the blanket.
Benefits of Cuddle Blankets
Soothe Your Child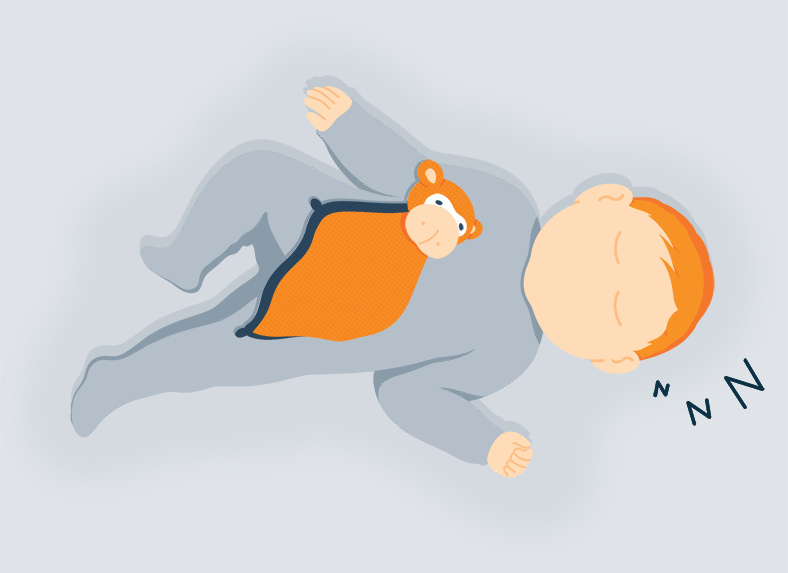 By the time your infant reaches about six to seven months of age, they'll start to experience separation anxiety. A lovey becomes an extension of mom and dad (more on that in a bit), so it can help to soothe them when they wake up from a nap or help them fall asleep when mom and dad aren't in the room.
Lovies are almost exclusively soft materials, as many babies like to stroke or pet their lovey during the self-soothe process.
Ease Separation Anxiety
As we mentioned when separation anxiety sets in, you may not even be able to go to the bathroom by yourself without a major meltdown. Making your child feel comfortable with a lovey will allow them to cope better when they're briefly separated from you. It can also make new and stressful situations more tolerable because there's something there to comfort them.
Reduce Nighttime Fears
As babies grow more aware of their surroundings, they start to become afraid of unfamiliar things like the dark. They may also begin having nightmares. Fortunately, a security blanket is there to help them fall asleep and make them feel safe if they're startled awake by a bad dream.
Adjust to New Situations
Almost everything is new when you're a baby. By having a lovey by their side, there's always something familiar and comforting, even when they feel like the world around them is utter chaos.
Independence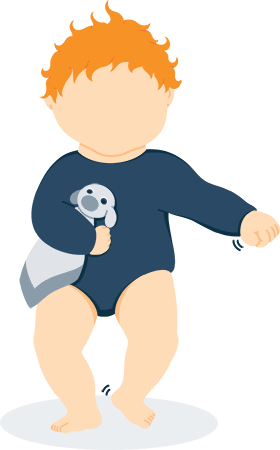 While a cuddly blanket isn't a substitute for having parents around, it can help your baby feel safer and more secure. If they're venturing out on their own, perhaps exploring the world of walking, they may feel more confident having a lovey in tow.
How to Introduce a Security Blanket
Check If It Is Safe to Use
Safety is the number one priority. Before handing the security blanket over to your baby, thoroughly inspect it. You're specifically looking for anything that's a choking hazard or could be used to assist in a crib escape.
Consider Your Baby's Preferences
Just because you like muted colors and modern designs doesn't mean your baby will. Before introducing a lovey, observe your child and see what kinds of colors and textures draw him to an object. Is it something plush? Is it a certain animal or color?
Use in Baby's Bedtime Routine
Remember, one of the goals of giving your baby a lovey is to help make sure they get a full night of sleep and long naps. As you're winding down for the end of the day or a nap, have it on hand for the last feeding and snuggle session. That way, baby associates the lovey with both you and sleep!
Impart Your Smell
"Wear" the lovey under your clothes for a few hours, so it takes on your smell. That way, when you pass it on to your little one, they'll sense the familiar scent of mom or dad.
Prepare a Spare Blanket
Inevitably, your original blanket or other transitional object is going to get lost or ruined. That's why you should own multiples for different locations, laundry day, and emergencies. We recommend having a few on hand and washing them all at the same pace, so if one disappears, you can seamlessly introduce the other. Babies are smarter than we give them credit for sometimes, and most of them will notice a foreign lovey and reject it.
Wash It Regularly
Your little one may not mind the smell, but as the blanket collects dirt and grime, it'll take on an odor and color that you probably won't find pleasant. Make sure to wash the primary and backup lovies regularly and evenly, so if you lose one, there will be a nearly identical backup waiting in the wings.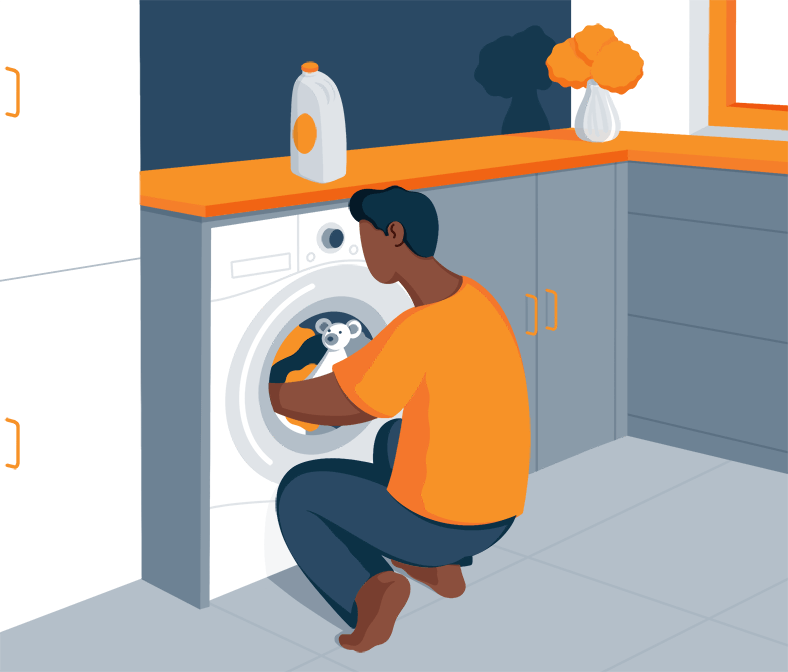 Lovey Dos and Don'ts
There are some hard and fast rules about lovies. Trust us, we've been there, and we're here to impart knowledge so that you can learn from our mistakes.
Our Top Dos
Stock up on extras: You will lose your first one. It's as certain as death and taxes. You need a backup, and you can't wait for the postman to deliver one.


---

Keep it clean: Your baby may scream when it's laundry day, and you have to take their precious lovey away. But remember, that's why you have spares. If you don't wash these blankets, they'll take on a distinctive odor and grime. Not only is it gross, but it will be hard to replicate when you lose the original.
Our Top Don'ts
Don't force them to abandon it: You may think your child is too old for a lovey, but it's best to let them decide when they're ready to move on. As long as they're not bringing it to prom, things are probably okay.


---

It's not a parental substitute: Yes, a lovey can be used to soothe a baby and provide comfort as an extension of mom or dad. But this is for brief periods only. If your little one is upset, it is not a substitute for a cuddle session or basic parenting.
Frequently Asked Questions about Security Blankets
When is the best time to introduce a Lovey?
Babies will start showing interest in the patterns and textiles around them at approximately six months of age. This timing coincides perfectly with when they start to experience separation anxiety, so it is an ideal time to introduce a lovey. As long as the lovey they've chosen isn't a choking hazard or poses some other danger, bonding with it should be encouraged.
Can adults use a security blanket?
One of the benefits of being an adult is that we can do whatever we want, right? And while it's certainly not normal to drag a blanket behind you as you walk into a board meeting, there could be other objects that serve a similar effect.
Maybe it's a necklace that you wear every day to feel secure or reminded of something. Or perhaps you walk around the office with a coffee mug, and it makes you feel a certain way (most likely caffeinated).
Some adults do carry around semblances of a security blanket. They may travel with a pillow or bring a small stuffed animal with them to important events. It's not something you see every day, but there's certainly nothing wrong it.
Are there risks of suffocation?
Potentially. If a blanket is too large or the item itself poses a suffocation hazard, it shouldn't be used as a lovey.
Conclusion
Hopefully, you've gotten some helpful tips on how to incorporate a lovey into your child's life. Whether it's a traditional security blanket or another object, if you've picked up anything from this article, it should be this: buy more than one and keep them in multiple places where you can easily access a substitute when you lose your original!