Transparency Disclosure – We may receive a referral fee for products purchased through the links on our site...

Read More

.
Have you tried sleeping on your side with earbuds in your ears? It's usually not very comfortable and they often fall out. If you enjoy listening to quiet music or white noise to lull you to sleep, a pillow speaker could be an excellent solution.
Perhaps you've tried sleep headbands with mixed results. They're an improvement, but some people don't want something wrapped around their head at night, especially if they're prone to acne around the forehead.
We've discovered that headphone pillows are the way to go if you want to listen to music or soothing sounds while you fall asleep. We researched all the options, and in this article, we share our picks for best pillow speakers.
What Are Pillow Speakers?
They are devices that play sound and music while either underneath or attached to your pillow. They're ideal for people who like to listen to something, but they prefer not to wear earbuds, headphones or a headband.
Some models designed to lay directly underneath your ear, while others are meant to be placed under the cushion. And still others contain a built-in speaker unit, so you get a pillow and a sound source all in one!
They work via a connecting cable that attaches to your smartphone or MP3 player, so you'll need to have a phone with a headphone jack or an adapter. Some use batteries, while others rely on the smartphone or MP3 player for energy. New models are now coming to market that have pre-loaded soundtracks as well as the ability to set a timer.
Top 5 Pillow Speaker Reviews
C. Crane Co SSV SoftSpeaker
Teddy-bear soft cover
Frequency response: 20 Hz to 20,000 Hz
In-line Volume Control
If you're looking for a simple and compact solution, the C. Crane Co SSV SoftSpeaker is a top choice.It's small, portable, and the company made improvements in wire durability for the second generation.
Who would have thought that sleeping could be so rough on the wiring that connects the speaker to your smartphone?They say that it's dirt and oil from people's hands and face, but we're wondering if drooling could potentially short out the system.
Regardless of the cause, the C. Crane model now has an extra durable and flexible outer cover made of rubber. If anything does happen to this device, you'll be covered by a one-year warranty.
This model comes with a removable plush cover in any color you want as long as it's blue. The cover is on the thicker side, which some people find uncomfortable. They ultimately end up removing the cover and sleep directly on the plastic speaker, which is also not the most relaxing.
This brand gets a "thumbs up" for durability, having a removable cover and its low price point. However, if you're looking for something with a higher volume, you may want to try one of our other recommended brands.
Sangean PS-300
Frequency Response: 100Hz – 20 kHz
In-line volume control
On and off built-in amplifier
For those who prefer to sleep directly on the sound source without cover and would like a bit more volume, the Sangean PS-300 is a fantastic choice.
The slim, flat speaker is surprisingly large in diameter, allowing it to pack a lot of volume in a small area. In addition, there's an option to turn on the amplifier. It does drain the battery quickly, but if you're only using it to fall asleep, this shouldn't be an issue.
Conair Sound Therapy Pillow
100% cotton cover
100% polyester filling
10 soothing sound options
Device connectivity available
15-30-60 minute timer
The Conair Sound Therapy Pillow is an all-in-one device with the speaker built directly into the unit. The cushion itself is a standard size, with a polyester filling and cotton outside.
The medium profile and the medium support level makes this close to a one-size-fits-all solution, but it's not exactly a premium cushion or sound system. One of the coolest features of this design, other than having a speaker built-in to a pillow, is the fact that you can set a timer for 15, 30 or 60 minutes.
That way, you don't have to listen to it all night. You can simply use this device to fall asleep and wake up to silence. This unit is also pre-loaded with ten soothing soundtracks to help you fall asleep.
And, of course, there's still the option to plug it into a smartphone or MP3 player to listen to your entire music or podcast library. Even though this pillow isn't the most luxurious, the fact that the whole unit is not much more than the price of most standalone speakers, we can't argue with the value.
PillowSonic FM15 Under-Pillow Stereo
Crystal Clear Audio
Works directly off your music player
Stereo sound
If you want better sound quality than a single speaker can provide, the PillowSonic FM Under-Pillow Stereo may be the best choice for your needs. The company has been making improvements to their original design since 2001, and the latest version has a non-slip foam cover that also enhances sound quality.
The inconvenient slipping and sliding that users of previous generations complained about has been eliminated. Other improvements include the ability to remove and wash the cover, as well as a pocket that allows you to place your smartphone in the cushion for easy storage.
This brand also has all the standard features, including in-line volume control and a universal audio jack. Additional bells and whistles include an extra-long extension cord and the absence of batteries. It's on the larger side; however, most users found a way to accommodate the size comfortably.
Sound Oasis SP-101 Sleep
High quality stereo sound
In-line volume control
Easy device connectivity
This is another brand that has two audio outputs for the left and right ears. This brand has the same functionality as the other compact pillow speakers we reviewed like the C. Crane and the Sangean. The most notable difference is that the Sound Oasis has two speakers instead of one.
The benefit is that you can get separate frequencies in both ears, which is ideal for binaural beats, meditation, and ASMR. The downside is that they can slip and slide underneath you and shift around if you toss and turn frequently.
Users reported that the sound quality was better than expected and likely outperforms the C. Crane. If you're on the fence between the two, consider whether you want a plush cover or you prefer a slightly louder volume.
Headphone Pillow Buying Considerations
Material
You may prefer a plush cover surrounding your speaker, or perhaps you'd rather not having something muffling the sound. While a soft cover can be more comfortable, it's going to be difficult to hear it if you place it under the pillow, too.
There's also the option to buy a pillow that has the sound source already built into it. If you'd prefer not to fiddle with the positioning of the units, you'll probably want to go the two-in-one route.
Sound Quality / Volume
You're not exactly getting a BOSE-quality experience with these speakers. The internal components won't be nearly as high end. Plus, the noise won't be directly in your ear. Instead, it'll be around your ear. Depending on how you sleep, the sound source might even have one or two layers of fabric and foam separating you.
Check for speakers that have an in-line volume control, so you can conveniently adjust the volume. Most should also allow sound to come from your smart device, so even if the controls are limited, you can crank up the volume from the music player.
Power Source / Cord Length
Some pillow speakers require batteries, and if you use added features like amplifiers or pre-loaded soundtracks, prepare to experience a fast drain. We tend to prefer models that allow you to use the power source from your smart device. It's hard enough to remember to charge that thing, right?
The standard cord length is about six to six-and-a-half feet, though some models come with extensions. The default length is usually more than long enough to have plugged into your bedside table without straining.
Design
Most models will be sleek, small and flat. That way, you'll be able to place them underneath your head without feeling something poking you in the head or face. There are options to buy an all-in-one system where the pillow and speaker are one unit.
There's also longer speakers that are approximately the width of your head. These include two speakers, so you can have a surround-sound experience that targets both your left and right ears.
Wireless Bluetooth
Surprisingly, there aren't many options for wireless Bluetooth pillow speakers. One company that comes to mind in this arena is Dreampad. However, the price of this technology is still prohibitively high.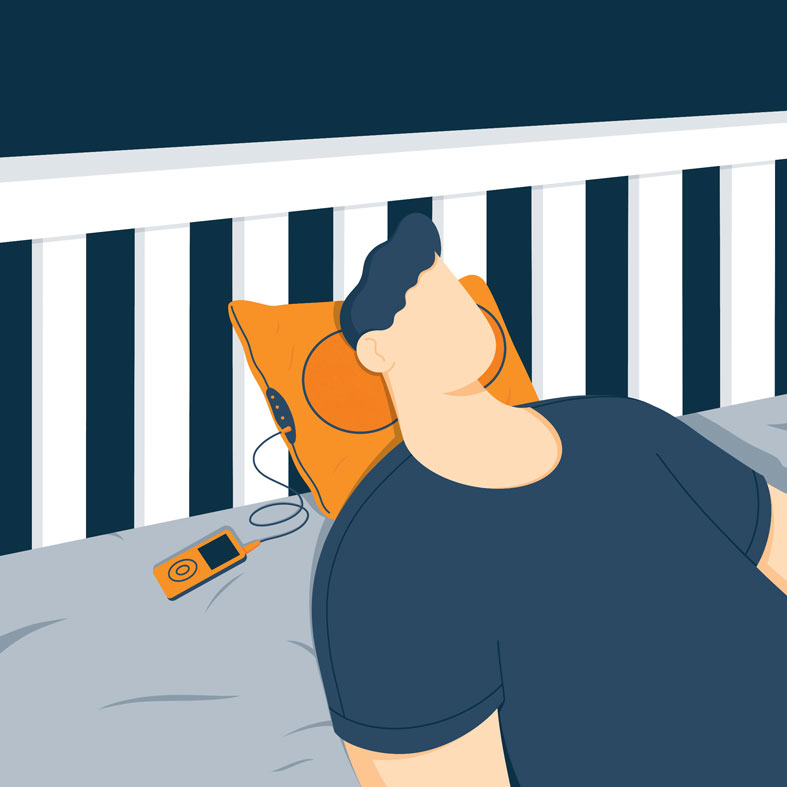 Different Types of Headphone Pillows
Flat Under-Pillow
The simplest and sleekest solution is a design that is small, flat, and fits under your pillow. Most are designed to deliver sound adequately through layers of materials without disturbing your partner. They're inexpensive, but not always reliable or durable.
Small Portable Speakers
This type of speaker allows for stronger sound and will often include a pocket that keeps your pillow and audio device nestled together for organization and travel. Often, they also work independently of a battery source, making them a great long-term value.
Memory Foam with Built-In Speaker
If you're in the market for a new pillow, why not buy one that has a built-in speaker? They're comparably priced, reasonably comfortable, and you get some white-noise included with your memory foam. What's not to like?
Benefits of Using Pillow Speakers
Background Noise
If you're someone who has a hard time turning off at the end of the day, you may welcome the distraction of some noise before bed. If you're not a fan of earbuds and your partner prefers to sleep in quiet, a headphone pillow could be an excellent, relationship-saving compromise.
Tinnitus Masker
Tinnitus affects 15% of Americans or roughly 20 million people. It's characterized by ringing in the ears or other non-existent sounds like buzzing, whistling, whooshing or hissing. If you're trying to sleep, it can be beyond distracting, however music or background noise can help. This is where pillow speakers save the day!
Sound Therapy
People suffering from conditions like depression, stress, anxiety, pain, PTSD or insomnia can find relief by listening to soothing and meditative sounds at night. Popular options include nature soundscapes like oceans and forests, as well as guided meditation, ASMR (Autonomous Sensory Meridian Response, aka Tingles), and hypnosis.
Find Out More: What's The Best Relaxing Music For Sleeping?
Disadvantages of Using Pillow Speakers
Durability
Headphone pillows are notorious for breaking down before the one-year warranty period has passed. Luckily most companies have a warranty in place! It's not that the speakers and wires are fragile, though. Reports show that it's the sweat, dirt, oils and even drool that we secrete each night that wreaks havoc on the internal workings of the device and the wire components.
Sound Quality
The biggest disadvantage to keep in mind is that the sound is not likely to be stellar. If you're using these to all asleep though, it'll probably be more than adequate. It's not like you need concert-quality sound for your audiobook. Unless it's Dr. Seuss.
Frequently Asked Questions About Pillow Speakers
Can headphone pillows get connected to my TV?
Yes, as long as your television has a compatible audio jack, you'll be able to connect it to your TV and listen and watch your favorite shows without disturbing your partner. You may need to get a speaker model that has an extension cord, though!
Are there radio types?
The best option is to plug the speaker into a radio. While some units come with pre-loaded soundtracks, they don't have built-in radios.
Where can I buy these?
If you're looking for the lowest price, the most selection, and the best customer service, Amazon is going to be your best bet. All of the brands mentioned in this review are available there, often lower than the manufacturer's website and other competing online retailers.
Conclusion
Whether you want something sleek and subtle or a pillow with something built-in, there's an option for everyone. And if BOSE ever decides to make a speaker that you can place underneath your pillow, we'll let you know immediately.