Transparency Disclosure – We may receive a referral fee for products purchased through the links on our site...

Read More

.
Putting your child to bed will likely be a struggle some nights, and choosing the best-rated mini crib mattress can help. A proper mattress can provide your tot with the comfort and support to help them, and you get a solid night's rest.
Pouring over which baby products are right for your child can feel like one tough choice after another. As parents, it's only natural that we want to have the best mini crib accessories to ensure our little ones are well-rested. Equipping yourself and your babe properly can maximize slumber and help your family feel their best.
12 Top Rated Mini Crib Mattresses Review
Big Oshi –
Best Waterproof
Dimensions: 13 x 29 x 2 inches
Designed to fit oval shaped bassinets
Waterproof
Easy to clean
Researching baby products, you are likely already well aware that children have accidents and can often leave you with a bit of a wet sticky mess to clean up in inconvenient spots. Their crib will likely be no different, and purchasing a waterproof crib mattress would be a wise idea, hence our recommendation of this Big Oshi waterproof pad.
This durable pad has a 100% vinyl quilted cover for function, convenience, and comfort. Despite the durable outer material, it's a quiet product, free of bothersome or crinkly noises, letting your babe sleep peacefully.
Inside, the middle is composed of a soft urethane layer of foam, and the underside is composed of another layer of all vinyl for ultimate durability. When those messy incidents happen, you can toss the entire product in the washing machine and not worry about its strength, and know you can rely on this product to withstand the trials of babyhood.
Graco Premium –
Best Overall Value
Memory foam mattress
GreenGuard Gold certified
CertiPur-US certified
JMPA certified
Machine washable
Water-resistant cover
The Graco Premium Crib & Toddler Mattress packs a lot of punch into one convenient product, and it's our selection for 'Best Overall Value.' The Graco Premium is a memory foam mattress made to fit standard-size cribs and toddler beds. The bed's firmness is optimized to match the recommended feel for babies. 
Thanks to the Graco Premium's machine-washable design, cleaning the bed should be a breeze. Plus, the water-resistant cover should help protect the mattress against accidents and spills, helping to extend its use as your baby grows.
Why do we love it?
The Graco Premium boasts not one but three important health and safety certifications. The mattress is CertiPur-US, GreenGuard Gold, and JMPA certified. The CertiPur-US and GreenGuard Gold certifications ensure the product is free of harmful substances, while the JMPA certification means the bed has been tested to meet strict safety standards.
Delta Children –
Best Portable
Dimensions: 38″ x 24″ x 3″
Waterproof
Easy to clean
GREENGUARD gold certified
The Delta Children portable crib mattress pad offers excellent value in a portable yet comfortable sleeping surface for your child. Traveling with little ones can be challenging, and anything that makes doing so a bit easier can make a world of difference in your time away from home.
Providing comfort and safety, this bed pad can be a portable sanctuary, letting your little one feel right at home when they're far away. Due to a lightweight, flexible design, the product makes it simple to swap out fresh sheets, and its durable vinyl cover ensures wetness stays out so that your munchkin stays dry.
The Delta Children mattress pad offers quality in safety and portability, as it's Greenguard Gold Certified to meet rigid requirements. The Greenguard Environmental Institute only certified products that meet low chemical emissions standards and improve indoor air quality.
Dimensions: 24″ X 38′ X 3″
Hypoallergenic
Waterproof
Easy to clean
This soft yet firm La Baby foam mini crib mattress is made with a blended organic cotton cover and soy foam core. The product is hypoallergenic as well, letting parents sleep easy at night knowing their child is resting on a bed that has their baby's best interests at heart.
The mattress is easy to clean, letting you easily wipe it off with mild soap and water. The cover features a dust mite barrier, keeping undesirable pests out, and supportive foam in, all wrapped inside a waterproof cover.
The product has a box edge design, cotton blended fire barrier, and an eco-friendly soy foam core for ultimate support and breathability. The bed is three inches thick, offering a sturdy, durable product to withstand infancy tests.
La Baby's luxurious foam mattress pad offers a perfect blend of eco-friendly products that is comfortable yet firm enough to provide a solid foundation for your babe to rest.
Dream on Me –
Best Two Sided
Dimensions: 38 x 24 x 3 inches
Hypoallergenic
Waterproof
Easy to clean
GREENGUARD gold certified
Dream on Me is a company that has a unique story that is worth knowing. A family-owned business, Dream on Me is comprised of moms and dads with a common set of values, yet a dynamic set of skills in production, design, and logistics. Over the years their products have evolved with the times as they listen carefully to their customers' needs, tweaking and improving to offer exceptional products.
This two-sided portable, mini crib mattress offers the best of both worlds for your munchkin, with one side made with firm foam for ultimate support during the early years of your little one's life. As they grow to an appropriate age, you can flip the pad over for a softer, cozier surface.
Parents will be able to rest assured knowing their child is snoozing on quality, hypoallergenic materials and constructed in the USA. Antibacterial and waterproof, the cover protects against mold, mildew, odor, and wipes clean with ease.
DaVinci –
Best Lightweight
Dimensions: 37″ x 24″ x 4.5″
Waterproof
Easy to clean
Hypoallergenic
GREENGUARD Gold Certified
The DaVinci company takes an ethical approach to baby products. Partnering with leading industry experts, DaVinci offers thoughtfully designed infant accessories to go above and beyond safety standards. All of their mattresses are Greenguard certified because they realize that whether you are a first-time parent, or have your fourth on the way, everyone wants to give their kiddos the best.
Their lightweight mattresses are tested for over 10,000 chemicals, promoting cleaner indoor air quality and fostering a healthy environment for your little one to play, learn, and snooze. The waterproof cover is easy to wipe clean with mild soap and water and tear-resistant to follow your munchkin through infancy into their toddler years.
The DaVinci mattress pad is lightweight yet extra-firm, coming in at only 3.75 pounds, this product lets parents change crib sheets with ease. Firm yet snugly, the standard-size bed fits most cribs yet offers support and comfort for your tyke.
Moonlight Slumber –
Best 5 Inch
Dimensions: 27.5″ x 52″ x 5″
Hypoallergenic
Waterproof
Easy to clean
UL Greenguard Gold certified
CertiPUR-US Certified Foam
The Moonlight Slumber company works with experts in the sleep field to ensure their products are state-of-the-art and crafted with excellence. Their thick five-inch mattress offers an array of features to certify that your infant can rest their eyes with ease, letting parents get some shut-eye.
Made in the USA, this hypoallergenic bed rests inside an antimicrobial, water-resistant cover, and repels stains and odors as well. The pad has dual firmness, with one extra-firm side for infants, and a softer side for toddlers. Its flexibility lets you buy with confidence knowing the product will grow with your kiddo, saving you money and time upgrading later on.
This mattress from Moonlight Slumber is made with luxurious cotton, and the cover easily zips off for cleaning. The pad has two layers of foam infused with plant oils, wrapped inside a cover that flexes easily under your little one's weight, offering ultimate comfort.
Dream on Me Snuggles –
Best Breathable
Memory foam mattress
GreenGuard Gold certified
Made in the USA
Lightweight
Firm feel
Available in five colors
Keep your baby cool and comfy all night long with the Dream on Me Snuggles crib mattress, our pick for 'Best Breathable.' The bed's cover is designed to foster airflow, helping to ensure your little one doesn't overheat. Plus, extra-firm fibers in the mattress create a firm feel ideal for safe sleeping, while the product is lightweight for easy transport. 
Mattress cleaning should be a simple process with this product; The company recommends washing the bed with warm water and mild soap to maintain freshness. Parents also get their choice of fun color patterns, as this bed is available in Blue Mist, Grey, Pebble Grey, Periwinkle, and white. 
What stands out?
The Dream on Me Snuggles mattress is made in the USA, which means you are getting a locally-sourced product.

The Dream on Me mattress is also GreenGuard Gold certified for your baby's health and safety. 
Graco Dual Comfort –
Best Safe Choice
Dimensions: 52″ x 28″ x 6″
Water resistant
Easy to clean
This Graco Dual Comfort mattress is designed specifically with safety in mind, complying with all applicable CPSC and ASTM safety and flammability standards to ensure the health of your infant is taken into full consideration. Taking great pride and joy in our little ones, our children's safety is naturally a high priority for parents.
The breathable outer material and supportive mattress is crafted to grow alongside your child as they age into a toddler, letting you flip from one side to the other to suit their needs. One side is firm and supportive, while the softer side provides comfort for your growing toddler.
Graco's hand-washable outer cover easily unzips and can be washed with mild soap and water to keep your munchkin's environment clean and safe from germs. The cover is created with ultra-soft fabric, yet durable enough to protect against the occasional surprise accidents and spills that life with a baby inevitably brings.
Sealy Baby Firm –
Best USA. Made
Dimensions: 27.25″ x 51.63″ x 5.75″
Waterproof
Easy to clean
Greenguard Gold Certified
Hypoallergenic
Sealy Baby Firm's high-quality mini mattress has a 204 high coil count for ultimate comfort and firmness to put your little bundle to bed. The product provides superior posture support with its firm design and border rods, keeping the sides and corners stiff. Your baby's weight is evenly distributed via its anti-sag system to ensure proper support.
The mattress is not only comfortable, but it's about as safe as can be, with a hospital-grade antibacterial and waterproof surface that's been tested in a lab to ensure high bacteria elimination to promote a safe environment for your child. The waterproof cover repels odors, mildew, and liquid from those inevitable surprise accidents.
The durable product is designed and crafted specifically to stand the test of time. Greenguard Gold certified, the bed is tested for chemicals to ensure safety, and built to last you, saving your family money and time looking for a new mattress as your tyke ages.
Colgate Eco Classica III –
Best Durable
Dimensions: 51.6″ x 27.25" x 6"
Waterproof
Easy to clean
GREENGUARD Gold certified
CertiPUR-US certified
The Colgate Eco Classica III offers an astoundingly durable design, rigorously tested and crafted to withstand the roughest of lifestyles. Your child may be an angel, but their accessories might endure a beating over time if they're anything like other kiddos.
As your infant grows into a toddler, the Colgate Eco Classic III can be flipped to offer a softer surface when your child hits an appropriate age. Firm on one side to provide proper support for your newborn, and plush and soft on the other side to offer maximum comfort for your growing toddler.
While it may seem hard and uncomfortable, the firmer side is necessary for proper development of our young newborns. Snoozing on a firm surface promotes muscle growth and strengthening, as well as breathability and comfort in a mini crib mattress. With the Colgate Eco your little angel can snooze soundly all night long.
Milliard Mini Crib –
Best Memory Foam
Dimensions: 38″ x 24″ x 2″
CertiPUR-US certified
Waterproof
Easy to clean
The Milliard Mini Crib offers an excellent combination of comfortable memory foam and appropriate firmness for your tyke, letting them snooze the night away on this luxurious mini crib mattress and let you sleep as well. Made from high quality, high-density foam, this mini-mattress provides an excellent value for the cost.
The pad's high-quality hypoallergenic cover allows parents to rest easily knowing the product won't exacerbate any potential allergies your munchkin might develop during critical periods of growth. Lab-tested, the product's foam meets CertiPUR-US requirements for emissions and durability to stand the test of time so parents don't have to worry about upgrading as their kiddo ages.
The waterproof cover encasing the Milliard is waterproof and washable, letting you breathe easily knowing your topper protects from unexpected spills and other inevitable babyhood accidents. This soft yet firm mini-mattress could be a perfect buy for any family providing an excellent combination of plush yet firm support.
Small Crib Mattress Buyer's Guide
With an extraordinary amount of choice in our modern world, decision paralysis is a common affliction. We'll break down below how to pick the best mini mattress for your tot.
About Mini Crib Mattresses
Mini crib mattresses will be smaller in size compared to their standard sized counterparts. Some families choose to purchase a mini crib, hoping to offer their munchkin a bit cozier of an atmosphere more suited to their small size in earlier months.
Choosing the right mini crib can feel a bit overwhelming due to an enormous amount of choice, but a quality product can help your little one to better snooze through the night. Making sure your munchkin is swaddled up and comfortable, means less fussiness, and more quiet time for Mom and Dad.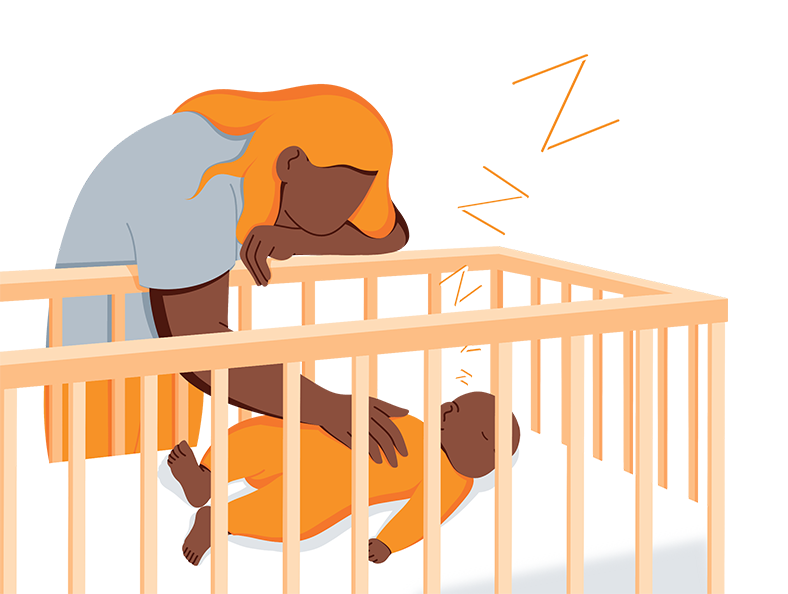 Why You Should Consider Going for an Organic Product
Opting for a mattress made of organic material will be better suited for a baby's soft, sensitive skin. Additionally, chemical free and natural products will more likely be appropriate for a young child and less likely to cause skin irritations or rashes.
Products that are certified Greenguard will be baby friendly as well as better for the environment, as they have low emissions of volatile organic compounds, or VOCs. This means that products certified with this title release significantly fewer compounds with high vapor pressure and low water solubility. These compounds would be things like human-made chemicals used in paints and pharmaceuticals.
Greenguard certifications are widely trusted to have high standards in regards to low-emitting products.
Types of Mini Crib Mattresses
Foam mattresses will be lighter in weight, easier to flip, and cheaper in price, however an innerspring bed could better support a child's spine, and are typically more durable.
Innerspring
Innerspring mattresses are often a bit pricier than a foam mattress, however they offer durability and comfort that foam typically cannot bring to the table. Innerspring pads are a bit more bouncy and could offer more spinal support for your child's back.
However, this isn't always necessary as each child is unique. Innerspring mattresses are also a bit more tempting to bounce on, which could be something to consider if you have a rambunctious little one in the house.
Foam
Foam mattresses can be an excellent cost-friendly choice while still offering similar benefits as an innerspring bed. While there may be some drawbacks, like durability and edge support, they're generally just as great if you're not particular.
They're also significantly lighter, making them easier to flip over when it comes time to change the sheets, or if your munchkin has an accident. If you plan to use a mattress pad for multiple children, however, there is a possibility it won't be as durable when compared to an innerspring.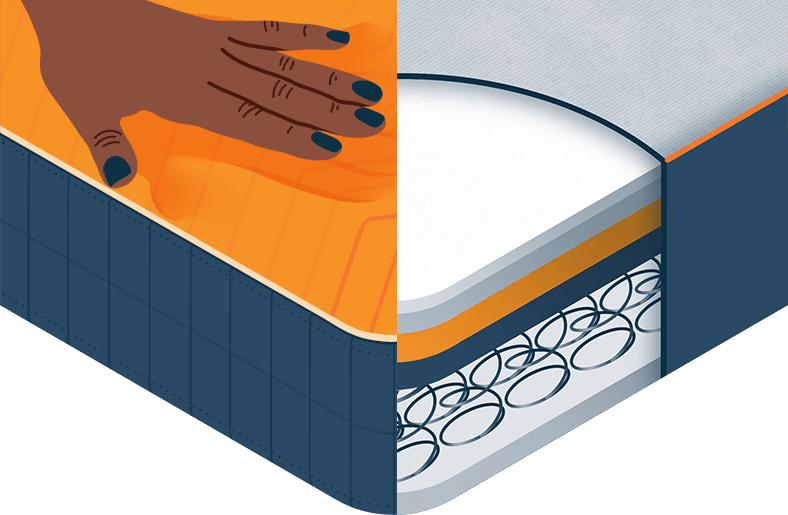 What to Consider When Buying a Mini Crib Mattress
When buying a mini crib mattress it's wise to keep in mind how long you intend to use your bed and how many children it will sleep. It's common, economical, and environmentally friendly, for families to reuse their bed pads and other baby accessories when deciding to have multiple children.
If you plan to pass on your mini crib mattress be sure to check how durable the product is and if it seems built to last.
Size
It's critical to ensure you buy a mini crib mattress to perfectly suit your crib. Having one that is too small can leave space between the mattress and the crib, allowing your little one to possibly catch their arm or leg in the space.
Make sure to buy a product that perfectly fits your crib, not too big to cause bunching, and not too small to leave gaps.
Firmness
It may seem unusual or uncomfortable to provide your child with what feels like a rock hard mattress, however it's essential to sleep them on a firm surface not only to support their delicate spines, but to prevent suffocation as well. If they snooze on a soft, malleable surface, there is a chance their airway could become blocked and result in suffocation.
Safety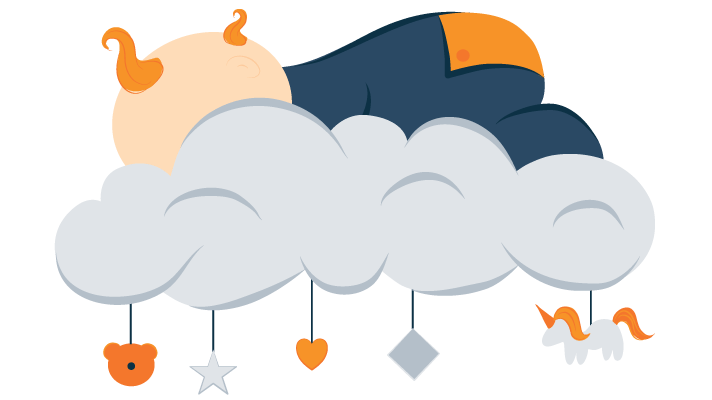 When choosing a mini crib that is safe for your child, there are a few critical aspects to consider. Strong slats to support the mattress will be critical so that your munchkin can rest and breath appropriately. Additionally, finding one with adequately spaced bars is essential so that your little one's limbs won't get caught.
Materials
When selecting a product, if you have particular requirements or needs, the types of materials used are essential. Finding a hypoallergenic mattress might be a good idea so that your infant won't be irritated during a critical developmental period. Selecting a cushion which is certified by Greenguard will help ensure you have a product made of quality materials.
Density
When selecting your child's mattress, choosing one with high density is best, as you want a mini crib that can properly support your tot's delicate spine and airway. A firm surface will help to keep their airway open during sleep, and support their growing body. Generally, the heavier the product, the denser it will be.
Flexibility
If you plan to travel frequently, having a flexible pad can help make a mobile or nomadic situation more manageable. Having a small child in tow while traveling isn't something most adults choose to take on. However, it can be enormously beneficial for the child, and foster positive parent-child bonding.
Waterproof or Not
When raising an infant, accidents are bound to happen, and as babies love to sleep, many of them will occur in their crib. As little ones spend so much time in their cribs, it's essential to choose a waterproof mattress pad for easy cleaning.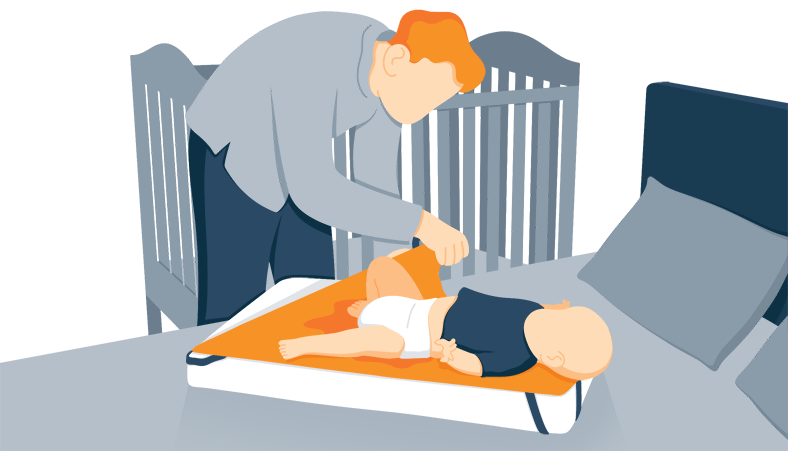 Lifespan of a Mattress
Thinking of how long you plan to have a mini crib mattress can help you consider important factors to look for in durability. When looking to buy a long-life product, keep an eye out for how water resistant it is, how well it's made and which materials are used, its temperature regulation and flexibility.
Potential Bonus Features
When picking your dream mini crib, think about what additional features you might want, like collapsibility, nightlights, or storage. Small additions like a crib that's simple to tote around if you happen to travel frequently can make life a lot easier on the go. Additionally, you might prefer storage to keep burp cloths handy after feedings.
Room Positioning
A large perk of having a mini crib is so it leaves space for other items. Remember, your baby won't know the difference in regard to where you put their crib, they only need plenty of love, attention, and care. Picking an accessible dark corner of your room, where light doesn't disturb them while sleeping is a good idea.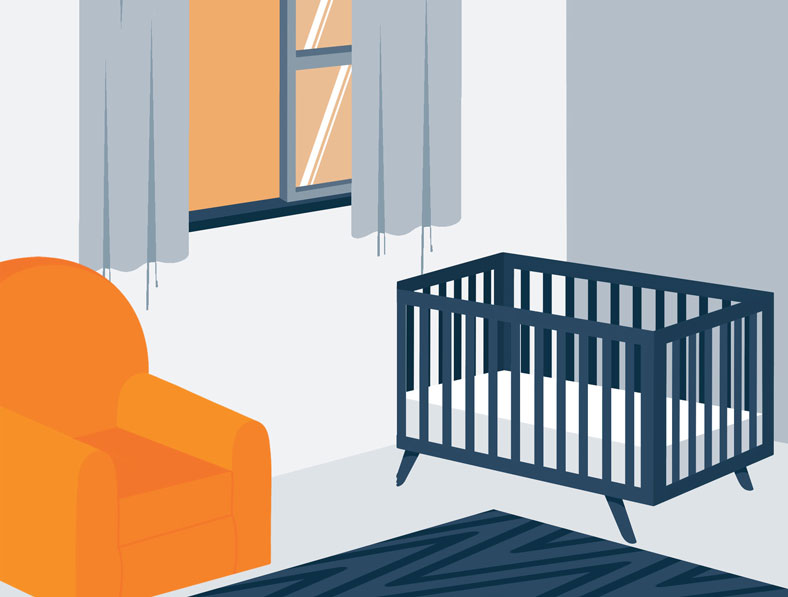 Frequently Asked Questions About Mini Crib Mattresses
Why is it better to buy a smaller mattress?
Purchasing a smaller product can be handy when it comes to creating a cozy sleeping environment when you're limited in space. Many families in cities live in apartments, and without a large amount of square footage, it can be difficult to create a significant amount of space for a new tyke.
Additionally, a smaller product can be easily passed on to another child, and its size allows it to fit in more storage spaces, letting you keep it for other purposes. Your munchkin may enjoy it for tummy time or for practicing somersaults as they grow older.
What is the best way to clean a mattress?
Many mattresses come with waterproof covers that you can throw in the washing machine making for easy cleaning. However, some don't come with these handy outer covers. If that's the case then you'll have to resort to other methods.
One way of cleaning a fabric surface without using harmful chemicals is with baking soda, vinegar, and water. You could, of course, opt to use other cleaning products that could certainly remove stains and accidents as well. However, using simple, organic products can reduce irritants' chance of causing harm or rashes on your child's skin.
Conclusion
Putting a tot to bed can be a challenge for even the cleverest of parents, however, having the right tools to help can make a world of difference.
Feeling overwhelmed is natural when looking to choose the best product for your little one. Luckily there are many options, providing us with the ability to select a product that's just about perfect for our individual needs and wants.
Equipped with your newfound knowledge on mini crib mattresses, we hope you'll feel more prepared when selecting the right product for your family, and, if you're still feeling uncertain, know you are supported with plenty of resources.