Transparency Disclosure – We may receive a referral fee for products purchased through the links on our site...

Read More

.
Disclaimer - Nothing on this website is intended to be a substitute for professional medical advice, diagnosis, or treatment...

Read More Here

.
Comfortable sleep is an essential component of a healthy life, and you can't function well for very long without it. Science has managed to conclusively determine the critical effects that it has on our overall well-being and on the quality of our everyday life that we lead.
And, when it comes to it, the inflatable mattress can be essential in many situations. Even if we narrow down the choice to just one brand, there are still quite a lot of things that you would have to account for. There is a tremendous amount of characteristics that you'd have to take into consideration in order to make the right call.
And that's why we created this guide for you. We already did the heavy lifting — it's easy to pick the right Intex air mattress for your needs!
Do you really have the time to go on for a few hours, looking for the sheer abundance of options on the market?
If you don't feel like it or you have better things to do, let us walk you through some of the most important considerations to look for when you're shopping. This would save you quite some time. Without any further ado, let's get right to it.
Compare Intex Air Mattresses
Top 7 Intex Airbed Reviews
Intex Comfort Plush Elevated Dura-beam
Intex Comfort Plush Elevated Dura-beam
Made of high-strength fiber, the Elevated Dura-beam will provide comfort for years.
Sleep Advisor Score
5.00 / 5
This is an air mattress which is truly great for indoor use. You could easily have your guests sleeping on it as it is comfortable and it does provide an enviable amount of support for an airbed. It is quite bulky, which makes it more unsuited for outdoor use.
The product comes at a very convenient price tag while, at the same time, it boasts a range of comprehensive advantages.
It comes with Comfort-Plush technology which will provide you with serious stability, comfort, and support. The 22-inches height should enable you to feel almost as if you are sleeping on a regular bed.
The top is flocked and made out of softer material which will additionally enhance the overall comfort. The sides are crafted in a way which allows you to keep the sheets tucked in very conveniently.
The Dura-Beam technology results in a lasting comfort, lack of deformation, and a significantly increased life span.
Intex Comfort Plush Mid Rise Dura-Beam
Intex Comfort Plush Mid Rise Dura-beam
The Mid-Rise Dura-beam is quick to inflate and has a waterproof top, making it a great option.
This is another home-based solution, and it is engineered with the contemporary Fiber-Tech construction. This makes it resemble the sleeping sensation of a conventional bed quite a lot. The construction is reliable, and it provides additional support.
The top is flocked and waterproof, making it incredibly comfortable to sleep on. Additionally, it is crafted using the Dura-Beam patented technology which allows additional comfort and enhanced stability.
It also enhances the lifespan of the product. It is 13-inches high and full size, making it perfectly comfortable for different occasions.
The sides are indented to make sure the sheets won't sleep. There is a powerful air pump included in the package, making your inflation and deflation processes quite seamless. The product comes in a convenient duffel bag for easy storage.
Intex Raised Downy Airbed
Intex Raised Downy Airbed
The dual-chamber construction provides support and a firm sleeping surface.
The first thing that needs to be noted about this bed is that it's 22 inches high and it is mainly designed for home usage. It is perfect if you want to store a solution that you pull out when you have guests coming and you don't have anywhere to put them.
The blow up bed comes with a highly-powered electric air pump which is built in. You will be able to inflate and deflate the mattress in less than 5 minutes with the flip of a switch.
The construction is quite sturdy, and the support is considerable. The comfort is enhanced thanks to the flocked top layer which is made of vinyl beams, and it's waterproof.
The sides are indented to make sure that you fit your sheet snuggly and that they don't slip away. You are also given a convenient duffel bag included in the package.
The only consideration is that it might need to be re-inflated to settle properly within the first few nights.
Intex Classic Downy
Intex Classic Downy Set
The plush flocking on the surface provides comfort on a budget.
This one is great for camping and overall outdoor usage. It comes with two pillows and a convenient, double quick-hand pump for you to inflate the solution in a matter of minutes.
This is a queen-sized airbed, making it comfortable enough to sleep two people in camping conditions without any hassle whatsoever. The top is waterproof and flocked for additional comfort. There are wave beams which are easily cleaned and maintained.
The valve is a 2-in-1 solution, and it has extra-wide openings which make the inflation process quite hassle-free when it comes to it. It works perfectly well with fitted sheets.
Intex Pillow Rest Raised
Intex Pillow Rest Raised
With a built-pillow and pump, this air mattress is perfect for travelers who don't want to sacrifice storage space.
This is another solution which may turn out to be great for camping if you are sleeping alone. It's an inflatable twin airbed, and it comes with a built-in electric pump.
Even though it's suggested for home usage, it's also quite appropriate for camping as it fits snuggly into the duffel bag and it's easy to carry around.
The entire thing is waterproof and flocked on top. On top of it, there are built-in pillows for added and increased comfort.
The electric pump is built-in and quite powerful, making inflation and deflation incredibly convenient. It would take you no more than about 3 minutes to handle it.
Intex Ultra Plush
Intex Ultra Plush
Sleepers accustomed to a luxury mattress will feel right at home on the Ultra Plush.
This is a great blow up mattress which could be used in your house for a myriad of different applications. It comes with a high-powered and built-in electric pump which is going to inflate the 18-inches high bed for no more than 4 minutes. This is quite convenient.
The top is flocked, and the entire thing is waterproof for additional reliability. The entire thing comes with vinyl beams alongside sturdy construction which is raised 18 inches from the floor, allowing serious comfort and enhanced stability.
The outer perimeter is also inflated, and this is going to boost the overall stability. The inflatable bed comes folded in a duffle bag for added convenience.
Intex Dura-Beam Standard Series Deluxe Pillow Rest
Intex Dura-Beam Standard Series Deluxe Pillow Rest
The high strength polyester provides support for the luxurious top.
Right off the bat, this particular Intex Mattress is designed to be used at home, so it has a larger profile. It is made out with a fiber-tech construction which adds a lot of convenience to the product.
The mattress comes with a built-in and high-powered electric pump which will allow hassle-free inflation and deflation.
The product is designed to be inflated in no more than 2 minutes to the desired firmness. Additionally, there is no need for you to use a pillow as there are built-in ones around the perimeter.
Interested in exploring further? Check out our best air mattresses here.
How to Choose The Right Intex Blow Up Mattress
What's the Main Use For an Index Air Mattress?
When you're looking for a great airbed, there are a few key things to account for, and the purpose of the mattress is amongst the most important ones. There are a few different uses that people commonly find about these types of mattresses, and they include:
Everyday regular usage


---

Camping trips


---

Entertaining guests
With this in mind, it's also important to note that these are portable solutions which allow you to conveniently locate wherever you need to.
So, if you will be using the air mattress in a bedroom, you will likely concentrate on which one is the most comfortable. However, if you will be using it outdoors, it might be a better idea to find one that is also focused on durability, and that's easy to pack. And, of course, if you are looking for a mattress for backpacking, it's obvious that you'd be interested in a solution which is highly portable and very easy to inflate and deflate.
View Our Full Guide: Top Rated Air Mattress for Camping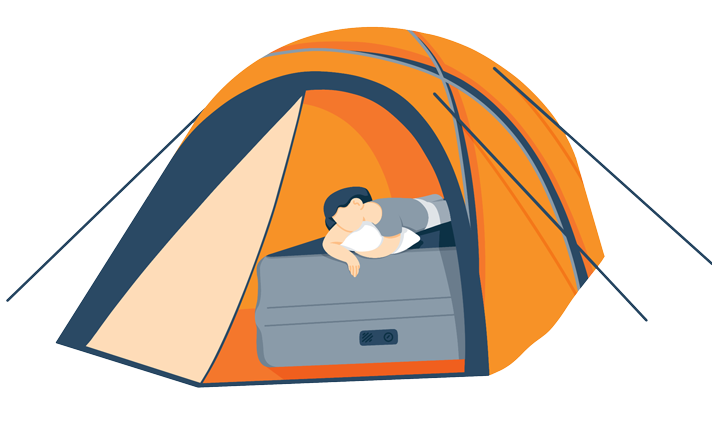 Determine Your Budget
The best thing about these kinds of beds are that even the most expensive unit is not really expensive. Regardless, accounting for the price is undoubtedly something that you should do in terms of the value that you can expect from the airbed. If you want something quick and temporary for just a few nights and you aren't really worried about its durability, there is a bunch of under $50 models that would do the job.
On the other hand, if you are looking for an air/blow up which would last you for a significant amount of time and it's going to deliver the necessary comfort and convenience, you may be looking for something a bit pricier. As obvious as it may sound, this is a category in which price is decisive and the more you spend, the more you're likely to get in terms of quality.
Intex Air Mattress Pros and Cons
Intex is a reliable brand, and there are quite a lot of things that you ought to consider about it. With this in mind, we've taken the liberty of synthesizing the benefits and some of the considerations that you should be aware of.
PROS
Fairly Affordable – the beds range from about $20 to roughly around $100 in price, and they are highly affordable. At the same time, they manage to bring serious diversity in this rather limited price range. You will get what you pay for with the Intex Air Mattresses.


---

Rugged – all of the air beds brought by the brand are tested for their quality and for being durable up to several gauges.


---

Free Utilities – the majority of these come with their electric air pumps which allow for easy inflation and with comprehensive carrying bags.
CONSIDERATIONS
The customer support – a lot of users have reported the company's customer support as unhelpful and rather poor in terms of communication skills.


---

Lacks longer warranties – the company doesn't offer their warranty for the majority of the products. Instead, you'd be given the regular 30-day replacement warranty offered by the retailer.
Are There Any Other Options on the Market?
Of course, there are quite a lot of other options which are readily available in the market. This is something that you ought to account for. There are specialized cheaper and high-end luxurious and highly expensive options that you can take advantage of, depending on whatever it is that you are looking for.
However, we firmly believe that an air mattress is not something that should be very expensive as, for the most parts, it's not a permanent sleeping solution. With this being said, Intex does cover the majority of the range that you might be interested in.
The company does well against some of its main competitors in the face of Coleman and Aerobed. The former offers mainly outdoor solutions while the latter focuses on those which are usually intended for home usage. Intex, on the other hand, covers a broader spectrum and offers a little bit for everyone.
Intex Air Mattress User Guide and Instructions
How to inflate and deflate Intex air bed?
Of course, being able to setup and pack your air mattress is quite important. Luckily, Intex is a brand which often supplies the electric air pump, so this shouldn't be a substantial burden.
How to inflate the air bed?
There are air valves conveniently located on the mattress – usually on the sides. Make sure to unscrew them and connect the air pump to them. Start the pump and wait for it to get the job done. It's important to make sure that the mattress isn't 100% pumped because this would pose the risk of it blowing up.
Read on why do air mattresses deflate during overnight.
---
How to deflate the mattress?
The air bed is deflated in a few different ways, depending on the model that you've chosen. More inexpensive options could easily be deflated by simply letting the air out through the valve. More expensive ones have protections, and this is quite important. You ought to use the pump again but this time to deflate the mattress conveniently.
One piece of advice here is to pay attention to the way the blow up mattress is folded when you unpack it – this will help you a lot when you have to put it back together in a packed form. Keep this in mind.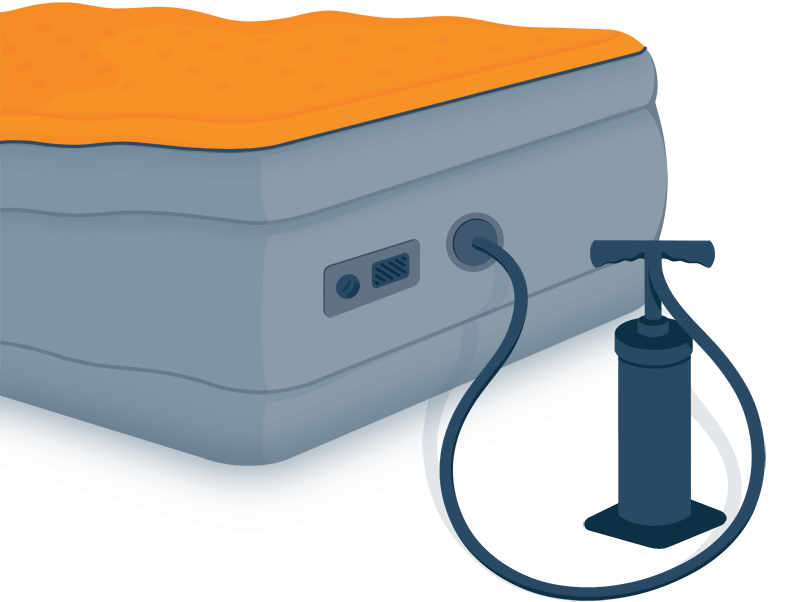 How to fast fill a leak?
The truth is that filling the leak itself is not the challenging part. The harder thing to do is to go ahead and find the leak itself. After all, the majority of the air mattresses are regular in terms of size and being able to detect a tiny leak is undoubtedly like finding a needle in a stack.
However, there are a few things that you can do. First off, keep in mind that all air mattresses lose air naturally and this is something quite normal. If you suspect that your mattress is leaking air, start the search for the leak by pressuring it evenly. If there is a leak, you will most likely be able to hear it.
Pass your hands on the sides and see if you feel a quick, needle-like stream of air as the leaks are usually quite tiny. Alternatively, you can get the entire thing wait and simply look for the bubbles – if there are air bubbles formulating at a spot, this is a sure sign that your bed is leaking there.
Once you locate the leak, just use a regular, water-resistant patch kit. This will get it sealed quickly without any additional hassle. It's a 30-second job.
Need more details? Read more about fixing an air mattress leak.
How to clean and maintain your blow up bed?
Maintaining your inflatable mattress is undoubtedly something quite important if you want to ensure its longevity.
Luckily for you, there isn't something special that you necessarily need to consider. Cleaning it is fairly easy as most of them are water resistant. Inflate it, get the electric air pump away from it, and simply give it a nice and quick clean. Make sure to use compliant cleaning products to prevent harming the fabric and the materials. Cleaning instructions are usually found at the back.
Looking to learn more? Check out our comprehensive guide on how to clean an air mattress.
Obviously, choosing the right airbed is not a walk in the park. There are quite a lot of things that you would have to take into account when it comes to it, and this is why you have to pay close attention.
Determine the purpose, identify an affordable budget and go for it. Intex offers a range of different beds for every pocket and need. We hope that the ones that we've described would fit your purpose as there is a little bit for everyone.
Resources: