Transparency Disclosure – We may receive a referral fee for products purchased through the links on our site...

Read More

.
Does your mind race when it's time for bed?
Do you ever drag yourself to your room completely exhausted only to find that you're wide awake once you crawl under the covers?
Sometimes we need a little assistance relaxing to help us drift off to sleep. One of the best ways we've found is to use an audio distraction.
Whether it's relaxing music, white noise, an ASMR video, binaural beats, a hypnosis soundtrack or a guided meditation, if you're using headphones, they need to be comfortable. You're trying to fall asleep after all!
In this article, we review our favorite and best headphones and earbuds for sleeping. We'll also answer some of the more common questions we receive, including how on earth you can wear these things comfortably as a side sleeper!
Gold Standard

QuietComfort 20

Key Features: Noise cancelling, Aware mode, Comfortable secure fit

CLICK HERE FOR PRICE

Soft, Lightweight and Comfortable

Shure SE215-K

Key Features: Detailed sound with enhanced bass, Comfortable sound isolating sleeves, Lightweight, low-profile shape

CLICK HERE FOR PRICE

Headband Solution

SleepPhones AcousticSheep

Key Features: Ultra thin 4 mm flat headphone speakers, Blocks out ambient noise, Breathable and hypoallergenic material

CLICK HERE FOR PRICE

Sport Headband

Tooks

Key Features: Built-in removable headphones, 100% microfleece, Comfortable

CLICK HERE FOR PRICE

Breathable Mesh Lining

CozyPhones

Key Features: Comfortable and washable sleep headband, Adjustable speakers

CLICK HERE FOR PRICE

No Noise Canceling

Panasonic RP-HS46E-K

Key Features: Compact Clip Earphones With Slim Housing, Ergonomic Ear Hooks For Secure Fit, Lightweight

CLICK HERE FOR PRICE

Unique Two-Layer Design

MAXROCK

Key Features: Total soft silicon housing, ErgoFit in-ear earbud, Universal build-in microphone

CLICK HERE FOR PRICE
Top 7 Headphones & Earbuds for Sleeping Reviews
QuietComfort 20
Optional noise cancelling

Compatible with Apple and Android

Three earbud sizes

Comes with carrying case
These earbuds by Bose are the gold standard in comfort and sound quality. They come with a hefty price tag, but you deserve a splurge, especially if you're serious about getting a good night of sleep with the aid of earbuds.
The QuietComfort gives you the option to completely block the sounds of the outside world with their noise-canceling feature, or you can let a hint of sound in. The latter option is key if you have kids in the home or you live by yourself and you prefer to stay alert.
Sound quality is state of the art. These earbuds include none of the tinny echoes that comes with other brands. The inner ear tips are soft and flexible, which makes them comfortable for sleeping. Also included is a clothing clip, so you can secure them to your pajamas, keeping them secure and in place as you change positions throughout the night.
If you need to block out sound and get some sleep (hello, noisy neighbors and chaotic city living), the Bose Quiet Comfort is a literal lifesaver.
Shure SE215-K
Sound isolating

Three earbud sizes

Bluetooth option available

Comes with carrying case
While not technically noise-canceling the Shure earphones isolate sound, so you won't hear what's going on around you.
They're soft, lightweight, and comfortable, too!
At a fraction of the price of their noise-canceling counterparts, we think these are a fantastic choice for discerning buyers and light sleepers who want something that's top quality at a reasonable price.
If you like the idea of wireless earphones, you can purchase a Bluetooth- enabled to ditch the wires.
SleepPhones AcousticSheep
Headband design

Machine washable

Three size options

Two fabric options
If you want an alternative to headphones, earphones or buds, SleepPhones AcousticSheep has you covered with a headband solution.
For some people, this is more comfortable than lying down with something in your ear. The headband is soft and washable with the slim, flat looking headphones embedded inside.
Our favorite feature of the SleepPhones AcousticSheep is that it also keeps your hair in place, so it's like getting two products for the price of one!
There also three sizes available: XS, Medium, and XL. Most people wear a medium, but it's helpful to know that there are choices. The headband also comes in four colors: dark blue, black, lavender and gray. The material is fleece, which is incredibly soft, and it's hypoallergenic.
Tooks
Headband design

Removable headphones

Bluetooth option available
Tooks is another two-in-one type of style, featuring a headband design with earbuds inside.
There are two main differences between this brand and the AcousticSheep:
The headband doubles as a sport headband, so you can go from sleep right to the gym or a trail run without changing gear.


---

The earbuds are removable, so you can use the headband with or without sound, ideal for when you're doing an athletic activity and don't want an audio distraction.
The headband is also fleece and is available in an array of colors: black, white, and pink. Because the earbuds aren't flat like AcousticSheep, some people can feel them, though few complain of any discomfort because the overall design allows them to be positioned in a way that doesn't dig into your ears.
CozyPhones
Headband design

Three color options

Travel bag included
This brand is another headbanded headphone design. The earphone component is a flat round disc, and the outer material is fleece.
CozyPhones come in multiple colors as well, including black, blue, pink and white. They've recently upgraded the design to offer a breathable mesh lining and a more durable braided cord.
We love it when companies listen to customer feedback and make improvements!
The only genuine complaint we've encountered is that the ear discs can move around if you toss and turn a lot at night.
Panasonic RP-HS46E-K
Over-the-ear design

Slim and compact profile
The Panasonic Slim Clip earbuds have an ear hook that fits comfortably behind your ear.
They clip open or shut, per se; instead they slide on and off.
There's no noise canceling or isolation feature, so if you sleep with a partner, they may be able to hear faint noises coming from your side of the bed. Unless, of course, they get a pair to sleep with, too!
For the budget-friendly price, these earbuds perform exceptionally well.
MAXROCK
Noise-isolating design

Built-in microphone

10 color options
The MAXROCK earbuds feature a unique two-layer design, which provides an extra layer outside of the earbud to increase the snugness of the fit, while also blocking out the sounds of the outside world.
They are lightweight, so you're not likely to feel them while you're asleep.
We found that the earbuds are quite soft, so you won't feel poking or discomfort like you would with other brands that aren't so well-designed.
Sleep Headphones Buyer's Guide
Type
These fit over your ear and are therefore larger and bulkier than earbuds or a headband. However, since they completely cover your ears, you'll also get the best sound quality and noise canceling benefit with headphones.
Side sleepers should probably try a different setup, as it can be uncomfortable to sleep with the added bulk, not to mention the heat that they can give off. However, back sleepers will notice neither of these, and if you sleep on your back, headphones may be ideal for you.
If you're going to try these, look for a design that's made specifically for sleeping because it'll be thinner and more lightweight.

You'll find earbuds in most households, but it's important to weigh the pros and cons of wearing them to sleep. You've probably already got some lying around, which means you won't have to shell out any extra cash. However, most side sleepers find that they dig in uncomfortably in their ears.
There's also an increased risk of bacteria buildup if you wear them consistently for several hours at a time. The bacteria can lead to ear infections if you don't properly clean your equipment regularly.
This design is becoming increasing popular because it's so darn comfortable! Shop around and read the reviews because some headband headphones produce better sound quality than others. Also look for a breathable material that won't make you too hot or cause your skin to break out.

Noise-cancelling
Passive noise-canceling just means that the soundwaves are physically blocked from entering your ear. If you've ever put your finger in your ear to experience quiet, that's a form of passive noise-canceling. Or if you've worn earplugs for a snoring partner, this is passive as well. Most earbuds fit into this category, though improvements have been made recently in doing a better job of blocking out all the sound without excessive cost.
Active noise cancellation uses electronic signals to get rid of sound. It works by mirroring the noises around you and delivering those to you through earbuds or headphones. Combined with passive noise-cancelling that occurs naturally through the design of your device, this is the most effective way to experience quiet.
Wired or Wireless?
Wired headphones and earbuds can be problematic because the cord can get tangled. While you're not likely to strangle yourself during the night, it can wrap around you awkwardly and even come out of your audio device. Not to mention that it's not exactly comfortable sleeping in a bed of wire.
A wireless Bluetooth option is often more comfortable, but you'll need to consider battery life. Check each brand for the number of hours you can listen to audio before you're due for a charge.
Sound Quality
When it comes to sound, the important considerations are how clear and crisp the audio is, how well it blocks out the external environment, and whether or not someone else in the room will be disrupted by the sound coming out of your device.
Headphones provide the best experience in all of these factors, but they might not be the most comfortable for you. Earbuds are typically second best, but again there could be discomfort for some. And while headbands are the easiest to sleep in, your sound quality won't be optimal.
Pricing
The amount you'll pay can vary dramatically. Some solutions are well under twenty dollars, while others are over $200. The common saying that "you get what you pay for" doesn't always apply, especially when it comes to buying headphones or earbuds for sleeping. We've seen high-priced solutions that don't live up to expectations as well as bargain-priced brands that perform exceptionally.
Benefits & Risks of Using Headphones for Sleeping
Just like anything, there are benefits and risks associated with sleeping with headphones. The benefits are a better night of sleep, which in our opinion outweighs a lot of potential risks.
Being able to block out noise for peaceful sleep is a top benefit, but there are others as well. There's also being able to relax by listening to white noise or calming music. Plus, some studies suggest that you can even learn while you're asleep.
Want to know more? Read about effects of listening to music while sleeping here.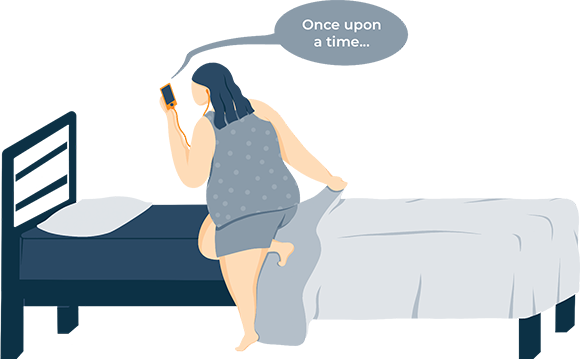 Before drastically changing your lifestyle, don't forget to consider the risks as well. The most obvious is hearing loss. If you tune into an audio volume that's too high over long periods of time, it can lead to hearing damage. As a general rule, anything over 60 decibels (a normal conversation) can put you at risk. Again, this is over long periods of time.
Other risks include earwax buildup. If it becomes compacted, it becomes more difficult to remove safely. Also, there's risk of bacteria causing an infection or sever irritation in the ear canal.
Our advice is to exercise caution and proper hygiene to ensure that you experience the benefits without any side effects or long-term consequences.
Other Ways to Reduce Noise
When weighing the pros and cons of using headphones to reduce bedroom noise, you might want to consider the other methods people use to cut down on sleep interruptions.
Radio or Speaker
While using the radio might mean you are freer to move around in bed, it could be more likely to keep you up due to commercial breaks and your inability to control which sounds you listen to. With a speaker, you might need to get up to adjust the volume or change the track as opposed to using your headphones or smartphone.
Additionally, it's not going to block any sound from getting to you, it will likely just mute it.
Earplugs
Using earplugs will most likely block sounds, but they tend to fall out easily and sometimes cause inner ear irritation that most headphones would avoid. Additionally, when they fall out and you can't find them, they can become choking hazards for pets and small children.
Get More Info: How to Sleep With Noisy Background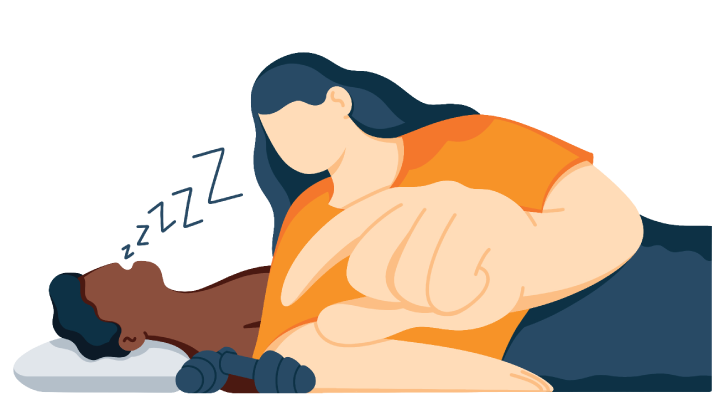 Frequently Asked Questions about Headphones for Sleeping
Can side sleepers wear headphones at night?
This is a matter of preference. Many side sleepers are perfectly happy with ergonomic earbuds. In cases where they're uncomfortable, the headphone option with built-in slim-profile discs is an ideal choice.
So, to directly answer the question, yes, side sleepers can indeed wear headphones at night. We've tried both earbuds and headbands, and most of our team prefers the banded option for maximum comfort.
One thing to keep in mind is that if you're a side sleeper and you choose to wear actual headphones, the pressure you put on the side you put weight on can become really hot. That's not an exaggeration, either. It can become surprisingly heated and is warm enough to wake you up with a red ear.
Where is the best place to buy them?
You can get these anywhere nowadays. You can check out physical stores like Best Buy, the Apple Store, Target, and WalMart. However, the selection is bound to be limited, the prices will be high, and the staff is usually alarmingly unhelpful. They're getting paid to know the product, but you'd be surprised how few of the employees actually do!
Our favorite place to go is Amazon. They've got the widest selection, the lowest prices, and you can read all of the reviews to help you make a decision before you buy anything. This is especially helpful if you're concerned about how something will feel while you sleep on your side, or you're picky about sound quality. You can read dozens, if not hundreds, of reviews and find the item that is just right for you.
Do you think kids can use them at night?
Absolutely! If your child is a light sleeper, has anxiety or just appreciates soothing sounds to fall asleep to, a quality set of headphones or earbuds can make a world of difference in their quality of sleep (and yours, too!).
Our only caution is to supervise the audio volume and sleeping position. Plus, if you're worried about wires as a choking or strangling hazard, opt for a wireless version. We would also recommend alternating nights of wearing them and not wearing them if possible.
You still want your child to be able to sleep normally, and there are studies showing that nightly white noise exposure can delay brain development. However, this is primarily in infants, so not something to be concerned about in children.
Conclusion
The world is a loud and hectic place. Being able to get a peaceful night of sleep with the aid of a set of headphones and earbuds is a luxury that everyone thankfully can afford. Plus, it's a safer alternative to medications!
Sleeping with earbuds is an ideal way to fall asleep faster and stay asleep all night. Whether you're listening to affirmations, music for sleeping, a guided meditation soundtrack or something else that helps you relax, you'll wake up feeling much better rested than if the noises of the night kept you awake. Plus, we think having sound is better than their silent ear plug counterpart because you get to hear something that brings you joy and relaxation.