Transparency Disclosure – We may receive a referral fee for products purchased through the links on our site...

Read More

.
When chosen correctly, the right baby pajamas can make diaper changes easier, keep your baby's temperature regulated, and won't cause you to fight to get your baby dressed.
However, the wrong pair can cause more damage than restless nights; it can be a source of worry for parents and danger for toddlers.
If you are wondering if a person who can barely tell the difference between a forkful of broccoli and an airplane will be able to notice the difference between two-types of PJs, the short answer is yes, and the long answer is forthcoming. Luckily, we have read the reviews and done the research to bring you the highest rated baby pajamas.
8 Top-Rated Baby Pajama Reviews
Footie design
Pack of three
100% cotton
Snaps
These long-sleeve footie pajamas come in a variety of cute patterns, from mustache prints to vintage milk bottles. However, reviewers seem to agree the best feature by far is the level of comfort they provide.
Made from a thick 100% cotton material, these jammies offer room for unrestricted movement while still fitting snugly. The soft texture of the fabric made OPAWO a crowd favorite, and reviewers said they held up well over many washes.
The cotton material also allows OPAWO pajamas to keep a toddler warm in the winter but should not cause them to overheat in the summer as the material breathes well.
Many parents confirmed the snaps down the leg made for easy diaper changing access in the middle of the night, and the cute mustache and milk design elicited plenty of compliments, especially from parents who are tired of trucks and dinosaurs.
Carters –
Best Safety for Boys
Footie design
Pack of three
100% cotton
Zippered close
A long-trusted name in the baby industry, Carters has a history of making cute and quality clothes for the little ones in our lives, and these boys pajamas are no exception.
According to reviewers, this pajama set is the best option for maximizing safety for boys.
With non-slip foot grips and breathable fabric, these jammies are great for toddlers who are practicing their newfound two-footed locomotion. Many parents reported their toddlers were able to maintain their balance without sliding around on polished wood floors, unlike other brands.
These are pajamas parents can trust, according to reviewers. The zippers do not seem to cause chaffing, the light-weight fabric prevents overheating, and the material gets softer and stretchier within the first few washes. Satisfied parents mentioned the snug fit helps their little boys get to sleep faster after a nice bath and a warm bottle.
Touched by Nature –
Most Breathable
Open bottom
Pack of three
100% organic cotton
Elastic closure
This cotton gown option by Touched by Nature is a winner among parents who value good ventilation and easy midnight diaper changes. Produced in India, their material is GOTS certified with 100% organic cotton and eliminates a majority of common chemicals from processing that are found to be harmful to children.
This sleeper style is a favorite for spring and fall, where children need to be kept warm some evenings, but should not be too bundled up in case the temps rise overnight.
The long fabric protects legs and allows for ventilation and also makes late night diaper changes a snap, as the gown does not need to come off completely, keeping the toddler warm.
With the size ranging from zero to six months, the gown may take a little while for the baby to grow into but will likely last longer than most sleepers as they grow.
Burt's Bees Baby –
Elastic Feet
Footie design
Pack of two available
100% organic cotton
Zippered close
Parents agree that these pajamas are the best option for moving babies, both asleep and awake. The convenient elastics around the ankle keep the feet in the bottom of the onesie where the non-slip "bee grip" is rather than allowing the feet to slide up into the leg portion of the onesie. This can help stop the infant from getting tangled up in excess fabric while they sleep and keep them on their feet at play.
The material is warm, well constructed, and exceptionally soft, according to reviewers. Made completely of GOTS-certified organic cotton and flame-retardant-free, Burt's Bees Baby can offer parents peace of mind about their product's safety.
The onesie even has a neck safety button over the zipper, allowing for both ease for the parents and comfort for the toddler. At the same time, the product is machine washable, making it great for spills and accidents.
Rosie Pope –
Best Non-Scratch
Footie design
Pack of two
100% cotton
Snaps
Whether your child has a case of eczema or if she is just a wild sleeper, her nails are sharp and can cause lots of damage fast. That is why these Rosie Pope jammies have foldover mittens and socks to protect her skin and your sanity. With cute designs from pink spaceships to sunnies and stars, she will be both stylin' and safe.
The fold-over hand option leaves room to grow and play. Before bedtime, she can still grip her bottle and toys, but she should be ready to sleep in no time. If your toddler is a warm sleeper, leave the mittens off for better ventilation.
Reviewers love the snaps on the legs, as they make diaper changes much easier and quicker partially due to the fact that they do not need to be removed completely during the process. This is great because with 100 percent cotton material, babies will probably never want to take these soft pajamas off.
Hudson Baby –
Best Unisex
Open foot design
Pack of three
100% cotton
Snaps
Whether you are waiting to find out the sex of your baby or you just want a cute option without all the trucks or flowers, Hudson Baby has pajamas for you. Their adorable unisex options range from little lemons and cherries to beehives and even holiday options, earning you compliments year-round.
Made with 100 percent cotton, reviewers find these pajamas extremely soft and durable, a must for infants with sensitive skin. With room to grow and stretchy material, parents seem happy with the amount of use they get out of these footless onesies.
A favorite quality among shoppers was the extra space for a full diaper, allowing parents to get a snug fit without fighting fabric to dress their toddlers for bed. Many parents mentioned the style works well with their cloth diapers, and with the button down legs, there is plenty of access for nighttime trips to the changing table.
Luvable Friends –
Great Affordability
Footie design
Multi-pack available
100% cotton
Snaps
While there are hundreds of adorable designs for baby jammies, with how fast their children grow, many parents feel lucky to get more than a few wears out of each set. For parents on a budget, or those who are just tired of shelling out twenty dollars for a pair of jammies every week, Luvable Friends is a great option.
These 100 percent cotton high-quality pajamas are some of the most affordable on the market, and parents could not be happier with them. The material is soft and stretchy, helping parents struggling to dress squirmy babies, and the animal-themed designs could not be cuter.
The sleep & play style has closed feet and open hands, allowing your little one plenty of freedom before bedtime and enough security to help them stay asleep later.
With buttons all the way down, parents can decide if they want to completely remove the jammies for diaper changes, and if they only need to take a peek to make sure a diaper is dry, they can do so easily.
Gerber –
Best Safety for Girls
Footie design
Pack of two
100% cotton
Zippered close
Gerber's sleep & play girls' set is a parent favorite for growing girls. With a variety of sizing-options as the little ones grow, many parents are so satisfied they continue to order the same pajamas in the next size up.
The cute footie pajamas are available in many designs, ranging from lambs to birds, each with a zipper running down the front all the way to the feet. With no over-the-head step to putting these on, they are a no-brainer for parents who frequently change diapers, as there is much less hassle to get them on and off.
The safety neck tab that encloses the zipper protects infants from any zipper-related injuries and prevents it from sliding downward, keeping the toddlers snug in their pajamas.
The jammies also have built-in feet with either a bow or animal face option, which helps protect little toes during playtime while keeping them warm during naptime.
Buyer's Guide for Baby Pajamas
Why You Should Buy Them?
While there are many products that aim more towards making money than actually making a parent's life easier, baby pajamas are not typically among those—unless, of course, your child has never had an issue sleeping through the night, scratching too much, slipping and falling, or dealing with temperature regulation.
For everyone else, baby pajamas can make all the difference in the world for getting a good night's sleep. While less clothing might be helpful for fast diaper changes, swaddling takes time and effort, and when you are dealing with sleep deprivation, it may be near impossible to manage.
As infants get older, swaddles are less and less effective, and pajamas become more and more useful. Pajamas reduce the need for swaddling or dangerous blankets that could cover a baby's face. They can keep children warm in the winter and cool through air-conditioned summers while affording parents the peace of mind that their child is safe.
How to Choose the Right Kind
The right pajamas will vary from child to child depending on sleep habits, skin sensitivity, and how mobile they are. While infants who are not walking might not need non-slip grips, they may need fold over mittens to protect their skin from scratches or footed jammies to keep them warm in a drafty home.
Our roundup will help steer you in the right direction based on your needs, but ultimately, we recommend reading plenty of reviews before buying and starting small before buying in bulk. Babies grow fast, and if you purchase too many of the wrong kind, you may waste your money.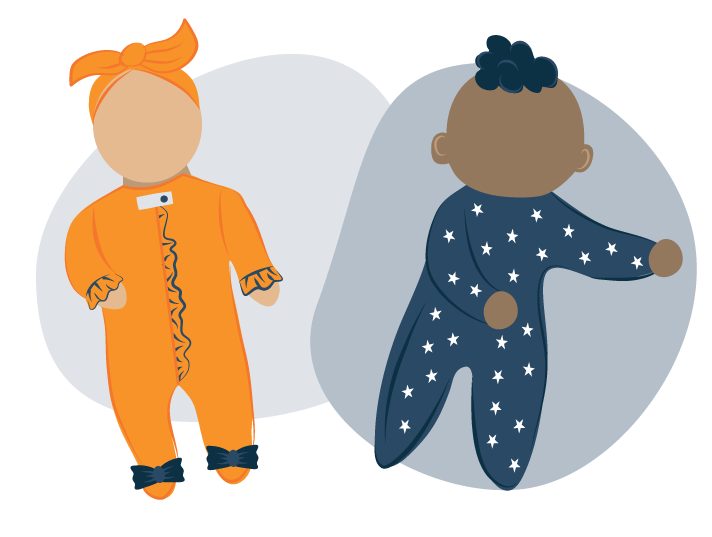 Things to Consider When Buying
Babies come in all shapes and sizes, and unfortunately, this means sizing for baby pajamas is unreliable at best. Some not-so-little ones may fit nine-month-old clothing as early as three or four months, and others may not fit nine-month size until they are a year old.
The best way to make sure you buy the right size is by reading the reviews and understanding if the sizing runs large or small. Keeping receipts is never a bad idea in case you need to return the clothing. Many parents opt to buy a little large to give their toddlers room to grow and get more use from each pair.
Though the material used for baby clothing is regulated, there are still some important factors to consider.
Many baby pajamas are made from 100 percent cotton, allowing them to breathe, stretch, and maintain a soft feel. However, washing cotton fabric in hot water or tumble drying will likely cause clothes to shrink significantly. It is important to read the washing instructions to ensure the pajamas last as long as you planned.
Other materials include polyester, which can sometimes be uncomfortable for a baby, not to mention hot. It is important to find good quality breathable material that will keep a baby warm and snug but allows for proper ventilation.
One of the most important considerations is the ease of diaper access for parents. While cute buttons may look great in pictures, they are anything but convenient when baby needs a change at 3 AM and you are too tired to see straight.
Snaps and zippers are the most popular closures for easy diaper changing, and if the snaps or zipper go all the way down the leg, even better. Parents especially love the jammies that can come off the legs without having to be removed completely, as re-dressing a screaming toddler is never more difficult than when you should both be asleep.
Should These Pajamas be Protected from Fire?
Since the 1950s, baby pajamas above the nine months size have been regulated by the government for chemical treatment and tightness standards. In other words, loose-fitting jammies are required by law to be treated with flame retardants, and tight-fitting jammies are not.
For parents who smoke, burn lots of candles, or keep lighters or matches in easily accessible locations, flame retardants may be a necessary feature. Burning embers have been known to ignite, especially when baby clothes are made from easily flammable material.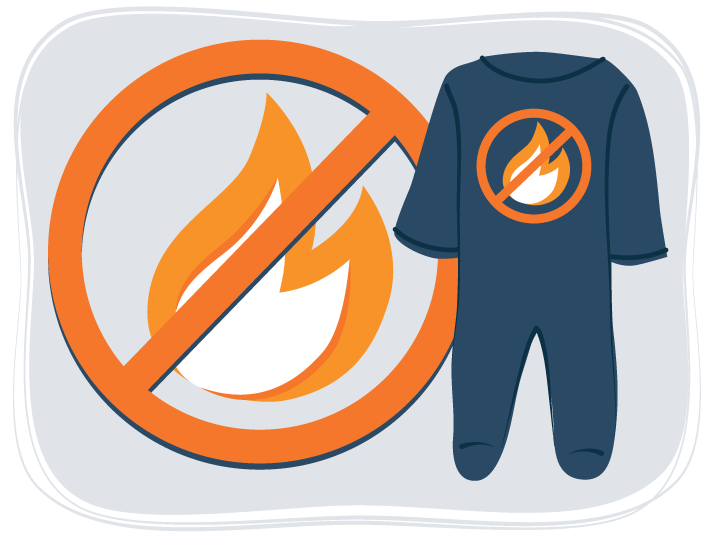 However, as these situations occur less and less, and parents are made more aware of child-proofing measures, the flame retardants can cause more trouble than they are worth. The chemicals that allow this safety feature have been linked with developmental concerns and cancer for children later down the road.
For this reason, many parents now opt for the snug-fitted onesies that are chemical and flame retardant free, as loose clothing is less likely to catch fire and much less likely to cause cancer due to the lack of harmful chemicals.
Frequently Asked Questions about Baby Pajamas
What's the ideal sleepwear for babies?
Though it may vary from child to child, the ideal sleepwear for little ones is both comfortable and safe. Avoiding Sudden Infant Death Syndrome (SIDS) is the most important factor, especially because you cannot be there to watch your baby every time they sleep.
For protection against the cold, sleep sacks and wearable blankets are much safer than covering a baby with a loose blanket as long as the clothing is fitted at the neck and does not ride up over the face.
Additionally, choosing a fabric that will breathe well and not overheat your baby is a must, as overheating increases the risk for SIDS.
How often do you need to wash your baby's PJs?
One of the often underestimated elements of parenthood is just how much laundry there is going to be. From cleaning crib sheets to burp rags, bibs, and diaper blowouts, it can seem never-ending.
If your baby's pajamas even make it through the night without being changed from a spilled bottle, diaper change gone wrong, or spit-up, it is still a good idea to wash them after every use. Clothing fibers are especially good at holding onto dangerous bacteria, and with babies who are still developing their fragile immune systems, it is probably best not to take any chances.
Conclusion
Parents need to consider many factors before determining the best decisions for their children at almost every turn. That is why we created this comprehensive pajama guide to make the process easier. While sleepwear may not be the biggest decision parents make on a daily basis, it definitely matters.
Keeping your baby safe and comfortable are the most important factors. Considering fabric options, styles, and safety recommendations will help accomplish both tasks and aid in caring for both you and your baby's sleep hygiene. If the right sleep style can help keep your baby safe and asleep longer, it will have been well worth the research.