Disclaimer – Nothing on this website is intended to be a substitute for professional medical advice, diagnosis, or treatment…
Read More Here
.
Are you wondering if it's safe to sleep with your baby on your chest?
Scroll through any social media feed, and you're bound to come across at least one picture of a newborn sleeping on their parent's chest. While this skin-to-skin contact can provide bonding for both baby and parent, the big question is, is it safe?
There's a lot of confusion about sleep safety when it comes to newborns. Let's go over the most common questions on this topic so you can make the best choice for your family.
Is it Safe to Sleep With My Baby on My Chest?
Holding your baby skin-to-skin1 is such a powerful bonding experience that after somebody gives birth, it is recommended they hold their newborn this way for the first hour of their life.
The reason skin-to-skin contact is so important during this time is that it stabilizes the newborn's body temperature, blood glucose levels, and cardiorespiratory stability.1 Long-term, this contact has been shown to help the baby have better sleep patterns, less crying, and better overall development1. This skin-to-skin connection also helps the parents, immediately reducing stress and anxiety levels after birth.1
Beyond the hour directly after birth, having your baby sleep on your chest is still considered safe, with one exception — you must be awake. The American Academy of Pediatrics2 warns that falling asleep while your baby is sleeping on you greatly increases the risk of sudden infant death syndrome (SIDS).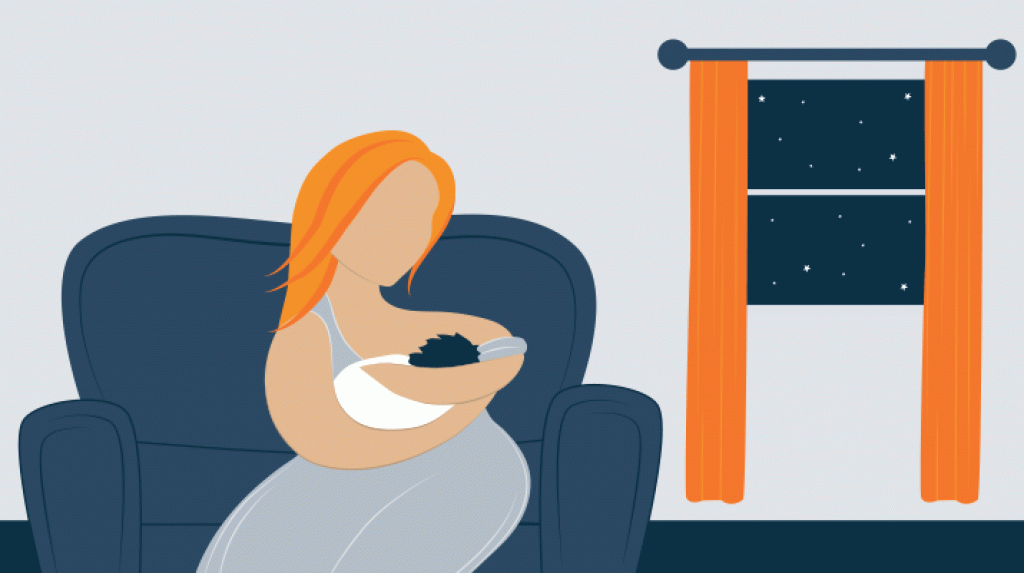 How and Where Should a Newborn Sleep?
According to the AAP3, the safest place for newborns to sleep is on a firm mattress in a safety-approved crib. This mattress should be covered in one tightly fitted sheet, with no other bedding or pillows. The crib should go in the parents' bedroom near the bed, but the baby should not, according to the AAP, sleep in the same bed with their parents.3 Cribs, bassinets, portable cribs, and play yards are all recommended as long as they are free from soft objects like bedding, pillows, bumpers, swaddle blankets, and toys3.
Additionally, to reduce the risk of SIDS4, babies should always be placed on their backs to sleep. This is especially important for newborns who don't have the strength or mobility to lift their heads or switch positions easily.
Once a baby is about a year old5 and stronger, you won't have to worry about keeping them on their back throughout the night. This is because if your baby is on their stomach, they'll physically be able to roll over to their back, reducing their risk of suffocating face down.
Check out our favorite crib mattresses
Should Parents Be Co-Sleeping With Babies?
The AAP doesn't recommend co-sleeping due to the increased risk for SIDS.3 This warning is especially true of co-sleeping on a couch or soft armchair, which can increase the risk of SIDS by up to 67 times6. 
If you do decide to co-sleep, it's important to follow safe co-sleeping guidelines.
Conclusion
Parenting a newborn can feel like driving a car without a license (or a map). How do you navigate all of the big and little decisions when it comes to keeping your baby safe? The best place to start is with accurate and guided advice.
The American Academy of Pediatrics is one of the most trusted sources when it comes to raising children, and according to them, chest sleeping is safe – as long as the parent is not also asleep.3 So let yourself enjoy those cuddly moments, but be sure you're awake and alert, so you don't also nod off and risk your baby's safety.
References:
Feldman-Winter MD, Lori., Goldsmith MD, Jay P. "Safe Sleep and Skin-to-Skin Care in the Neonatal Period for Healthy Term Newborns". American Academy of Pediatrics. https://publications.aap.org/pediatrics/article/doi/10.1542/peds.2016-1889/52741/Safe-Sleep-and-Skin-to-Skin-Care-in-the-Neonatal. 2016.
Moon MD, Rachel Y., Carlin MD, Rebecca F., Hand MD, Ivan. "Sleep-Related Infant Deaths: Updated 2022 Recommendations for Reducing Infant Deaths in the Sleep Environment". American Academy of Pediatrics. https://publications.aap.org/pediatrics/article/150/1/e2022057990/188304/Sleep-Related-Infant-Deaths-Updated-2022. 2022.
Moon MD, Rachel Y., Darnall MD, Robert A., et al. "SIDS and Other Sleep-Related Infant Deaths: Updated 2016 Recommendations for a Safe Infant Sleeping Environment". https://publications.aap.org/pediatrics/article/138/5/e20162938/60309/SIDS-and-Other-Sleep-Related-Infant-Deaths-Updated. 2016.
"SIDS (Sudden Infant Death Syndrome)". Cleveland Clinic. Last modified May 22, 2023. https://my.clevelandclinic.org/health/articles/13646-sudden-infant-death-syndrome-sids.
"Frequently Asked Questions About SIDS and Other Sleep-Related Infant Deaths". Eunice Kennedy Shriver National Institute of Child Health and Human Development. Webpage accessed July 29, 2023. https://safetosleep.nichd.nih.gov/reduce-risk/FAQ.
"American Academy of Pediatrics Updates Safe Sleep Recommendations: Back is Best". American Academy of Pediatrics. https://www.aap.org/en/news-room/news-releases/aap/2022/american-academy-of-pediatrics-updates-safe-sleep-recommendations-back-is-best/. 2022.
Jill Zwarensteyn
Editor
About Author
Jill Zwarensteyn is the Editor for Sleep Advisor and a Certified Sleep Science Coach. She is enthusiastic about providing helpful and engaging information on all things sleep and wellness.