Have you ever thought about starting a business with your spouse?
It could turn out to be a fun adventure, working every day together, side by side. For other people, that sounds like a terrible nightmare!
Husband and wife team, Jimmy and Steph MacDonald, made a go of it, and founded Authenticity 50 together with a goal in mind: "to create premium, home goods, 'seed-to-stitch' made in America." Every single part of the product is made in the United States.
Staying true to their name, everything about Authenticity 50 is honest, and the company is transparent about every part of their process. In their labeling, they tell you everything that's in the product, what they've decided to avoid, and why.
Do these values translate into sheets that sleep like a dream? Check out our review of the Authenticity 50 to find out.
---
Authenticity 50 Sheets – Key Features
Supima cotton fabric
Percale weave
250 thread-count
Designed specifically for Bed in a Box foam mattresses
360-degree elastic
Fits mattresses up to 16 inches high
100-night trial
Made in the USA
---
Pros & Cons
Pros
All-over elastic coverage ensures a tight fit
Secure, envelope closures on pillow cases
Premium materials that are lightweight for year-round use
No retail markup
Free shipping (except to PO boxes)
Risk free trial
Made in the USA
Cons
Only three colors available (more coming later in 2018)
Excessive wrinkling is common
---
Material / Style
There are three available colors to choose from: white, gray, light blue. This selection is somewhat limited, but the advantage is that there are enough options to fit most design aesthetics. White for the purists; gray for the modern and masculine; and light blue for a touch of airy femininity.
The material is pure Supima cotton. It's the rarest form of cotton and known for being present in high-quality products. The Pima cotton sourced by A50 is extra-long, allowing it to be woven into sheets that have structural integrity without breaking down or becoming unwoven.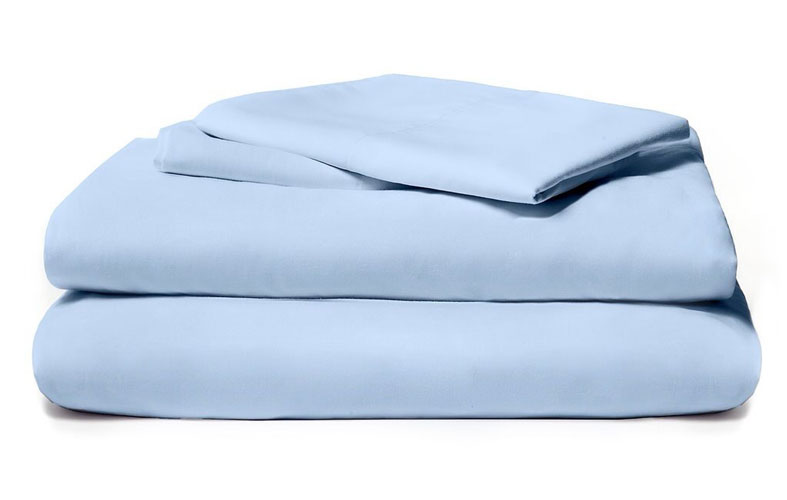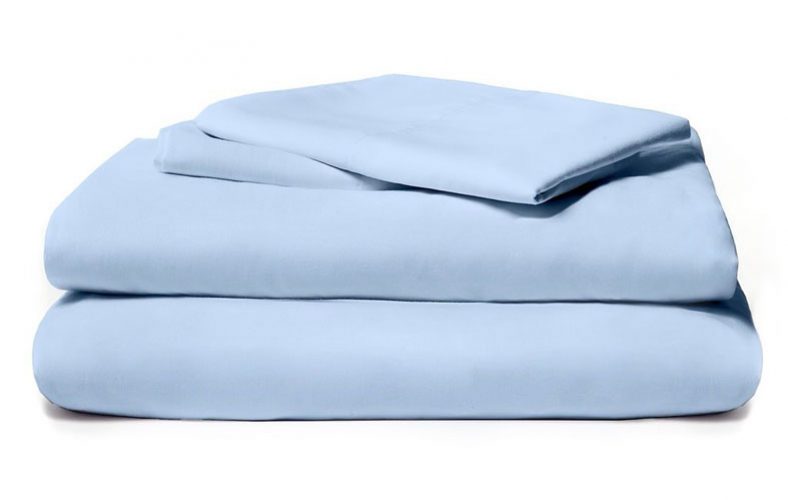 ---
Build Quality
Authenticity 50's "seed to stitch" approach means that every aspect of the material sourcing and production is done in the US. The strict adherence to this principle means they have more control over manufacturing and quality control. As a result, these sheets are exceptionally made and are an impressive sight, right out of the box.
There are few, if any, loose threads and the stitching is expertly finished. Expect only minimal shrinkage after you wash and dry your new bedsheets, and virtually no shrinking in your pillowcases.
---
Durability
According to the manufacturer, these sheets will get better with age. As long as they are cared for according to specifications, you'll find that this bedding is incredibly durable. The care instructions do advise against washing in very hot water to prevent excess shrinkage.
---
Weight
The percale weave creates a lightweight sleeping experience that is breathable and comfortable year-round. Percale bedsheets are what you typically find in five-star, luxury hotels, so you'll be in good company when you sleep on this bedding.
---
Feel & Comfort
Supima cotton naturally delivers a stronger and softer yarn. And because of the percale weave, these sheets offer a blend of smoothness and crispness that keep you at the perfect temperature, no matter the season.
A percale weave is a type of threading pattern where the yarns are woven evenly on the top and bottom surface. The result is a cooler feel, a matte finish, and a more breathable fabric than sateen.
Although this bedding gets softer with age, it might feel a little rough for the first few washings. Many companies stonewash their sheets in the production process to soften it up faster. A50 has chosen not to do this as this step adds significant cost to the final product. Instead, they pass the savings along to you, the buyer.
There are other brands who also choose not to stonewash their sheets. Among these contenders, we think that A50's bedding is the softest right out of the box.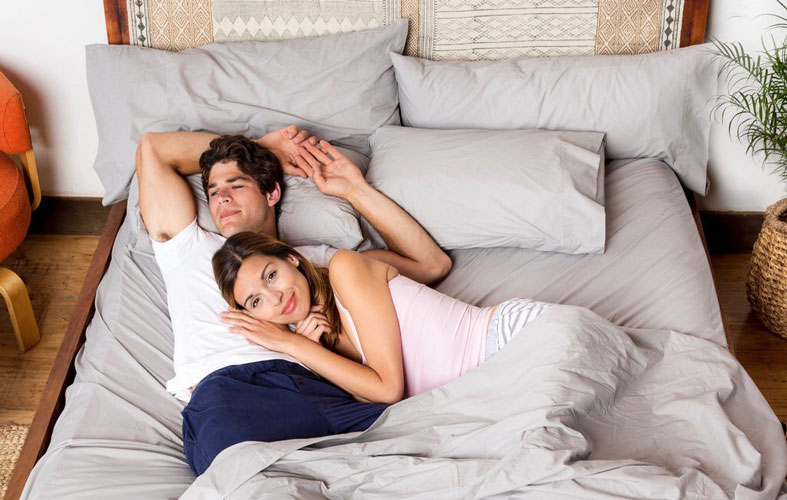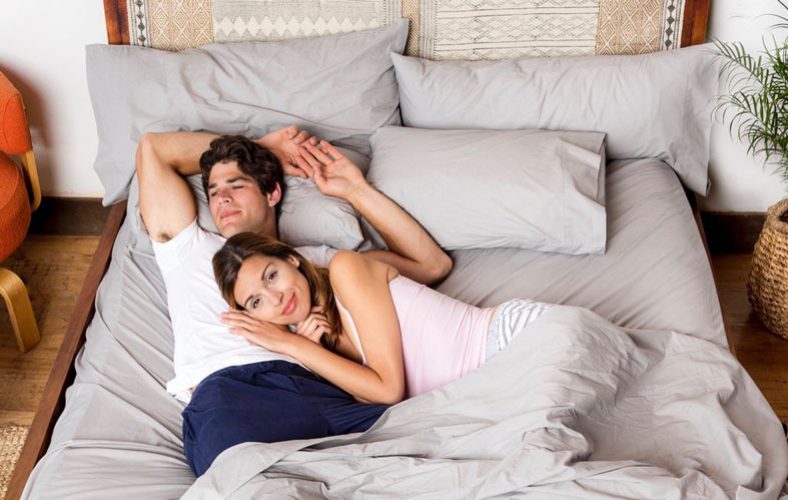 ---
Price / Value
When Authenticity 50 took their product to department stores, the store buyers told the company that they would sell them for $400 per set. The MacDonalds decided that could skip the middleman and provide more value at a lower cost by selling directly online.
Considering that this bedding is now sold directly by the company for less than half the suggested department store price, we think these sheets are a tremendous value.
The premium materials and decision to manufacture in the US could easily drive up the price of this bedding. Instead, A50 passes much of the savings on to their customers.
---
Who Should Buy Authenticity 50 Sheets?
People who love the feel and pureness of cotton, especially Supima, will appreciate the blend of softness and crispness in Authenticity 50's sheets.
If you're worried about summer heat, the percale weave will keep you much cooler than a sateen fabric.
If the thought of chemicals in your bed directly touching your skin is undesirable, it can be hard to find a brand you can trust. A50's sheets are formaldehyde-free, at least if you buy white. The gray and blue linens have 30 parts per million of formaldehyde, which is still low. The average "wrinkle-free" sheet has ten times more.
And finally, if buying US-made goods is important to you, then you can't get much more domestic than Authenticity 50. From the cotton to the assembly and everything in between, the entire production process is done in the USA. Compare this to other companies who say, "designed in the USA," and cleverly try to mask that their sheets are made in countries with questionable labor and environmental practices.
---
Who Shouldn't Buy Authenticity 50 Sheets?
If you hate wrinkled-looking bedding, you might not like Authenticity 50's product line. While some companies treat their linens with chemicals to make them wrinkle resistant and non-iron, the husband and wife team at A50 decided that they'd rather have chemical-free sheets than non-iron ones.
For people who like bright and bold colors in their bedding, you'll have to look elsewhere. Authenticity 50 has exclusive contracts with their manufacturers, so they need more sales volume to justify a new color line. Rest assured, though! Later this year, they plan on releasing more colors.
Because this bedding is a percale weave rather than sateen, it won't have a shiny appearance. If you're looking for shiny sheets, you'll need to try a different brand because Authenticity 50 has more of a one-size-fits-all approach to material and colors. Remember, though, that percale sleeps cooler than sateen, so if you sleep hot, this is still the best choice.
Conclusion
If you want a top-quality product made by a company you can feel proud to support, the sheets from Authenticity 50 are our recommended choice. They don't offer a lot of frills, but we think that the simple things in life are often the best. Kind of like warm, apple pie.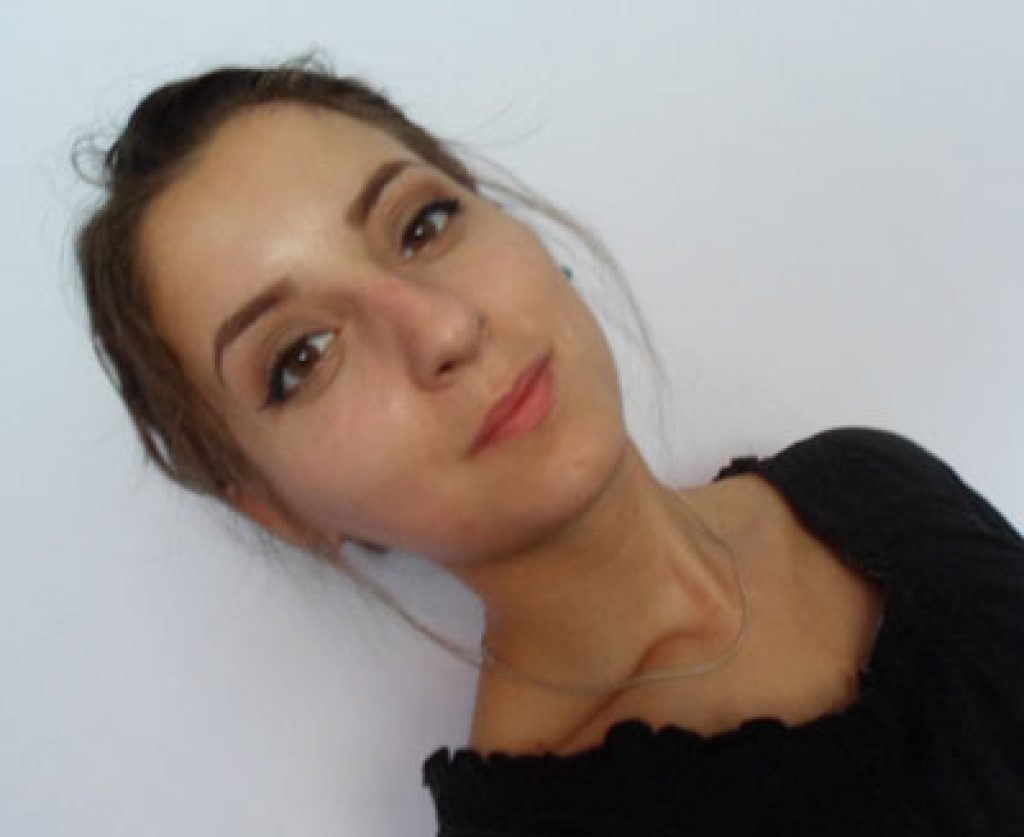 Olivera Jancikin
Content Writer
About Author
Olivera is a content writer for Sleep Advisor and is enthusiastic about sleep. She firmly believes in the benefits of daytime naps on top of getting a full 8-hour sleep at night.