Disclaimer – Nothing on this website is intended to be a substitute for professional medical advice, diagnosis, or treatment…
Read More Here
.
If you're a parent or caregiver, you likely have heard of the sleep sack: a baby accessory that has become very popular in the past several decades.
When the American Academy of Pediatrics (AAP) released safety guidelines1 for infants that included keeping blankets out of the crib, many parents wondered how they would keep their babies safe and warm. These new AAP guidelines led to the creation of the sleep sack.
If you're a first-time parent, or you've never used a sleep sack with your children before, you may be wondering "When and how should my baby use a sleep sack?". Keep reading to learn more as we delve into what a sleep sack is, when to use this baby accessory, how to safely use one, and other tips related to sleep sacks.
What is a Sleep Sack?
A sleep sack is a sleeveless, wearable blanket2 for babies that has arm holes. These sleep accessories include a zipper or snap buttons, come in different fabrics, and range in sizes from preemie to toddler. Sleep sacks are great for the transition period between swaddling your baby and giving them a blanket.
Are Sleep Sacks Safe for Babies?
When used properly, sleep sacks are not only safe for babies, but they can also make sleeping safer. These wearable blankets are intended to keep little ones warm while lowering the risk of Sudden Infant Death Syndrome3 (SIDS). In fact, a 2019 study4 found that sleep sacks are "as safe, if not safer than other bedding when examining SIDS as an outcome."
One of the main factors responsible for SIDS is suffocation, so if a baby rolls onto their belly and can't roll over to their back, they could suffocate face down3. This means, when a baby is able to roll over, their hands should be free so they can push themselves onto their back. Once your baby is mobile, we suggest you transition from a swaddle (where your baby's hands and arms are inaccessible) to a sleep sack (where their arms aren't restricted) to promote safe sleeping.
Sleep sacks provide even more safety because they protect the baby's legs from getting stuck between the crib rails. Crib-related injuries account for thousands of trips to the emergency room every year according to the Child Injury Prevention Alliance5.
When Should You Start Using Sleep Sacks for Your Baby?
It is important to keep your baby warm, especially when they're newborns and are used to being cozy in the womb. However, babies shouldn't sleep with a blanket until they are at least one year old, according to the American Academy of Pediatrics1. A blanket could strangle or suffocate your baby, increasing the risk of SIDS3.
Many parents choose to swaddle during the early newborn phase when the Moro reflex6, which is when the baby suddenly jerks their arms up while asleep, can easily wake a sleeping baby. This way, the baby's arms are secured by their sides, and they can't wake themselves up at night. Not only that, but a swaddle is comforting for a new baby7, who is used to being in the womb.
Once babies start rolling over, they should transition to a wearable blanket, or sleep sack, with their arms free. Swaddling is better for infants that cannot yet roll, while a sleep sack can be used for little ones from birth through toddlerhood. As mentioned, if your mobile baby rolls onto their tummy, a sleep sack is safe and recommended because they can use their arms to roll over to their back, reducing the risk of SIDS3.
View Our Full Comparison: Sleep Sack vs. Swaddle Blanket
Tips for Using a Sleep Sack
If swaddling your baby into the perfect burrito has become more and more difficult as they've become mobile, you'll find relief in the ease that accompanies the sleep sack as they are designed to be user-friendly.
Most sleep sacks have zippers or snap buttons to allow for easy diaper changes in the middle of the night2. It's best to dress your baby in a onesie or pajamas underneath their sack, but be careful not to add too many layers. While babies need to be warm, they're also at risk of overheating8.
Thermal Overall Grade9 (TOG), is a quality of some sleep products that vary in temperature, such as duvet covers and sleep sacks. In the context of a baby, TOG helps you compare the thickness of a sleep sack to the warmth of a certain number of blankets. Knowing how warm or cool a sleep sack is will help you dress your baby appropriately for a certain room temperature.
Learn more: How to Dress Your Baby for Sleep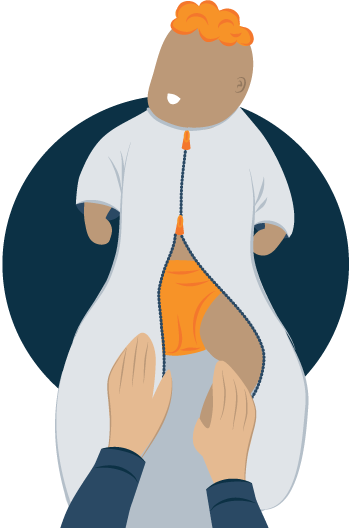 Sleep Sack Sizing Recommendation by Age
Just as it's important to select the right type of sleep sack based on the temperature of the room, it's also crucial to choose the right size. If your baby's sleep sack is too small, it could lead to suffocation, while an oversized sleep sack could lead to strangulation, which are both contributors to SIDS3. Thankfully, manufacturers make it easy to find the right fit by including sizing based on age, height, and weight in their product descriptions.
The most important considerations when choosing a sleep sack should be height and weight. No two babies are alike, and some newborns can weigh nearly as much as smaller toddlers, so don't get too caught up on the age suggestions.
Halo10 was one of the first companies to sell sleep sacks, and the following size chart is based on their products.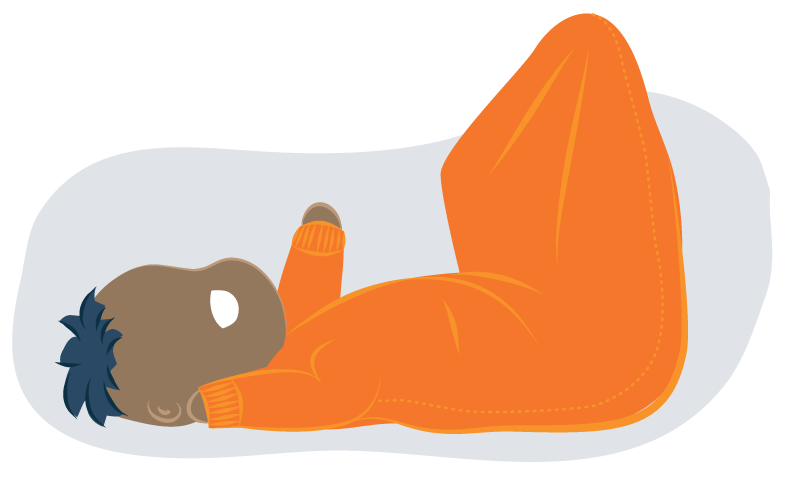 How Long Do Infants Use Sleep Sacks?
After your baby starts learning to crawl, they often want to practice this newfound skill in their crib. A sleep sack may be too restrictive for crawling. If your little one gets frustrated by their limited mobility, you can expect them to strongly resist being put into their sack.
Once your child is one year old, you may transition from a sleep sack to a blanket since the risk of SIDS is largely decreased1. However, some children will prefer to continue wearing a sleep sack through toddlerhood. As long as you continue to check on sizing and replace the sleep sack as your child grows, it is still a safe, cozy sleep accessory.
When Should Babies Transition to a Blanket?
The AAP advises that blankets should be kept out of your child's crib for the first year while the risk of SIDS is still very present1. After your child's first birthday, you can try introducing a small, lightweight blanket.
View Our Full Guide: When Can Baby Sleep With the Blanket?
How to Transition from a Sleep Sack to a Blanket
While there isn't a right way to transition your baby from a sleep sack to a blanket, we recommend slowly introducing a blanket during the day, or during nap time to adjust your child to the idea. A lightweight blanket is probably the best option to start with, so your baby won't get too warm and can get used to the idea of a blanket.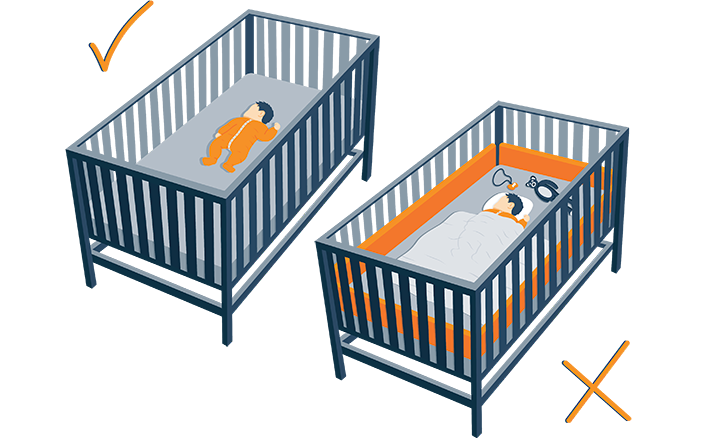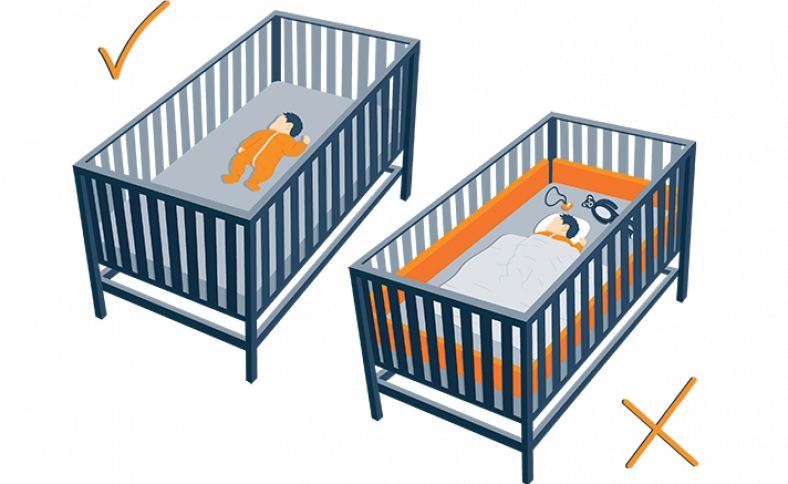 FAQs
Are weighted sleep sacks safe for babies
No, weighted sleep sacks are not safe for babies. According to the AAP, "it is recommended that weighted blankets, weighted sleepers, weighted swaddles, or other weighted objects not be placed on or near the sleeping infant1." Too much weight or overheating from this weight could lead to an increased risk of SIDS3.
Why do babies like sleep sacks?
Babies like sleep sacks because they keep them warm and cozy, and their arms aren't restricted like they are in a swaddle.
Are sleep sacks safe for babies that can roll over?
Sleep sacks are the safest option for babies that can roll over because their arms aren't restricted2. If a baby gets stuck on their tummy and can't use their arms to push onto their back, they risk suffocating, which is a cause of SIDS3. Once your baby can roll over, transition them from a swaddle to a sleep sack.
Conclusion
Sleep sacks are a great transition piece between swaddles and blankets for mobile babies while being very safe and comfortable. There are ample options to choose from based on the temperature of your home and your child's size and age.
While your little one can continue using a sleep sack through toddlerhood, most babies will likely prefer to sleep without one around the age of one. At that point, you can safely introduce a lightweight, breathable blanket.
References:
Moon MD, Rachel Y., Carlin MD, Rebecca F., Hand MD, Ivan. "Sleep-Related Infant Deaths: Updated 2022 Recommendations for Reducing Infant Deaths in the Sleep Environment". American Academy of Pediatrics. https://publications.aap.org/pediatrics/article/150/1/e2022057990/188304/Sleep-Related-Infant-Deaths-Updated-2022. 2022.
"Are Sleep Sacks Safe for Babies?". Cleveland Clinic. https://health.clevelandclinic.org/sleep-sack-safety/#:~:text=A%20sleep%20sack%20is%20basically,move%20freely%20without%20any%20restrictions. 2022.
"Sudden infant death syndrome (SIDS)". Mayo Clinic. Last modified July 19, 2023. https://www.mayoclinic.org/diseases-conditions/sudden-infant-death-syndrome/symptoms-causes/syc-20352800.
Williams, Alessandra Glover., Finlay, Fiona. "Can infant sleeping bags be recommended by medical professionals as protection against sudden infant death syndrome?". National Library of Medicine. https://pubmed.ncbi.nlm.nih.gov/30297442/. 2018.
"Crib Safety". Child Injury Prevention Alliance. Webpage accessed July 25, 2023. https://www.childinjurypreventionalliance.org/cooking-safety-1#:~:text=while%20they%20sleep.-,However%2C%20more%20than%209%2C500%20injuries%20and%20over%20100%20deaths%20related,environment%20for%20their%20little%20ones.
Edwards, Christopher W., Al Khalili, Yasir. "Moro Reflex". National Library of Medicine. Last modified July 25, 2022. https://www.ncbi.nlm.nih.gov/books/NBK542173/#:~:text=The%20Moro%20reflex%20is%20a,the%20Moro%20reflex%20in%201918.
"Should You Swaddle Your Newborn?". University Hospitals. https://www.uhhospitals.org/blog/articles/2023/01/should-you-swaddle-your-newborn#:~:text=Swaddling%20can%20make%20the%20very,which%20can%20wake%20them%20up. 2023.
"Reduce the risk of sudden infant death syndrome (SIDS)". National Health Service. Last modified November 15, 2021. https://www.nhs.uk/conditions/baby/caring-for-a-newborn/reduce-the-risk-of-sudden-infant-death-syndrome/.
"TOG RATING EXPLANATION". IDFL Laboratory and Institute. Webpage accessed July 24, 2023. https://idfl.com/info/tog-ratings-explanation/.
"WEARABLE BLANKET 100% COTTON". Halo Sleep. Webpage accessed July 25, 2023. https://www.halosleep.com/halo-sleepsack-wearable-blanket-100-cotton-blue-wb-cot-blue.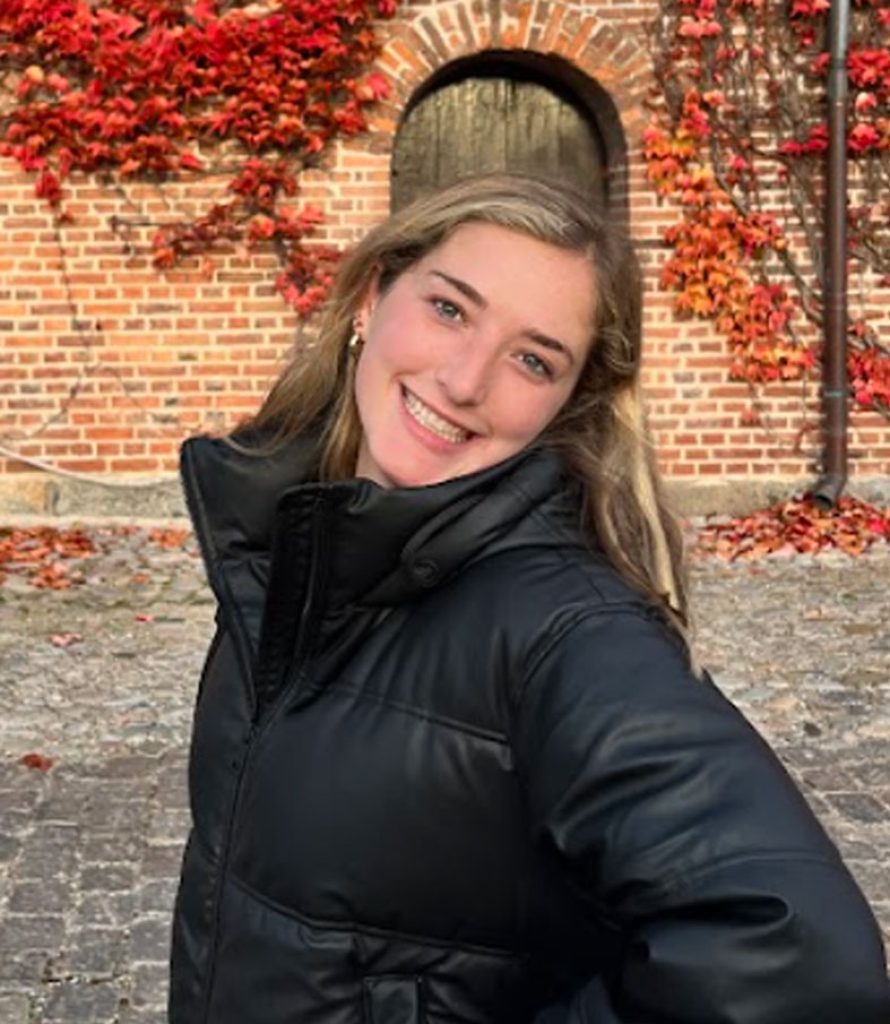 Emma Cronan
Writer
About Author
Emma is an Editorial Intern for Sleep Advisor. She collaborates with the editor and staff writers to come up with article ideas, create article outlines, and write for the website.