Transparency Disclosure – We may receive a referral fee for products purchased through the links on our site...

Read More

.
Disclaimer - Nothing on this website is intended to be a substitute for professional medical advice, diagnosis, or treatment...

Read More Here

.
A high-quality bed is one key to a good night's sleep and a healthy lifestyle. If you want a cool sleeping surface with low motion transfer and optimal spine support, a gel memory mattress is an ideal solution for you. Add affordability to the mix, and you get the Gel Memory Foam Mattress from Vibe.
The Vibe mattress offers a comprehensive range of comfort, support, and pressure-point-relief features, along with a durable design and construction. The Vibe is a viable option, whether you are a sensitive sleeper who shares a bed with a restless partner, a price-conscious shopper, or a side sleeper.
This review takes an in-depth look at the 12-inch Vibe from Classic Brands, its features, benefits, and drawbacks.
Are you already familiar with this product? Feel free to skip to our verdict.
Noteworthy Updates
Classic Brands works with clients in the hospitality industry to provide a custom mattress program that fits their unique requirements. If you want to provide your guests with a quality sleep experience, Classic Brands offers a wide-ranging selection of products for your hospitality brand.
In addition to memory foam, Classic Brands now offers an all-inclusive range of mattress categories, including hybrid, cool gel, innerspring, and sofa. These products are compatible with the brand's adjustable bases.
Who Do We Think Matches with Vibe?
Side Sleepers – With a medium-soft firmness, the Vibe contours around the body, alleviating stress around pressure points. If you prefer sleeping on your side, the top foam layers should reduce pressure around your hips and shoulders.


---

Sensitive Sleepers Sharing a Bed – The Vibe sleeping surface features exceptional motion isolation without components such as innerspring coils or latex to make it bouncy. If you are a sensitive sleeper, this mattress is a viable option to absorb your partner's movements.


---

Lightweight Back Sleepers – If you are a back sleeper weighing less than 120 pounds, the Vibe should provide the necessary support to keep your spine in a natural position.
Possible Vibe Complaints
It might not be firm enough – Sleepers who carry more weight may sink into the top foam layer due to its relatively low indentation load deflection. If you sleep on your side, the mattress's softness should not be an issue. As a back or stomach sleeper, however, you could wake up with back pain.


---

Full expansion takes a bit longer – According to the manufacturer's instructions, this mattress takes up to 72 hours to expand fully to a height of 12 inches. Usually, it's best if you don't sleep on a mattress before it reaches full expansion, so don't get rid of your old bed before buying the Vibe.
Weight Considerations
The Vibe has no tried-and-tested weight limit. The high-density polyfoam core can withstand a total weight of at least 600 pounds for the duration of the product's lifespan.
While the core has a high weight-bearing capacity, we cannot say the same for the gel-infused memory foam and polyfoam comfort layers. If you weigh 250 pounds or more, the top layers on your side of the bed may lose their structural integrity over time. The result would be losing the midsection support you would need as a back sleeper to keep your spine in a comfortable position and prevent back pain.
Nonetheless, if you are a side sleeper weighing more than 250 pounds, you will likely sleep comfortably on the mattress for ten years or longer. However, toward the end of the Vibe's lifespan, the sleeping surface may feel harder as the cushioning between you and the core becomes thinner.
Construction: What's Inside Vibe?
A beautiful knit quilted cover with four-way stretch covers the entire mattress. The cover conforms to your body's contours and contributes to temperature regulation. In addition, the material protects the mattress from liquid spills and other substances, and it allows for unrestricted airflow.
The Vibe mattress is compatible with the adjustable bases that Classic Brands offers. Do you have difficulty with heartburn, sleep apnea, or acid reflux? Combine the Vibe with an adjustable base to improve your sleep quality.
The Vibe mattress has a height of 12 inches and features an all-foam construction consisting of three layers, as follows.
Topping the mattress is a two-inch Certi-PUR-US certified gel-infused memory foam layer. The foam layer here has a unique design to allow airflow throughout the mattress, preventing discomfort due to heat build-up. The foam also contours to your body as you move, reducing motion transfer and stress around pressure points.
In the middle is a gel-infused polyfoam comfort layer providing additional support for your spine while aligning the rest of your body. Key features of the polyfoam layer include breathability and resistance to microbes and allergens, such as dust mites, bacteria, and mold. The middle layer has a thickness of three inches.
The bottom layer is a seven-inch-thick high-density base polyfoam. This thick foam layer gives structure to the mattress while providing underlying support for your spine and joints.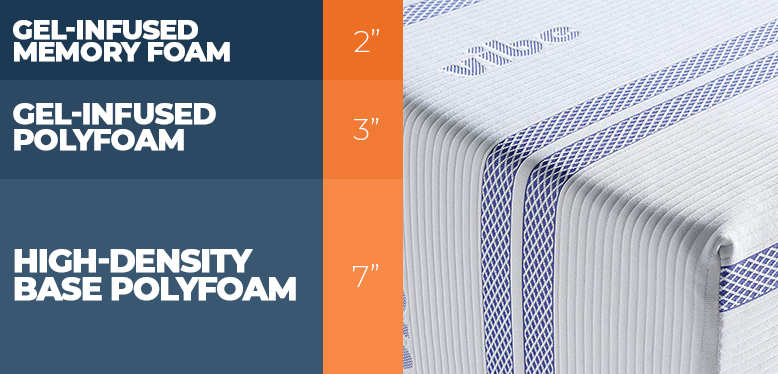 First Impression: How Does It Feel?
The mattress doesn't have a bounciness to it, which means your movements won't transfer to other areas of the bed. This feature is a significant benefit when sleeping next to a restless partner.
When placing a pressure point such as your elbow on the mattress and putting a little weight on it, you'll notice that the upper foam layer surrounding the area gives way. The foam forms a comfortable pocket around the area, alleviating the pressure.
Pressure Relief
As you lie down, you'll notice your weight gathering and putting pressure on certain parts of the body. The areas that are particularly sensitive to that pressure are known as your pressure points. Eventually, this could make it uncomfortable for you to rest well, which is why it's beneficial to invest in a bed with good pressure-relieving capabilities.
The gel-infused memory foam offers superior pressure relief by responding to the shape of your body, eliminating pressure points. At the same time, you get optimal upthrust, which means the surface pushes up against your body to keep it in its natural position.
The pressure relief you get from the product makes it a suitable option if you usually wake up with an aching body. Also, unrestricted blood flow is a secondary benefit of pressure relief, which is significant to people who experience tingly, sleeping limbs when lying down.
Support
While you sleep, proper spine alignment is critical to prevent strain on your ligaments and muscles. More specifically, your spine should maintain its natural curvature from your upper neck to your lower back. These curves allow for optimal pressure distribution, preventing vertebrae compression and chronic pain.
The dense polyfoam base serves as the supportive core for this bed. The Vibe mattress provides this support to sleepers weighing less than 230 pounds. If you are heavier and a back pr stomach sleeper, your midsection will likely sink in while lying on this bed, pulling your body out of proper alignment.
Preference-based Features
Bed-in-a-Box
The Vibe mattress will ship directly to your door compressed and rolled up into a box. To set up this mattress, take it out of the box, remove the plastic, and let it gradually decompress and inflate itself.
---
Cooling
The gel infusion of the two top layers has a cooling effect and transfers heat away from your body while you sleep. The grooves in the support care also allow air to pass through, which helps to keep you cool at night.
---
Edge Support
The Vibe offers decent edge support, thanks to core support that extends uniformly throughout to the perimeter of the bed. This feature is valuable to pet owners and couples who share a bed and want to use the entire surface for sleeping.
---
Great Motion Isolation
Along with pressure relief, motion isolation is one of the standout features of this product. Your partner's movements can disturb your REM cycles without you knowing, affecting your sleep quality. With this mattress, you can expect to wake up feeling refreshed every morning.
---
Adjustable Base Compatibility
Compatibility with the adjustable bases from Quality Brands allows you to select a sleeping position to alleviate conditions affecting your sleep hygiene.
Certifications
CertiPUR-US® Certified
The Vibe mattress is CertiPUR-US® certified, which means that its components are free of harmful chemicals and substances such as formaldehyde, lead, or mercury.
Off-gassing is the chemical smell that many memory foam mattresses emit after unboxing. However, as a CertiPUR-US® certified product, the Vibe mattress has a minimum volatile organic compound (VOC) count, which means no off-gassing while the product is still new.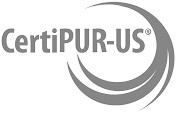 Vibe vs. Loom & Leaf
Comparing similar products can help you make an informed buying decision. In this section, we'll compare the Vibe to the Loom & Leaf, a high-end mattress by Saatva, giving you some perspective on the Vibe's features.
The Vibe has a similar construction as the Loom & Leaf. Both mattresses have a height of 12 inches with three foam layers: two top comfort layers and a high-density foam base. Additionally, these mattresses' pressure relief and cooling characteristics are similar, and both feature antimicrobial, hypoallergenic materials.
The firmness level is the most significant difference between these two products. You get two firmness options with the Loom & Leaf: 6/10 and 7.5/10—firmer than the Vibe.
The firmer feel of the Loom & Leaf makes it the ideal option for heavier sleepers who need midsection support for back and stomach sleeping. However, if you weigh less than 230 pounds and prefer a softer, cloud-like sleeping surface, the Vibe will provide you with all the comfort and support you need.
The Loom & Leaf features eco-conscious materials, which is an advantage. However, if you want to reduce your carbon footprint with your bed purchase, you will need to pay more for this product.
Overall Summary
Side sleepers can enjoy the pressure relief of the top comfort layers around their hips, shoulders, and elbows. The dense inner layer provides the necessary full-body support that keeps the spine in its natural curvature. Heavier individuals who weigh more than 230 pounds and prefer sleeping on their side can also get optimal comfort, as proper body alignment is easier to achieve in this position.
Due to the lower firmness level of this bed, it only provides sufficient midsection support to back sleepers weighing less than 230 pounds, which is why we gave it a four. However, the bed did earn points since it should be a suitable choice for lightweight and average-size individuals.
We also rated this bed a four for stomach sleepers since it won't be able to accommodate folks weighing over 230 pounds. However, the mattress did earn points for its durable and dense support base, which should still work well to keep most stomach sleepers from dipping too much in the middle.
While the Vibe has excellent motion isolation, it lacks bounce, making it less easy for combination sleepers to reposition. For this reason, the mattress scored a four. However, the Vibe's firmness is a 5.5, putting it in the medium range. The universal appeal of a medium-firm bed is helpful for combination sleepers since it can work for multiple positions.
Various features make this mattress the ideal option for couples, with motion isolation being the most significant. The edge support and size selection also ensure that you and your partner have the sleeping space you need. Plus, cooling features, including core foam grooves and cooling gel infusions, reduce the heat build-up from two bodies, allowing for a comfortable night's sleep.
The Vibe has a high load-bearing capacity, but the foam layers can only adequately support sleepers up to 230 pounds. For this reason, we gave this bed a three for heavy sleepers. However, the bed earned points since it should still accommodate some heavier individuals, particularly side sleepers.
The vibe is perfect for lightweight sleepers. If you weigh 120 pounds or less, this mattress will provide you with maximum pressure relief, support, and motion isolation. The medium-plush firmness provides a soft sleeping surface while aligning your body correctly. The cooling features are also more effective for lighter sleepers, as there is no sink-in contributing to body heat build-up.
---
The most significant drawback of this product is that its features are generally only available to lightweight and average-weight sleepers, which is why it scored an overall four. However, the Vibe Mattress scored well thanks to its durability, quality materials, and temperature control and motion isolation features. Furthermore, the foam layers provide exceptional comfort and support, allowing for deep, rejuvenating sleep.
Our Verdict
The Vibe mattress is the perfect option for side and back sleepers who weigh less than 230 pounds. Along with pressure relief, the top foam layers and core high-density polyfoam layer will provide you with full-body support, a comfortable degree of sink-in, and a healthy body alignment.
We also recommend the Vibe to couples needing a bed with optimal motion isolation and solid cooling and edge support.
We don't recommend this product for heavier-set people, especially those who prefer sleeping on their back or front. Instead, these sleepers should consider the hybrid version of this mattress or a memory foam bed with a higher firmness.