Air mattresses are affordable, portable, and easy to maintain.
However, there's a reason most people only use them while traveling or on a short-term basis. Air mattress owners share a common problem – the beds slide around.
Whether you're camping, hosting company, or trying to get a good night's sleep yourself, we should have some solutions! Read on as we explain why air mattresses move around and how to keep your air mattress from sliding.
Why Does My Air Mattress Keep Sliding?
The traditional air mattress has a polyvinyl chloride (PVC) or rubber surface. Since such surfaces are typically slippery, placing the bed on a smooth floor could lead to it sliding around.
A slanted bed base or floor could worsen the issue and make the mattress slide around even more. Another possible reason why your air mattress keeps sliding off the bed could be because of accumulated dirt or moisture beneath it.
Moisture under the mattress can come from condensation forming as the warmth from your body temperature meets the cool surface underneath. The condensation reduces friction under the air mattress, leading to it gliding around.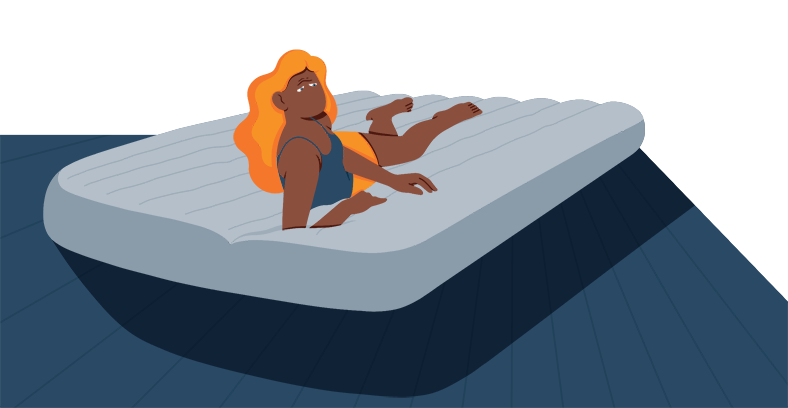 How Do I Stop My Air Mattress from Sliding?
If moisture or dirt is the cause of its slipperiness, it's not enough to clean your air mattress. You will also need to implement measures that will increase friction and hold the mattress in place. Are you unsure how to do that? Read on for some of the best tips on how to stop an air mattress from sliding. These solutions range from inexpensive, quick fixes to more elaborate solutions that would be appropriate for long-term solutions.
Non-Slip Pads
Non-slip rug pads (or gripper pads) are a simple, cost-effective solution for stopping sliding mattresses. The most common non-slip pads have a slip-resistant PVC foam surface that increases friction and holds the mattress in place.
Non-slip pads work best if your mattress has a bed frame. You only need to place the pad on the bed frame base beneath the mattress. Also, for optimal grip, the pad should have the same dimensions as your mattress. Get an appropriate-sized pad by buying a large one and trimming it down to fit the size of your airbed. Non-slip pads are generally quite inexpensive, a great option for a tight budget.
Learn more about mattress pads here.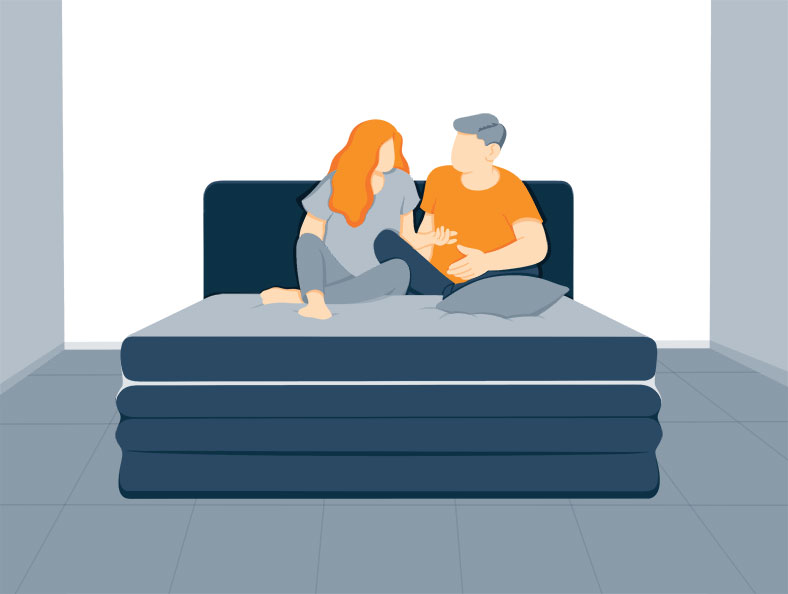 Carpet
If your air mattress slides around on a tile or vinyl floor, consider placing a carpet under your mattress. Tile floors and other smooth flooring offer minimal friction, making it easier for an air mattress to slide around.
Carpets have a pile surface that ensures friction and prevents the air mattress from sliding around. If you don't want to carpet your whole room, you can get a rug and place it beneath the mattress. Note that rugs work best as an air mattress holder when you place an underlay beneath the carpeting, such as a non-slip pad.
Raise an Air Mattress Off the Floor
If getting carpeting for your bedroom is not an option, fix the sliding mattress problem by taking your air mattress off the ground with an air mattress riser or platform frame. The ideal air mattress riser would be a bed frame with rails or raised sides that can hold the mattress in place.
Note that this solution will only work if the bed frame matches the dimensions of the mattress. If the frame is too large, the mattress could still slip around inside. Also, if you opt for an off-the-ground air mattress solution, ensure that the bed frame has no pointy edges that might puncture the air mattress.
Sheet Straps
Another solution for preventing sliding air mattresses is using sheet straps. Due to the slipperiness of an air mattress' surface, bed sheets rarely stay in place. If the sheets stayed in place, they would cover the bed's rubber edges, increase friction against the ground, and minimize mattress sliding.
Like belts for your trousers, sheet straps hold sheets in place, preventing them from sliding off the bed. If you want a lasting solution, choose a sheet strap made with durable materials. Also, before buying a sheet strap, make sure that it's a good fit for your bed's size.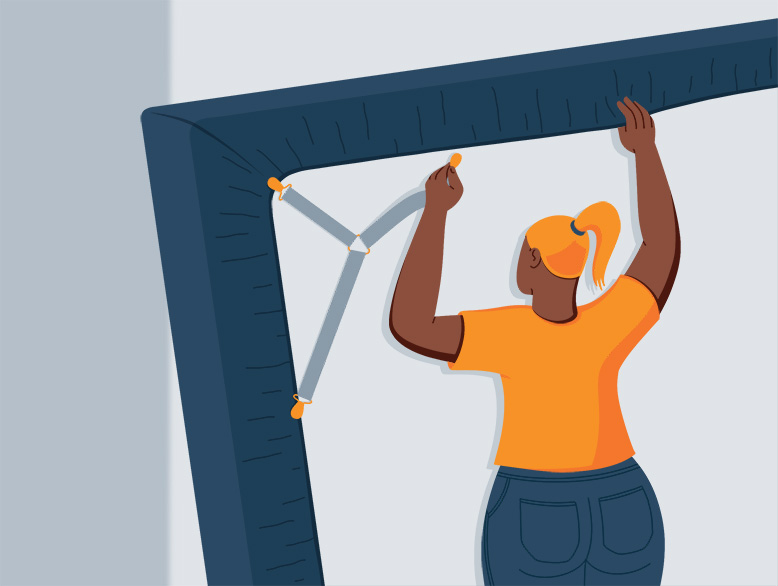 Better Sheets
Bed sheets make a mattress more comfortable by providing you with a cozy surface for sleeping. Also, sheets prevent your body oils and sweat from staining the surface of the mattress. Even better, with the right sheets, you can stop your mattress from sliding.
The ideal sheets for your bed will be large enough to cover all the edges of your mattress and tuck beneath it. If the sheets cover your mattress and you tuck them in properly, they are less likely to pop out when you lie on them. When your sheets stay in place, they can reduce the likelihood of your mattress moving around.
See Our Guide: Best Bed Sheets
Conclusion
Now that you know how to keep your air mattress from sliding around, which of our solutions will you use? The right solution for you should fit your personal circumstances.
If a bed frame is beyond your budget, you could install a non-slip pad beneath your air mattress. However, if you want to eliminate any chance of your bed slipping around and waking you from blissful sleep, you could combine multiple solutions.
An effective multi-faceted solution would be to raise your mattress off the floor, place a non-slip pad between the air mattress and the base, and invest in better sheets. If you take this approach, you will likely never again have to worry about chasing your mattress around your room.
Katie is a content writer and serial hobby collector who enjoys naps almost as much as her pets do. When she isn't writing, she likes to ride her motorcycle, catch Pokemon with her hubby, and practice yoga with her dog.