Transparency Disclosure – We may receive a referral fee for products purchased through the links on our site...

Read More

.
Those with seasonal or constant allergies can struggle with coughing, dry skin, or sinus infections, taking a toll on daily quality of life. Humidity levels in your own home can create undesirable environments where fungi and bacteria thrive. These symptoms can lead to long-term health effects and should be taken with due consideration.
Often individuals don't realize that symptoms can be mitigated and even eliminated by using a humidifier. Maintaining proper humidity levels can decrease bacteria, fungi, and moisture in the air. Breathing air that's too dry can minimize necessary mucus in your system, making you more prone to illness.
Below we'll go through our best rated travel humidifiers that we think can offer great value and why they can be of use.
10 Top-Rated Travel Humidifiers Review
URPOWER –
Editor's Choice
Essential Oil Diffuser
Continuous mode
Intermittent mode
7 LED light options
This smart-looking humidifier comes in a variety of wood shades and colors and allows you to humidify your home to the optimum level and infuse it with calming scents. This device helps you create the ultimate relaxing and healthy environment with a compact device that blends into your home seamlessly.
The humidifier will add an infusion of moisture to your air, allowing you to snooze better, relieve sinuses, and alleviate coughs. The diffuser function will release scented oils into your space without unnecessary heat, maintaining their holistic essences, and preserving their healing properties. It has an automatic shut off system for safety, keeping the oil free from burning or overheating.
Boasting an advanced vaporizing ultrasonic technology, this product works quietly so you can enjoy its benefits without disruption for up to six hours. Efficient and conservational, just a few drops of oil can last the majority of the day, saving you money and increasing your health.
JZK International –
Best Cool Mist
Cool or warm water mist
Relaxing glow for night time
4-8 hours of continuous mist
The JZK humidifier not only projects a cooling mist to infuse moisture into your air, but it's compact and quiet, making it excellent for pets and babies as well as adults. The silent hum can hardly be noticed and offers 8 hours of refreshing mist.
The device features a night light that can be turned on and off, which can come in handy if you're nursing a child and need a bit of light for easier maneuvering in dim morning hours.
Users have described this product as easy to clean and significantly able to reduce congestion. Injecting your space with moisture can drastically improve nasal congestion, allergies, and dry skin, which can make a profound difference in one's health. It comes in various fun colors and is about the size of a softball, saving you space and your back muscles moving it from room to room.
Fancii –
Best USB Operated
Ultrasonic: operates at below 15 decibels
Adjustable timer: 2, 4, 6, and 8 hour automatic shut-off
Designed for use with water bottles
This stylish, compact humidifier checks a lot of boxes without taking up much space or breaking the bank. It's lightweight, making it easy to tote around if you travel frequently, or, if you need to lay down with your child to help them fall asleep before escaping to your own room. This nifty device is super quiet as well, operating at less than 15 decibels.
It can run on batteries (not included) or be powered through a USB cord. With AA batteries it can usually last about 18 hours. If you prefer to save energy, you can set the adjustable timer to shut the device off after a certain time. It also has a safety feature, turning it off after 8 hours automatically.
Working with just a water bottle, it's affordable while still elegant in style, making this humidifier an excellent choice.
BONECO –
Best Portability
Various mist output controls
Ultrasonic technology
Auto shut-off feature
Designed for use with water bottles
This handy humidifier is perfect for the jetsetter type, easily slipping into a purse or piece of luggage, and should provide you with perfectly healthy air wherever you go. For secure storage, it comes with a nifty travel bag and a brush for keeping it sparkly clean.
Whether you find yourself in a hotel, your home, or at the office, you can take your quality air with you, releasing a high output of about 1 gallon of fine humid mist to ease your nasal cavity. Featuring an output regulator, your personal humidity can be controlled and manipulated as needed.
Using a common sized plastic bottle, the water is funneled into micro-fine mist bubbles to moisturize your dry air, easing your dry skin, allergies, and congestion. This handy product can alleviate nasal issues due to smog, tobacco smoke, musty office air, pollution, and more, providing you daily relief.
MADETEC –
Best Ultrasonic
2 mist modes
7 LED light options
Can last from 5-10 hours
One touch control
If you're looking for something quiet, keep an eye out for an ultrasonic device. You might recognize the word ultrasonic concerning dog whistles, in that noises created ultrasonically are produced at frequencies higher than adults hearing limits, making it silent to humans. This means that this MADETEC Ultrasonic humidifier will likely not be detectable to the human ear.
This handy product can run between five to ten hours at a time, and if it runs out of water it will automatically be shut off for safety. The device can easily be controlled with one touch of a button to change the light display and misting function.
The MADETEC uses a diaphragm that vibrates to create tiny water droplets that quietly lift out of the device in the form of a cool fog to dehumidify your space and ease dryness. This unique ultrasonic process can dramatically reduce allergies and coughing, allowing you to breathe easier with less congestion for better health.
Cool mist
Super quiet
Auto shut-off feature
Designed to be placed in a cup of water
A common complaint from humidifier users is that the machine's hum isn't quiet and is either distracting or keeps them awake at night. This FIGROL has a whisper-quiet operating system, omitting less than 15 decibels of sound, and can work with any standard sized water bottle, making this humidifier the ultimate choice when it comes to convenience.
The compact size makes it easy to slip into a travel bag or a purse and features a timer shut-off. You can choose from 2, 4, and 6-hour intervals, and it will automatically shut off at 8 hours for safety.
Additionally, you can power this device by battery (using 3 AA batteries, which are not included), by cable, by wall socket, or with a USB device like a laptop or power bank, making it easy to tote around and charge with ease.
Up to 8 hours of continuous mist
Includes an 8 oz travel cup
Whisper quiet
Designed to be placed in a cup of water
This ultra-compact humidifier can take care of all your nasal woes in this tiny device without the cumbersome trouble of lugging around a larger product. It's not only small but tranquil. If you're a light sleeper or worry about waking your baby, this is an excellent option for the noise-sensitive.
A nifty feature of the Crane humidifier is that it comes with a cup perfectly suited for car travel so you can look after yourself while on the go in a car, or you can stow it away in its included travel bag. This device should keep your air moist and humid for approximately 8 hours without a refill, and will automatically shut off when its water supply is empty for safety.
The Crane will humidify the air using any water cup, making it extremely versatile for any lifestyle, comes complete with a USB plug, and works great to humidify personal desk areas and small rooms.
TaoTronics Cool Mist –
Best for Babies
Quiet: low noise level of just 32dB
360° nozzle
Smart LED indicator
Auto shut-off
This beautiful device is BPA free and FCC certified, perfect for babies and children with caregivers looking out for their health. It's also easy to clean, slim, and lightweight, making it easy to carry around, yet powerful enough to humidify a variety of rooms.
This super sleek humidifier has a unique oval shape and can easily be tucked away in narrow, compact spaces for secure storage or safe use. However, with its clever design, you might opt to leave it out on display and enjoy its contemporary look. Operating at a low noise level of only 32 decibels, its intelligent designed air inlet keeps the sound at a minimum.
The dial knob of the mist output allows ultimate adjustability and turns 360 degrees for personalizing your air stream. The humidifier has an auto shut-off when it's water supply runs out for safety and a smart LED indicator for identifying when to refill the tank.
Color Cup –
Color Changing
Ultrasonic high frequency atomization
Works as air humidifier & aroma diffuser
2 mist mode
LED night light
Auto shut-off
This festive light-humidifier is excellent if you prefer a bit of color infused into your atmosphere or simply to liven up an otherwise simple device. The delightful array of colors can brighten up any youngster's bedroom creating an inviting environment that's cozy to sleep and breath easy.
This intelligent device has ultrasonic atomization, which means it works efficiently to keep your air moist, helping your skin stay hydrated, and radiation at a minimum. In addition to maintaining quality air inside your home, it also features an aroma diffuser, allowing you to infuse a fresh spring scent, lavender, or whatever scents you prefer.
This humidifier is customizable with two mist modes. One offers a continuous ultrasonic spraying mist, and the other sprays at an interval. Able to be connected via USB port it can be plugged in through a wall socket, or into a computer, making for handy convenience and possibly freeing up wall plugs.
2 mist modes
Auto shut-off feature
One button control
If you prefer having electronics that are easy to maintain, the MovTip is a fabulous choice. This nifty mini humidifier is entirely portable and has a small compact design making it great for travel. However, don't let its size fool you, it still boasts a decent water supply at 500 ml producing mist for a considerable amount of time before refills.
For convenience, it features two modes, continuous spray for 12 hours for ultimate environmental optimization, and an interval mode, where it will spray every two seconds approximately, for those times you want to conserve power or simply don't need it at full force.
Not only is this handy device easy to clean, but it's easy to operate as well. If you're looking for a simple product for a child or aging relative, this is an excellent choice being that there's only one button, making life less complicated.
Portable Humidifier Buyer's Guide
Picking the right travel humidifier can be overwhelming in today's market, with an abundance of choices. We'll run through which might suit your lifestyle best.
About Travel Humidifiers
Toting a humidifier along while traveling has become popular recently due to this device's efficient ability to clarify and moisturize dry air. With many individuals traveling frequently for work, dry cabin air within an aircraft can painfully dry out a person's skin or bring about allergies.
Additionally, constantly visiting a variety of climates can do a number on your nasal cavities, so it's important to take care of your health while traveling frequently.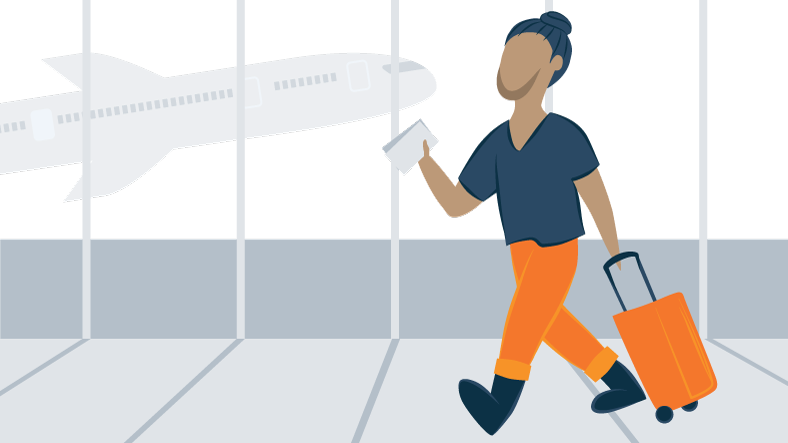 How Do Portable Humidifiers Work
During winter months, enduring harsh cold weather is a common struggle for many individuals, causing cracked skin, chapped lips, and dry airways. Dry air can even cause the wood in your house or floorboards to shrink, crack, and become damaged, leaving you with painfully expensive repair costs.
Employing a humidifier can alleviate these woes, working to infuse moisture into the air by providing a humid mist. Canceling out these harsh air conditions can be done by using a humidifier regularly to maintain proper air quality, creating a more comfortable environment for your body, and your home.
Where Is the Best Place to Put the Humidifier
You'll want to be mindful where you put your humidifier to avoid too much humidity, as water damage can cause certain materials to warp or develop mold.
Placing your humidifier a few feet off the ground is a good rule of thumb, as having mist too close to a surface is generally not a good idea. You want to be sure it's not pointed directly at any surface so that the mist can rise into the air and circulate.
Types of Mini Humidifiers
For a seemingly simple device, humidifiers can come with an abundance of features making your choice more challenging than you anticipated. We'll break down which might be right for you.
Ultrasonic
These types of humidifiers are perfect if you need something that doesn't emit much noise. They work by using high vibrations of a metallic diaphragm at a very high frequency, and because of this they hardly make any noise. The quick vibrations work to create water droplets releasing into the air.
Impeller
An impeller is a function in a humidifier that expels a cool mist using a disk that rotates quickly to flick water onto a diffuser which then breaks down the water into little droplets, propelling them into the air. These types tend to a touch louder than other models yet are often less expensive.
Steam
Products that offer steam mist can provide an additional safety measure. Heating water can clean and purify otherwise dirty water, and often it's difficult to tell whether or not water needs to be filtered. Steaming it, then cooling it before release reduces this risk, however, be extra cautious as the hot water can present a danger with children.
Evaporators
Evaporators use a fan to circulate humidity, making an otherwise simple device an intelligent travel companion. It pulls in air to refresh it and then releases cooler air to create a more comfortable environment. These types can offer a more refreshing atmosphere bringing relief during dryer months of the year.
What to Look for in a Travel Humidifier
With an abundance of options, making a choice isn't always easy. Keeping in mind your specific needs and lifestyle will help in making your decision.
Size
Your daily routine, frequency of travel, and the length of your stays might make a difference in what option suits your needs best. If you often travel in short bursts, you might prefer a smaller size. If you stay in locations for longer lengths, a larger, higher-quality humidifier might suit you better.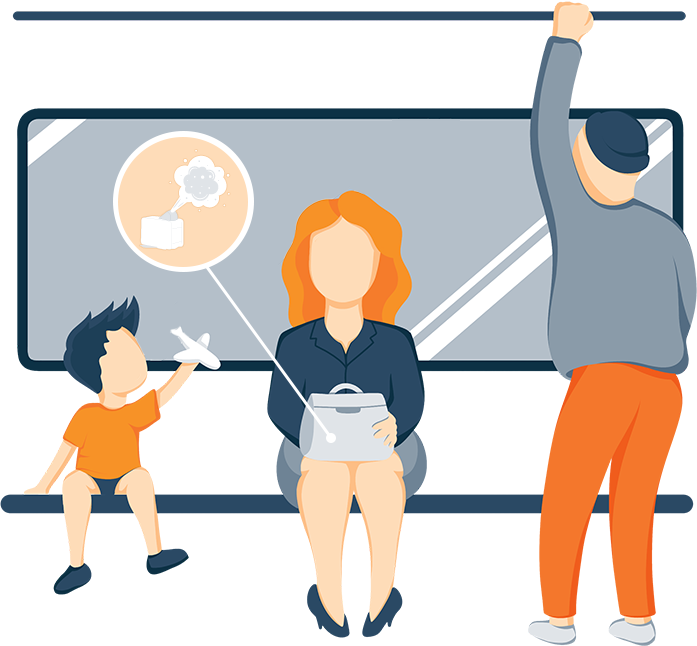 Type of Mist
Not all mist is created equal, and having a more delicate mist could make a significant difference in your level of satisfaction. Sometimes individuals prefer a denser, more concentrated mist that is dispersed in larger droplets. However, smaller droplets will be harder to detect, offering a more subtle effect.
Noise Level
If you have a small child or if you're sensitive to noise, choosing a device that emits less of a distraction is going to be a higher priority, so you might want to consider an ultrasonic device for this reason. Due to their vibrational frequencies, they are quieter in their functioning and can offer a more peaceful product.
User Friendliness
If it's your first time buying a humidifier or if you're looking for a product for a younger child or possibly an elderly relative, it's wise to consider it's level of accessibility. Selecting a product that has a simple layout of dials and buttons (or just one!) will be of more help so the user doesn't grow confused or frustrated.
Automated vs Manual
Having an automated humidifier negates the obligations of fiddling with the device controls since the product would automatically detect the weather outside and adjust accordingly. Opting for a manual device leaves the adjusting up to you and can become a bit annoying if you're constantly having to change the controls or forget altogether.
Built-in vs Disposable Filters
Having built-in filters is usually going to be more convenient, cost-friendly, and it's also an economical choice. It saves you the trouble of going out to buy refills, as well as saves you having to remember changing them out and checking their capacity.
However, opting for disposable filters often provides the option of using essential oils with your humidifier. If you're looking for this ability, be sure to check the features to be sure this is possible before you purchase your device.
The Power Source It Requires
When deciding on a humidifier for traveling it's imperative to check what kind of power source it requires. Toting around a humidifier which requires a plug-in constantly won't be as convenient as one which requires batteries. While some options may seem to boast better features, if you can't power it, it won't serve its purpose.
Bonus Features
Remaining aware of the additional features a device like this can include is important when considering how much you want to spend and how much of value you'd like to aim for. Additional features like Bluetooth functionality, essential oils diffusion capability, feature lights, and rotating spray mode can turn an otherwise simple device into a life-changing product.
Pros and Cons of Using a Portable Humidifier
There are many benefits of using a humidifier, including alleviating headaches, dry throats, chapped lips, cracked skin, and irritated vocal cords. All of these and more undesired symptoms could be alleviated with a humidifier.
Pros
While some humidifiers can be bulking and inconvenient to tote around, many travel size humidifiers can create a significant difference in nasal health despite their miniature size. Being that they're so small, they're easy to pack and can last for hours on end.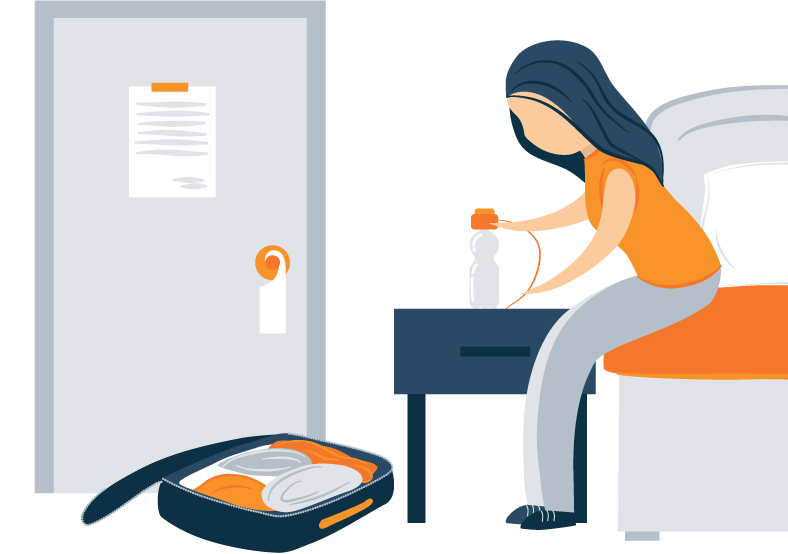 Less Nasal Congestion and Dryness
A common misconception is that people only use humidifiers when they're sick or have a virus, however, humidifiers are excellent for alleviating allergies and headaches as well. Nasal congestion due to allergies can create unbearable headaches and even migraines in some cases, leading to debilitating pain, and humidifiers can be a simple, cost-effective solution.
Reducing the Threat of Viruses and Allergens
Inhaling properly moist air is critical for reducing the risk of allergies, asthma, and sinus infections. Keeping your air moist and humid allows the mucus inside your nasal cavity to maintain an adequate moisture level.
Maintaining moist air can help keep your airways open and even clear your sinuses of irritants. It's easy to slowly grow used to troubled breathing if your airways are slowly inhibited; however, using a humidifier regularly can help.
Increases Lifespan of Household Appliances
Have you ever noticed that certain fabrics stick together, or that you get a shock when touching certain items when it's dry outside? Keeping a humidifier in your home or personal space could help reduce the risk of static shock, help fabrics from sticking together unnecessarily, and even help doors from sticking to their frames.
Cons
Demands Frequent Cleaning
While these products are generally low maintenance, they can require cleaning, particularly if they are used often. Bacteria and mold can grow inside and if not properly maintained, you could wind up releasing these little homemade science projects into the air of your home, creating a worse environment than you started out with.
Potentially Less Environmentally Friendly
While these clever devices can be a bonus in many ways personally, some humidifiers that use disposable or reusable water bottles aren't ideal for the environment. If you're concerned about this issue, buying a humidifier that has reusable container to function might be worth considering.
How to Keep Your Humidifier in Good Condition
If you want your humidifier to last a long time and get the biggest bang for your buck, it's essential to keep it in good condition. If it doesn't use filters, it's a good idea to use distilled or demineralized water. This way, there's less build-up, and if it does use filters, remember to change them regularly.
Additionally, clean your product regularly with appropriate cleaning solutions. You can usually check the user manual or the manufacturer's website for this information. If you want to store it during more humid months when you don't need it, be sure to clean it thoroughly before storage, as putting the device away with moisture inside could lead to damaging mold growth.
FAQ about Travel Humidifiers
Is it ok to sleep with a humidifier at night?
It's recommended to sleep with a humidifier at night particularly if you have allergies, asthma, sinus infections, or nose bleeds- if you maintain the cleanliness of your product. Neglecting to keep up with the maintenance of a humidifying device can lead to the spread of built-up mold or bacteria, negating the purpose of your machine.
However, when maintaining the level of moisture in your air it's wise to keep an eye on how moist it is. While not easy in dry climates, it is possible to overdo it, and doing so could wind up hurting your health more than improving it.
Can using a humidifier be beneficial for your skin?
Dry skin can lead to undesirable superficial results, and also be incredibly painful when not alleviated or relieved for long periods. Even when exposed to harsh cold conditions for short lengths, it can cause skin to look more red, chapped, flakey, and dry.
Using a humidifier can be greatly beneficial when looking to plump up and rejuvenate dry skin, it can keep you looking healthy, young, and more "glowy" than you otherwise would during harsh winter months. You can sleep with one by your bedside (when properly maintained) or keep on on your desk for your own personal space.
How can low humidity in the room affect your body?
Unreasonably low humidity can have surprisingly negative effects on you and your family's health. It can exacerbate allergies, poor nasal conditions, and, in some cases, have devastating effects on your health.
Dry air can cause your skin to feel dry, become chapped, and even crack and bleed in some circumstances. Dry air is often overlooked, however, it can increase the risk of colds, flu, and other significant conditions when not caught early on.
Nasal congestion can become worse when air is dry, leading to unfortunate health circumstances like irritated sinus walls and broken mucus membranes.
Conclusion
Deciding on a humidifier to suit your travel needs can feel overwhelming when presented with multiple choices and options. There are often large varieties to sift through in hopes that you'll choose something of less quality simply out of excessive choice, to your detriment.
Luckily, you've got us on your side to break down the pros and cons of all your choices so that you can make an informed decision, allowing you to take home a device that can last. Investing in a humidifier can help you feel better physically, rest easier, and enable you to take on the rest of your life as needed.