Transparency Disclosure – We may receive a referral fee for products purchased through the links on our site...

Read More

.
Looking after a baby isn't easy, but as your child ages, they'll be more likely to sleep through the night. However, if they fill their diaper at 2 am, it could wake them, and you, from a deep slumber, dashing your dreams of a full night's sleep.
Overnight diapers can be a lifesaver in the sleep department. These specialty diapers are more absorbent than normal ones and can save you from having to change their pajamas, diapers, and crib sheet while you're going through the motions, zombie-eyed.
Below we detail the best rated overnight diapers to help guide you along your parenthood journey.
Top Rated Overnight Diaper Reviews of 2021
Best Budget:
Luvs Ultra Leakguards
Triple leakguards
Nightlock technology
Stretchy sides
Wetness indicator
No Parabens or latex
The Ultra Leakguard diapers from well-known brand Luvs deliver superior protection at an appealing price, earning our vote for 'Best Budget.' Each box gives parents a 1-month diaper supply, helping to cut down on trips to the store. Plus, the budget-friendly cost is a great way to save money on baby products.
The brand's triple leakguards work to prevent leaks from happening, while the Nightlock technology keeps wetness under control for up to 12 hours, making this a fantastic overnight option for parents to consider. Furthermore, the diapers are equipped with a wetness indicator. The indicator turns blue when wet, signaling parents that it's time for a diaper change. 
What stands out
The stretchy sides of the diapers should keep your little one protected without leaving them uncomfortable.

The diapers are made without parabens or latex for enhanced health and safety.
Best Comfort:
Pampers Overnight Swaddlers
Up to 12 hours of protection
Wetness Indicator
Air Channels for breathable dryness
Blankie Soft outer material
Sizes: 3, 4, 5, 6
These Pampers are designed to offer even the most sensitive babies a soft, plush product to keep them as cozy and dry as possible for 12 hours. The HeartQuilt inner lining helps to wick away liquid and gently cushion your child's body to offer maximum comfort.
Rough edges or thick material can be uncomfortable and even wake your babe in the middle of the night. Overnight Pampers have an outer quilted fabric specially designed to be gentle on skin so your family can get quality rest.
The price point on these Pampers is in a reasonable range, making these accessible to a variety of households. We realize raising children can be enormously expensive, and finding ways to reduce the financial burden can make a significant difference in lifestyle. The aim is to help make parenthood less stressful and more enjoyable during your child's early years.
Best Overnight Training Pants:
Pampers Easy Ups
360-degree stretch waistband
Dual leak guard barriers
Easy-tear sides
Superhero design
Help make potty training a smoother process with these overnight training pants from Pampers. The Easy Ups come with a 360-degree waistband for a comfortable fit that should feel like regular underwear and make it easy for your little one to put them on or take them off. Furthermore, the material is designed to be soft enough to feel similar to cotton underwear.
With easy-tear sides, changing to a new pair should be more efficient than ever. Plus, dual leak guard barriers should help prevent leaks in the bed and around the home.
Parents can choose among multiple sizes and counts to find what works best for them and their child.
Why we picked it
Pampers included a PJ Masks superhero print on the training pants for a fun design that should appeal to kids. However, the pants are also available in designs with the popular Trolls characters.
Best for Delicate Skin:
Bambo Nature Diapers
Eco friendly diaper design
Ultra absorbent
Sizes: 1, 2, 3, 4, 5, 6
Made with sensitive skin in mind, these eco friendly diapers are made with bamboo to offer a product tested by dermatologists and suitable for all skin types. Naturally, it's good to keep an eye on your child's reaction to any new product. However, these appear to be strong contenders for the best overnight diapers to keep your tot dry for 12 hours.
These diapers are more eco friendly than many other products on the market, and the price may be slightly increased as a result. These overnight diapers are made with bamboo, and for every tree cut, more are planted in their place. These help us to preserve our Earth, for years after we're gone, for our youngsters to enjoy.
The breathable texture and soft material aim to avoid irritation and skin allergies to let your tot snooze comfortably. Created without unnecessary additives or chemicals, it wicks away moisture naturally so that you shouldn't have to change your munchkin's diapers and mattress pads overnight.
Best Overnight Diaper for Day and Night:
Pampers Baby Dry Diapers
Up to 12 hours of protection
3 Extra Absorb Channels to lock away wetness
Wetness Indicator on sizes N, 1, and 2
Sizes: 1, 2, 3, 4, 5, 6
The innovative design on these overnight diapers have a wetness indicator letting parents know when to change your little one. Squishing your baby's bum to see if it's wet should no longer be an issue in this smart overnight diaper made to ease the stress of waking up multiple times overnight to look after your munchkin.
Pampers Baby Dry's keep moisture locked away inside their product and away from your child's skin using their unique gel material. When dry, they appear as condensed little balls, and when wet, they expand, soaking up the liquid released overnight.
With flexible waistbands and leg holes, these diapers are designed to fit multiple ages and keep your child comfortable for 12 hours. Looking after a baby who needs near-constant attention isn't easy, and Pampers aim to keep your baby happy and dry.
Best Booster Pads:
Sposie Booster Pads
100% Hypoallergenic
Universal fit pads
Non-Adhesive
Made for sizes: 4, 5, 6
While the overnight diapers listed are some of the best in quality, it is still possible to over-soak them, leading to unfortunate and messy spills and accidents overnight. Sposie Booster pads can serve as a supplementary product to insert into your child's diaper to keep them from overflowing their diaper.
Waking up wet and cold in the dark isn't comfortable for anyone and Sposie keeps this in mind in the design of these pads. Created to pull moisture quickly away, these pads help keep even the heaviest of bedwetters protected and dry.
These products are free from chlorine, latex, and fragrance so that even the most sensitive skin types should be able to tolerate these diapers. Sposie wants our heavy wetters to dream the night away without irritation or allergies so Mom and Dad can finally get a good night's rest.
Best Overnight Cloth Diapers:
Anmababy Cloth Diapers
One size fits all
Reusable cloth diapers and inserts
Machine washable
Waterproof outer shell
They may seem expensive upfront, however, they could save you significant money in the long run, easing the financial stress of raising a child. Reusable diapers are still a common way to protect your little one as they grow, and allow you to save your pennies as well.
Made with far fewer chemicals than disposable diapers, Ammababy overnight diapers let you breathe easy knowing your baby's skin is snuggled inside a quality product. Ultra-soft and super absorbent, the fabric could reduce uncomfortable diaper rashes and irritations, keeping heavy wetters up overnight.
The outer shell is created with breathable, waterproof polyester to minimize leaks. The soft suede inside cradles your child's body and wicks away moisture, keeping them comfortable for prolonged periods. Perfect as a gift for a new mother, these adorable reusable Ammababy's are not only cute but functional, economical, and eco-friendly, letting you avoid the guilt of tossing hundreds of overnight diapers down the drain.
Best Pull-Ups for Potty-Trained Toddlers:
Huggies Pull Ups
Training pants
Mickey Mouse design
Refastendable, easy-open sides
Extra-absorbent, leak-protection design
Disney voice assistant
These training pants from Huggies brand Pull Ups should help ease the potty training phase. The pants feature a music-themed Mickey Mouse design, and a special graphic on the pants is used to help kids learn throughout the potty training process by fading when wet. 
Comfort is key when it comes to toddlers. The underwear-like fit of these training pants should feel comfortable and support your little one as they embrace their independence. This product features an extra-absorbent, leak-protection design that's ideal for overnight use.
What stands out?
The Pull Ups training pants include refastenable, easy-open sides. This design feature allows for customization along the waistband, easy checking, and quick changes.

Pull Ups has a fun, Disney-themed voice assistant compatible with smart speakers. The voice assistant features Disney characters speaking words of encouragement and important reminders to help make potty training more fun.
Best Natural:
Honest Overnights
Super-absorbent core
Secure-fitting moisture barrier cuffs
Hypoallergenic and sustainable materials
Sizes: 3, 4, 5, 6
The Honest Company has a superb reputation for creating eco-friendly products without compromising quality or using harmful materials and as a result, has created one of the best overnight diapers. Their MO is to provide families with the necessities they need without worrying about sustainability, unnecessary chemicals, and allergens.
Using an ultra-thin core paired with quick absorption technology, this overnight diaper is a dream for parents. Not only are they made from sustainable materials and hypoallergenic, but they do the job and are cute to boot. They fit securely with a moisture barrier and wetness indicator to mitigate blowouts and leaks. Overnights pairs quality with functionality to offer a premium product.
These products are created thoughtfully and consist of fluff pulp from sustainably managed forests offering peace of mind knowing this overnight diaper has a minimal carbon footprint. They're made without bleach processing, latex, chlorine, synthetic fragrances or lotions, letting you wrap up your kiddo knowing what's in your overnight diapers, and, more importantly, what's not.
Best Ecofriendly:
Naty by Nature Eco-Friendly Disposables
Mainly made of plant-based material

OEKO-TEX Standard 100

Vegan certified

Sizes: N, 1, 2, 3, 4, 5, 6
These Naty by Natures are one of the best overnight diapers for families who are more conscious about allergens, plastics, and prefer plant-based disposable diapers. They're made to prevent plastic from touching your children's skin and are made almost entirely of plant-based material, keeping your munchkin dry and safe.
These award-winning overnight diapers keep your little ones dry, and could be great for sensitive skin, as they're made without toxins, chlorine, fragrances, phthalates, and are backed by environmentally-conscious organizations like EcoCert. The inner absorbent core is made with wood pulp harvested from Scandinavian forests, letting your child sleep free from unwanted chemicals.
The Naty's are 100% GMO-free and biodegradable, letting you sleep at night knowing you're doing your part in caring for our Earth. If you're looking for a green-friendly product that's free of chemicals and is also soft on skin, these Naty by Nature's are a winner.
Buyer's Guide for Overnight Diapers
What Are Overnight Diapers?
Overnight diapers are super versions of their counterparts. They can be about 20 to 30 percent more absorbent than regular diapers and could allow your child to sleep more soundly through the night without waking up wet and uncomfortable. With these specialty products' thinner, more absorbent cores, your family could catch more zzz's leaving everyone happier and more rested.
When to Use Overnight Diapers
Each child is unique and will advance at their own pace. However, we often see kids being able to wear an overnight diaper around six months old. At this age, infants usually start eating more solid foods in addition to an already hearty diet of breastmilk, potentially leading to more urgent diaper changes.
How to Use Overnight Diapers
Anything can be soaked through if given enough liquid, so you'll want to put your overnight diapers on your munchkin right before bed. This way, they're fresh as long as possible.
You might prefer to feed your baby right before bedtime so that your tot is full with a happy belly when they go down. However, other parents like to feed their little ones a few hours before. Every child is different, and parents often know what works best.
Why Does My Baby Need Night Diapers?
Do you ever find yourself waking up in the middle of the night to your baby fussing and needing a more absorbent diaper? Not having to change a diaper until morning can be an enormous help in the bedtime department, letting your baby and parents get a good night's rest.
Additionally, sometimes your baby's skin can diaper rash or feel uncomfortable as a result of not being changed frequently. Also, a wet diaper can quickly grow cold if it's not absorbent, causing a baby to wake up. If adults had to sleep in a squishy diaper, we would likely be uncomfortable too, so it's no wonder our little ones need frequent attention.
For any parent, this can feel challenging to keep up with while still looking after yourself and your home. If the thought of finding a diaper that can support your child overnight offers a deep sigh of relief, it's time to try something new.
Wrapping your baby in overnight diapers can offer support for more than just your child. If you have another baby living under the same roof, extended family, or are merely another tired parent, letting your overnight diaper work for you can let your baby wake up dry, and let you get a full night of sleep.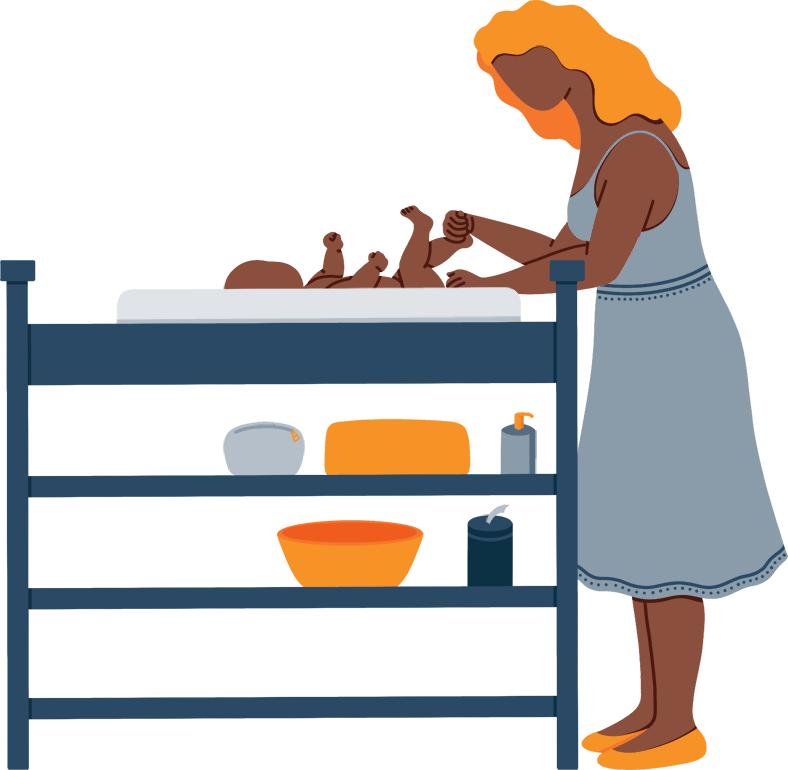 How to Choose the Best Overnight Diapers
There are many smart options on the market and picking the right one could feel overwhelming. We detail what we look for in an overnight diaper and features we like best, so you might steal some zzz's.
When looking to prevent leaks, the fit will be a top priority. Before you buy a bulk package of diapers for overnight, it's wise to buy just one pack to do a trial test.
They may not fit or could irritate their sensitive skin at night. This way, you can check its absorbency and quality before committing. Buying too big can leave you with leaks, and buying too small can leave your baby uncomfortable, negating an overnight diaper's purpose.
While many organizations are becoming more aware of what they put into their product, certain companies will still cut corners to save money, so it's essential to check out the materials used before buying a product.
It's become increasingly common to desire organic, plant-based, or natural materials in a disposable diaper, especially when dealing with sensitive skin. You don't want to grab a pack only to realize after you get home that it's not something you feel comfortable putting on your baby's skin.
Look at Diaper Absorbency
Some overnight diapers can't absorb as much as others, and you can't always tell how a diaper will perform before you try the product. Resist going for the bulk packs at first so you can try out a few brands before you buy.
Check the reviews on diaper absorbency before buying. The more a diaper can absorb, the longer it'll comfortably keep your baby dry, which means less work for you.
Before giving birth, you might think you want to buy all the highest end products for your child, which is completely understandable, we all love our children dearly. Regardless, it's not always cheap to keep your baby dry.
We want to purchase the right products for our babes, but sometimes the cost doesn't always equal the quality. Plan out ahead of time how much you're willing to spend, so you feel just as secure about your finances as you do about your diaper's leak protection.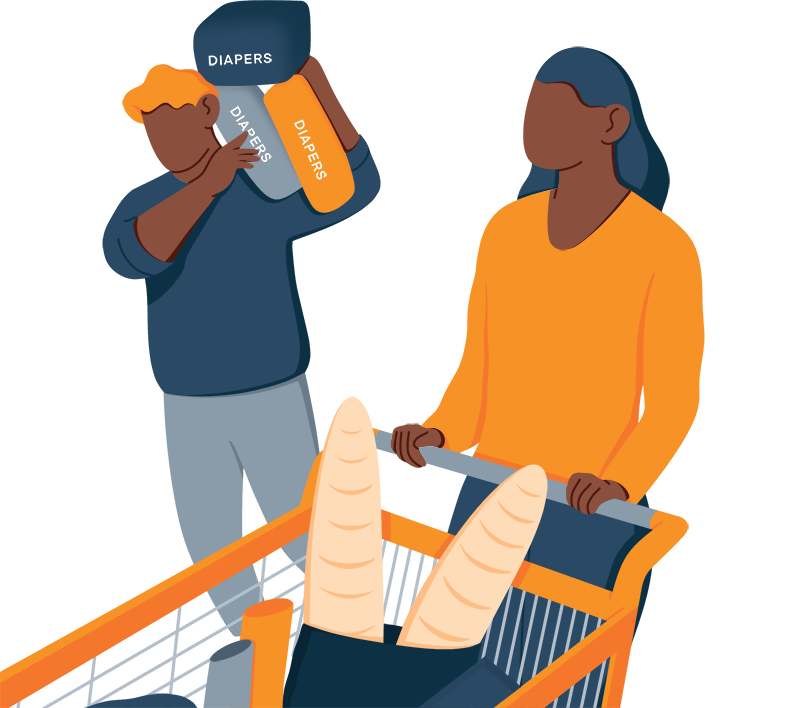 If your munchkin simply oversoaks every brand, there is still hope. If you like one brand of diapers due to fit, comfort, or price, but they don't hold up in terms of leak protection, it doesn't mean you can't have the best of both worlds. Overnight diaper booster pads can be purchased as an additional insert. They add additional leak protection overnight, letting you combine your perfect diapers with the right amount of coverage.
Keep an Eye Out for Reactions
Allergic reactions can result in an unhappy baby, making life more difficult for the whole family. Not all diapers are made with the same products, so keep an eye out when you try a new brand, just in case it results in an allergic reaction for your child. You'll likely notice when you change your munchkin's diaper, so be sure to remind all your baby's caregivers to keep an eye out..
Overnight Diaper FAQs
What are prefold overnight diapers?
A prefold overnight diaper is a cloth diaper made with layers of woven fabric that is usually lightweight. There is often an extra absorbent layer in the center for maximum absorbency. Despite the convenience of disposable diapers, opting for a cloth diaper is still common.
One of the best things about these products is that they're not only environmental, letting users feel better about their carbon footprint, and they're financially savvy as well. While the cost of diapers may not seem like much in the beginning, it adds up quickly. The cost of raising a child can be extraordinary, and opting for the cloth diaper route can lessen the financial burden and still keep your baby dry.
How many reusable diapers do you need?
If you've decided that a prefold overnight cloth diaper is the best option for your family, you'll need to stock up accordingly. An infant needs frequent changes, usually about 12 per day, however, a 2-year-old might only need 4-7 diapers per day.
How many to buy will depend on how often you anticipate doing laundry. Remember that some weeks will be easier to keep up than others, and you don't want to be caught out. If you do laundry twice a week, it's best to stock up with about 30- 50 diapers for an infant, and 20-25 diapers for a toddler.
Are there different overnight diapers for boys and girls?
Although different genders might not urinate in exactly the same way, diapers are generally designed to suit all genders. There are various pink prints created "for girls" and blue ones "for boys," but results won't differ based on aesthetic choices. We encourage you to pick whatever diapers suit your family's and your child's tastes the most.
Conclusion
Babies are hard work and include numerous diaper changes. If you're feeling overwhelmed, take comfort in knowing there are many more caregivers just like you adjusting to parenthood, and drowning in diapers. The amount of responsibility a newborn brings is extraordinary, and it takes significant perseverance to keep up.
Some of the best quality overnight diapers could ease parental stress, possibly granting a full night of sleep and a restful morning for your entire family. With high absorbency, these specialty overnight diapers can help bring out the best in everyone, so you can make the most of this precious time while it lasts.