Transparency Disclosure – We may receive a referral fee for products purchased through the links on our site...

Read More

.
You've set up the crib, stocked the changing table with diapers, and chosen your theme. Now you're left with selecting one of the most iconic elements of the nursery—a mobile.
This popular item is more than just a cute ornament you hang for decoration. Not only will this technically be baby's first toy, playing a role in growth and development, but it also helps to lull your mini-me into blissful baby sleep.
It's hard to find the time to shower let alone shop when you have a newborn. That's why we've done the hard work for you, selecting the highest-rated crib mobiles on the market so you can focus on what truly matters (like a nap).
8 Top-Rated Crib Mobiles Reviewed
Tiny Love –
Editor's Choice
Black and white characters for visual stimulation
Removable velcro attachment
Can be used on-the-go
5 melodies
Up to 30 minutes of continuous music
Our pick for editor's choice is The Magical Tales Take-Along Mobile by Tiny Love. With the removable velcro attachment, your baby can have continuous entertainment wherever they go. The adjustable connector arm is designed to fit most strollers, bassinets, travel cots, and play yards.
Your little one may squeal with delight as they watch Christopher the Fox, Marie the Hedgehog, and Emilia the Bird spinning around. The charming animal characters are black and white to provide visual stimulation in the first few months when their eyes are still not able to see color.
With 5 melodies that play up to 30 minutes of continuous music, your little one should be entertained long enough for you to grab a quick bite to eat or a much-needed shower.
Caterbee –
Best Pack n' Play
Drop-proof design
Three plush toys
Useful on different baby lounging products
Adjustable clips
Keep your little one happy and entertained on the go with Caterbee's Travel Arch mobile for babies. The product is designed to also help stimulate their senses and motor skills development.
The Caterbee Travel Arch features a drop-proof design for added safety, along with adjustable clips that allow the mobile to be used on different products where your baby will lounge.
The travel arch includes three squeaky plush toys on top for your little one to play with, including a colorful swirl image, an adorable elephant, and a friendly star character. However, the company also offers two additional fun designs for this product with different characters and colors.
Why we love it
You can place the arch on multiple baby lounging products either at home or on the go, including strollers, car seats, prams, bassinets, and bouncers.

The mobile is made with 100-percent safe cotton fabric.
Over 45 soft sing-along songs, melodies, and phrases
Bright ocean-themed characters
Projects stars and moon images
Can turn into crib toy
The ocean can be an enjoyable, calming experience for grown-ups, so how about bringing that theme to your baby's crib? The VTech Soothing Ocean Slumber Mobile features plenty of excellent features to enhance your baby's crib experience, including 45+ musical sounds, making it our choice for 'Best Musical' mobile.
The mobile features a colorful cast of adorable under-the-sea characters, including a fish, whale, starfish, crab, and octopus. This product can also project soothing stars and moon images and be transformed into a crib toy as your baby grows.
Why do we love it?
Of course, the big sell with this mobile is the great selection of songs, melodies, and phrases for your baby to enjoy. In the event your little one has a tough time falling asleep, simply turn on the mobile's soft music that can play for an extended amount of time, which should help your baby doze off.
Manhattan Toy –
Best Contrast
Developmental design
10 interchangeable handing cards
Adjustable cords
Grows with your baby
The Manhattan Toy Company has been manufacturing educational toys since 1979. The Wimmer-Ferguson collection of developmental toys is based on over 40 years of research on infant visual development. Research shows that newborns prefer high-contrast patterns over brightness or colors until the age of three months, when their eyes are capable of seeing colors and patterns.
The Stim-Mobile features 10 interchangeable cards ranging from simple black and white to more complex colored patterns that are labeled based on baby's age. The adjustable cord also allows you to change the distance of the cards as your little one's vision develops over time.
Mini-Tudou –
Best Multi-Purpose
150 lullabies
3 different color projection options
Detachable music box and rattles
20, 40, and 60-minute timers
Remote control
The Baby Musical Mobile Crib from Mini-Tudou is our pick for the best multi-purpose crib mobile. This product provides an almost endless amount of entertainment options for your baby, including up to 150 lullabies, 6 nursery rhymes, 5 nature sounds, and 10 musical organs. Along with the mobile's 360-degree rotation, there are also 3 different color projection options for both star and cartoon images.
The mobile has 20, 40, and 60-minute timers to cater to the desired amount of time you'd like the device active. This product also provides a nightlight and remote control for its multiple features, designed for your convenience
Why it made our list
This mobile can also provide entertainment for your little one outside of the crib. The product's music box and 4 rattles are all detachable, allowing the rattles to also be used as baby teethers.
Trend Lab –
Best Elephant
Plays Brahm's lullaby
Charming elephant design
Gender-neutral
Fits most cribs
If "Baby Mine" from Dumbo is your theme song, you may love this charming elephant mobile by Trend Lab. Four adorable elephants slowly rotate on a ring canopy to the soothing sounds of Brahms' lullaby. The stylish, grey chevron pattern is gender-neutral and could easily complement any existing nursery decor.
The stuffed elephants are suspended by white ribbons and a coordinating white slide cover protects the attachment arm. The overall measurements are 18 inches tall by 10 inches, and it is designed to attach to most cribs.
Rotating mobile
Musical
Projects the moon and stars
BPA-free
To captivate your little audience, this rotating, musical mobile by KiddoLab features an enchanting light show that projects the moon and stars overhead. Your baby can fall asleep watching four adorable pets twirling and dancing as they spin around and listen to soothing music or gentle nature sounds.
Installation should be easy with a simple, yellow knob that attaches the toy to the sidebar of a crib or bed. You can feel good about this crib accessory knowing it was made using BPA-free materials and meets U.S. Consumer Product Safety Commission (CPSC) safety standards.
Multi-functional design
Plays 12 joyful melodies
Rotating fishies
Fish convert to bathtime toys
Battery operated
This multi-functional toy for babies 3 to 12 months can grow alongside your little one. The hanging rotating bell plays 12 joyful melodies as the cute fishies spin around. Little ones can be delighted by brightly colored fish or be soothed asleep to calming sounds.
Once tots have outgrown this accessory, the fish can be used for fun bathtime play as they float around in the tub. This battery-operated toy was built for easy installation and can accommodate crib rails with a width of up to 1.77 inches.
Mobiles for Cribs Buying Guide
It may be hard to ever imagine wanting (or needing) a break from your tiny bundle of joy, but every parent needs some hands-free time to tend to basic needs like food, a shower, and sleep! Aside from keeping them entertained, mobiles may help your baby's hearing and eyesight while also encouraging cognitive and motor skills.
Is This Product a Brain Development Toy?
The first year of baby's life is a crucial time for learning and brain development. Toys play a significant role in fostering the developmental process by engaging the senses and providing musical and visual stimulation. Research has shown that exposing babies to music has a positive influence on the development of motor, language, social, cognitive, and academic skills.
Spinning mobiles provide an opportunity for infants to learn how to focus their eyes and follow objects. Reaching for moving toys helps to develop cognitive and motor skills. Sleep is equally as important for the brain, so just by lulling your tiny tot to sleep, this toy is promoting healthy growth and development.
Main Newborn Mobile Types
Mobile can be simple or ornate and can feature music, lights, and sounds. The two main types are those that are mounted to the side of the crib or bassinet or those that can be hung from the ceiling.
For most people, a mobile attached to the side of a crib is a traditional fixture in a nursery. These hanging toys have evolved from simple objects strung from a piece of wood to electronic gadgets that can sing, spin, and even project lights.
Modern-day versions can be attached directly to the side of the crib and usually have an adjustable height. This allows you to start with the toys closer to baby when their vision is limited and move them further away as they get bigger and start to reach out. Some models can be easily moved from crib to crib or even attached to a stroller or car seat for entertainment on-the-go.
Those with interactive features like music and motion are operated with batteries and usually have the ability to automatically turn off after a specific length of time. Some have removable toys that can be played with when your little one outgrows their crib.
Tiny objects can be choking hazards, so the American Academy of Pediatrics recommends removing mobiles once babies turn five months of age or when they start pushing up on their hands and knees.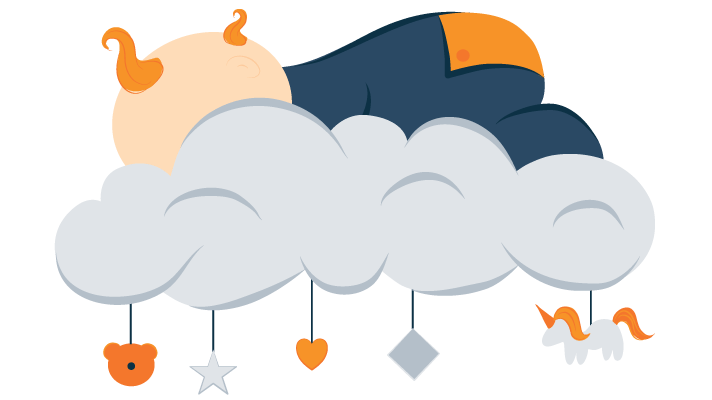 Hanging versions attach to the ceiling with a screw or hook and can be placed anywhere in the room. Some people like to hang them over the crib and others use them in other places where tots can still see them but are less likely to reach for the hanging objects.
These types do not have the same interactive features like lights and sounds, but they still provide visual stimulation for tiny eyes. These hanging items also have the dual purpose of serving as decor as little ones grow.
Safety is a big issue when it comes to anything hung from the nursery ceiling. It's important to make sure it is securely attached and that no screws or loose objects can fall into the crib. For babies who are big enough to reach, it's best to hang items far away from their tiny hands to keep them out of danger.
While hanging mobiles are considered more permanent fixtures, they do come in more intricate designs that can create a chic and whimsical feel to your little one's sleeping space.
Important Features of a Mobile Cribs
It's good to be aware of all of the features available so you can make a list of your "must-haves" to keep in mind as you shop. 
Music
Music is great for brain development and can also help to lull little ones to sleep. Some products allow you to choose from different songs, while others play a single melody.
Stars, Lights, and Glow
For babies who are afraid of the dark, features like glowing objects or a projection of stars on the ceiling can put their little minds at ease. Lights are also convenient for midnight feeds and diaper changes when you don't want to turn on the bright overhead lights.
Motion
Many modern mobiles are battery operated so they can spin around electronically. Just make sure you stock up on batteries if your baby can't fall asleep without watching the tiny toys dance above them.
Toys
Hanging toys provide visual stimulation and encourage interaction as baby babbles away. Many newer models allow the toys to be removed for play during the day.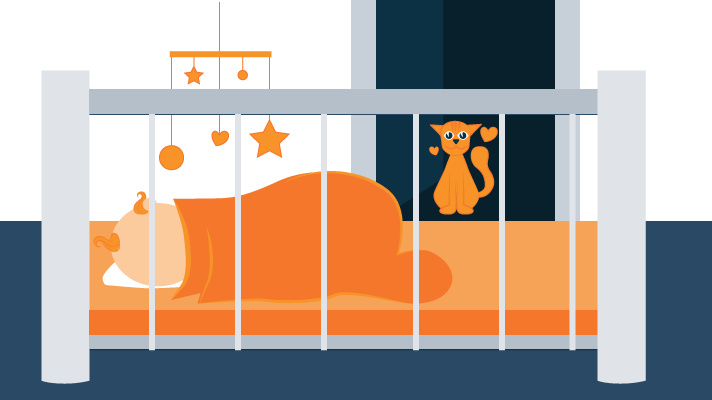 View
Consider what view you want your baby to have when they lay in their crib. Choose what has the most appeal for your little one, not for you.
Themes
In today's world of modern nurseries, you can choose to customize accessories based on a theme. Many companies sell matching nursery accessories so your little one can sleep in style.
Remote Control
Having a remote control can come in handy if you want to turn certain functions on and off or make adjustments to volume and brightness.
Top Things to Consider When Buying Crib Mobile
Before you buy any nursery accessory, there are a few considerations you should keep in mind around safety and installation.
String Measurement
Strings should be high enough that they cannot be reached and pulled down by tiny hands. In most cases, this means that strings should be less than seven inches.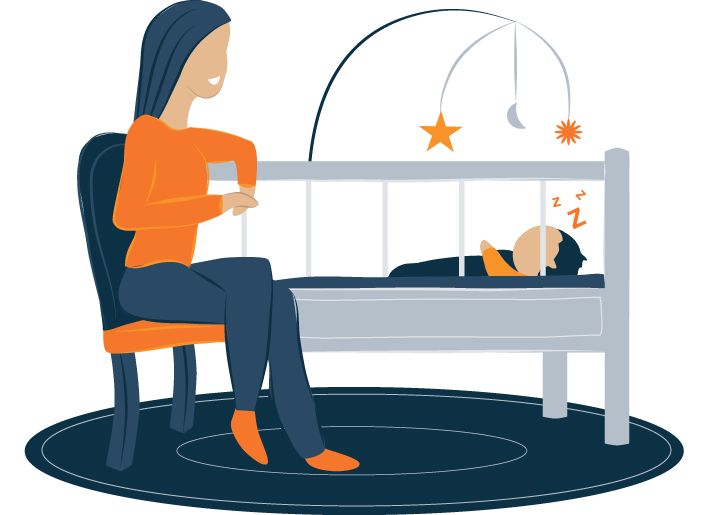 Small Parts
Tiny pieces can become a choking hazard once infants are big enough to bring objects to their mouths. It's best to avoid models that have little parts or pieces.
Keeping the Mobile Beyond Baby's Grasp
It's important that tiny hands cannot reach the hanging objects. As soon as they are big enough to reach out, it's time to adjust the height.
Installation Guidelines
Always follow the installation guidelines, paying careful attention to verify secure attachment. Double-check to be sure there are no loose parts and that everything is out of baby's reach.
Regular Cleaning
Regular cleaning is the best way to prevent dust and debris that can irritate tiny lungs. Wipe down the surface with a damp cloth.
Baby Mobile Pros and Cons
General Benefits
Besides providing entertainment and soothing little ones to sleep, mobiles can help to stimulate visual and motor skills that promote growth and development.
Optional Drawbacks
Anything that is hung from the crib can pose a hazard for babies. If it is not securely attached or has small parts, it may not be safe to use. Some infants may find noises and lights too stimulating, keeping them awake instead of lulling them to sleep. In this case, keep these features for daytime use only.
Baby's Developmental Stages
It can be useful to keep developmental stages in mind when it comes to choosing toys and nursery accessories; this can also help guide their use.
Two Months
In the beginning, newborns can only see within a foot of their face and aren't able to distinguish colors. As they get older, bright and engaging colors and patterns can provide stimulation. By two months of age, infants can start to follow objects and turn their heads towards sound.
Four Months
At four months, infants may become upset when parents leave. This is a good age for them to get used to falling asleep on their own with the help of a soothing mobile. At this age, they can begin reaching for objects and may soon be able to push up.

Six Months
By six months, babies are big enough to roll over and push up onto their hands and knees during tummy time. When this happens, it's time to remove hanging toys from their crib. If your mobile has toys that are removable, they can still be used during supervised playtime.
Nine Months
At nine months of age, little ones start to form attachments to certain toys. They are also working at developing a pincer grasp between their fingers and thumbs. They may enjoy playing with toys that are interactive or that have buttons that teach them about cause and effect.
Twelve Months
By the time they are 12 months of age (or by their first birthday), most tots have spoken their first words. Toys that talk or sing can help with promoting language development. At this age, many little ones are also working towards taking those memorable first steps.
Conclusion
Crib mobiles have been staple fixtures in nurseries for many years. What started off as a whimsical decoration has turned into a toy that can foster learning and development. There are so many different types of crib mobiles to choose from with features like light projection, music, and motion.
While you may think that matching your chosen nursery theme is the most important factor, keep in mind that mobiles are only intended for the first five months of baby's life. Thankfully, there are many stylish choices that also have all of the important features to keep baby happy and lull them into sweet baby sleep.