8 Top Rated Blue Light Blocking Glasses
Gamma Ray –
Best Lightweight
HIGHLIGHTS:
UV400 protection
Includes Case and Cleaning Cloth
Highly rated on Amazon
2 year warranty
The Gamma Ray brand is one of the most highly recommended brands by users and offers an excellent ultra-lightweight polycarbonate material for durability and lasting comfort. These spectacles are built to alleviate digital fatigue and optical discomfort when you're sitting behind a screen all day, and their simple yet modern design adds a touch of style.
Whether you're stuck at your desk, browsing your tablet, or playing video games, these lenses are designed to help you manage the perils of digital discomfort and long-term periods under fluorescent light. They're equipped with UV400 protection, reduce glare, and come with a handy case and cleaning cloth as well.
Uvex Skyper –
SCT Orange Lens
HIGHLIGHTS:
Made to Absorb 98% of Blue Light
3 Lens Positions for Multi-Angle Viewing
Reduces Eye Fatigue
Easy Lens Replacement
If you're looking to block more blue light to help you wind down at night, or sync your circadian rhythm, orange lenses are meant to help. Orange tinted glasses are intended to block 98% of blue light emitted from computers, iPads, TV screens, and laptops.
Vision problems like macular degeneration or cataracts can be debilitating if left untreated. The Uvex Skypers are meant to improve focus and eye fatigue, prolonging vision and potentially mitigating optical damage. Orange lenses aren't always recommended for daily use in an office, however, they can provide exceptional relief to those who need to relax and maintain their bedtime routine.
Cyxus –
Best for Gaming
HIGHLIGHTS:
Classic Design
Dustproof PC lens
Over 5 Colors to Choose From
Lifetime Warranty
If you don't want to compromise style, the retro design on these blue blockers includes five different colors and should have you looking smart and on-trend. They not only look cool, but the Cyxus should help protect your eyes from harmful blue ray light and UV400 rays, letting you continue working or playing behind a screen for hours with hopefully less irritation.
These glasses are built to reduce eye strain and should help you sleep better during the night. With less detrimental effects due to blue ray light, your eyes could experience an improvement in sensation and reduction in headaches, letting you go about your activities without discomfort.
J+S Vision –
Best for Daytime
HIGHLIGHTS:
100% UV Protection
Low Color Distortion
Blocks 90% of Blue Light
Classic Frame
High energy blue light given off by electronics like laptops, iPads, computers, and TV screens has been known to increase vision issues. Soreness experienced when looking at a screen for hours could be mitigated with glasses like J+S Visions. These classic frames offer a stylish take on blue light protection, aiming to let you work without discomfort or migraines.
Productivity can be impaired when you experience strain or discomfort while working, but blocking out 90% of harmful blue light could solve your issues. The low color distortion lens is optimized to offer a perfect balance between visual quality and eye protection, making for a smart investment.
Prospek –
Best with Magnification
HIGHLIGHTS:
Third Party Tested
Lifetime Warranty
Reduces Eye Strain
Various Magnification Choices
If you already have reading glasses but still struggle with eye strain when reading a computer screen or iPad, these are a great solution. Combining +1.50 magnification (with more selectable magnifications) with blue light blocking glasses allows you the freedom to pack fewer accessories on your way to work, and Prospek claims you'll notice eye relief within the first hour of wear.
Prospek's advanced technology eliminates unpleasant yellow coloring often found in other blue light glasses to offer a clear and enjoyable visual experience. These glasses come with a lifetime warranty as well, offering buyers peace of mind.
Peepers –
Best for Reading
HIGHLIGHTS:
Trendy Design
Customizable Magnification
Eases Digital Eye Strain
Acrylic Lens
Peepers make for a convenient accessory to foster easy and enjoyable reading without headaches or eye strain. Looking at a screen for hours on end can feel numbing, and Peepers aims to eliminate that discomfort with their advanced technology filtering over 40% of blue light to make reading easy on your peepers.
These innovative glasses are created with spring hinges for all-day comfort. Peepers are also made with anti-scratch and anti-reflective coating to ensure you can enjoy your glasses for years to come without peering through bothersome scratches. These coatings also reduce glare and digital strain for added protection.
Readerest –
Scratch Resistant
HIGHLIGHTS:
Anti-reflective Lens
Comfortable
UV Protection
Spring Hinges
Overexposure to excessive blue light could cause cataracts, retinal damage, and other issues, which is why having UV-protected sunglasses and eyeglasses could be highly beneficial. While many technological devices emit harmful rays, causing strain and migraines, Readerest glasses can offer a solution to have you reading with ease.
The anti-reflective coating makes for excellent night driving to reduce glare in darkness. Additionally, the fragile build of glasses creates many opportunities for damage, compromising the function. However, the anti-scratch surface allows for long-term use without attempting to peer through damaged lenses.
TIJN –
Best Design
HIGHLIGHTS:
Reduces digital eye strain
UV Protection
Flexible Spring Hinges
Lightweight
Having one pair of glasses is nice, but how about two? You wouldn't assume that spending less than $20 could solve multiple issues and spruce up a couple of outfits, but these TIJN blue light blocking glasses could do the trick. Sitting in front of a screen for hours can significantly strain your eyes, potentially leading to macular degeneration or migraines.
Luckily you don't have to spend a high amount to alleviate your suffering, and you can even adopt a fun new look with these gorgeous frames. Relieve fatigue and reduce strain with the TIJNs, so you enjoy your time in front of a screen and enjoy a smart new look as well.
Blue Blocker Glasses Buyer's Guide
Sitting at a desk all day staring at a computer can wear your eyes out quickly. Screens can cause eye irritation, dryness, and other symptoms, but blue light blocking glasses could help.
The Importance of Using Blue Light Filter Glasses
Blue light blocking glasses can provide significant relief to tired or strained eyes due to sitting in front of a screen all day. If you're suffering from eye irritation, blue light blocking glasses could mitigate this issue and decrease adverse effects.
While exposing oneself to blue light can help maintain your circadian rhythm, too much, particularly at later hours of the day, could disturb your natural sleep rhythm, causing fatigue and sleep issues. Taking care of your eyes could help to avoid problems like these and allow you to rest easier at night and feel your best the following day.
Lens Color Does Matter
Various colors of lenses might matter more than you think. Specific colors protect from blue light better than others, so it's essential to choose the color that'll work best with your lifestyle.
Clear Lenses
Clear glasses block about 40% of blue light, allowing the remaining 60% of blue light through to your eyes. However, this isn't necessarily a bad thing, some blue light is actually beneficial as it maintains our energy, focus, and circadian rhythm during the daytime. Clear lenses are excellent for many individuals.
Yellow Lenses
Yellow lenses can block up to double what clear lenses can block and be excellent for improving mood. People who suffer from Seasonal Effective Disorder (SAD) could benefit from these as it's shown to reduce stress and alleviate depressive symptoms.
Orange Lenses
Orange lenses block almost all blue light; however, they're often not as effective as people may believe. Orange lenses can block too many blue rays during the day, something that's necessary for our circadian rhythms, and not enough green and violet light at nighttime, so we don't necessarily recommend them except for specific medical purposes.
Red Lenses
If you want to block 100% of blue, violet, and green light, red lenses will do the trick. These are often used to help with sleep to calm the mind before bedtime and develop a better sleep routine. They can work great for people who work odd hours and need to acclimate to a different schedule.
What to Consider When Buying Blue Light Protection Glasses
There can be a few different purposes to blue light glasses as they can offer protection from various issues, which we'll discuss below.
The Type of Lenses
Various types of lenses can be great for different functions; if you want to reduce your eye strain during the day, clear glasses should work great. However, if you work graveyard shifts and need to adjust to regular hours, red lenses could help you wind down at night.
Comfort
It's wise to ensure the lenses you're wearing are comfortable for your face shape, so spend some time trying on various styles. If a frame is too tight on your head, irritates your ears, or bothers the bridge of your nose, you might avoid wearing them, defeating the purpose.
The Price
No one enjoys the feeling of buyer's remorse; fortunately, these handy spectacles come at a variety of prices to suit multiple budgets. Prescription glasses can cost hundreds of dollars, but simple blue light blocking glasses can run as low as 20 dollars.
Benefits of Using Blue Screen Glasses
These specialty lenses can come in handy for a multitude of issues beyond simple eye strain. We'll discuss their various benefits below.
Eye Strain Reduction
There has yet to be any substantial conclusive evidence behind blue light glasses and exactly how beneficial they can be for visual discomfort; however, many report a noticeable difference when they wear them regularly. However, each individual's eyesight is unique and could be affected in different ways.
Better Sleep
Many people work from home and if you find yourself hopping on the computer to check emails to sneak in one more hour of work before bedtime, these lenses could make a significant difference in your quality of sleep. Exposing yourself to too much blue light, particularly before bed, could disrupt your natural circadian rhythm.
Get More Info: How Technology Impacts Sleep Quality
Prevention of Age-Related Macular Degeneration
Macular degeneration is the gradual occurrence of blindness. It starts very slow and most people don't notice the effects right away, as there is no pain. Oftentimes peripheral vision is not affected in the beginning but only your central focus. While there are no studies concluding a definite cause, blue light blocking glasses could maintain eye health.
Conclusion
Most of us work for the better part of our lives, and most individuals do so at least partially in front of a screen. While technology has its perks, it can also be detrimental to our health in many ways. 
Navigating our health when we are constantly inundated with messages from various sources can be confusing. Still, one thing you can be sure of, too much blue light is harmful, and luckily, blue light blocking glasses can help.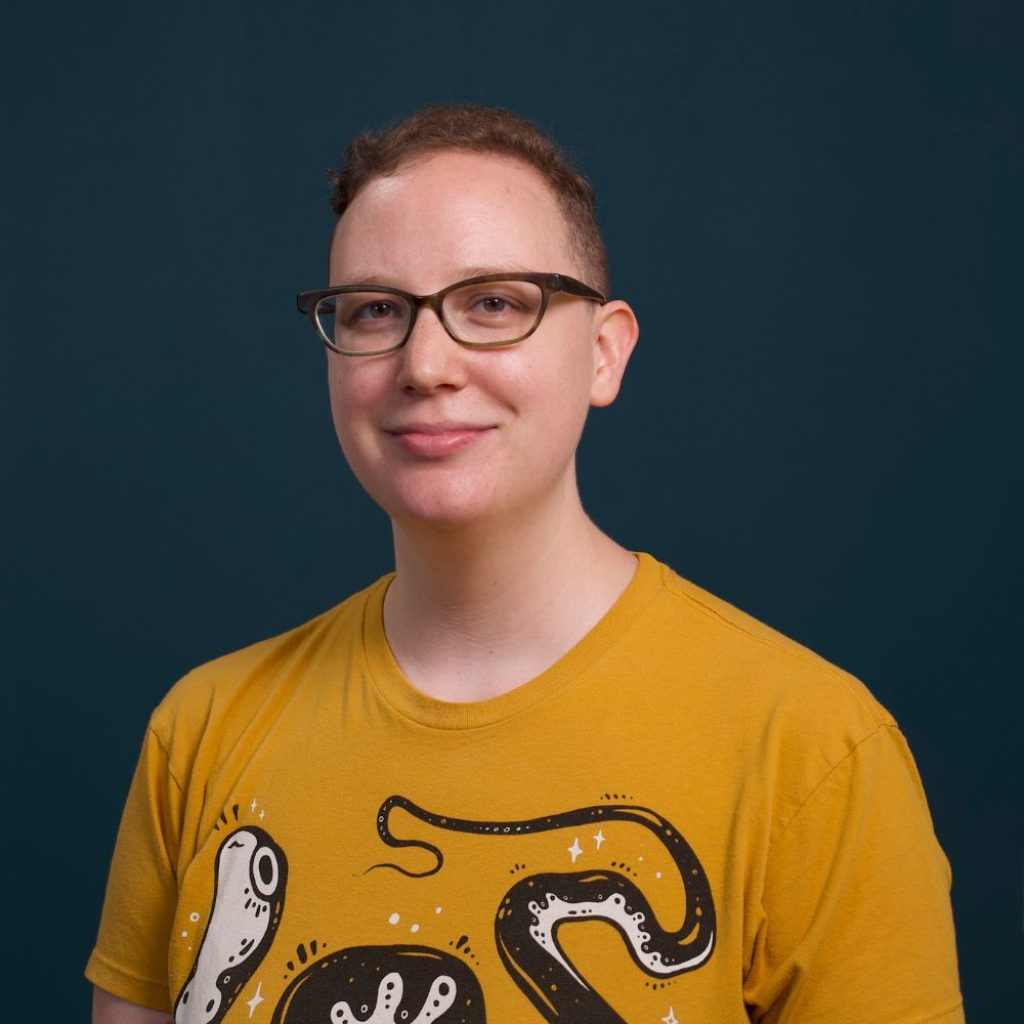 Melanie Kassel
Performance Editor
About Author
As Sleep Advisor's Performance Editor and a certified sleep science coach, Melanie writes and edits content throughout the site to ensure it's accurate, engaging, and up-to-date.