Transparency Disclosure – We may receive a referral fee for products purchased through the links on our site...

Read More

.
Childhood trends go in and out of fashion, but having a comfortable spot to hang out and call your own will never go out of style. A cozy bean bag chair could transform your kid's bedroom, providing a space that could make almost want to curl up and do their homework.
If your kid isn't social, they also make great places to get cozy and read a book before bedtime. Whatever their needs, the best bean bag chair for kids is probably a matter of preference, which is why we brought the best options to you.
9 Top Rated Bean Bag Chairs for Kids Reviewed
Creative QT –
Best for Storage
3 size options
Multiple design options
Cotton canvas
Machine washable
Kids accumulate lots of stuff. Whether it's stuffed animals, books, clothes, or shoes, sometimes under the bed storage isn't enough. This plush beanbag chair unzips so some of those softer toys can fit inside to give the bag dimension that shouldn't break down over time like foam beans.
Available in a variety of sizes and colors, this project can be budget adjustable, depending on which you choose. Because this option is made to last, the heavy-duty zipper shouldn't suffer from over-zealous kids or get stuck in Mr. Sparkle's tail. Parents love that this product comes in a variety of sizes that can fit teens and toddlers for a good price.
One of the best features is that this bag should eliminate clutter, which means less stepping on toys and more space for activities. Because clean-up time means more fluff, kids may even be more motivated to tidy up.
Butterfly Craze –
Best Unique Design
2 size options
5 color options
Ultra soft microfiber
Spot clean or machine wash
For the perfect flower power bedroom, this beanbag chair is complete with petals to make your child feel like a little Thumbelina. With two sizes and a variety of colors, your little one could choose the perfect color to fit their style. Because we know spills can be pretty inevitable, we thought we'd let you know this product is machine washable.
This can be a pretty versatile option depending on the sizes you get. While a toddler might use it as a beanbag chair, an older teen could use it as a large pillow to recline on or move it to a reading nook for extra cushioning. Whatever the use, one thing is for sure: this bag could transform a regular bedroom into a fairy garden in no time.
Some reviewers even use this soft product as a dog bed for pets who like to sleep in their kid's rooms.
Lukeight –
Best Budget Buy
Multiple design options
2 size options
Storage bean bag
Easy to clean
This 100 percent cotton beanbag chair is built to be as durable as it is soft. It even helps to reduce clutter by storing soft toys inside. The more the kids clean, the bigger this bag gets, teaching them the value of picking up their toys with natural consequences.
Available in a variety of colors, patterns, and sizes, this chair will fit most tastes from sports enthusiasts to animal lovers. If your kids aren't the owners of a stuffed zoo, don't worry, this bag also works with 100 L beans. Though this product is intended for children ages three to five, reviewers say it is larger than they expected and it could work as a small ottoman for any age range.
Reviewers love that the material resembles a thick canvas, avoiding rips and tears and withstanding spot cleaning.
Sofa Sack –
Best Basic Design
Multiple color options
2 size options
Microsuede Cover
Filled with memory foam
For the classic bean sack feel, the memory foam microsuede Sofa Sack offers a great luxury feel for a reasonable price. At 3 feet tall, this bag should fit children and smaller teens comfortably. According to the reviewers, this is a great option for nap time, as it's more fun than their real bed but still large and cozy enough to get that afternoon nap in.
As the product comes in a compressed package, it could take a little while for it to fluff up, but after a few hours, it should be good to go. The bag is filled with memory foam "beans" helping you sink in slowly to a soft cradle rather than having to tousle the bag so you can wedge yourself into the beads. For disabled children who experience discomfort sitting on the floor, this bag should help them play with friends or siblings according to reviewers.
5 Stars United –
Best Pattern Range
Multiple design options
Storage model
Washable cotton fabric
With ten patterns to choose from, this product should have an option for almost everyone at a lower than average price range. Made with a 100 percent cotton canvas cover, it should be easy to wash and hold up to daily wear and tear.
This choice can be filled with stuffed animals, beans, or off-season clothes based on user preference, and could be an interesting solution to storage problems. If your child likes to bring their favorite chair around the house for movies, games, and fort-building, the handles on the side make for easy moving, especially because it's so lightweight.
Reviewers love that this product is durable enough to prevent holes, and because it's usually filled with stuffed animals, it shouldn't spill beans all over the floor, making a mess. With an easy to use zipper, this product shouldn't catch on any important fibers or damage toys.
Jorebest –
Best Triangle Design
2 size options
Multiple design options
Cotton canvas material
Storage design
This uniquely shaped bean bag chair has the best of both worlds, including back and leg support for little relaxers rather than making them choose one or the other. In two sizes and a variety of colors, this bag can fit both adults and children, provided you have enough stuffed animals to fill it up. Some families even use it to house extra blankets in the warmer months to reduce clutter, but if you prefer the beans, this bag is compatible with regular filling.
The triangle design is convenient for children to pull around the house from room to room, likely without needing an adult helper. Best of all, reviewers say the material holds up well to constant dragging without creating runs or tears. For the size of this bag, we'd say the price point is lower than average, especially because of the great quality material.
Chill Sack –
Best Oversized
34 color and fabric options
Memory foam fill
Made in the USA
Removeable, stain-resistant covers
For some extra wiggle-room, the Chill Sack is perfect for kids and adults alike, which means your child can continue to use it even as they grow. The Chill Sack is available in an impressive 34 color and fabric combinations, so you have your pick of what best suits your child's room and their tastes. 
The Chill Sack is made with a memory foam fill for optimized comfort. Memory foam is a widely popular material for its ability to cradle the body, reducing uncomfortable pressure points in the process. Shoppers should also appreciate that this product is made in the United States, making it a locally-sourced bean bag chair.
What stands out?
Chill Sack's bean bag chairs come with stain-resistant covers that are removable for easier maintenance. Recommended cleaning methods vary according to the specific material, but some are machine washable, such as the microsuede covers.
Leachco Pillay Plush –
Best Sling Style Lounger
100% Polyester

2 color options
Center stretch panel that adjusts
Machine washable plush cover
For little tots, the sling style Leachco Pillay bag is shaped like a little hotdog bun for a comfortable cocoon. Depending on the child's weight, the middle can stretch to accommodate for comfort. The outer is made from 100 percent machine washable polyester and features a zipper for easy removal.
Available in two colors, this bean sack should be great for travel as it should be lightweight enough for easy moving, but also comfortable enough to make anywhere an ideal nap space. Some parents even use it for their toddlers and babies for floor sleeping where they can be supervised.
Because of the deep sling style, it should make rolling over and moving difficult, so antsy babies may fall asleep easier according to reviewers. For a reasonable price and good quality, this bag should be worth every penny.
Posh Stuffable –
Best Size Range
Multiple design options
3 size options
Storage model
Soft fabric cover
Toy-organizing options are great for getting rid of clutter, and for a low price with plenty of size options, the Posh Stuffable is a great option. With a variety of colors and patterns, this bag could be great for most kids and even teens. According to reviewers, these bags are great for creating homework and reading nooks, and they often find their little ones asleep on them.
Many parents found that the bean bag chair was a great way to get their children to part with toys they don't often play with to reduce clutter without putting them into the garbage. In either case, the easily accessible zipper will allow them to see and play with their toys whenever they want. Some parents even let their kids color in the doodle design for a fun activity.
Brief History of Bean Bags
Disappointingly, bean bag chairs were never filled with real beans. The bean bags we're familiar with today were developed in the sixties in Italy as a cheap and popular alternative to couches. Filled with styrofoam with leather edges, they molded to the body shape of the individual user and brought you close to the floor for a relaxed environment.
In the middle of the flower power era, they quickly became popular and evolved throughout the decades. In the nineties, the bags became larger and larger and some children even suffocated from falling into the beads. After a large recall, there are now important regulations that protect children from harm.
Today there is a wide variety of styles, shapes, and fillers for the chairs. Some are even great for replacing couches or for outdoor furniture. When it comes to kids, they should be much safer and more regulated for carefree fun.
Bean Bag Chair for Kids Buyer's Guide
When it comes to buying furniture for your kids, parents want safety, reliability, and durability. While these are important, bean bags also bring fun into the mix.
Materials
Not all bags are made with beans at all and some come without any filling. If you're asking yourself which is the best choice for you, it largely depends on preference. From foam to beans to stuffed animal filling, there is certainly no shortage of options.
Shredded Polyurethane Foam
You probably know polyurethane foam as the filling in your mattress, and with bean bag chairs, the idea is similar. With a soft feel and quick response time, this shredded foam creates a firm but soft structure to allow you to sink in comfortably.
Depending on the company, polyurethane foam may require an off-gassing period to let the chemical smell air out before use. To avoid some of this smell, look for a company with the CertiPUR-US seal to reduce indoor emissions.
Read More: 6 Types of Foam
Expanded Polypropylene beads are great when you want to stay warm and cozy without the beads breaking down quickly like other materials. They are great with impact resistance, strong, water-resistant, and they are 100 percent recyclable for those looking for an environmentally-friendly option.
You probably know EPS, or Expanded Polystyrene by its more common name, styrofoam. The material is similar to EPP in that it is lightweight and strong, but also soft enough to provide cushioning. These beads should be safe for consumers to use in a bean sack as long as children can't get to them.
Made from tiny plastic particles, microbeads were once common filling for small hacky sacks and travel pillows, but more recently they have become popular in cosmetic products as exfoliators or moisture-filled beads. These beads create a lot of plastic waste, and because they are too small to be filtered out, they often end up in the ocean.
While these products are probably not suitable for larger beanbags anyway, we wouldn't recommend purchasing the filling as it is banned in many locations.
Quality
If you planned on spending a lot of money on a beanbag chair for your child, hopefully, this article can help you out, but no matter how much you spend, it's always a good idea to make sure you only have to buy once.
Size
Kids grow up faster than most of us would like, and that means that a tiny cute bag might be less expensive and fit perfectly, once your child is bigger they'll probably want to upgrade. We suggest choosing a size that will fit for a few years but not too big that it poses a safety risk.
Comfort
While stuffed animals are fun, for a super comfortable sleeping option, the bags with back support and memory foam are probably your best bet.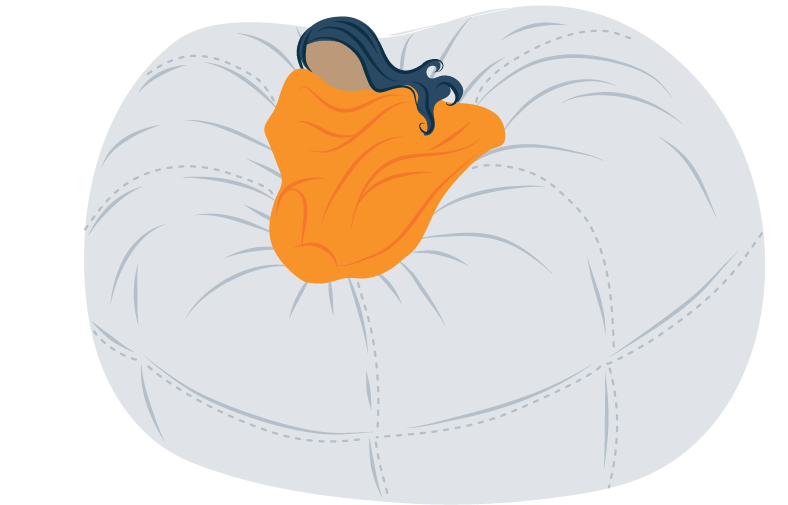 Back Support
For reading, resting, doing homework or any other activity that requires long periods of sitting, you're probably going to want back support for your child to avoid slouching. Whether they can sink in or lean back, these options are more comfortable and probably better for their backs.
Style and Color
Many of our options come in a variety of colors and styles from princess pink to stripes. Just be sure to choose a design that ages well.
Eco-Friendly Attributes
Some cotton is OEKO-TEX certified organic, and some foams have the CertiPUR-US seal. These can help minimize toxins and chemicals to help the environment.
Storage for Stuffed Animals
Many sacks for children have the option of using foam beans or stuffed animals for filling. They each have their pros and cons, but for kids with too much clutter, putting them into a bean bag could be just the solution parents need to help them tidy up without tossing anything in the trash.
Lifespan and Durability
Some of these products can certainly last for years, so if you think your child might outgrow them quickly, you may want to consider buying a cheaper option or picking a size and material that will age well.
Cleaning and Maintenance
Many of these covers are machine washable making clean up easy and worry-free, but the filling of a beanbag should also be routinely replaced. Some beans break down faster than others, but once you begin to notice the bag isn't as full as it once was, you may want to look into ordering more filling.
Warranty
Some manufacturers will offer a limited warranty if the bag doesn't hold up to expectations. Before purchasing, it's a good idea to know what kind of policy you're dealing with.
Safety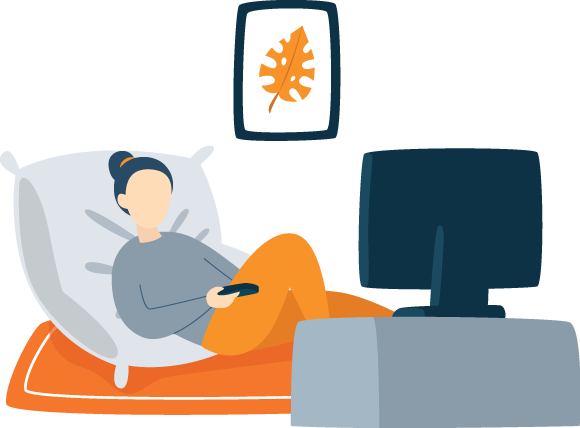 Bean sacks are often fun, soft, and worry-free, but in some cases, kids should be supervised during use. We don't recommend leaving an infant or small child alone on a big bean bag or allowing them to play with the filling as both pose a suffocation risk. Similarly, children should not play under the sacks.
Bean bag chairs are great for kids' rooms that need a relaxation zone or just somewhere to play that isn't on the bed. Some kids like to take theirs all over the house for movie time, playtime, or just napping in the sun. Whatever their use, bean bag style chairs probably aren't going anywhere soon.
When it comes to a chair made from foam beans, there can be a few drawbacks to consider. These chairs sometimes wear down over time from constant use, so it's a good idea to find a durable material and filling you can either trust or easily replace.
Frequently Asked Questions about Bean Bag Chairs for Kids
Are bean bag chairs safe for toddlers and older kids?
We always recommend following manufacturers' instructions when it comes to age recommendations. In most cases, bean bag chairs are not for infants but can be great for toddlers. If you're unsure, it's better to be safe.
Are bean bag chairs good for gaming?
If your child can sink into the chair enough for neck and back support, we say why not? If they start to feel discomfort or play for long periods at a time, however, you might want to run this question past your doctor.
Conclusion
While they may have changed throughout the ages, bean sacks have probably lasted a long time and we can't say we're surprised. Comfortable, versatile, and oh so fun, these chairs are great for sleeping, playing, and now even clean up time.
If you're looking to buy for your child, we're pretty sure one of our options will fit your needs, and if not hopefully we steered you in the right direction. The most important factors are fun and safety and with so many budget-friendly options, your child should be able to have it all.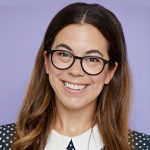 Jill Zwarensteyn is the editor for Sleep Advisor and a certified sleep science coach. She is enthusiastic about providing helpful and engaging information on all things sleep and wellness.
Based in Los Angeles, she is an experienced writer and journalist who enjoys spending her free time at the beach, hiking, reading, or exploring new places around town.
She's also an avid traveler who has a personal goal of being able to successfully sleep on an airplane someday.