Transparency Disclosure – We may receive a referral fee for products purchased through the links on our site...

Read More

.
Disclaimer - Nothing on this website is intended to be a substitute for professional medical advice, diagnosis, or treatment...

Read More Here

.
If you're struggling with restless nights, you might consider a weighted blanket. These blankets have been known to help relieve insomnia and anxiety to help sleepers to achieve better rest.
Weighted blankets contain glass beads, plastic pellets, or other objects that add weight, so they're heavier than standard blankets. Though these blankets are known to be more expensive, newer designs and manufacturing methods allow for more affordable prices.
Follow along as we share some of the best affordable weighted blankets, their standout features, and important factors you should consider before making any purchases.
The Best Affordable Weighted Blankets
5 Best Affordable Weighted Blankets
Editor's Choice
Layla Weighted Blanket
Like Layla's mattresses, this weighted blanket has two sides with two different feels.
Sleep Advisor Score
4.40 / 5
The Layla weighted blanket is soft, cozy, and breathable. The design features two sides, one with a 300 thread count cotton and the other with 100 percent polyester/mink. The cotton side is clean and crisp, while the polyester side is softer and has more plush for when you want to get extra cozy. The blanket also has Layla's signature hexagon stitching, so it matches their mattresses and other bedding accessories.
The Layla weighted blanket is filled with glass beads spread across evenly. The hexagon stitching ensures the beads don't move throughout the blanket or pool in one place. In addition, the beads are sewn between poly-fill layers so that the blanket makes no noise.
What stands out about it?
The Layla blanket is completely washable, so you can throw it in the washing machine when it's time to clean it. Wash with cold water and tumble dry on low to prevent damage.
Best Affordable Weighted Blanket with Temperature Regulation
DreamCloud Serenity Sleep Weighted Blanket
Find your zen with the Serenity Weighted Blanket. It's dual-temperature and designed for relaxation. We suggest 8-15% of your body weight for the most comfort.
Sleep Advisor Score
4.80 / 5
Hot sleepers may be skeptical of weighted blankets because they already sleep hot. However, cooling technologies and materials allow the DreamCloud Serenity Sleep Weighted Blanket to stay cool. This dual-temperature blanket is available in three colors, and you can choose between three weight options, which is excellent given its affordable price.
This DreamCloud has phase-change technology and two sides to keep you cool or warm, depending on your needs. The mink side is better when you're feeling cold. The Serenity has glass beads and polyester fiber quilted in 5.5-inch squares ensuring everything is spread out evenly.
Why we picked it
The Serenity has antimicrobial protection and a removable cover you can wash in a machine.
The blanket is cool on one side and warm on the other, which is great if you share it with other people. Plus, this also means you can use it in both summer and winter.
Best Affordable Dual-Sided Weighted Blanket
Brooklyn Bedding Weighted Blanket
The Brooklyn Bedding Weighted Blanket not only has the calming and soothing benefits of weighted blankets but also has a warm and fuzzy feel to it for added comfort!
Sleep Advisor Score
4.80 / 5
This Brooklyn Bedding weighted blanket has two sides to provide both cooling and warming for a range of sleepers. This affordable blanket is available in 15 and 20 pounds options but only one size measuring 60 by 80 inches. This model is known for its cozy warmth and crisp cooling, both of which are easy to achieve thanks to the two-sided duvet cover.
To get the most out of it, you should try reversing the duvet cover, using the 12 loops on both the cover and the blanket. The loops are meant to secure the two in place so that they don't separate as you sleep.
What you should know
The Brooklyn Bedding weighted blanket is not machine-washable. The cover is removable and safe to machine-wash, but the blanket is only meant to be spot-cleaned.
The blanket comes in one size only, so you may have to get two if you have a Queen or King bed and sleep with a partner.
Best Affordable Throw Weighted Blanket
Brooklinen Weighted Throw Blanket
The Brooklinen Weighted Throw blanket features a dual-sided cotton cover and is filled with glass beads. It's available in four different colors.
Sleep Advisor Score
4.50 / 5
If you're after a throw blanket with added weight, you should consider this model by Brooklinen. This affordable throw blanket weighs 12 pounds and reduces anxiety while providing more restful sleep. The blanket has two sides: one made from cotton and spandex crepe fabric, and the other made from a washed cotton. One side is cozy and warm, while the other is crisp and cooling for those who sleep hot.
This Brooklinen blanket is available in four colors and one size measuring 48 by 72 inches with quilted squares measuring 6 by 6 inches. The quilting gives this blanket a luxurious look while ensuring the glass beads stay in place.
What makes it unique?
Although this Brooklinen product is safe to wash in a machine, the brand suggests commercial machine washing only because residential machines aren't big enough. If you want to clean it at home, it's best to stick to spot cleaning.
Best Affordable Weighted Blanket for Calming Relief
Tempur-Pedic Weighted Blanket
The Tempur-Pedic weighted blanket is made with a faux-fur style polyester cover and is filled with glass beads. It's available in a 15 and 20-pound weight option.
Sleep Advisor Score
4.00 / 5
Restless sleepers and those struggling with anxiety can sometimes find it difficult to fall asleep. This is where a weighted blanket comes in handy. The Tempur-Pedic Weighted Blanket is designed to provide an even weight across your body for a calming effect that helps reduce anxiety.
This affordable blanket has glass beads in carefully designed pouches that keep them evenly distributed. The design ensures an even weight across your entire body for maximum coziness, deep-touch pressure, and comfort. The blanket also has a washable cover, so it's easy to keep it fresh and clean.
Why we like it
Tempur-Pedic offers two weights, so you can choose between 15 and 20-pound options. The 15-pound model is recommended for adults weighing more than 150 pounds, while the 20-pound model is for those weighing over 200 pounds. However, there's only one size measuring 72 by 48 inches.
How Heavy Should My Weighted Blanket Be?
Weighted blanks can weigh between 10 and 25 pounds, but the general rule is that a blanket should be about 10 percent of your body weight. However, this also depends on what you find comfortable. For example, some people like a heavier blanket that's about 12 percent of their body weight, while others prefer a lighter model that's only 5 percent of their weight. For this reason, it's best to test a few models to figure out the most comfortable weight for you.
Beads vs. Pellets
Weighted blankets have glass beads or pellets that add weight. The main difference between the two is that pellets are lighter and thinner. This means you need more pellets to achieve the same weight you'd get from a smaller amount of glass beads. Glass beads are denser and heavier, so you'll usually find them in heavier blankets. However, glass beads can be a bit noisy, whereas plastic pellets are unlikely to make any noise, especially if quilted into smaller pockets.
Other Considerations
Batting and Fibers – Batting in a weighted blanket is meant to isolate the noise, preventing the beads and pellets inside from rustling. Most blankets have cotton batting, although you may come across other fibers doing an equally good job.
Duvet Covers – Some weighted blankets may come with duvet covers, although this isn't a hard and fast rule. Duvet covers are made from different materials, but cotton is the most common due to its ease of maintenance. Some covers are reversible, doing an equally good job of heating and cooling depending on the side you use.
Size – Weighted blankets don't usually come in many sizes. Most brands offer one or two sizes, so you may have to get two blankets if you have a larger bed. Start by checking the exact dimensions, which should help you decide if you need one or two blankets.
Who Should Use a Weighted Blanket?
Insomnia Patients – Weighted blankets offer deep pressure stimulation that can help produce serotonin while reducing cortisol. On top of that, this can also increase melatonin, which is the hormone that promotes sleep. Combining all these things is thought to improve sleep for those struggling with insomnia.
Anxious People – The pressure of added weight is believed to reduce anxiety symptoms by setting your autonomic nervous system into relaxed mode. As a result, a weighted blanket may help with a quickened heart rate and fast breathing. Helping the sleeper relax should allow them to rest easier.
Sleepers with Restless Legs Syndrome – Those struggling with restless legs syndrome (RLS) may find some relief using a weighted blanket. The added weight might help reduce and override the restless sensation.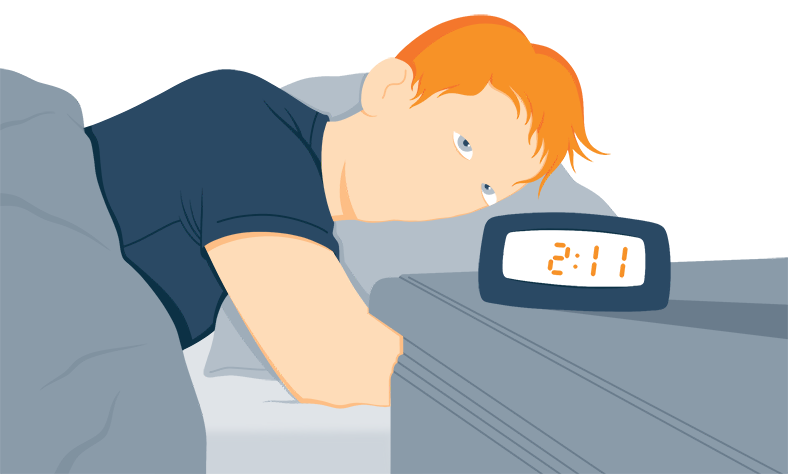 Who Shouldn't Use a Weighted Blanket?
Although weighted blankets are comfortable and may help with certain symptoms, some people should avoid using them. If you're interested in using one, it's best to talk to your doctor first.
Circulatory and Respiratory Patients – Those with circulatory and respiratory issues should avoid weighted blankets or at least talk to their physicians before doing so. People with low blood pressure, type 2 diabetes, and asthma may find that a weighted blanket worsens their symptoms.
Obstructive Sleep Apnea Patients – People with obstructive sleep apnea (OSA) should also avoid using weighted blankets. This sleep disorder is characterized by a temporary loss of breath while sleeping, and the added weight of a weighted blanket could make things worse by restricting airflow.
Claustrophobic Sleepers – Claustrophobic people might find weighted blankets too limiting and stifling. In this case, the weight could actually make you anxious.
Children – Children younger than three should avoid sleeping with a weighted blanket due to suffocation risks. Kids weighing less than 50 pounds should also avoid these blankets for the same reasons.
How to Clean a Weighted Blanket
Cleaning a weighted blanket shouldn't be too complicated, but you should always check the manufacturer's instructions first. You can find this somewhere on the blanket or on the packaging. If not, it's best to check the official website for precise care instructions.
Some affordable models can be machine-washed and tumble-dried. However, these usually only handle low temperatures, meaning you should use cold water and gentle cycles. Others can be washed, but not dried, so air-drying is the only option. On the other hand, some weighted blankets aren't safe to wash in a washing machine. In this case, you can spot-clean the blanket and possibly only wash the cover. Again, make sure to check the instructions on which temperature and detergent to use.
Frequently Asked Questions
Are weighted blankets worth it?
Weighted blankets can be worth it if they help you sleep better. These blankets are known to alleviate insomnia and anxiety symptoms, so they're worth a shot if you're looking for calming relief and extra comfort.
Who are weighted blankets best for?
Weighted blankets are best for those who struggle to relax and fall asleep. As said, you should talk to your doctor first to ensure a weighted blanket is safe for you to use since they are not safe for very young children and people with respiratory and circulation problems.
Do cheap weighted blankets work?
Cheap blankets can work equally well as more expensive ones. The price difference is usually due to cover materials, size, and some features like cooling, batting, and quilting. Nonetheless, cheap blankets filled with beads or pellets can still provide soothing relief.
Can a child use a weighted blanket?
You should avoid using a weighted blanket on a child younger than three or weighing less than 50 pounds. These kids may struggle to reposition under the weight, which puts them at risk of suffocation. Older children and those weighing more than 50 pounds might not be at risk, but it's best to wait as long as possible. Again, we recommend checking with their pediatrician first to ensure they're safe for your child to use.